We may earn money or products from the companies mentioned in this post.
(Last Updated On: February 12, 2021)
The Best Vegan BLT with Tempeh Bacon
This vegan BLT sandwich is so easy and delicious, made with smoky-maple tempeh 'bacon'!
BLT's are such a yummy classic sandwich, I used to make them all the time before I went vegan because they were so easy to make and I loved the flavor combinations.
That is why I'm so excited to share this recipe with you!
The tempeh in this recipe absorbs so much flavor and tastes just like the real thing, the texture is softer but the flavor is spot on.
Easy Vegan BLT Sandwich Recipe
Instead of frying the tempeh bacon, I decided to bake them.
I think slow-cooking them like this helps them absorb all the flavors in the tasty smoke-maple sauce they marinate in.
I also add more sauce half way through baking to really pack in the flavor.
This tempeh bacon would also be great beside a tofu scramble for breakfast, or alongside some vegan waffles! So don't worry if you have leftovers!
This sandwich would also be yummy with some avocado or red onions, feel free to add anything else you'd like!
I just love the simplicity of the traditional 'bacon', lettuce and tomato flavors with a spread of vegan mayo.
How to Make a Vegan BLT Sandwich
Preparing the Tempeh Bacon
The tempeh bacon is very easy to prepare – to start you'll want to thoroughly mix together your 'bacon' mixture and cut your tempeh into roughly 1/4-1/2 inch slices.
The tempeh is a bit fragile so be careful it doesn't break. The thinner they are the more sandwiches you can make, but I like them more around 1/2 inch thick so they are less breakable and tastier in a sandwich.
Place the tempeh slices into a shallow bowl filled with the marinade, and let is sit for 20-30 minutes, the longer the better!
I very gently mixed them up 2-3 times during this time to make sure all the pieces got evenly marinated.
Baking the Marinated Tempeh
A few minutes before the tempeh is done marinating, preheat your oven to 350 degrees.
Carefully assemble your tempeh onto a baking tray covered in parchment paper an inch or so apart.
Using a spoon, add half of the 'bacon' marinade mixture onto the tempeh slices. Bake for 15 minutes, then take them out and flip each slice.
Spoon on the remaining 'bacon' mixture and then bake for an additional 10 minutes and they're done!
Assembling the BLT Sandwich
Now that your tempeh is ready to go, slice some tomatoes and grab some pieces of lettuce or spinach and assemble your sandwich!
I like to toast my bread as well, it adds that extra crunch to the sandwich!
Simple Quick Vegan Sandwich Recipe
I just love this simple sandwich recipe, it's great to make for lunch and you can always bake the tempeh bacon ahead of time so you can just quickly assemble the sandwich at lunchtime!
It's also a perfect lunch to take on the go to work or school, or even on a picnic.
The tempeh is so yummy and it's also high-protein, high-fiber and free of cholesterol!
It's basically a fermented soybean product, similar to tofu but very different in texture (tempeh is more dense and tofu is softer).
I just used store-bought vegan mayo for this recipe, but you could always try making your own. I found this recipe which looks simple and quick.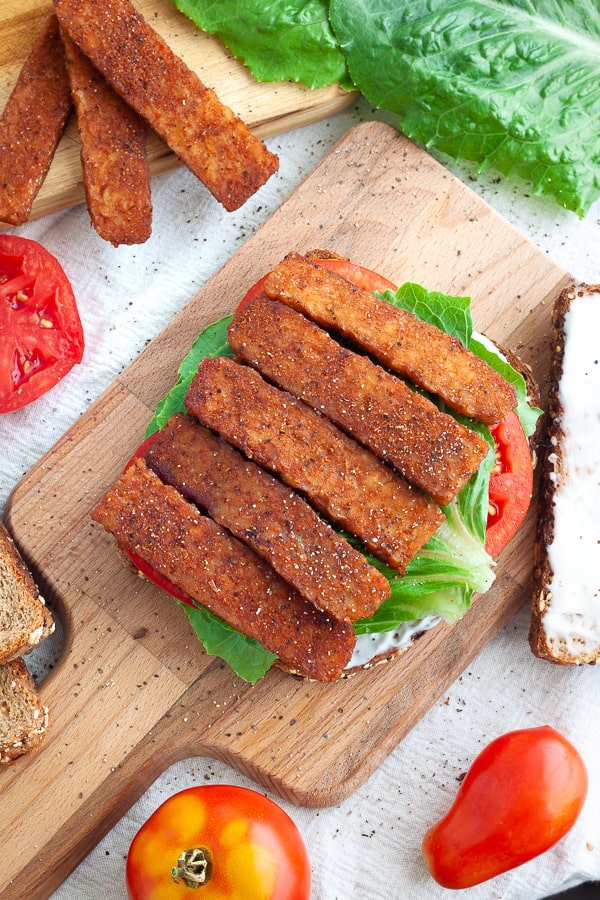 This recipe is:
Simple

Vegan

Delicious

Smoky

Maple-Flavored

Savory

Quick

Easy

High-Protein
Try these other vegan meals!
Chickpea Avocado Salad Sandwich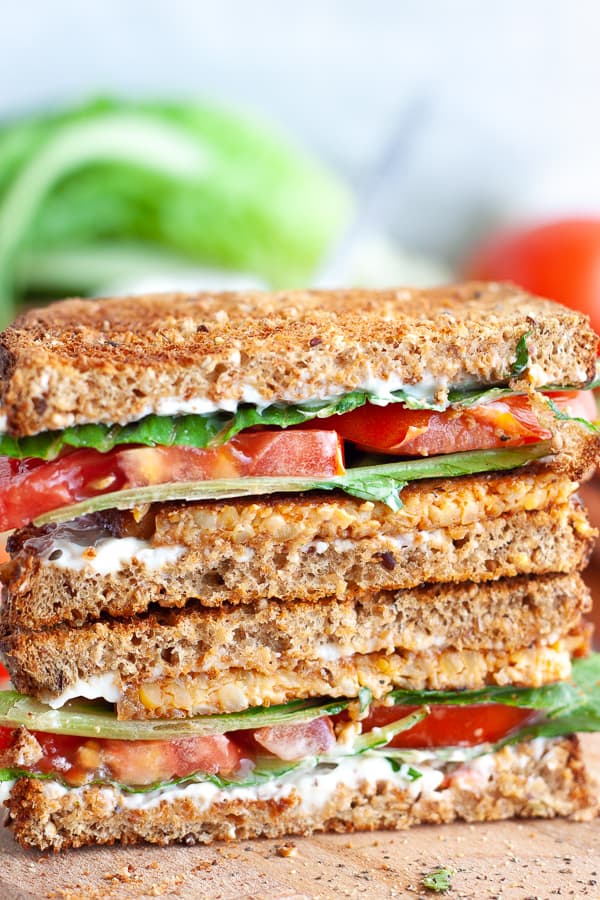 Pin this for later!
Vegan BLT
Marinate Time:
20 minutes
This vegan BLT has homemade marinated smoky maple tempeh bacon, lettuce, tomato and vegan mayo. The best simple vegan sandwich recipe!
Ingredients
3 Tomatoes
1 Head Lettuce or Spinach
Vegan Mayo
Bread
For the BLT Tempeh Bacon
8 oz. Tempeh
2 Tsp Liquid Smoke
1/3 Cup Soy Sauce
2 Tbsp Maple Syrup
2 Tbsp Neutral Oil
1 Tsp Apple Cider Vinegar
1 Tsp Smoked Paprika
1/2 Tsp Garlic Powder
1/2 Tsp Onion Powder
1/4 Tsp Pepper
Instructions
1. Mix together liquid smoke, soy sauce, maple syrup, oil, apple cider vinegar, smoked paprika, garlic, onion and pepper in a bowl. Chop tempeh into 1/4-1/2 inch strips and place inside, gently mixing to coat evenly.
2. Let marinate for 20-30 minutes, flipping occasionally. Preheat oven to 350 degrees.
3. Place tempeh strips on a baking tray covered in parchment paper, making sure they are not touching. Pour 1/2 remaining smokey maple mixture over tempeh.
4. Bake for 15 minutes, flip and spoon on remaining smokey maple mixture over the rest of the tempeh. Bake for 10 more minutes.
5. Add tomato, lettuce or spinach, vegan mayo and tempeh bacon onto toasted bread and enjoy!
Nutrition Information:
Amount Per Serving:
Calories:

396