We may earn money or products from the companies mentioned in this post.
(Last Updated On: April 30, 2023)
Best Homemade Vegan Pizza Recipe
This homemade vegan pizza is absolutely incredible!
It's super cheesy and flavorful – I went for a margherita-style and filled it with plenty of herbs, tomatoes and garlic.
It also has a simple, fluffy yeast dough made from scratch; don't worry if you've never worked with yeast before, this recipe will walk you through every step!
A crowd-pleasing recipe for sure, and it makes your house smell amazing while it bakes!
Vegan pizza is a regular in our home, and it's so fun to have pizza nights and customize each pie to your liking.
I personally always love keeping it simple with just a few strong, tasty flavors like garlic, basil and tomato. I also added some oregano, salt and pepper to spice things up.
Store-bought vegan mozzarella shreds are super convenient for pizza nights, but I also found this homemade vegan mozzarella if you want to try making your own!
Depending on the brand, some vegan cheeses melt better than others, but they will all get melty and delicious all the same!
Easy, Simple and Dairy Free Vegan Pizza
Once you start making your own pizza at home, you'll never go back!
It's much cheaper than store-bought or eating out and you can add any toppings you'd like, including tossing on any veggies you need to use up in your fridge.
This pizza also has a hand-tossed dough texture, compared to deep-dish or New York-style. It's my favorite kind of crust because it's so fluffy, tasty and full of flavor!
It also holds its shape very well and doesn't get soggy, it just absorbs all the amazing flavors you add to the top!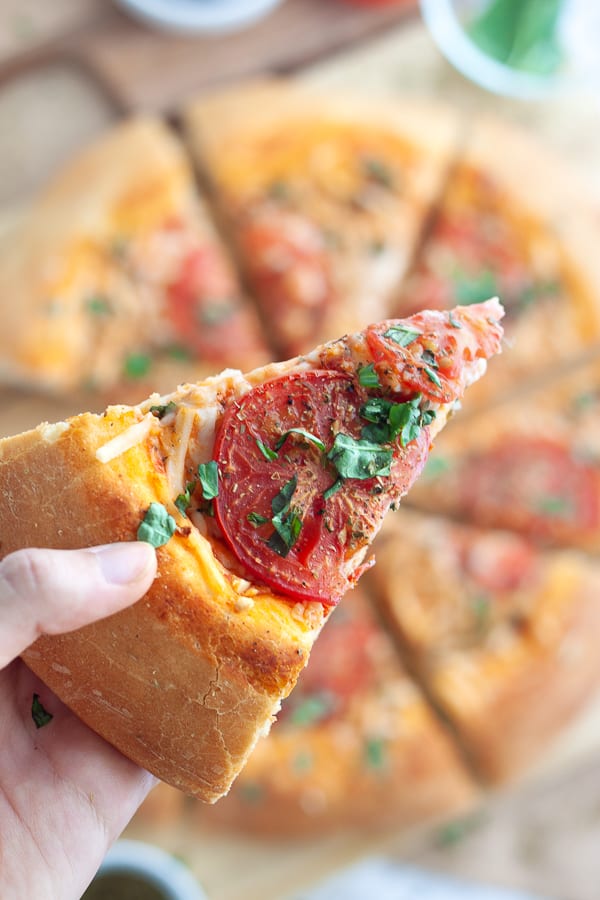 How to Make Homemade Vegan Pizza
Preparing the Yeast Mixture
You're dough needs plenty of time to rest, so begin making it at least an hour before you need to bake it, or an hour and a half before you need to serve it.
To begin, heat 1 cup of water until it's just slightly warm, not too hot or too cold or your yeast may not activate or it may die.
Stir in the sugar until dissolved, then sprinkle the yeast packet over the top of the water and do not stir it in.
Let it sit for 10 minutes or until it gets foamy. If it doesn't get foamy, re-check your water temperature or try a new packet as your yeast may have been old.
It's very important your yeast mixture gets foamy or else your dough will not rise.
Shaping Your Homemade Dough
Pour your activated yeast mixture into a bowl and add your olive oil and salt, stir well.
Then add your flour and stir until it begins to form a ball – it may be easier to use your hands to fully shape everything.
Now, place a towel over the bowl and let it rise for 1 hour where it will double in size.
I find it helpful to boil some water in a microwave, take the water out and place the bowl with the dough inside the microwave and close it. It will rise better in the warm environment.
You can also turn on your oven to its lowest setting, then once it reaches that temperature turn it off and place your bowl with the dough inside the oven to rise.
Remove and preheat your oven to 425 degrees.
Punch the dough to release the air, then plop the dough down on a clean, flat, floured surface.
Sprinkle more flour on top and knead a few times by pushing the dough away with the palm of your hand, bringing it back and reshaping into a ball, and repeating.
Here is a video of how to knead dough if you'd like to see it.
Then place the dough in the middle of an oiled pizza pan and spread it out, leaving it thicker on the ends for the crust.
I found it easy to use both hands and gently pull the dough away from itself as I go around.
Just be gentle with this part so it doesn't rip in the middle!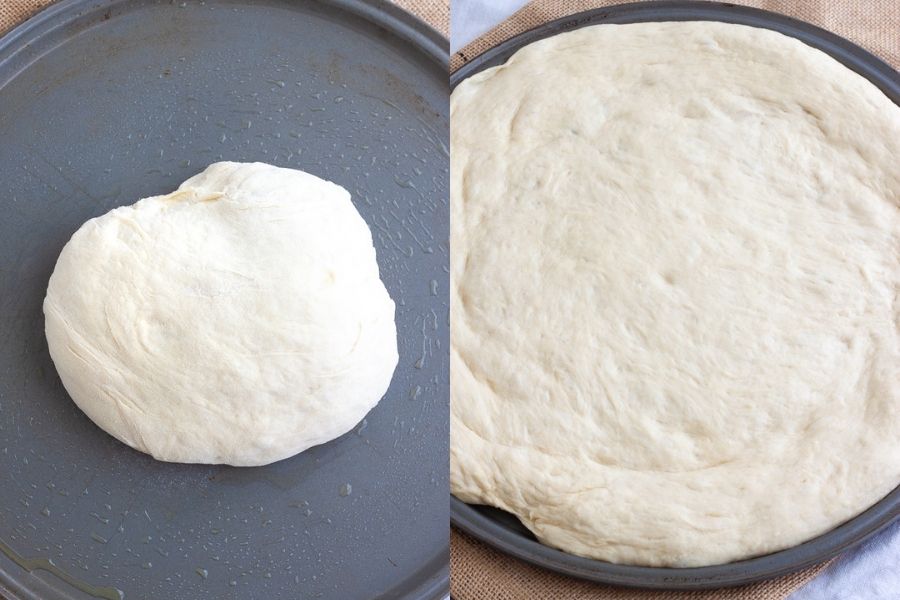 Layering on Vegan Cheese and Veggies
Now evenly layer on your tomato sauce, leaving about 1 1/2 inch margins around the outside for the crust.
Sprinkle on your vegan cheese and minced garlic, place your tomatoes and sprinkle on dried oregano, salt and pepper.
Baking Homemade Vegetarian Pizza
Bake your pizza for about 18-22 minutes – I found 20 to be good for mine but just double check that the cheese has melted and the edges are a nice golden brown.
Then take the pizza out and let it cool briefly!
Sprinkle on plenty of freshly chopped basil and cut into 8 pieces!
Plant Based Cheese Pizza with Homemade Dough
Making your own pizza dough makes all the difference when you're eating pizza.
You just can't beat that super fresh, crispy, flavorful dough when you make it from scratch.
It's the most perfectly delicious vegan pizza and I know you'll love it!
Some other things I love to add to pizza are black olives, pineapple, artichoke and spinach – I also like dipping it in vegan ranch when I have some on hand!
This recipe is:
Crispy

Delicious

Flavorful

Dairy Free

Homemade

From Scratch

Comfort Food

Totally Vegan
Try these other vegan recipes!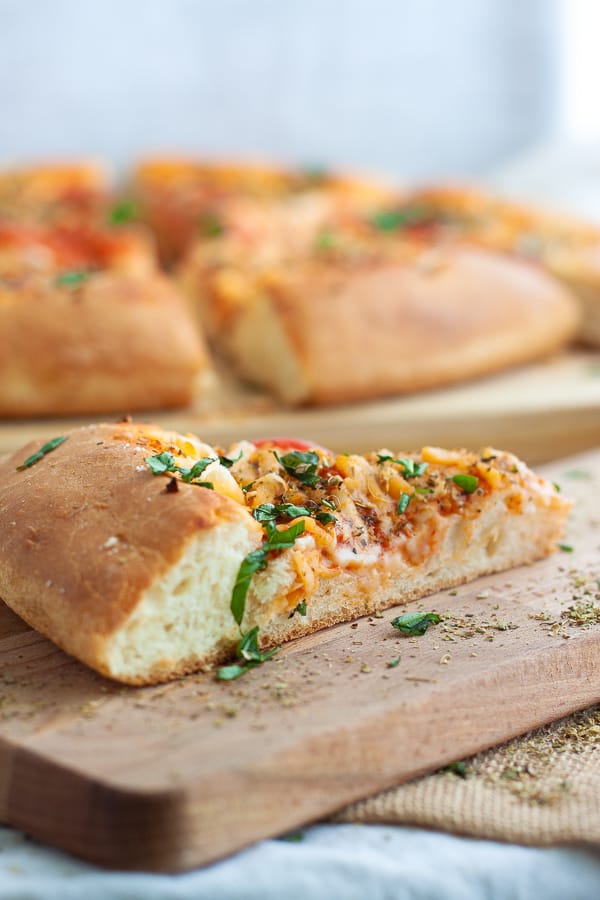 Pin this for later!
Homemade Vegan Pizza
Prep Time:
1 hour
30 minutes
Total Time:
1 hour
50 minutes
This yummy homemade vegan margherita pizza has a simple, fluffy and crispy dough, vegan cheese, marinara sauce, garlic, oregano, tomatoes and fresh basil!
Ingredients
For the Crust:
1 Cup Slightly Warm Water
1 Tsp Salt
Toppings:
3/4-1 Cup Vegan Mozzarella Cheese
1/2-1 Cup Tomato Sauce 
1-2 Sliced Tomatoes
2-3 Cloves Garlic, minced
1/2 Tsp Dried Oregano
Fresh Chopped Basil (add after baking)
Salt/Pepper to Taste
Instructions
Activate the yeast by dissolving the sugar in the slightly warm water in a large bowl. Pour yeast over the top and do not stir in, let rest for 10 minutes or until it becomes foamy.*
Add olive oil and salt and mix well. Add flour and mix until it begins to form a ball. Use your hands to help if needed.
Remove dough and set aside, add oil to the inside of the large bowl and place dough back inside. Cover with a towel and allow to rise for an hour.**
After dough has risen, preheat oven to 425 degrees.
Flour a clean, flat surface and punch air out of dough, then place on the surface and add more flour to the top.
Knead a few times by pushing the dough out with the palm of your hand, then bringing it back into a ball.
Place a towel over the dough and let it rest for 10 more minutes.
Oil a pizza pan and place dough in the middle of the pan, flattening out evenly and leaving more dough on the ends for the crust. Be gentle with this part so the dough does not rip in the middle!
Add tomato sauce evenly to the center, leaving about an inch and a half or so dry around the edges for the crust. Add vegan cheese, garlic, sliced tomatoes, oregano, salt and pepper.
Bake for about 18-22 minutes, or until crust is golden brown. Remove from oven and add chopped fresh basil. Enjoy!
Notes
*If your yeast does not foam, it's possble the water was too cold and did not activate it, or too hot and killed it, or the yeast may be old. Try again with another packet or your dough will not rise.
**To help with this process, you may want to boil some water in the microwave, remove it and place the bowl with the dough inside the microwave so it can rise in a warm environment.
Recommended Products
As an Amazon Associate and member of other affiliate programs, I earn from qualifying purchases.