We may earn money or products from the companies mentioned in this post.
(Last Updated On: July 10, 2023)
Easy Vegan Chickpea Patty Recipe
This chickpea patty recipe is seriously one of the fastest and easiest vegan burgers ever!
It's made from just a few pantry ingredients and offers a good bit of protein as well as budget-friendly ingredients.
It's also filled with spices and the patty does not crumble at all while cooking, which can be a tricky part when making your own vegan burgers.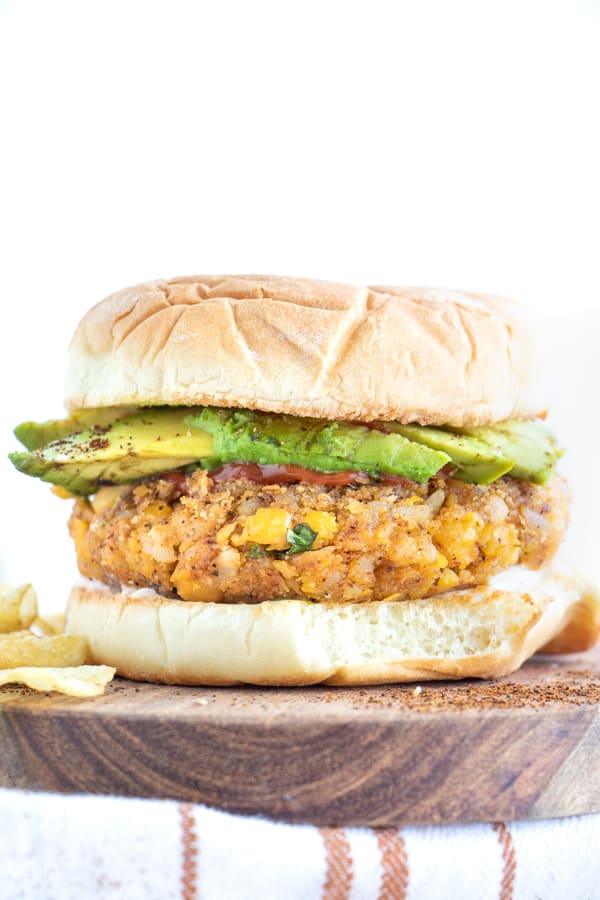 Many veggie burger recipes are packed with different things to give them a lot of flavor and texture.
I love making those from time to time, but I wanted to be able to offer an easier and faster version for busier days when those are just not an option.
This recipe has only 6 ingredients and some spices and it's ready to go in no time!
Easy Vegetarian Chickpea Patties
These yummy vegetarian patties have mashed chickpeas, rice, cilantro, breadcrumbs, olive oil, a flax egg and a spice mix of chili, smoked paprika, cumin, garlic and onion.
There's just enough moisture from the flax egg and olive oil to bring everything together, and it's simple to form into patties with your hand!
The texture is soft yet just dense enough to still not be crumbly.
I love these simple burgers and they cook up with a nice little crunch when cooked in a pan with a little more oil!
These chickpea burgers have tons of texture even with the few simple ingredients they have.
When I'm mashing the chickpeas I also like to leave just a few not completely mashed!
How to Make Homemade Chickpea Burgers
Mixing and Shaping the Burgers
To make these simple burgers, start by cooking your rice.
Then drain and rinse your chickpeas and mash them with a potato masher or a fork if that's all you have (I do highly recommend the potato masher for ease of use though!).
Some chickpea brands are tougher than others, but they will all mash with enough squishing!
Then add your remaining ingredients and mix well.
You should be able to scoop out 1/2 cup amounts and shape them into patties with your hand, being sure to squish down well so they don't crumble during any step of the process.
If they seem a little too dry or wet, you can always add a dash more olive oil or breadcrumbs.
Cooking the Chickpea Burgers
Once all your patties are done, heat a drizzle more olive oil in a pan over medium heat and let it heat up.
Cook the burgers for 2-3 minutes on each side until they get golden brown.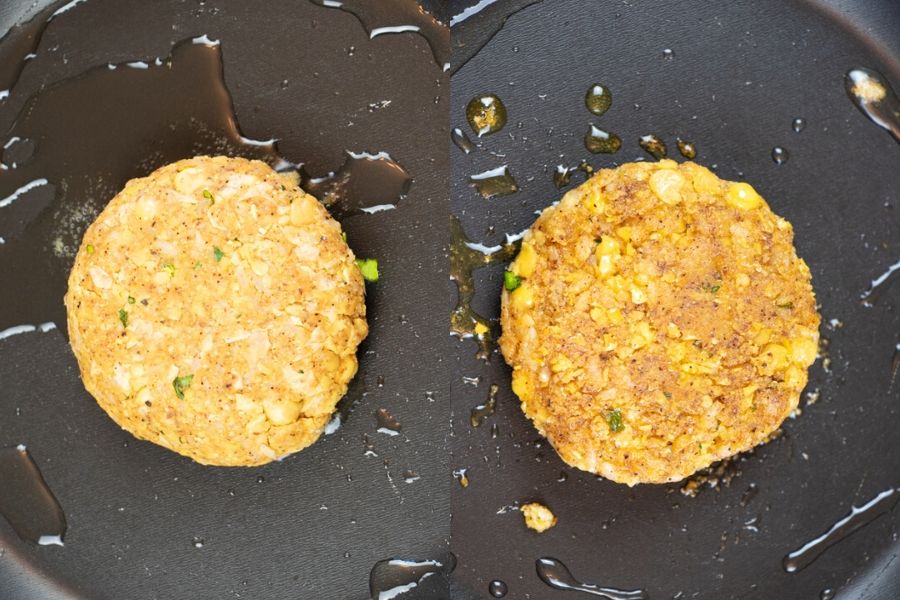 Serving Homemade Vegan Burgers
That's it!
You can serve them on burger buns with your toppings of choice (I used avocado, vegan mayo and ketchup), or over a salad.
You can enjoy these anyway you'd like, they are very versatile and great with so many meals and sides!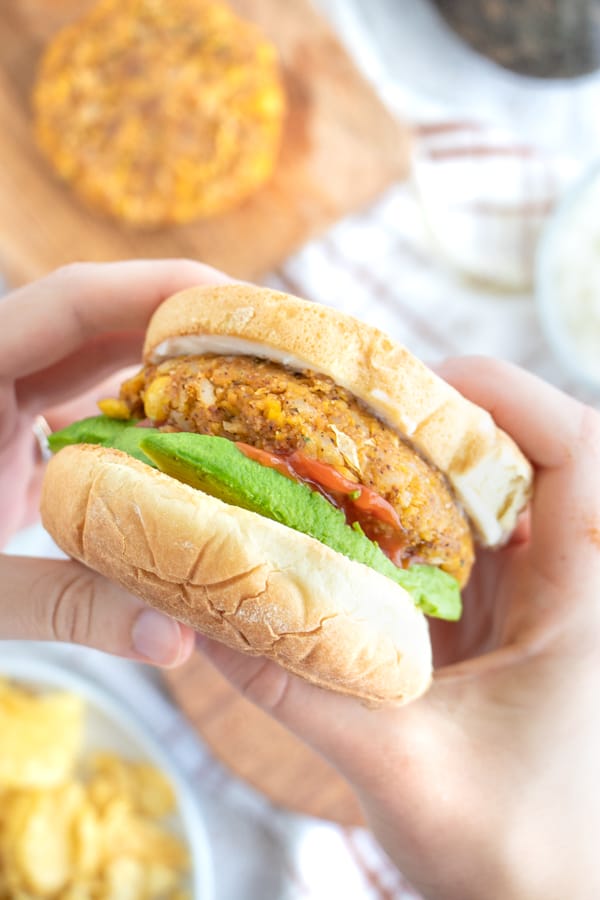 Best Vegan Chickpea Burgers Ever
I love having vegan burgers, they are such a classic dinner and are especially perfect for summertime and warm weather!
This recipe is ideal for those wanting to save money and not buy store-bought, as well as those without a ton of extra time on their hands.
I know you'll love them as much as I do!
This recipe is:
Easy

Vegan

Healthy

Homemade

Budget-Friendly

Non-Crumbly

Delicious!
Check out these other vegan recipes!
Chickpea Avocado Salad Sandwich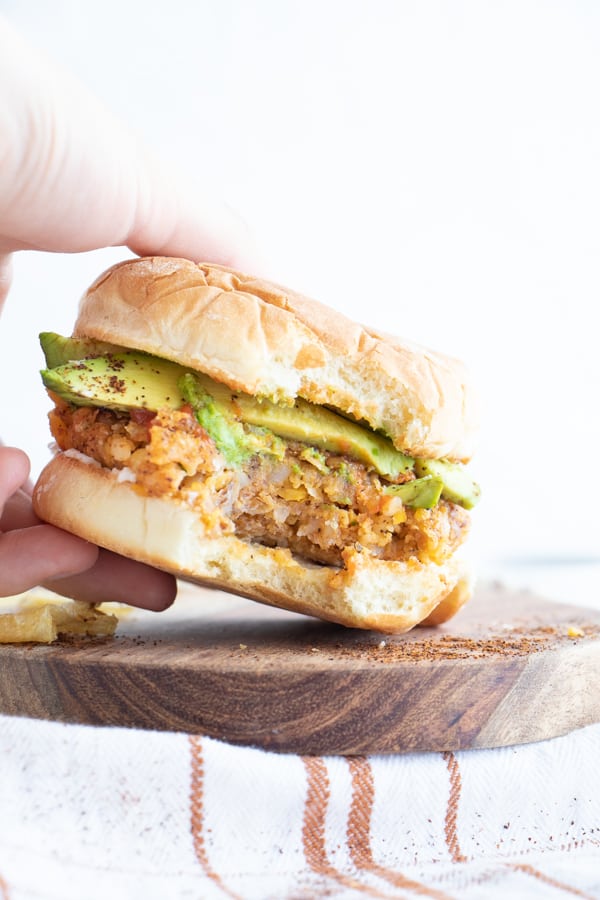 Pin this for later!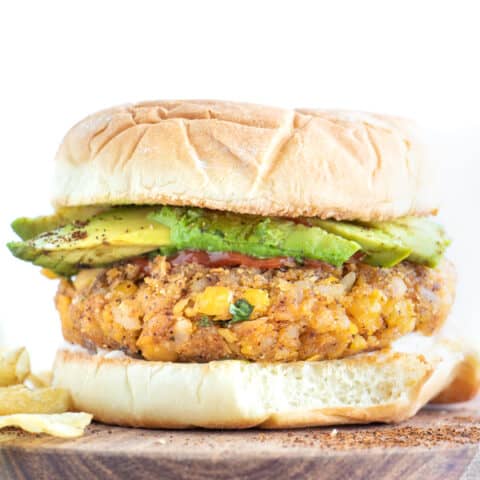 Chickpea Patty Recipe
This easy vegan chickpea patty recipe is ready in no time and has so much flavor! Made with just a few simple ingredients and ready in under 25 minutes!
Ingredients
1 15 oz. Can Chickpeas
1/3 Cup Cooked Rice
1/4 Cup Chopped Cilantro
1/3 Cup Breadcrumbs
1 Flax Egg*
2-4 Tbsp Olive Oil (+ more for cooking)
3/4 Tsp Chili Powder
1/2 Tsp Smoked Paprika
1/2 Tsp Ground Cumin
1/2 Tsp Garlic Powder
1/2 Tsp Onion Powder
3/4 Tsp Salt
1/4 Tsp Pepper
Instructions
Drain and rinse chickpeas and add to a bowl. Mash with a potato masher or fork until most of the beans are squished.
Add remaining ingredients and mix well.
Take 1/2 cup scoops of the mixture and form into patties with your hands.
Heat a drizzle of oil in a pan over medium heat and cook patties for 2-3 minutes on each side until they are browned.
Remove from heat and serve on buns or with a salad!
Notes
*1 Tbsp ground flax seed mixed with 3 tbsp water and allowed to sit for 5 minutes.
Nutrition Information:
Yield:

4
Amount Per Serving:
Calories:

336