We may earn money or products from the companies mentioned in this post.
(Last Updated On: March 31, 2021)
West African Vegan Peanut Stew
This African Peanut Soup recipe has so many unique and complimentary flavors – it's like nothing you've tried before.
While not an authentic version of the soup, this is simply my take on the recipe with a couple simple vegan twists.
Sweet potato, peanut, ginger, garlic, tomato, turmeric, coriander, cumin, cinnamon and chard are the main components of this soup, and they blend together perfectly.
This soup is warm, comforting and healthy with all natural and unprocessed ingredients, and definitely a dish-to-impress.
Simple African Sweet Potato Peanut Soup
With any diet, sometimes you can get a little bored of eating the same old thing. That's why this soup is perfect for switching it up and keeping things interesting!
The base of this dish begins similarly to other sweet potato soups, but has a much deeper and more rich, savory flavor.
I've made many variations of this soup, and settled on this group of flavors – they don't overpower one another and create a super unique flavor.
How to Cook African Peanut Soup
Preparing the Soup Base
This recipe begins with cooking the onions, ginger and garlic until fragrant and translucent (this is already one of my favorite flavor combinations to any good soup recipe!).
Then you add in the diced sweet potato and let it cook until it begins to tenderize. Next add the tomato sauce, peanut butter and organic vegetable stock and stir.
Stir in all your beautiful spices, bring to a soft boil and reduce heat to low to let it simmer for at least 10 minutes.
The longer it simmers, the more flavorful it becomes!
Thickening and Serving African Peanut Soup
Now, using an immersion blender or scooping the soup into any blender you have (allow it to cool a bit if you are not using an immersion blender or it could erupt out of the blender), and process until it thickens.
I don't blend it all the way in order to keep some potato pieces.
Then you'll add in your chopped chard and let it cook until it's tender
Serve with whole peanuts on top, and maybe some fresh bread!
I love making this warm soup all winter-long, and it's still light enough to have in the summer as well.
It's a great way to sneak in some greens without even knowing it, and chard is the best for this soup because it's a heartier green than spinach or kale, and even when it's cooked down it still has a great texture.
This soup is a perfect weeknight or meal prep dinner recipe!

This recipe is:
Unique

Flavorful

Savory

Hearty

Comforting

Easy

Budget-Friendly

Delicious
If you're looking for more healthy vegan soup recipes, try these below!
Pin this for later!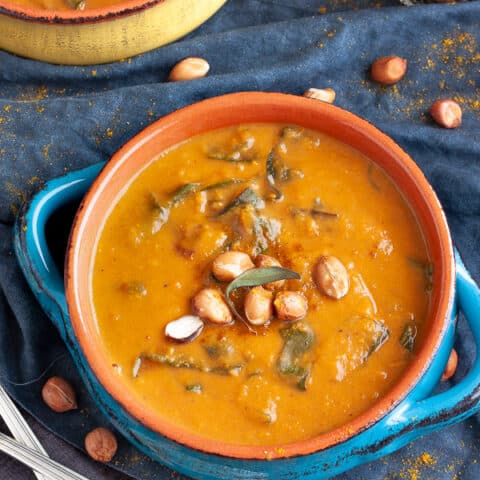 African Peanut Soup
This easy vegan peanut soup has sweet potatoes, tomatoes, ginger, garlic, peanut butter and more! Super flavorful and savory for a unique comforting meal!
Ingredients
2 Large Sweet Potatoes
1 Onion
3-4 Cloves Garlic
1 Inch Fresh Ginger
1/2 Cup Peanut Butter
32 oz Vegetable Stock
1 Can Tomato Sauce
1 Bunch Chard
2 Tsp Ground Cumin
2 Tsp Ground Coriander
1/4 Tsp Cinnamon
1/4 Tsp Turmeric
Salt/Pepper to Taste
Instructions
Add chopped onions to a pot over medium heat, and cook with a splash or veggie stock for about 3 minutes, or until translucent. Add ginger and garlic and continue cooking for a minute.
Add Sweet Potatoes and continue cooking for 5 minutes, adding more water or veggie stock to avoid sticking.
Add peanut butter, veggie stock, tomato sauce, cumin, coriander, cinnamon, turmeric, salt and pepper and cook, covered for about 10 minutes, or until potatoes are tender when poked with a fork.
Take an immersion blender* and blend some, but not all, of the soup to thicken. You still want some potatoes left whole for texture.
Add chopped chard and cook for another couple minutes until soft, serve with peanuts on top!
Notes
* If you don't have an immersion blender, you can simply scoop the soup into any blender you have. Though I would recommend you let it cool a bit before blending.
Nutrition Information:
Amount Per Serving:
Calories:

385