We may earn money or products from the companies mentioned in this post.
(Last Updated On: May 3, 2023)
Easy Vegan Caramel Chocolate Eggs Recipe
These vegan caramel chocolate eggs are homemade, delicious and decadent.
Filled with a homemade vegan caramel from scratch and surrounded by smooth vegan chocolate!
These are the best way to celebrate Easter or anytime you need some homemade candies.
All you need is chocolate, caramel and any kind of chocolate mold you'd like, these can be added to any mold to celebrate any occasion, but my favorite time to make these is Easter!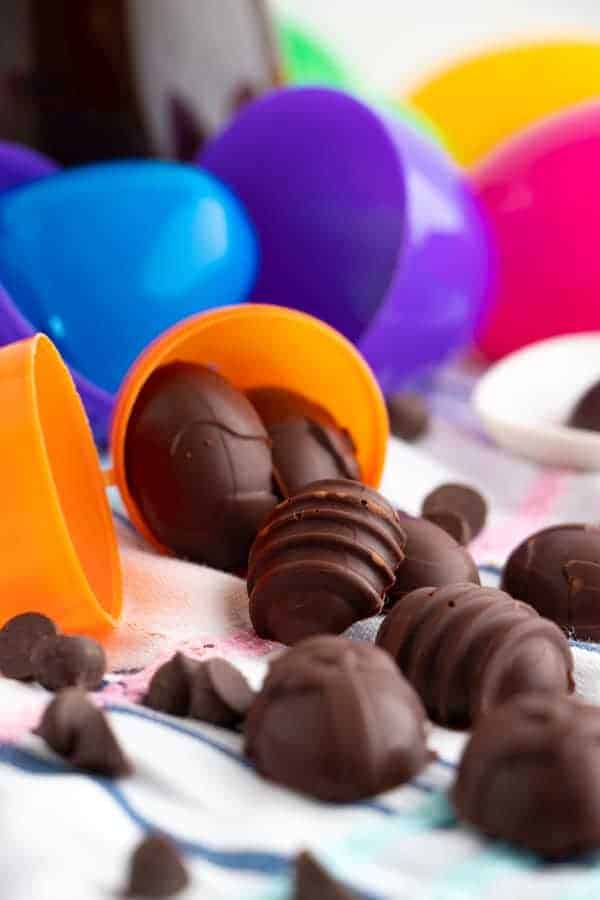 Caramel is such a delicious compliment to chocolate – it's rich, unique and has so many depths of flavor from the brown sugar, vanilla, maple, vegan butter and rich coconut cream.
Homemade Caramel Filled Easter Eggs
Nothing compares to enjoying delicious chocolate Easter eggs on the holiday.
It's such a classic tradition and I'm so happy to share this dairy free version that is sure to be a hit.
Filled with a generous serving of caramel, these chocolates melt in your mouth and are the perfect addition to any dessert table.
I even found this recipe for homemade chocolate if you wanted to make it from scratch.
If you'd like a simpler version that is ready in no time, I just used vegan chocolate chips and gently melted them!
These chocolate eggs would be perfect to stuff inside some Easter eggs and hide them around the house!
I do recommend keeping the chocolate in the freezer or fridge and taking them out when it's time to eat though, they can start to soften if left out for too long.
But they will last long enough for an Easter egg hunt!
If you want more homemade vegan chocolate, try my Vegan Dark Chocolate Bark too!
How to Make Vegan Easter Chocolate Eggs
Preparing the Caramel and Chocolate Molds
When you're ready to make these yummy vegan chocolates, start by preparing the vegan caramel sauce by following this recipe (but half it unless you want left overs for ice cream and lattes!).
Alternatively, you can purchase a jar of vegan caramel, but I always thing homemade is best, and it's easier to make than you might think!
Once it's prepared and cooled a bit, I like to use a funnel to pour it into a container with a spout for easy pouring to fill the chocolate eggs, then set it aside for now.
Now, melt the chocolate in the microwave on 10 second increments and stirring in between, or using a double boiler method and melting it with hot steam.
Pour some into the molds and move the mold around so the chocolate covers all of the edges (for the molds I used linked below, I added 1/2 teaspoon).
If you're having trouble you can also use a spoon to gently push the chocolate onto the edges – this is important so no caramel leaks out! Then freeze the chocolate until it's hardened, about 5-10 minutes.
Filling and Serving Caramel Filled Chocolate
Now, pour a bit of caramel into each egg, making sure to leave space at the top so that the caramel is completely sealed in by chocolate (for the molds linked below, I added about 1/4 teaspoon).
Freeze again until the caramel is hardened (at least 10-15 minutes), and then add a final layer of chocolate to the top and spread it out with a spoon to reach all the edges.
Freeze a final time until hardened, at least 10-15 minutes, and push the chocolates out of the molds – enjoy!
Serve the chocolates anyway you'd like!
I think they look great in Easter eggs, or on a platter like pictured below!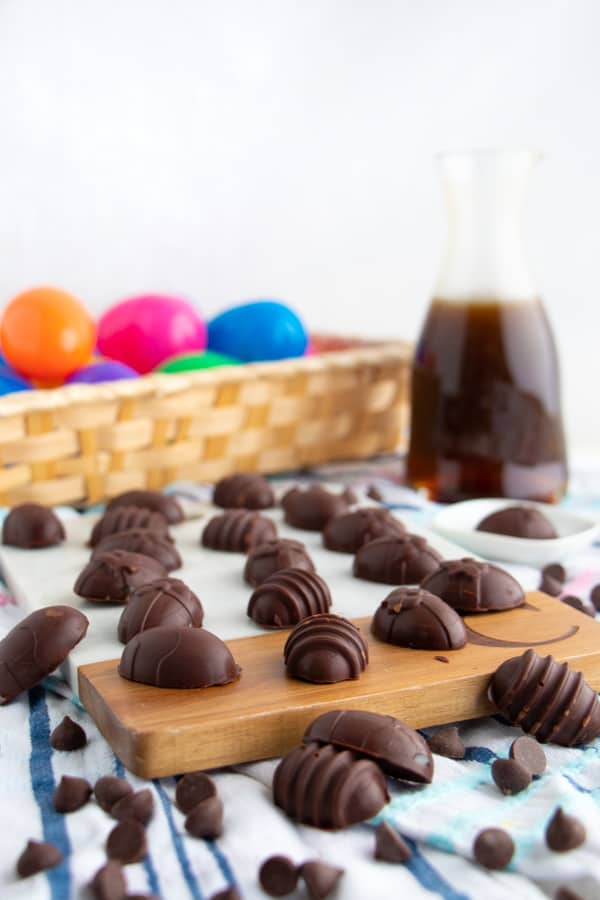 Best Dairy Free Caramel Chocolates Ever
These little chocolate candies are the most perfect sweet treat, you can make them big or small and use any sort of mold you have.
I've even made them with an ice tray before, by putting a bit of non-stick spray or wrap inside to easily get them out – they don't turn out as pretty this way, but it's great if that's all you have!
Anyway you make them, you'll love these decadent chocolate eggs, and you'll never be able to tell they're completely dairy-free.
Also, if you're not too familiar with finding chocolate that is vegan, here is a little guide to help!
This recipe is:
Simple

Delicious

Decadent 

Easy

Dairy Free

Homemade

From Scratch

Vegan
Check out these other chocolaty vegan treats!
Pin this for later!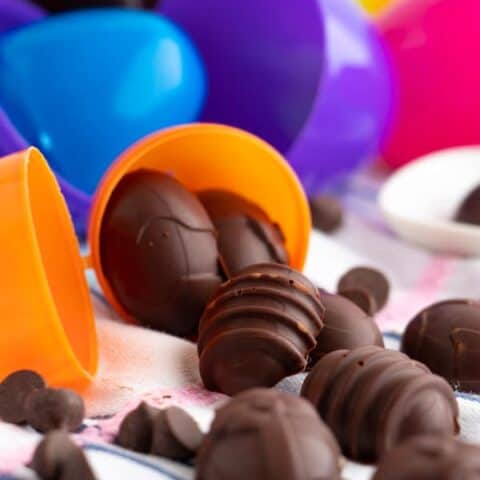 Vegan Caramel Chocolate Eggs! (homemade caramel)
Yield:
About 30 Chocolates
Assembly Time:
20 minutes
Total Time:
1 hour
30 minutes
These vegan caramel chocolate eggs are so simple and delicious, made with a homemade vegan caramel from scratch and smooth dairy free chocolate!
Instructions
Prepare caramel and set aside. (click on the recipe above to see how to make it).
Gently melt chocolate by heating it in 10 second increments in the microwave and stirring in between, or using a double boiler method.
Fill molds roughly half way and move them around so the chocolate covers all the edges, freeze for 5-10 minutes until hardened.
Add caramel to the molds, making sure to leave enough room at the top to pour more chocolate so the caramels are completely encased. Freeze 10-15 minutes until hardened.
Add a final layer of chocolate to completely fill the molds, then smooth out so the bottoms are flat.
Freeze for another 10-15 minutes and then push out of molds - enjoy!
Nutrition Information:
Serving Size:

2 Chocolates
Amount Per Serving:
Calories:

140