We may earn money or products from the companies mentioned in this post.
(Last Updated On: March 26, 2023)
The Best Vegan Chocolate Truffles
These vegan chocolate truffles are so delicious and the ultimate dairy free chocolate treat.
They're so rich and decadent, made with creamy coconut milk and almond butter and coated in chocolate sprinkles!
These are so quick and easy to make, and the texture is so creamy and irresistible!
Dairy Free Coconut Milk Chocolate Truffles
These truffles are so easy to make, you just melt everything together, let it chill and then roll in sprinkles.
These chocolates have subtle flavors of almond, maple and vanilla, all combined with smooth dairy-free chocolate.
I love making these for the holidays, birthdays, or just to have a chocolaty snack available during the week!
They also make a wonderful gift – there's nothing better than homemade truffles! Try my Vegan Chocolate Covered Strawberries next too!
These truffles are so amazing on their own, but what I love even more about them is you can add flavors like mint or fruit to suit any occasion.
Add peppermint extract for a chocolate peppermint combo, or some orange or almond extract!
For toppings, I loved the chocolate sprinkles (which I also used to top my Vegan Peppermint Patties), but you could also use coconut flakes, nuts, cocoa powder, powdered sugar or chocolate chips.
I also found this recipe to make your own adorable little chocolate sprinkles if you want to try it out!
Just be sure to use some sort of coating – it helps them be easy to grab and adds more flavor and texture.
How to Make Vegan Chocolate Truffles
Preparing The Truffle Mixture
Making the base for these vegan chocolate truffles is super simple – you just melt them all together!
Simply add the chocolate chips, almond or peanut butter, coconut milk, espresso powder, salt and maple syrup to a microwave safe bowl.
Heat in 15 second increments, stirring in between, until smooth and well combined.
If you don't want to use a microwave, you could also use the double-boiler method by placing a pan with an inch of water over medium heat, and placing the bowl with the truffle ingredients on top.
Heat the water until it boils and the steam will warm up the truffle mixture, just be sure to stir often!
Shaping The Chocolate Truffles
You'll want to then chill the truffle mixture in the freezer for about an hour before shaping it so that it hardens up.
Once it's ready, I highly recommend using a small cookie scoop with a trigger to shape the truffles into little balls. If you don't have one you can use a couple spoons, just be sure to work quickly if you do.
Once scooped, use the trigger to release the truffle into your hand, then run it between your palms for a second or two to shape the bottom, and then place it into a plate filled with sprinkles.
You'll want to work quickly so they don't become too soft! The sprinkles also help to contain the truffle and avoid melting.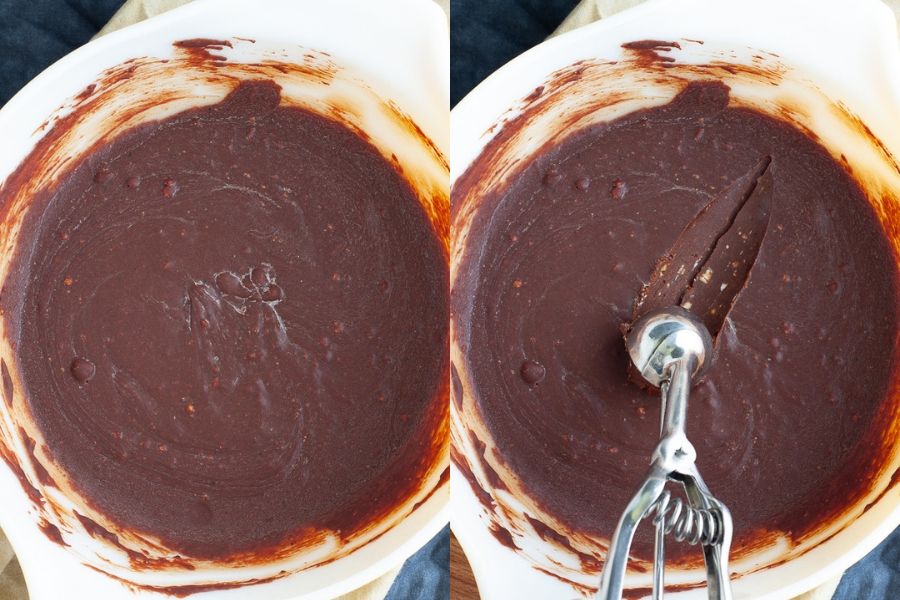 Coating The Truffles
Gently press the truffles into the sprinkles and coat evenly.
Place completed truffles on a plate in the fridge to set again for at least 30 minutes.
Repeat with remaining truffles – you may need to set the bowl back into the fridge if the mixture starts to soften up again.
Lightly squish the sprinkles down so they flatten out, this makes them look so pretty!
Easy Vegan Truffle Balls Recipe
The most perfect little truffle bites – I added some cocoa powder and espresso powder to the top to spice them up even more!
I've found that adding a bit of espresso or coffee grounds to my chocolates gives them a MUCH deeper flavor.
If you really like coffee, feel free to add as much grounds as you'd like to these! 
These truffles are the perfect addition to any snack board, or are great as a simple dessert!
This recipe is:
Decadent

Easy

Chocolaty

Sweet

Delicious

Fun

Quick

Simple

Vegan
Try these other chocolaty vegan desserts!
10 Best Vegan Chocolate Desserts!
Pin this for later!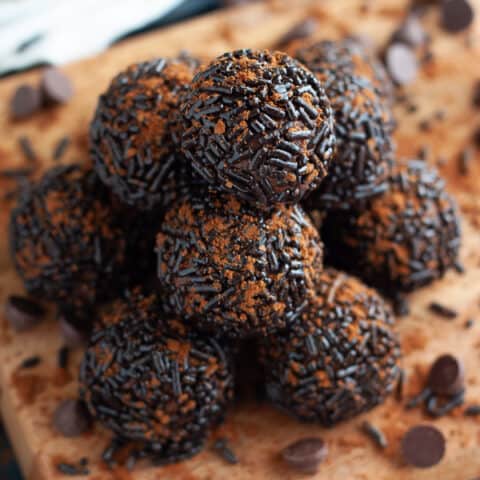 Vegan Chocolate Truffles
Total Time:
1 hour
50 minutes
These decadent vegan chocolate truffles are so rich and creamy and coated in chocolaty sprinkles. The best dairy free homemade chocolates with coconut milk!
Ingredients
Instructions
In a microwave safe bowl (or using the double-boiler method), melt all ingredients except for the chocolate sprinkles, in 15 second increments, stirring in between until smooth.
Chill this mixture in the freezer for 1 hour to harden.
Using a small cookie scoop with a trigger remover, scoop out truffle balls, quickly shape into perfect balls in the palm of your hands, then drop into a bowl of chocolate sprinkles.*
Pour sprinkles on top and all around, lightly squishing down. Place truffles on a plate and back in the fridge to set for at least 30 minutes.
Keep them in the freezer for optimal texture, enjoy!
Notes
*If the truffle dough becomes soft, you may need to chill it again to avoid it from sticking too much.
Recommended Products
As an Amazon Associate and member of other affiliate programs, I earn from qualifying purchases.
Cookie Scoop Set,JSDOIN Ice Cream Scoop Set, 3 PCS 18/8 Stainless Steel Ice Cream Scoop Trigger Include Large-Medium-Small Size, Melon Scoop (cookie scoop)

Keto Sprinkles, 6 oz. Larger Value Size, Dye Free, Non-GMO, Plant-Based, Vegan, Gluten Free, All Natural, No Artificial Coloring, Sugar Free Sprinkles, 1g Net Carb (Chocolate, Single Package)
Nutrition Information:
Yield:

12
Serving Size:

1
Amount Per Serving:
Calories:

162
Total Fat:

12g
Saturated Fat:

4g
Trans Fat:

0g
Unsaturated Fat:

7g
Cholesterol:

0mg
Sodium:

17mg
Carbohydrates:

15g
Fiber:

2g
Sugar:

12g
Protein:

3g