We may earn money or products from the companies mentioned in this post.
(Last Updated On: November 21, 2022)
Moist Vegan Apple Cake Recipe
This homemade and spiced vegan apple cake is my new favorite dessert ever!
It's incredibly moist, fluffy, super flavorful and comforting.
Filled with cinnamon, nutmeg, vanilla, freshly chopped apples and crunchy walnuts.
This cake has tons of flavor, the perfect moist, spiced crumb and a sweet vanilla icing on top!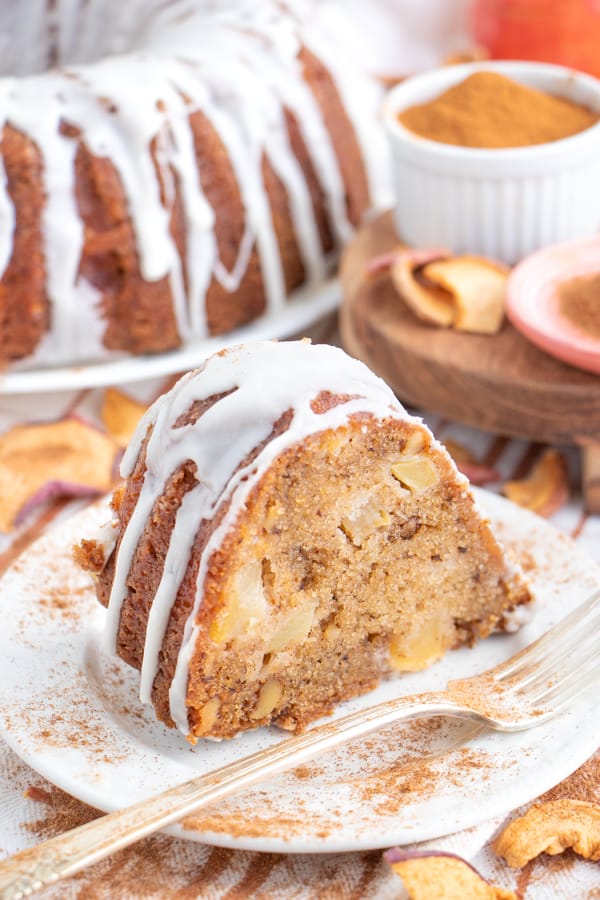 This tasty cake has the best ever texture.
I want to say it's in between a traditional cake and a banana bread.
It's also so moist thanks to a mixture of vegan yogurt, vegetable oil, and freshly chopped apples.
Dairy Free Apple Spice Cake
This apple cake has the perfect balance of sweet and spice, with a good amount of vanilla added into the cake and the icing as well.
I always love adding delicious spices to apple desserts to bring out the flavor and add a comforting element.
The addition of crunchy walnuts and baked apple bits makes this cake irresistible and an easy crowd pleasing dessert.
This is my new go to treat for whenever I need something sweet!
While this cake does need a few ingredients, they all come together to make the best ever dessert cake.
They are all common household ingredients, you just need some dairy-free yogurt and flax seed as well, which can both be found at almost any grocery store these days.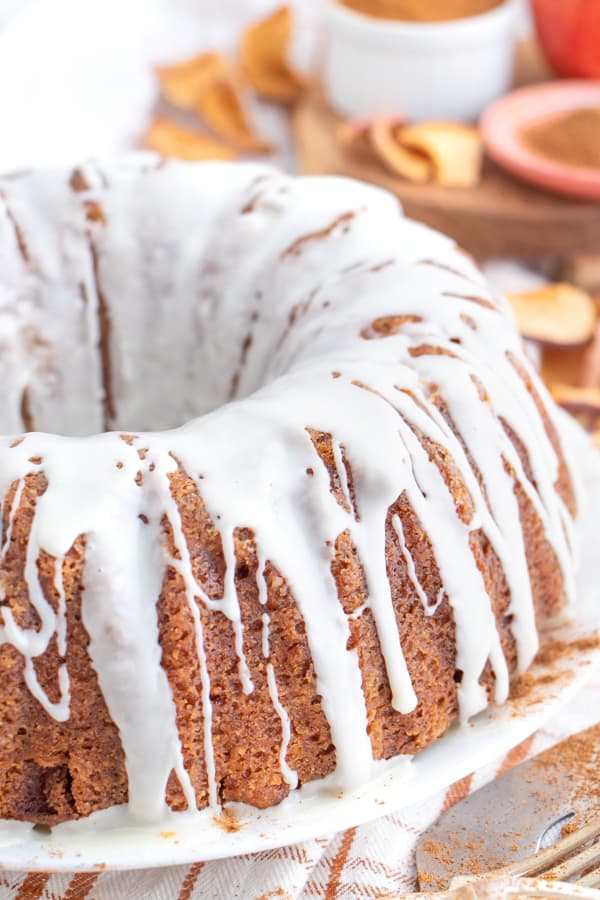 How to Make Vegan Apple Cake
Mixing the Ingredients
To start making this delicious cake, start by preheating your oven to 350 degrees F.
Then, mix your dry ingredients in one bowl and your wet, including the sugar, into another.
I like to whisk both separately to really incorporate everything.
Adding the Apples and Walnuts
Add the dry ingredients into the wet and mix just until incorporated.
You don't want to overmix, so just mix until there are no large flour clumps!
Then stir in the apples and walnuts to evenly incorporate – the batter will be thick.
Baking Homemade Apple Cake
Spray your Bundt pan with a non stick spray, and then sprinkle some flour inside to help with removal.
I like to sprinkle it all over and then shake the pan around a bit to get it everywhere, then shake out any remaining flour.
Pour in the batter and then flatten and smooth the top.
Bake for 70-90 minutes, or until a skewer inserted into the cake comes out clean.
A few moist crumbs is okay, just be sure there is no wet batter!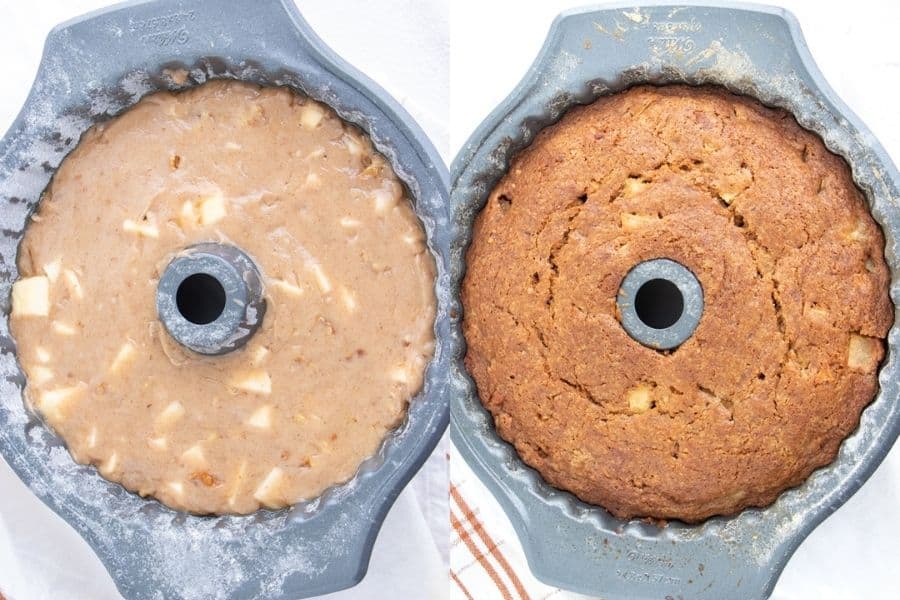 Let the cake cool in the pan for 20-30 minutes, and then carefully flip over onto a cooling rack.
Once fully cooled, go ahead and mix together and drizzle all over the cake and enjoy!
Eggless Cake with Oil and Fresh Apples
This easy vegan cake recipe doesn't have any eggs or dairy in it.
Instead, a flax egg and a vegan buttermilk (plant milk mixed with apple cider vinegar) are used.
Together they add so much richness to the batter and it definitely binds together just as well.
This perfectly moist and incredibly flavorful cake is my favorite cake recipe to date!
This recipe is:
Delicious

Easy

Vegan

Egg Free

Dairy Free

Moist

Spiced

Made with Fresh Apples
Try these other delicious vegan apple treats!
Pin this for later!
Vegan Apple Cake
Cook Time:
1 hour
20 minutes
Total Time:
1 hour
40 minutes
This delicious spiced vegan apple cake recipe is incredibly moist and flavorful! Filled with cinnamon, nutmeg, vanilla, apples and walnuts!
Ingredients
3 Cups All-Purpose Flour
1 Cup Cane Sugar
1/2 Cup Brown Sugar
1/2 Cup Dairy-Free Yogurt
1 1/4 Cups Vegetable Oil
2 Tsp Ground Cinnamon
1/2 Tsp Ground Nutmeg
1 1/2 Tsp Baking Powder
1 Tsp Baking Soda
1/2 Cup Plant Milk
1 Tsp Apple Cider Vinegar
2 Tsp Vanilla
1 Cup Chopped Walnuts (optional)
1 Flax Egg*
3 Medium Apples (peeled, cored, chopped)
1/2 Tsp Salt
Vanilla Icing
1 1/2 Cups Powdered Sugar
3-6 Tbsp Plant Milk
1/2 Tsp Vanilla
Instructions
Preheat oven to 350 degrees F.
In a bowl, whisk together the flour, cinnamon, nutmeg, baking powder, baking soda and salt.
In a large bowl, whisk together the sugar, yogurt, oil, plant milk, flax egg, apple cider vinegar, and vanilla until smooth.
Add dry ingredients into wet and mix just until combined. You don't want to overmix, so just until there are no flour clumps left - the batter will be thick.
Stir in the chopped apples and walnuts.
Spray a Bundt cake pan with non-stick spray and then sprinkle with flour to help with removal.
Pour batter in and flatten out the top with a spatula.
Bake for 70-90 minutes, or until a skewer comes out clean when poked into the Bundt cake. A few moist crumbs is okay, but just be sure there is no wet batter on it.
Cool for 20 minutes in the pan and then carefully flip over onto a cooling rack.
Once cake is fully cooled, mix together the icing and drizzle all over. Enjoy!
Notes
*1 tbsp ground flax seed (or ground chia) mixed together with 3 tbsp water, let sit for 10 min.
Nutrition Information:
Yield:

16
Serving Size:

1
Amount Per Serving:
Calories:

467
Total Fat:

24g
Saturated Fat:

2g
Trans Fat:

0g
Unsaturated Fat:

21g
Cholesterol:

14mg
Sodium:

223mg
Carbohydrates:

59g
Fiber:

2g
Sugar:

32g
Protein:

5g