We may earn money or products from the companies mentioned in this post.
(Last Updated On: September 2, 2023)
Easy Homemade Vegan Apple Fritters
These vegan apple fritters are crispy, golden brown pastries with a soft inside and sweet apple chunks!

They are topped off with a super simple vanilla glaze to sweeten things up and add a nice shine.

The result is the best egg and dairy free apple fritters that are so easy to make at home, even for beginners!
I used honey crisp apples for this recipe because they're my very favorite, and I love how they taste in pastries.

Many apple fritter recipes use granny smith apples, so that's totally an option too! I just love honey crisps and the subtle sweetness they add.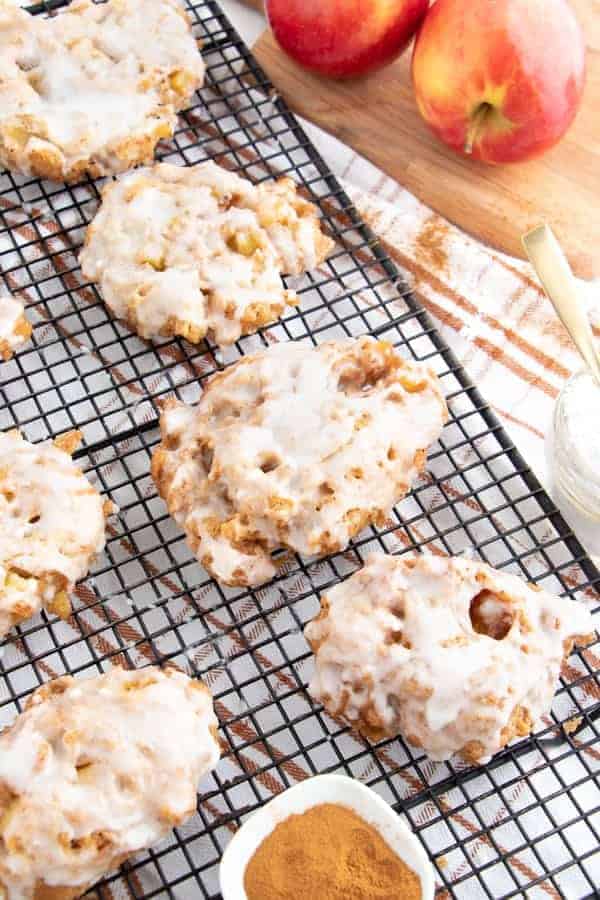 Quick and Yeast Free Apple Fritter Recipe
While many recipes use yeast to rise the dough, I found that using a generous helping of baking powder and a flax egg to do all the binding and rising I needed!

These yeast free fritters are crisp and sweet with a deliciously soft pastry on the inside – the mixture of textures make these fritters so irresistible and unique compared to other fried pastries.

I also pre-cook the apples a bit before adding them to the batter. If you like a heartier apple on the inside you can skip this part, but I like to take the raw edge off of the apples before adding them to the batter, especially since the batter is in the oil for such a short time.

I also like that it even further softens the inside of the pastry to give it that contrast to the fried exterior.
Just look at that soft and fluffy inside!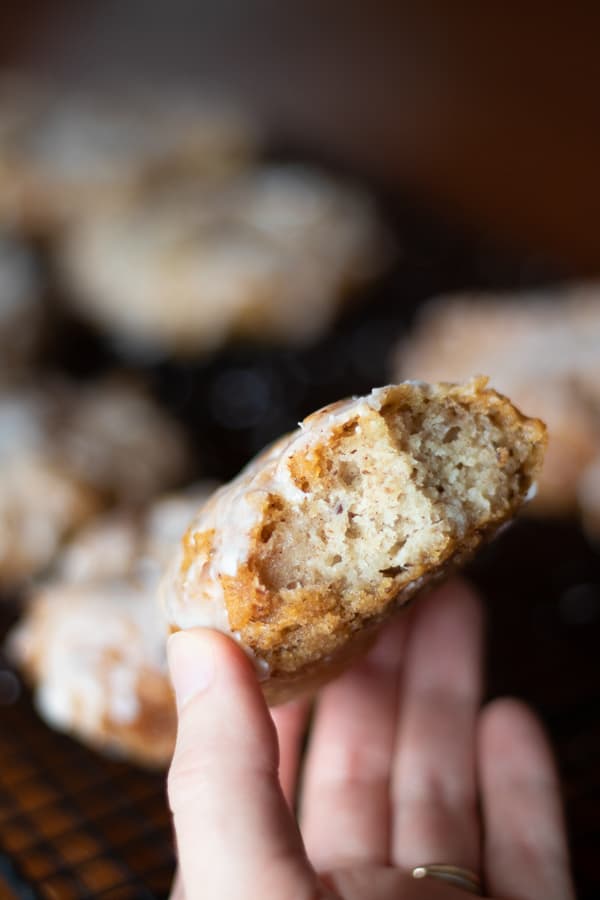 How to Make Vegan Apple Fritters
Preparing the Yeast Free Batter
Like I said above, I like to take the raw edge off of my apples before adding them to my batter.

If you're doing this part, simply cook your apple cubes in a bit of oil until they soften and begin to get a slight golden brown color. I added a tablespoon of sugar for the last minute of cooking and then set the apples on a few paper towels to remove any excess moisture!

Depending on the apple you use you may want to gently press another couple paper towels on top to remove all the moisture you can, for example honey crisp apples will have more moisture than granny smiths. 

Then mix together your ground flax and water (flax eggs!) and set aside to thicken for 5 minutes. Then in separate bowls mix together your dry (including the 2 more tablespoons of sugar) in one and your wet in another (including the thickened flax eggs).

Pour the dry into the wet and mix until you see no more flour, being careful not to over mix.

Finally stir in your apple chunks and your batter is complete!
How to Fry Apple Fritters
Now onto the frying – even if this is your first time, follow these simple steps and you'll be a pro in no time!

Pour neutral oil (I used vegetable) into a deep pot, you'll want the oil about 1 inch deep.

Heat the oil to 350 degrees using a thermometer (this step is necessary, I've tried to fry things in the past guessing on the temperature of the oil and it either falls apart or burns, please save yourself the struggle and buy a candy thermometer!).

Then carefully drop in spoonfuls of batter into the oil (you can use spoonful or double spoonful amounts, it's up to you!) and fry on each side for 30-90 seconds, until each side is golden brown, then you know it's time to pull them out!

Don't worry about their shape as you place them in the oil, the aesthetic of apple fritters is their inconsistent shape and edges!

Place them on a paper towel to absorb any excess oil, and then transfer to a cooling rack. Continue with remaining batter!
Once you've fried all the fritters and they have all completely cooled, mix up your glaze until it's smooth and runny!

Generously drizzle over all the fritters and as it cools it will create a pretty shine! 

You can enjoy these immediately or wait for the glaze to set – these fritters are best enjoyed right after you glaze them in my opinion.

For any you don't finish, you can keep them in a paper towel lined container, covered, in the fridge for a day or two, but they will lose some crispiness, so be warned!

If you leave them on the counter or without the paper towels, they will likely become slightly mushy from the moisture, so definitely keep them in the fridge with paper towels underneath them!
Crispy and Soft Glazed Apple Fritters
This apple fritter recipe is a great pastry for beginners at frying, it's very straightforward and will give you all the confidence you need to fry future recipes like donuts or falafels!

With the combination of the timing and the color of the pastry, you will have no problem getting perfect apple fritters, regardless of the size, but don't worry if one doesn't turn out, keep practicing with the remaining batter!

If you want a slightly less crispy fritter, try making one more towards 30-60 seconds and taste it before you finish the batter, some people prefer a crispy fritter while others like it to be on the softer side.

Either way, these fritters are delicious and are sure to be a huge crowd pleaser!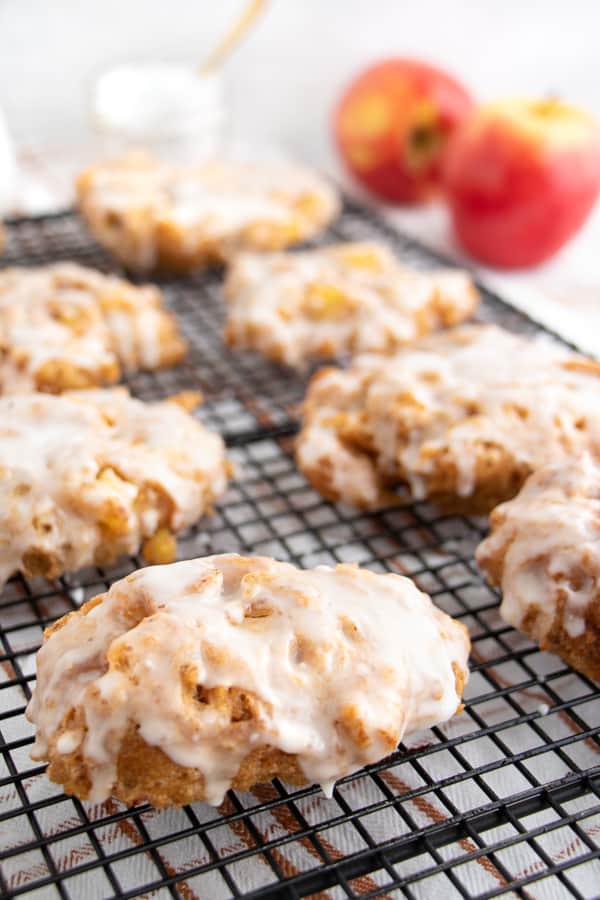 This recipe is:
Delicious

Spiced

Crisp

Soft

Golden Brown

Glazed

Sweet

Full of Fresh Apples!
Check out these other glazed vegan sweets!
Pin this for later!
The Best Vegan Apple Fritters! (Crisp and Spiced)
These homemade apple fritters are irresistibly crisp and flavorful. Made with sweet apples, cinnamon and nutmeg and fried until golden brown!
Ingredients
For the Fritters:
2 Tsp Baking Powder
3 Tbsp Sugar 
1 Tsp Cinnamon
1/2 Tsp Nutmeg
2 Apples (peeled, cored and cubed)
3/4 Cup Plant Milk
1/4 Cup Vegan Butter (melted)
2 Tbsp Ground Flax (+ 1/4 cup water)
1/4 Tsp Salt
For the Glaze:
For Frying
Neutral Oil (enough for 1 inch deep)
Instructions
Peel, core and cube apples and toss into a pan over medium heat with a drizzle of neutral oil.
Cook for a few minutes until they begin to soften and start to become barely golden brown. Add 1 tbsp sugar and cook for one more minute. Remove from heat and place on a paper towel to drain.
Mix together flax and water and set aside for 5 minutes to thicken.
To a bowl, mix together flour, baking powder, 2 tbsp sugar, cinnamon, nutmeg, and salt.
In a separate bowl, mix together the plant milk, melted vegan butter and flax mixture, mix until smooth.
Pour dry ingredients into wet and stir until no more flour is visible, being careful not to mix more than needed. Stir in apples.
Heat frying oil to 350 degrees*, and carefully drop in spoonful amounts of batter. Fry for 30-90 seconds per side and flip until both sides are golden brown, then remove and place on a paper towel to absorb any excess oil. This candy thermometer really helps!
Transfer to a cooling rack to continue cooling and cook remaining batter.
Once batter is all used up and fully cooled, mix together glaze until runny and drizzle generously over fritters. Enjoy!
Notes
*You MUST use a thermometer to gauge the heat of the oil, you simply cannot get a good fritter without knowing the temperature of the oil.
Nutrition Information:
Amount Per Serving:
Calories:

289