We may earn money or products from the companies mentioned in this post.
(Last Updated On: April 30, 2023)
Vegan Rainbow Unicorn Cheesecake
This unicorn cheesecake is so colorful and easy to make!
It's no bake, so all you have to do is blend, layer and then wait for it to freeze.
It has a smooth lemon flavor, is naturally sweetened with maple syrup and is made super creamy with cashews and coconut cream.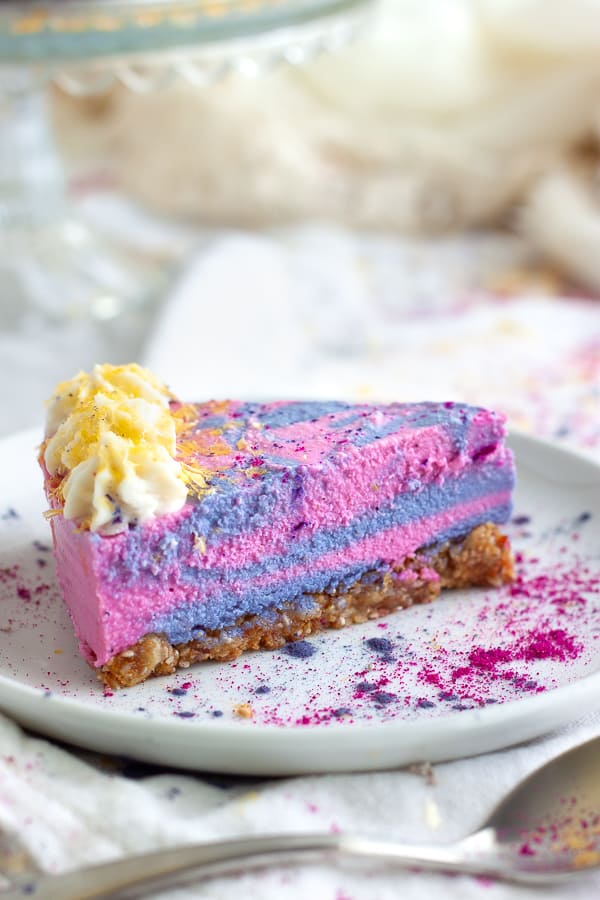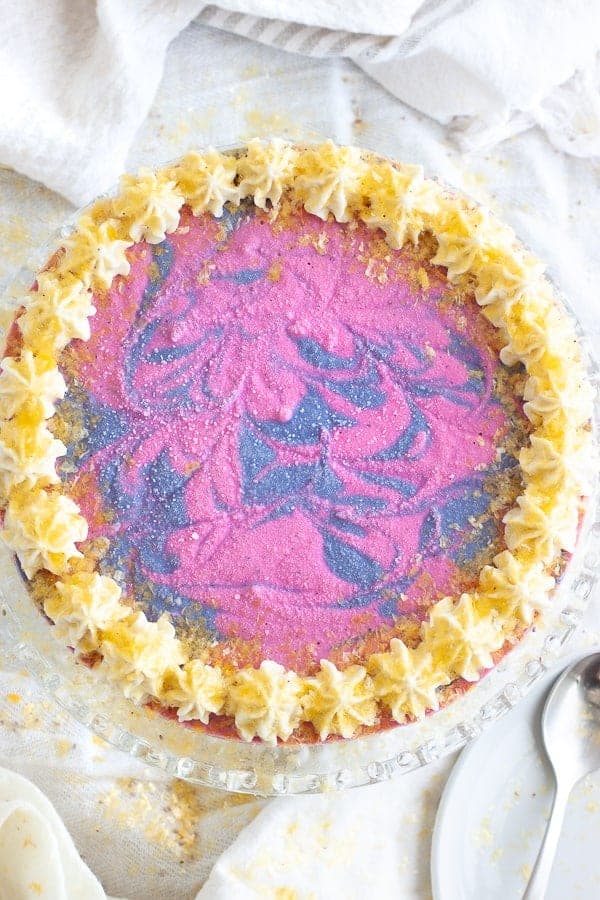 No Bake Unicorn Cheesecake Recipe
This colorful unicorn cheesecake is so pretty and great for parties.
You can also customize the colors to suite any occasion! If you want a less colorful cake, you can always just color half the cake and swirl it with the white cheesecake base.
This cake has a simple sweet lemon flavor, but you could also mix in some fruit with the colors to create endless flavor possibilities!
For example, you could blend some blueberries with the blue and some strawberries or raspberries with the pink.
I used all natural pink and blue coloring for this cake, but you can use any sort of coloring you'd like! You could even just use the fruit.
Fruit would yield a less vivid color, but it would still work just fine!
How to Make Unicorn Cheesecake
Preparing the Raw Cake Crust
To make your cheesecake crust, all you have to do is pulse all the crust ingredients together in a food processor.
Do this until they begin to stick together and form a dough – I don't like over-processing because then you lose a lot of texture.
Spray a 6-inch springform pan with non-stick spray or oil, and place your crust down and spread out evenly.
You can do this by wetting a silicone spatula to squish it down evenly, or using something with a flat bottom like a cup measure dipped in water to flatten it.
Place in the freezer while you make your filling.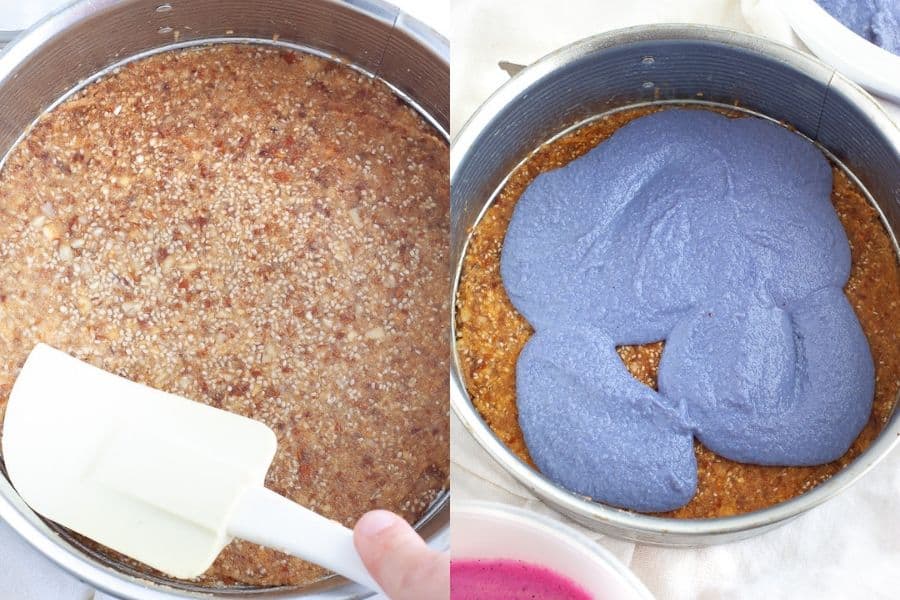 Creating the Rainbow Swirl
To make your rainbow unicorn swirl filling, process all filling ingredients, except for the coloring, until very smooth.
Separate into two bowls and stir in one color into each bowl.
Add to the crust by scooping several scoops of one color at a time, layering on top of each other.
Tap down after each color to even out.
Then, take a toothpick and gently swirl the two colors together – be careful not to overmix or else the colors will begin to combine.
Also, don't stick your toothpick all the way down or else you will stir up the crust.
Place the cake in the freezer for at least 7 hours to fully set.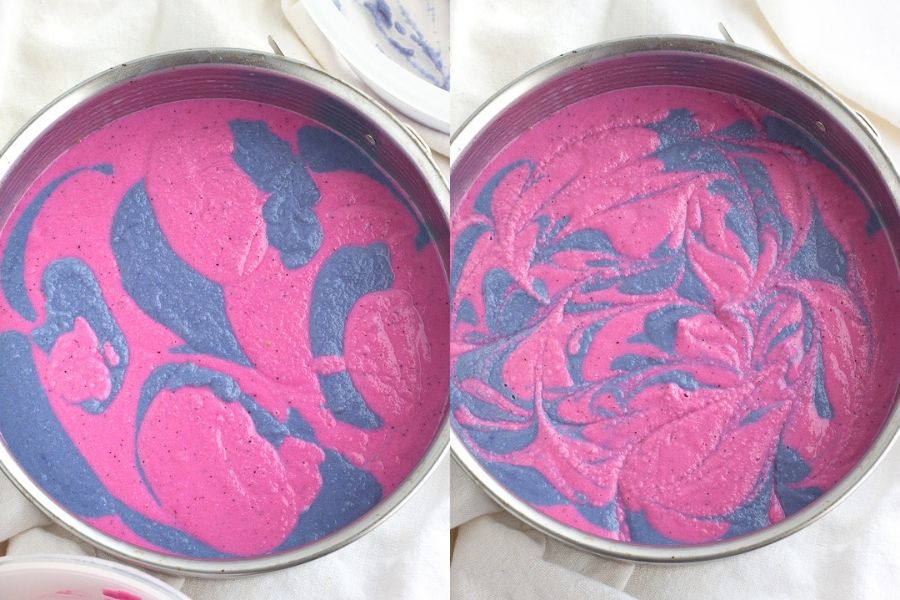 Decorating the Unicorn Cheesecake
Feel free to get creative with decorating this cake! It's so colorful that you can really do anything with it.
I chose to make some coconut whipped cream by mixing coconut cream, maple syrup, lemon juice and vanilla until light and fluffy and then piping a border around the cake.
I finished it off with some vegan amber decorating flakes to add some more color!
Best Easy Raw Vegan Lemon Cheesecake
If you're looking for a simple to make cake that has tons of flavor and color, this cake is all that and more!
This cake is a for-sure crowd pleaser, and it looks much more difficult and unhealthy than it is!
It's actually super healthy, made with all natural ingredients, and comes together in no time.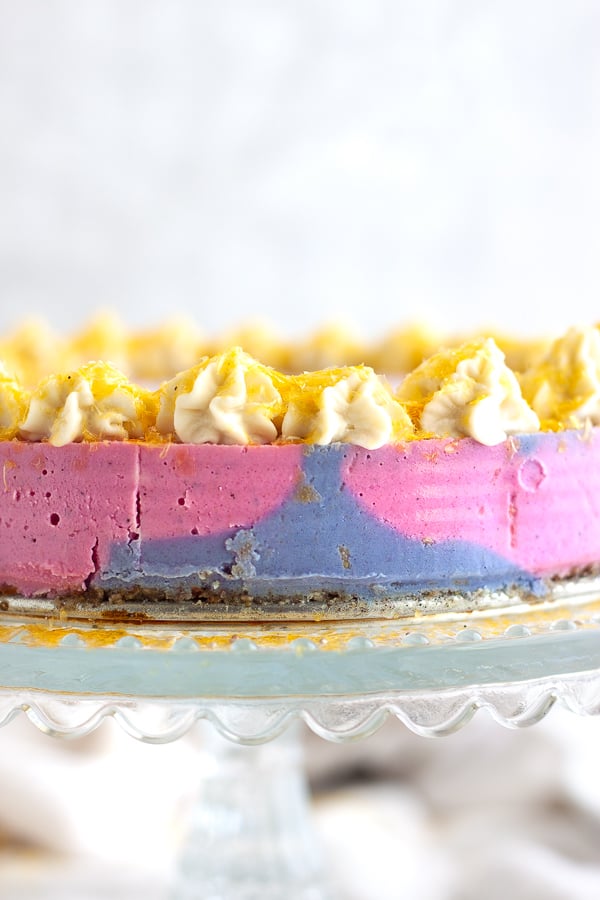 This recipe is:
Pretty

Rainbow

Simple

Vegan

Swirled

Colorful

Flavorful

Healthy

Raw

No Bake

All Natural
Try these other vegan cake recipes!
Unicorn Cheesecake
Total Time:
7 hours
20 minutes
This simple vegan unicorn cheesecake has swirls of pink and blue, coconut whipped cream and golden decoration flakes for the prettiest vegan dessert!
Ingredients
For the Crust:
For the Filling:
For the Coconut Whipped Cream
Coconut cream from 1 can (see below)
3 Tbsp Maple Syrup
1 Tsp Lemon Juice
Instructions
In a food processor, pulse all crust ingredients until they begin to stick together in a dough.
Spray a 6 inch springform pan with non-stick spray and pour crust ingredients inside. Spread out** evenly and place in the freezer while you prepare the filling.
Clean the food processor and add in the soaked cashews***, maple syrup, lemon juice, vanilla and coconut cream and process until very smooth.
Split evenly into 2 bowls and add coloring to each and stir well.
Take our your crust and begin adding in spoonfuls of each color to create a marble effect. Once all filling is used, use a toothpick to gently swirl the colors together even more, but not too much where they begin to mix.
Be careful to not stick the toothpick all the way down or you will cut up the crust.
Freeze cake for at least 7 hours to fully set.
Using a hand mixer or by whisking vigorously, add coconut whipped cream ingredients to a bowl and mix until light. Add to a piping bag or ziploc bag with a swirl tip, and swirl whipped cream over cake.
Add gold flakes or any decorations you'd like and enjoy!
Store in the freezer for up to 5 days.
Notes
*Chill a can of coconut cream for a few hours or overnight, and scoop out the thick cream on top, leaving the liquid in the can.
**The easiest ways to spread out the slightly-sticky crust is using a silicone spatula dipped in water, or dipping something with a flat bottom like a cup measure in water and flattening it out that way.
***Soak for a few hours or overnight in room-temperature water, or in hot water for 10-20 minutes.
Nutrition Information:
Yield:

8
Amount Per Serving:
Calories:

386