We may earn money or products from the companies mentioned in this post.
(Last Updated On: April 30, 2023)
The Best Ever Vegan Cupcake Recipe
These are the best vegan cupcakes ever made from scratch – they're marbled with chocolate and vanilla cake, and topped with a rich vegan chocolate buttercream!
The cake is moist, swirled, fluffy and so flavorful, and they are just swirled enough to be able to taste both flavors.
The cupcakes are topped with a super yummy piped chocolate frosting and some rainbow sprinkles.
These would be perfect to bring to any party you're going to!
Easy Homemade Chocolate Vanilla Cupcakes
While vanilla and chocolate cake is delicious on its own, it's so easy to swirl them together and create something truly special.
It really makes these cupcakes stand out and look more professional than they really are, and they also taste incredible!
You'll love how fun and easy these cupcakes are to make, and you can really get creative in the kitchen.
Easy Vegan Chocolate Buttercream Frosting
This vegan buttercream is also out of this world – it's so chocolaty, sweet and creamy.
It's great to have a fool-proof vegan frosting recipe on hand for any decorating needs!
It comes together in no time, pipes perfectly and tastes amazing.
I also added some fun vegan sprinkles to mine to match the wrappers!
How to Make Vegan Marble Cupcakes
Creating The Cupcake Swirl
To make a beautiful swirl design in your cupcakes, preheat your oven to 350 degrees and start by mixing your dry ingredients together in a bowl (except the cocoa).
In a separate bowl, mix your wet ingredients, including the sugar, then add in the dry mixture and mix just until combined, being careful not to over mix.
Remove 1 cup of the batter and place in a separate bowl, then mix in the cocoa and a tablespoon or two of plant milk as needed – the batter will be thick.
Once both batters are ready, I like to use a small cookie scoop with a release trigger to layer in small amounts of alternating batter in layers.
If you don't have this you can use two spoons to drop the batter in by scraping it off one spoon with the other.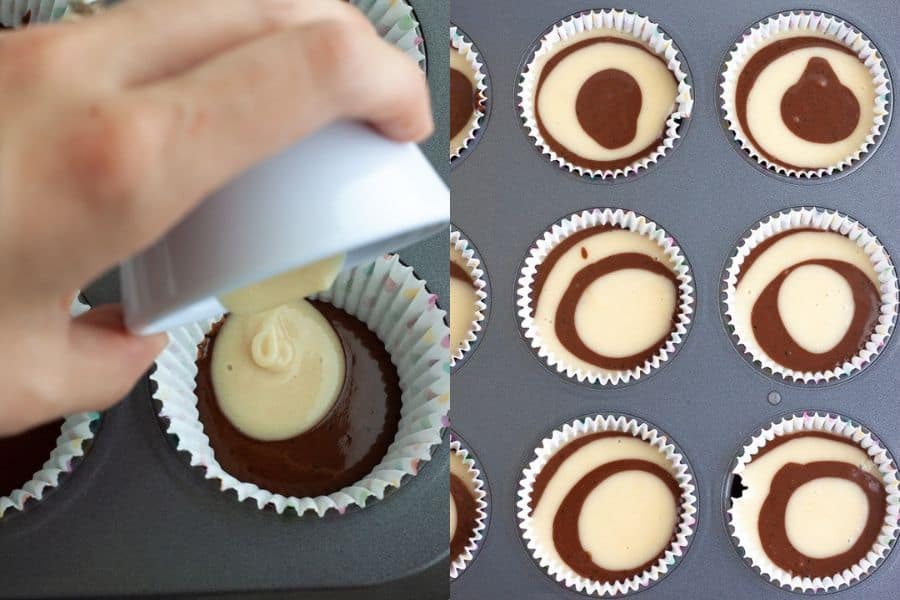 Once your cupcake wrappers are about 3/4 full, take a tooth pick and simply swirl the colors together a bit.
Be careful not to overdo it though – you want to be able to see the different colors clearly!
Baking and Decorating Vegan Cupcakes
Bake your cupcakes for about 20-23 minutes, or until a toothpick inserted into the middle of the cupcakes comes out clean.
Let them cool COMPLETELY to ensure no frosting will melt on top!
While they are cooling you can begin to make the frosting though – add all frosting ingredients (except the powdered sugar) to a bowl and mix with an electric mixer or vigorously by hand for about 3 minutes or until it becomes light.
Mix well and then add your vegan powdered sugar in 1 cup increments, until desired taste and consistency is reached.
Place inside a piping bag with a swirl cap, then in the fridge to chill for about 15 minutes.
Frost your cupcakes in a swirl and you're done!
The Best Vegan Cupcakes Ever
If you're in a pinch for time or just want to make your cupcakes faster, you can always just do one flavor: chocolate or vanilla.
You can also make vanilla buttercream by excluding the cocoa powder, and playing around with the powdered sugar and vanilla; you may need to add a bit more for more flavor and sweetness.
For me, the chocolate buttercream is out of this world and all I want for these cupcakes!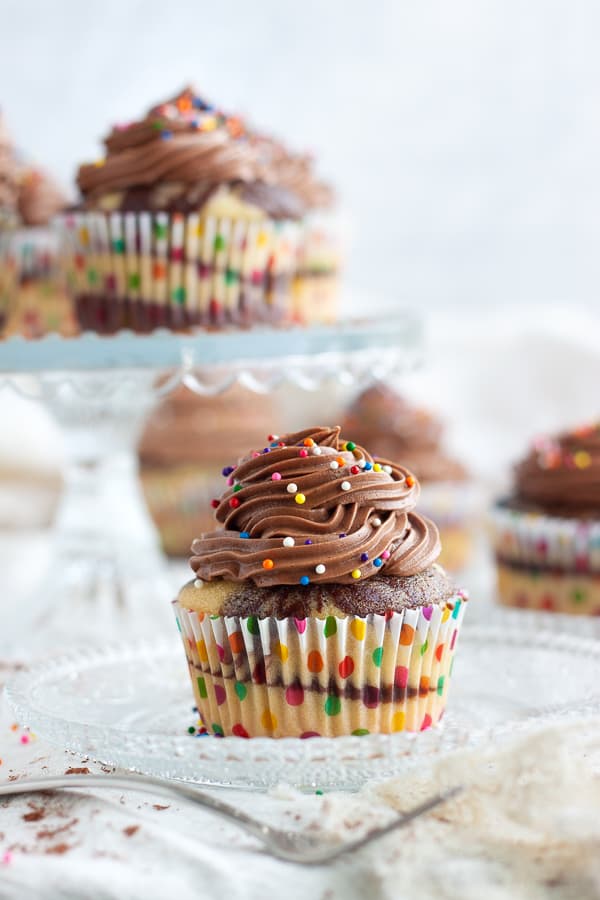 If you're really feeling artsy, you can swirl chocolate and vanilla buttercream together on top of your cupcakes!
A simple trick to do this is to lay out some plastic wrap, and spread out the chocolate and vanilla frostings in the middle side by side in rectangles.
Fold the plastic wrap over so the frostings are on top of each other and seal, twisting the sides until the frosting is completely sealed. Place in the fridge for about 15 minutes until firm, then place inside a piping bag.
Pull one end with the twisted plastic through the swirl cap, and cut open. Then just frost as usual to reveal the swirl of colors!
Here's a video to help you with this if you want to give it a try: How to Swirl Frosting.
This recipe is:
Easy

Chocolaty

Delicious

Moist

Pretty

Swirled

Marbled

Tasty
Try these other yummy vegan desserts!
10 Best Vegan Chocolate Desserts!
Pin this for later!
Best Vegan Cupcakes
These fluffy vegan marble cupcakes are super rich and delicious, with swirls of chocolate and vanilla a simple vegan buttercream frosting!
Ingredients
3/4 Cup Plant Milk
1 Flax Egg*
1/2 Tsp Apple Cider Vinegar
1/2 Tsp Salt
1/4 Cup Cocoa
Chocolate Buttercream Frosting
1-2 Tbsp Plant Milk (as needed)
1/8 Tsp Salt
Instructions
1. Preheat your oven to 350 degrees.
2. Mix the plant milk and apple cider vinegar together and allow to sit for 5 minutes. Then, mix the flour, baking powder, baking soda and salt in a bowl.
3. In a separate bowl, mix the sugar and oil, then stir in the plant milk and apple cider vinegar mixture, the flax egg, and the vanilla.
4. Add the dry ingredients and mix until there are no dry bits left.
5. Take 1 cup of the batter and place it in another bowl and stir in the cocoa and an extra tablespoon or two of plant milk as needed, the batter will be thick.
6. Line a muffin tray with muffin wrappers, and using a spoon or a cookie scoop with a release trigger, add in 1 tablespoon of each batter, alternating in between to get a layered effect.
7. Once wrappers are 3/4 full, take a toothpick and swirl the colors together a bit, but not too much or you won't be able to taste the different flavors.
8. Bake for 20-23 minutes, or until a toothpick inserted into the middle of the cupcakes comes out clean.
9. Allow cupcakes to fully cool before frosting. While you wait for them to cool, add your frosting ingredients to a bowl except the powdered sugar and mix with an electric mixer or vigorously by hand.
10. Then mix in your powdered sugar in 1 cup amounts, until desired taste and texture is reached.
11. Place in a piping bag (or a ziploc bag with a cut on the corner if that's all you have), and chill in the fridge for 15 minutes.
12. Pipe generously over cupcakes in circles, and add vegan sprinkles if desired. Enjoy!
Notes
*1 Tbsp ground flax + 3 tbsp water, mixed and set aside for 5 minutes.
**Use vegan butter sticks brought to room temperature after sitting on the counter for a few hours, butter in a tub or melted butter will not work.
Recommended Products
As an Amazon Associate and member of other affiliate programs, I earn from qualifying purchases.
Nutrition Information:
Serving Size:

1 Cupcake
Amount Per Serving:
Calories:

324