We may earn money or products from the companies mentioned in this post.
(Last Updated On: April 30, 2023)
Simple and Creamy Cherry Cheesecakes
This no-bake cherry cheesecake recipe is the perfect make ahead dessert for anytime of year.
It's healthy, dairy-free, light, refreshing, sweet and tangy!
Whether you're planning for a birthday party or a dinner party, these single-serve cheesecake bites are a huge crowd pleaser.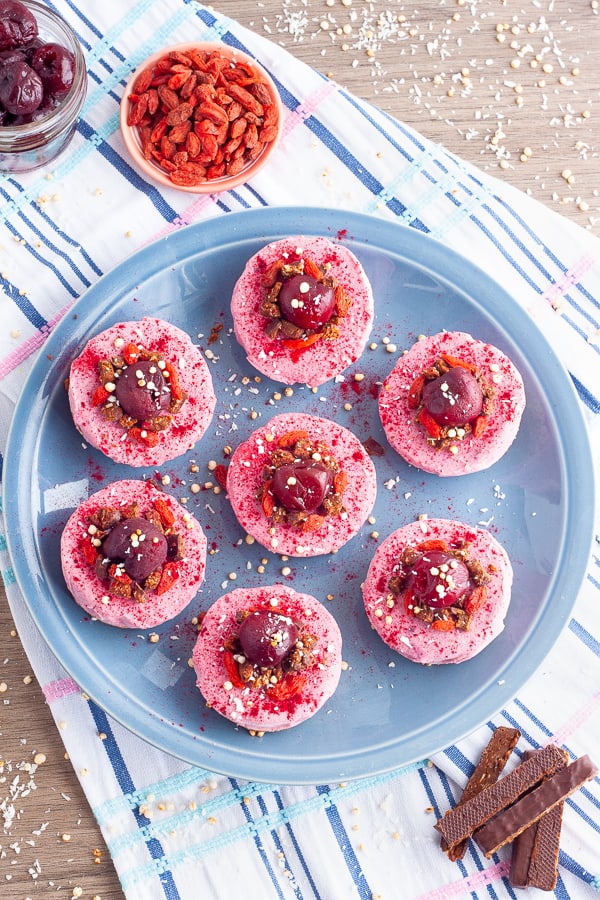 Refreshing and Simple Cheesecake Bites
These cute cheesecake bites are great on their own, or even better when decorated!
I topped mine with whole cherries, coconut, chocolate, goji berries and quinoa pops!
I also added just a smidge of carob (a chocolate substitute, you could also use cocoa or cacao) to the crust of these cheesecakes for a subtle chocolate-cherry cheesecake taste!
This is optional, but a great combo!
Making No-Bake Vegan Cherry Cheesecake
The best thing about making no-bake desserts is the ease, you usually don't need anything but a food processor (or blender) and a dish to freeze the dessert in. The worst part is waiting for them to set!
When you're ready, start by tossing all your crust ingredients into a food processor, if you only have a blender you can still make this, but you may have to push the ingredients a few times in between blending.
Once they form a dough and all the ingredients are incorporated, your dough is done! (And is a great snack itself).
The crust is best not overly processed – the little chunks of almond and date have a great texture along with the creamy filling.
Now, place some strips of parchment paper in the bottom of 9 cupcake pan holes, and roughly separate the dough into each hole and level it out by squishing it down.
It may be a bit sticky, but if you dip your fingers into some water it'll help to avoid this!
Place the crusts in the freezer to set.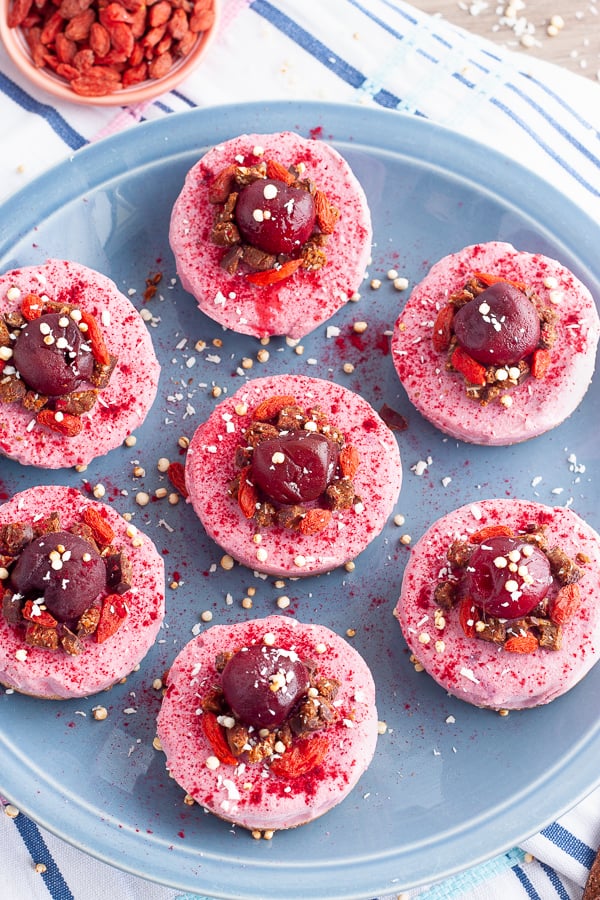 Next, blend all your delicious filling ingredients in the same food processor after cleaning it.
Once it's cherry-colored and creamy, it's all done! You can add 1- 1 1/2 cups of cherries, depending on your preference!
The soft tofu is a unique ingredient in this recipe, and I find it helps the cheesecakes stay together better, and adds some protein!
Pour your fruity filling over the crusts and place back in the freezer for at least 5-6 hours. It's really important to be patient and let them set, or else they might melt too quickly!
Once they are done, take them out and let them thaw for 5-10 minutes, or until you can pull them out with the parchment paper. Enjoy immediately!
This recipe is:
Creamy

Sweet

Fruity

Tart

Tangy

Refreshing

Healthy

No-Bake

Mostly-Raw
If you loved this cheesecake recipe, try my:
Pin this for later!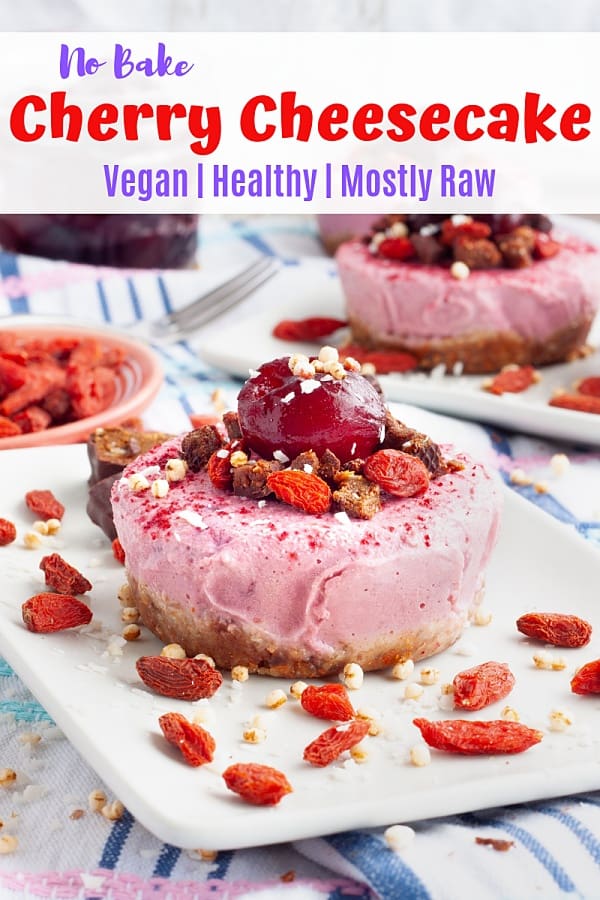 No Bake Cherry Cheesecake
Yield:
About 9 Mini Cheesecakes
Total Time:
6 hours
20 minutes
Creamy and sweet no-bake cherry cheesecake bites that are vegan, delicious and mostly raw! You'll love how easy these fruity treats are to make!
Ingredients
For the Filling:
2 Cups Cashews, soaked*
Juice of 1 Lemon
1- 1 1/2 Cup Cherries
1/4 Cup Coconut Milk
For the Crust:
3/4 Cup Almonds
1/4 Cup Dates
Dash Salt
Instructions
Add all crust ingredients to afood processor and process until it begins to stick together and form a dough. Place strips of parchment paper within 9 cupcake baking dish holes, and squish down - if it's sticky, dip your fingers in some water!
Place crust in freezer to set while you make the filling.
Add all filling ingredients to the same food processor (wipe it out in between steps!), and process until smooth and creamy.
Pour equally over crust, and place back in freezer to set for at least 5 hours, but overnight is best.
These are best served cold right out of the freezer, but you will need to let them thaw for about 5-10 minutes before you can pull the cheesecakes out with the parchment paper.
Notes
*Soaked in lukewarm warm overnight, or in warm water for 30-60 minutes.
**Disolve in 1-2 tablespoons warm water