We may earn money or products from the companies mentioned in this post.
(Last Updated On: August 16, 2023)
Irish Vegan Savory Hand Pies
If you have an on-the-go lifestyle, these savory hand pies will certainly come in handy for you! They're deliciously crispy and filling, and you don't need to worry about any plates or silverware.

Savory hand pies are amazingly convenient on-to-go food. They're quick, delicious, portable, and super versatile.

For this recipe, I decided to go the Irish route. Cabbage, potatoes, carrots, onions, garlic, caraway seeds, thyme, rosemary, parsley – perfection!
Easy Baked Vegetable Pie Recipe
Since these are vegan savory hand pies, which are typically filled with some sort of meat, I decided to experiment instead of making them solely vegetable pies (which would still be amazing though!).

So, I decided on tempeh.

If you haven't heard of it before, it's just cultured soybeans in a block form, with a heartier texture than tofu. They're amazing when marinated and can be easily used to replace any dish that calls for meat.

You'll just want to cook it in a bit of oil for about 5 minutes over medium heat. This helps tenderize the tempeh and remove the "earthy" natural taste it has – it will also help to absorb any flavors you cook it in!

You can keep them in strips or chunks, but I just chopped mine finely into a "ground beef" consistency, and it worked great!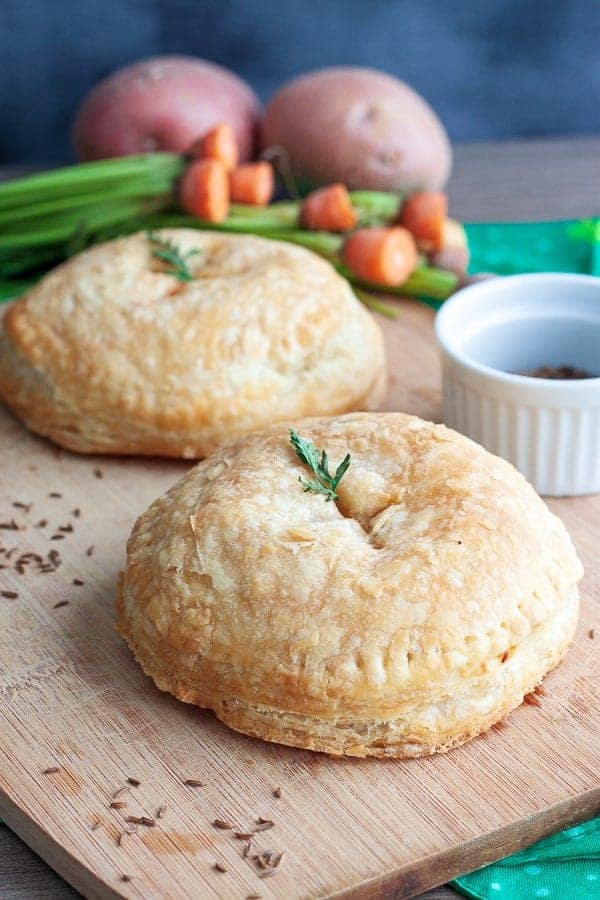 Healthy Puff Pastry Dinner Pie
I used a variety of carrots to add some purple, yellow and orange colors to the inside. You can truly use any combination you want, which is why I love these hand pies so much!

You could even throw in a sweet filling to your left over puff pastry dough to make some dessert pies!

I used a store-bought puff pastry for this, but you could always make your own (here's a great vegan puff pastry recipe).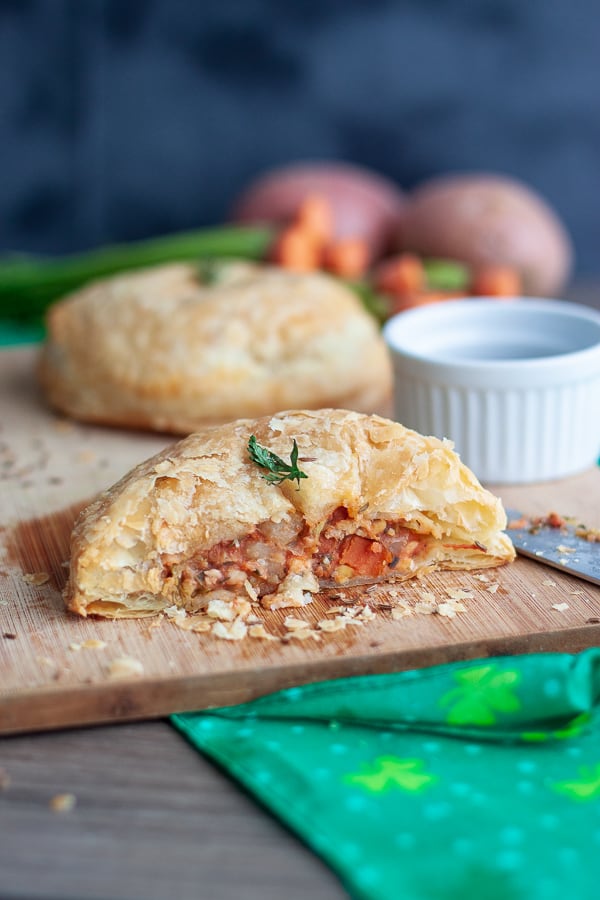 Making Vegan Hand Pies
Preparing for your Hand Pies
There are a couple steps that require more time than others in this recipe. For example, let your puff pastry thaw overnight in the fridge (or else it will be hard and break easily), so start this process the night before baking these pies.

You can also let the pastry thaw on the counter for about 30 minutes if you're in a hurry. If needed, you could microwave it for just a couple seconds to speed up the process as well.
Assembling Your Pies
Preheat your oven to 350 degrees, and once your filling is prepared, lay out your puff pastry and take a large circle cookie cutter (or a bowl like I did), and cut circles in your pastry about 4 inches big.

If you have some leftover dough, mush it back together and roll it out to make more pies (you may need to use a bit of flour or water to do this).

Next, Scoop your filling into the center. Mine were pretty big so I used about a half cup of filling. Just make sure you'll be able to seal yours tightly without them breaking.

Take another circle of dough and place it on top, dipping your fingers in water and pushing the two together. Use a fork to further seal by pushing down all the way around. This filling is a bit thick and not runny, so you shouldn't have to worry about them leaking.

For tips on working with puff pastry, follow this link.
Baking Your Vegan Hand Pies
Cut a couple slits in the middle and bake them for about 20-25 minutes (depending on the size of your pie) or until they are a beautiful golden brown. Adding a tad of oil to the top before baking will help them brown and give them a better crunch.

I also like to broil them for just a few seconds towards the end to get a nice golden brown color – just be sure to watch them constantly to make sure they don't burn!

That's it! Pack them up and you're ready to go.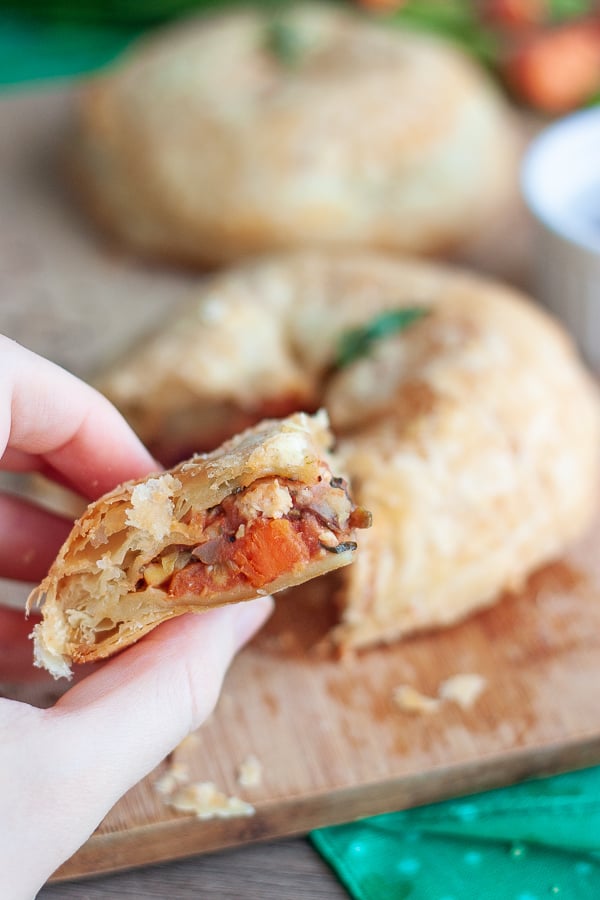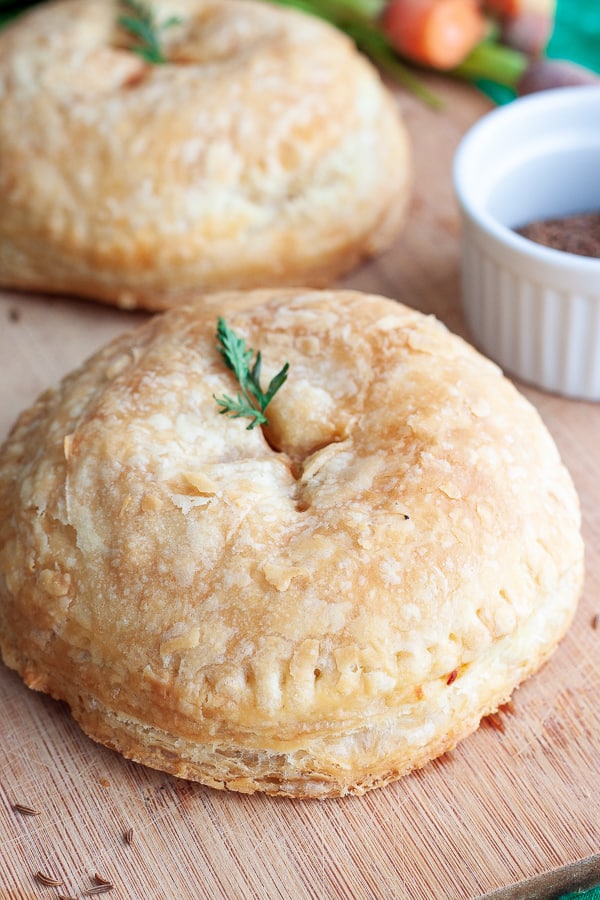 This recipe is:
Savory

Comforting

Delicious

Hearty

Crispy

Portable

Flavorful

Healthy
Pin this for later!
If you're looking for more savory meals, try my:
Vegan French Onion Soup Recipe, or
Savory Hand Pies
Easy vegan savory hand pies to celebrate St. Patrick's Day, or anytime of the year! Warm and crispy with potatoes, cabbage, tempeh, onions, and carrots!
Ingredients
4 Sheets Puff Pastry (check label to ensure it's vegan)
1 1/2 Cups Cabbage
1 1/2 Cups Carrots
1 1/2 Cups Potatoes
1/2 Onion
2 Cloves Garlic
1 Cup Tomato Sauce
1 Tsp Apple Cider Vinegar
1 1/2 Tsp Salt
1/2 Tsp Pepper
Instructions
Remove puff pastry from freezer and allow to thaw for 30-40 minutes. Then preheat oven to 350°F.
Add chopped tempeh to a pan over medium heat with a drizzle of oil and the dried thyme, rosemary and caraway seeds, cook for about 5 minutes until lightly browned.
Add chopped carrots, onion, potatoes and garlic to the pan and cook about 5-10 more minutes until the potatoes begin to soften. Add chopped cabbage to the pot and continue cooking another 3-5 minutes until softened a bit.
Add salt, pepper, tomato sauce and apple cider vinegar and continue cooking for a few minutes until fragrant and all ingredients begin to stick together a bit, then stir in the parsley.
Roll out the puff pastry until roughly 1/8-1/4 inch thick (the thinner the more pies you will get). Cut roughly 4 inch circles in your puff pastry, scoop on a few tablespoons of filling, and add another circle of dough on top. Squish together with a bit of water and use a fork to firmly press down sides all the way around.
Cut a couple slits in the middle of the pies, and brush with a bit of olive oil if desired (optional, but it really helps them brown and get crispy).
Bake for about 25 minutes, or until golden brown. You might want to broil for just a few seconds toward the end to help them brown. Allow to cool and enjoy!
Recommended Products
As an Amazon Associate and member of other affiliate programs, I earn from qualifying purchases.
Nutrition Information:
Serving Size:

2 Pies
Amount Per Serving:
Calories:

646