We may earn money or products from the companies mentioned in this post.
Meatless Pot Pie
There is almost nothing more comforting than homemade pot pie, and it's so easy to make this vegan pot pie recipe!
Usually seen as an indulgent dish for a cheat day, I decided to make a healthier version of it, without sacrificing on taste.
This recipe is oil-free (except for an optional brush on the puff pastry), meat-free, dairy-free and egg-free.
I bet you won't even taste any difference from traditional versions!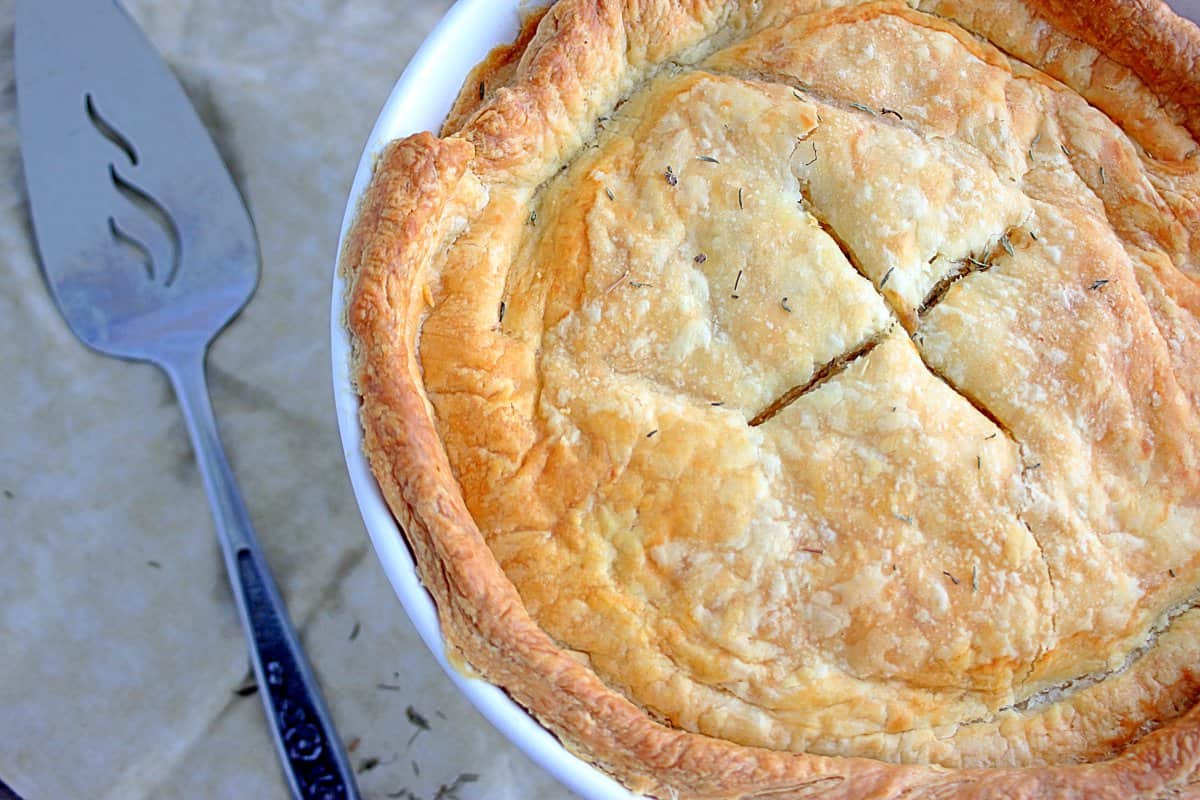 Making Vegan Pot Pie
Making this dish is super easy as long as you know the order of cooking.
First things first, take your puff pastry out of the freezer and let it thaw (mine took about 20 minutes, but you just need it to be flexible enough to cut and squish), and get your oven preheated to 350°F to save on time.
Cooking the Filling
Take out a large pot, add the chopped onion and a splash of veggie stock, and cook over medium heat until translucent.
After a few minutes, add the garlic and potatoes, and cook until the potatoes begin to soften, another 3 to 5 minutes or so.
Next goes in the mixed veggies (I used frozen carrots, corn, green beans and peas because it makes this recipe 1000x easier), mushrooms and seasonings.
After another minutes or two, sprinkle all of this with the flour. Make sure to evenly coat all the ingredients as this is going to help the filling not be runny.
There's nothing worse than a runny pot pie – the dough gets soggy and it turns into a confusing and disappointing soup.
Add the veggie stock and almond milk and bring everything to a boil, then reduce to low and simmer for about 20 minutes, or until all the ingredients are soft and the mixture has thickened. Then pour mixture into an oven-safe baking dish.
You're going to want to cut the puff pastry to fit inside your baking dish and cover the entire top of the filling, which will be thick enough to hold it without sinking.
If you have a bit of leftover pastry, stretch it out and squish it around the perimeter of the baking dish to make a thicker crust.
I had to use a bit of flour and water to make it work, but it was worth it!
Baking Vegan Pot Pie
Cut a couple slits in the pastry so it cooks evenly.
I also poured a tiny bit of olive oil onto a paper towel and moistened the top of the pastry, as this helps it brown and get nice and crispy. You don't have to do this step, but I loved it!
Bake for 40-70 minutes, or until the crust is brown and beautiful.
The inside will be super hot, so please don't burn yourself! Let it cool for a bit before digging in.
Vegetarian Pot Pie
This recipe used mushrooms in place of meat, but you could also totally use tofu, vegan chicken, textured vegetable protein, or your favorite meat substitute!
I was so happy with the amount of flavor this pie had without the traditional ingredients like butter, cream, chicken etc.
I love that I can make tiny changes to my favorite recipes and still get amazing results while on a vegan diet!
Please let me know how it compares to your favorite pot pie recipe, vegan or not. I'd love to swap tips!
This recipe is:
Hearty

Savory

Comforting

Delicious

Meat Free

Dairy Free

Budget-Friendly

Flavorful
Enjoy! 🙂
Yield: 4-5 Servings
Vegan Pot Pie Recipe
This vegan pot pie recipe is one for the books! Warm, flavorful and thick pie filling, topped with a crispy baked puff pastry!
Cook Time
1 hour
30 minutes
Total Time
1 hour
45 minutes
Ingredients
1 Yellow Onion
4 Cloves Garlic
2 1/2 Cups Frozen Mixed Vegetables
2 Cups Diced Potato
2 Cups Sliced Mushrooms
1/2 Cup Flour
2 Cups Vegetable Stock (low-sodium)
1 Cup Almond Milk
1 Tsp Dried Thyme
1/2 Tsp Dried Oregano
2 Bay Leaves
1/2 Tsp Ground Pepper
3/4 Tsp Salt (or to taste)
1 Sheet Puff Pastry*
Instructions
Preheat oven to 350

°F. Remove puff pastry sheet from freezer and allow to thaw according to package.

Add chopped onion to a large pot, along with a splash of veggie stock, and cook over medium heat until translucent, about 3-5 minutes.

Add garlic and potatoes and continue cooking for a couple minutes. Add veggie stock as needed to avoid sticking.

Add mixed veggies and mushrooms and cook for another minute or two.
Add flour and evenly coat ingredients. Add vegetable stock, almond milk, thyme, oregano, bay leaves, salt and pepper and bring to a soft boil. Reduce heat to low and simmer for 15-20 minutes.
Remove bay leaves and pour mixture into an oven-safe baking dish. Take dough and cut in the shape of your baking dish, then lightly press down on top of your pie mixture. Stretch out any excess dough and place around the corners of the baking dish, pressing the two pieces together with a fork.
Cut a few slits in the middle of the dough and lightly brush with oil (optional, but yields a much more crispy crust). Bake for 40-60 minutes, or until dough has nicely browned. Enjoy!**
Notes
*Most puff pastry is already vegan, but be sure to double check yours before buying!
**The inside of this pie will be extremely hot, so be very careful before enjoying!
Nutrition Information:
Serving Size:
1 Slice
Amount Per Serving:
Calories:

453