We may earn money or products from the companies mentioned in this post.
Protein-Packed Meatless Quesadillas
Since moving from New Orleans to Chicago, the main thing I miss (apart from the warmth!) is the food.
Don't get me wrong, Chicago has a ton of vegan-friendly spots, but they're a lot harder to get to!
These were inspired by one of my favorite cafe's in New Orleans called Bearcat Café. I missed them so much I re-created them, with my own twist of course!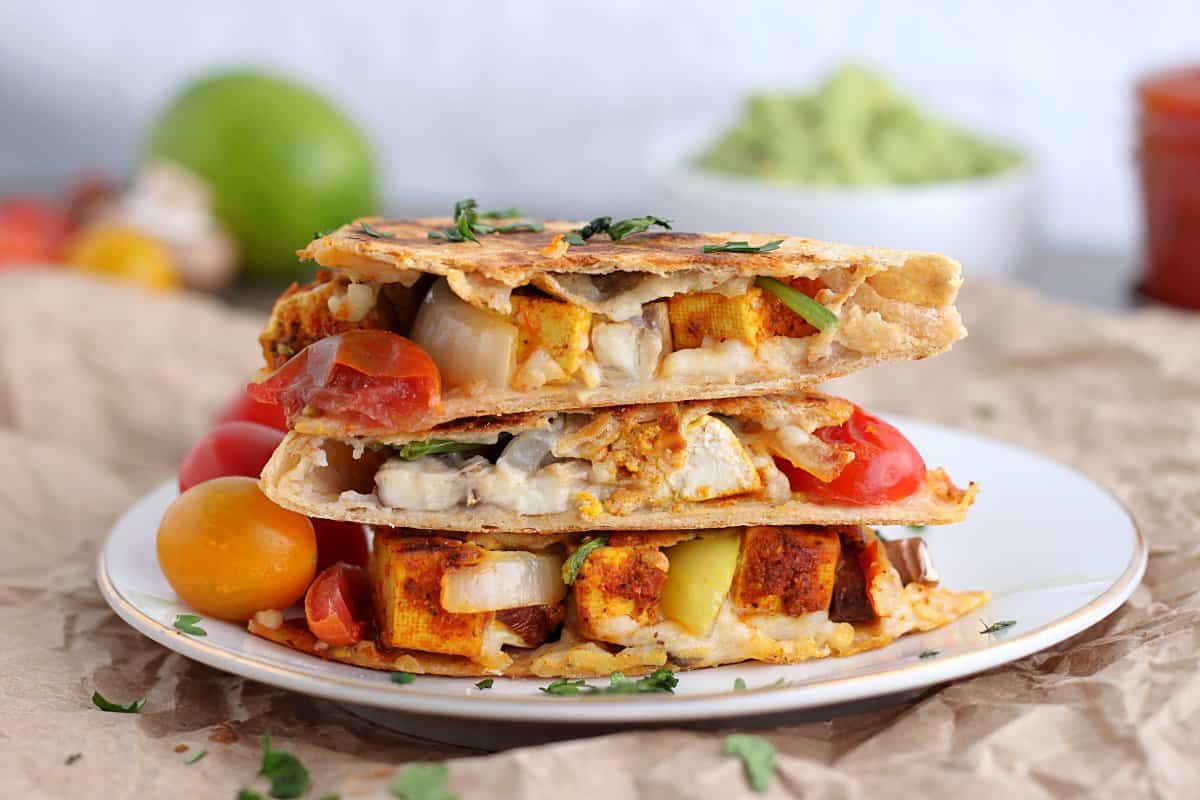 Budget-Friendly Vegetarian Quesadillas
All of these ingredients are super budget-friendly, aside from the vegan cheese (I used Follow Your Heart Mozzarella) which is around $4-$5, but it lasts for many quesadillas!
I prepared all the ingredients, and kept them covered in the fridge for quesadillas all week long!
What I really love about this recipe is how filling it is – if you love traditional meat quesadillas, or are trying to please meat-eating guests, these will definitely not disappoint!
One of my secrets to this recipe is using Housefoods Extra-Firm Tofu. It's very dense and holds its shape, and absorbs flavors really well; it's also organic!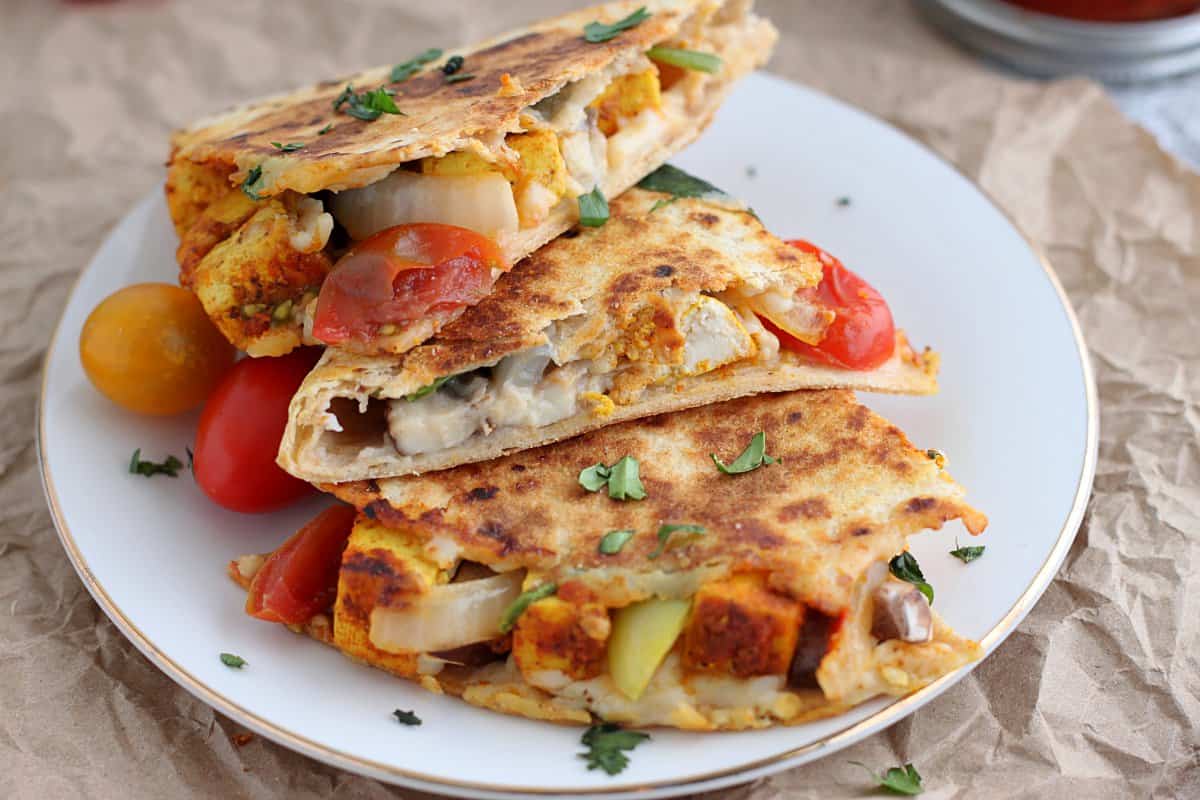 Crowd-Pleasing Entrée
This simple recipe is made in two parts: first you prepare the tofu and then you assemble and cook the quesadilla!
In order to make this dish as quickly as possible, start pressing the tofu first.
This can be done with a tofu press, or by draining and wrapping your tofu in a towel, placing something like a baking tray on top and layering cans on top of this.
It might look a little crazy (and mine have fallen over a few times), so I'd recommend the tofu press. Either way, this is a super important step to help your tofu keep it's shape and be flavorful and delicious!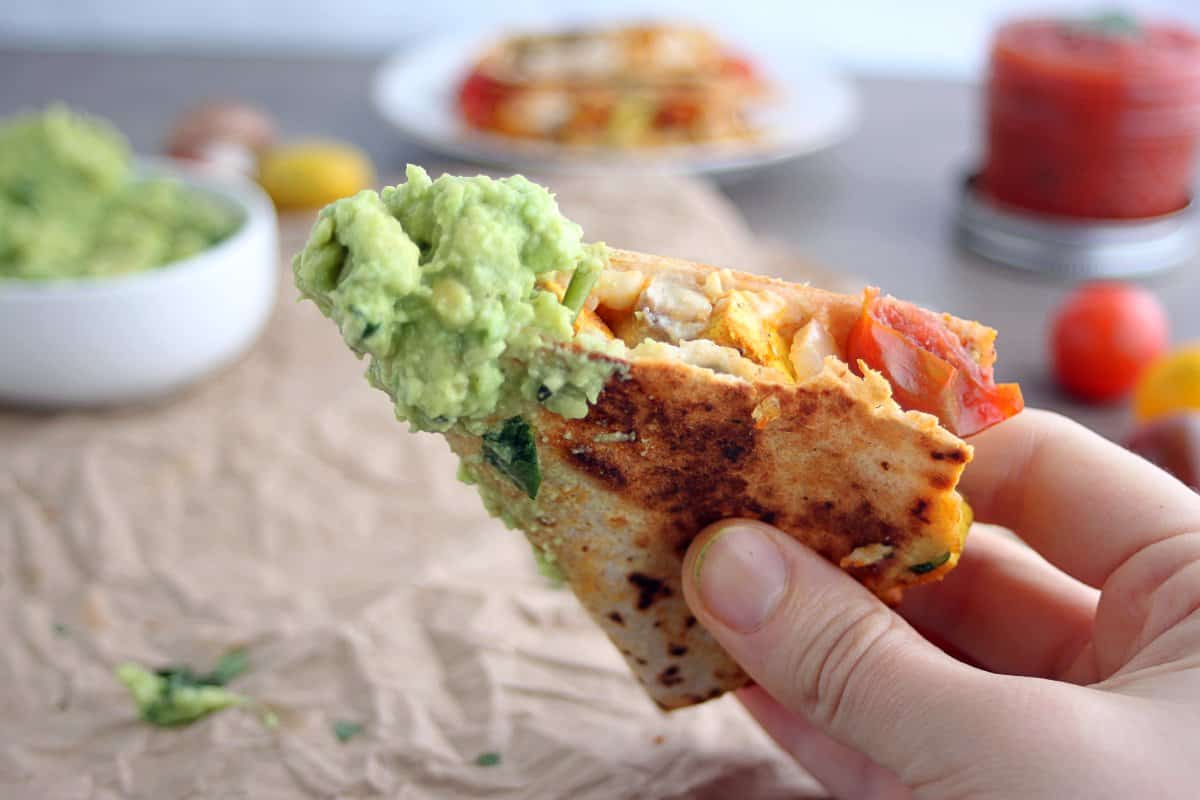 P

reparing the Tofu
After your tofu is pressed, cut it into 1/2 inch cubes and place into a large bowl. I love to marinate mine for about 10 minutes before I cook them, and the longer they marinate the yummier they'll be!
Add the salsa and the spices and gently mix together. I like using salsa because it adds so much flavor, and some of the salsa and spices stick to the outside of the tofu while cooking, making a yummy coating!
Once marinated, you can either add oil, veggie stock or water to a pan along with the tofu, and cook over medium heat for about 15 minutes. Flip them every 3-5 minutes, and add in the lime juice during the last 3 minutes of cooking (I like to do this to keep it tasting fresh!).
If you have a non-stick pan, you probably don't need to add anything, just keep an eye on them in case!
What you cook them in is really preference: I used a couple drops of oil to help brown the tofu and enhance the flavor. If you use the others, use as little as possible to keep them flavorful, though the tofu may break apart easier using them, so be very gentle.
I would recommend using a bit of oil, or else veggie stock, and if you must, a tiny amount of water to help them not stick.
Cooking the Tofu Quesadillas
Once your tofu is cooked, take it out of the pan and place in a bowl. Wipe out your pan (adding a drop or two of oil here if you want a crispier tortilla), and place your tortilla in the pan.
Add a bit of vegan cheese (to taste), and layer on the cooked tofu, tomatoes, mushrooms and onion to one side of the tortilla and flip over the opposite side. Be careful not to over-stuff or else it will be very hard to flip!
Once the bottom is light brown and crispy, flip it over and cook the top for a minute or two until it browns, and you're done! I served mine with fresh cilantro, salsa and guacamole!
This recipe is:
Simple

Tasty

Comforting

Crunchy

Dairy Free

Meatless

Delicious

Cheap
Pin this for later! 🙂

Yield: 3-4 Servings
Tofu Quesadilla
Protein-packed tofu quesadilla with flavors of lime, chili and smoked paprika. This is a crowd-pleasing recipe that's perfect with guacamole and fresh salsa!

Prep Time 15 minutes

Cook Time 10 minutes

Total Time 25 minutes
Ingredients
1 Block Organic Housefoods Extra-Firm Tofu
4 oz Mushrooms
1/4 Cup Onion
1/3 Cup Low-Sodium Salsa
Juice from 1/2 Lime
4 oz Cherry Tomatoes
1/2 Tsp Chili Powder
1/2 Tsp Smoked Paprika
1/4 Tsp Garlic Powder
1/4 Tsp Cumin Powder
1/2 Tsp Turmeric Powder
Handful of Fresh Spinach
1-1 1/2 Cup Shredded Vegan Cheese (I used Follow Your Heart Mozzarella)
Tortillas
Salt/Pepper to Taste
Instructions
Press as much water out of your tofu as possible, chop into 1/2 inch cubes and place in a large bowl. Add salsa, chili powder, smoked paprika, garlic, cumin, turmeric and a dash of salt and pepper. Mix gently and set aside to marinate for at least 5-10 minutes
Slice mushrooms, halve cherry tomatoes and chop onion, set aside.
In a pan over medium heat, add a small amount of oil (or use water or veggie broth for oil-free!) and add marinated tofu. Cook for about 15 minutes, turning every 3-5 minutes, adding in lime juice for the last 3 minutes. Remove from pan.
In the same pan, (you can also add another drop of oil to help the tortilla brown, but this isn't required), place tortilla down, and on only 1/2 of the tortilla add a sprinkle of vegan cheese and assemble tofu, tomatoes, onions and mushrooms. Sprinkle a final layer of vegan cheese and flip the other side of the tortilla over.
Press down and cook until cheese is melty and the tortilla is nice and brown. Top with guacamole, salsa or cilantro, enjoy!
Nutrition Information:

Amount Per Serving: Calories: 486