We may earn money or products from the companies mentioned in this post.
(Last Updated On: February 1, 2022)
Vegan Carrot Cake Cupcakes
These vegan carrot cake cupcakes are perfectly spiced, rich and fluffy!
Made with freshly shredded carrots, pecan pieces, warm spices and vanilla extract.
These cupcakes are moist and flavorful, and complete with a creamy vanilla buttercream on top.
Bake these up for the holidays, a birthday party, or a tasty after dinner dessert!
Carrot cake is one of my favorite cake flavors – carrots add great moisture and texture to the dessert and pair perfectly with cinnamon and nutmeg.
I also adore the pecan and cinnamon topping on the piped buttercream on these cupcakes!
Best Vegan Carrot Cupcakes Recipe
These easy carrot cake cupcakes are so irresistibly pretty and inviting!
While vegan cupcakes are starting to pop up more in grocery stores if you're lucky, you can't always find less popular flavors like carrot cake.
So why not bake up some yourself – they taste better, save you money and are so fun to make!
The dairy free buttercream on these cupcakes is also so light, rich and dreamy – I love using Country Crock plant-based butter sticks for frosting because the flavor is so good, you can also use Earth Balance buttery sticks.
These dairy free carrot cupcakes have very common pantry ingredients with nothing weird added – I always try to make my recipes as realistic as possible so everyone can make them!
This cupcake recipe is as easy as mix, fill and bake.
They're even perfect for breakfast – simply leave off the frosting and instead add some pecan pieces to the top of the raw batter before baking – an easy way to make carrot muffins!
Ingredients:
All-Purpose Flour –

You can also use a 1:1 gluten-free flour blend.

Shredded Carrots –

Carrots add so much moisture and a hint of sweetness!

Sugar –

Use a combination of brown and white sugar for best taste and sweetness.

Oil –

I use vegetable oil.

Plant Milk –

I love oat, soy or almond for baking.

Spices – Cinnamon and nutmeg are necessities!

Flax Egg –

To add moisture and help the batter bind together.

Vanilla –

The perfect compliment to the spices.

Baking Powder & Soda – These help the cupcakes get extra fluffy.

Salt –

To bring out all the flavors.

Pecans –

Chopped pieces add flavor and some crunch.

Vegan Buttercream Frosting –

Perfect for piping with a rich vanilla flavor.
How to Make Carrot Cake Cupcakes
Making the Cupcake Batter
To make these easy vegan carrot cake muffins, start by preheating your oven to 350 degrees F.
Then, prepare your carrots by peeling them and using a grater to shred them into little pieces, and set aside.
I find the smaller the better for overall texture and taste!
Grab a bowl and mix together your wet ingredients, along with the sugar, until nice and smooth.
Add the dry and mix just until combined – try no to overmix or else you'll have a slightly denser cupcake.
Finally, fold in your carrots and pecans.
Baking Carrot Cupcakes
Add twelve cupcake wrappers to a cupcake baking tray.
Evenly distribute the batter among the wrappers – they will be pretty full and that's okay!
I like using a cookie scoop for this because it's mess-free and helps me get each one the same size.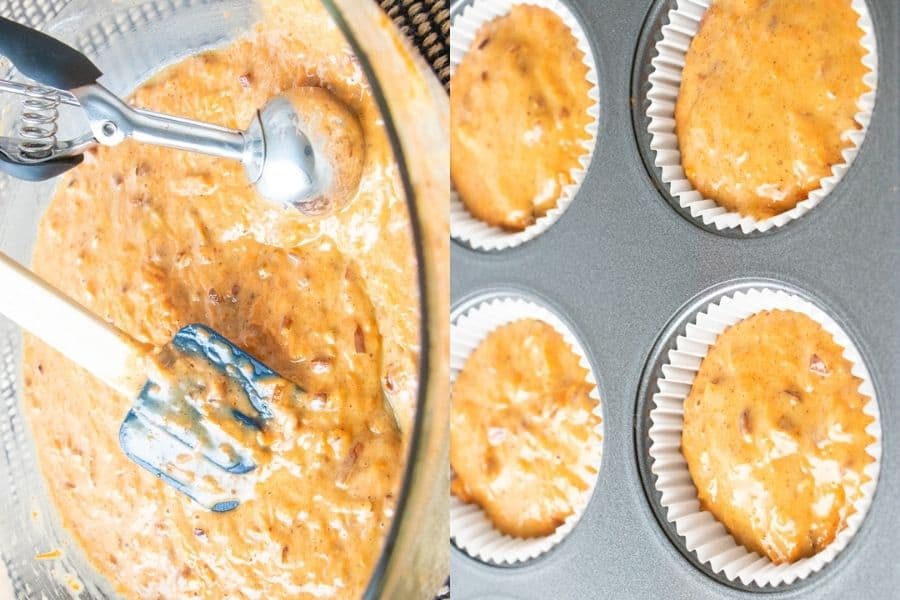 Frosting Vegan Carrot Cake Cupcakes
Bake for 20-25 minutes, or until a toothpick inserted into the center of a cupcake comes out clean without any wet batter on it.
Let your cupcakes cool for five minutes in the pan, and then transfer to a cooling rack.
Once fully cool, whip up some Vegan Vanilla Buttercream Frosting (or store-bought if you find some vegan!) and generously pipe or spread on top of each cupcake!
Easy Vegan Carrot Cake Muffins
These delicious homemade cupcakes have a slightly nutty, spiced and sweet flavor, all the ingredients compliment each other so well!
Perfect to take on the go and share with loved ones – alternatively, bake some on Sunday and enjoy yourself throughout the week!
If you want to spice up these muffins even more, you can add some additional ingredients such as 1/4 cup of coconut flakes, finely chopped pineapple, or raisins.
Can I bake these cupcakes into a cake?
I would recommend checking out my Vegan Carrot Cake recipe – they are slightly different and you'll have a better result for a larger cake!
Can I store these cupcakes?
These cupcakes can be stored in an airtight container in the fridge for 3-4 days. You can also freeze the unfrosted, baked cupcakes for up to 3 months; simply let them thaw on the counter and then frost when completely thawed.
Can I use a different flour?
You can use a 1:1 gluten free flour blend.
This recipe is:
Spiced

Moist

Soft

Fluffy

Delicious

Vegan

Dairy Free

Eggless
Check out these other tasty vegan cupcakes!
Vegan Double Chocolate Cupcakes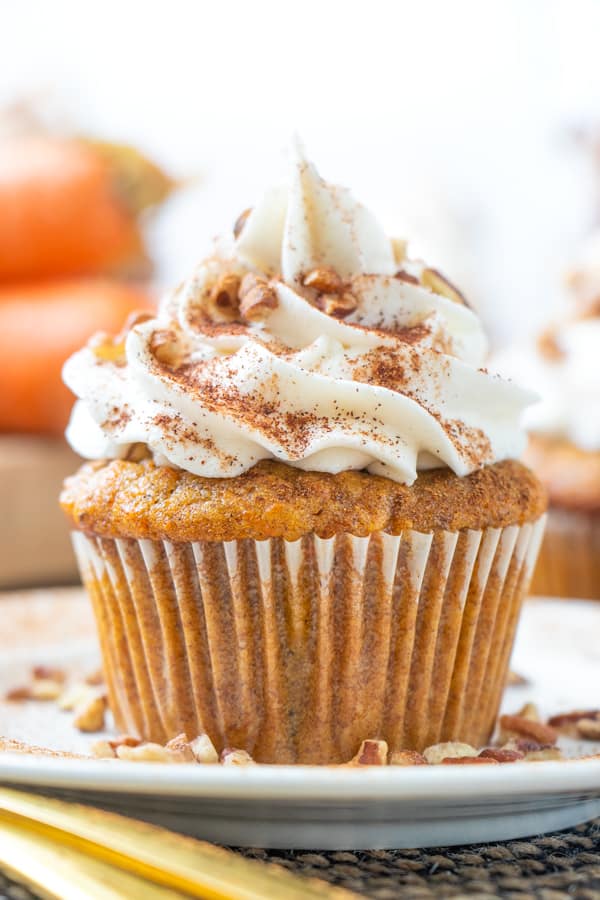 Pin this for later!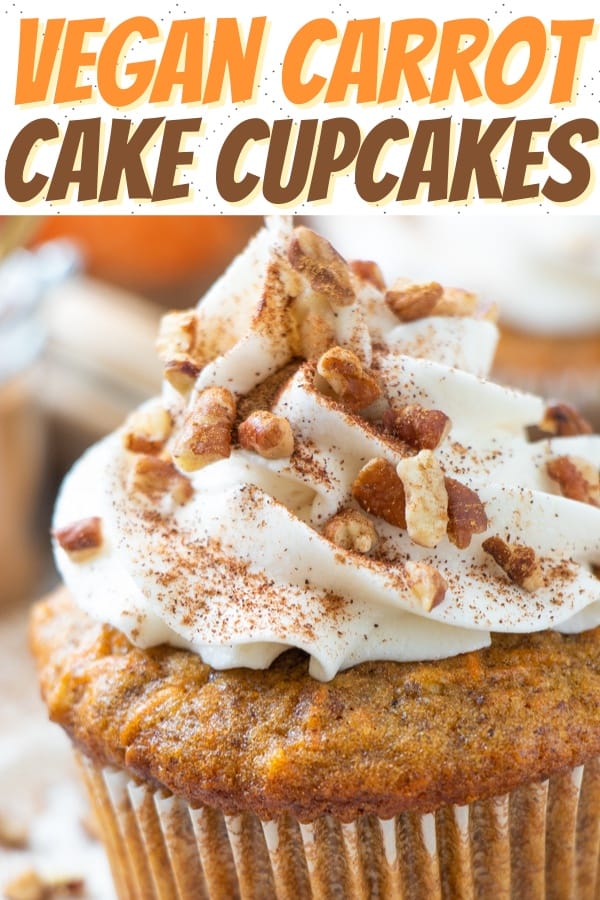 Vegan Carrot Cake Cupcakes
These delicious vegan carrot cake cupcakes are filled with pecans and warm spices, and topped with a creamy vanilla buttercream frosting!
Ingredients
1 1/4 Cups All-Purpose Flour
1 1/2 Cups Shredded Carrots
1/2 Cup Brown Sugar
1/3 Cup White Sugar
1/2 Cup Vegetable Oil
1/2 Cup Plant Milk
1 Tsp Cinnamon
1/4 Tsp Nutmeg
1 Flax Egg*
1 Tsp Vanilla
1 Tsp Baking Powder
3/4 Tsp Baking Soda
1/4 Tsp Salt
1/2 Cup Chopped Pecans
Instructions
Preheat oven to 350 degree F.
Peel and shred carrots with a grater into small pieces, set aside.
In a large bowl, add the oil, both sugars, plant milk and vanilla and mix until smooth.
Add the dry ingredients and mix until everything is incorporated, trying not to overmix.
Add the carrots and pecans and fold in.
Add 12 cupcake wrappers to a cupcake baking tray and evenly distribute batter - it will be almost all the way to the top.
Bake for 20-25 minutes or until a toothpick inserted into the middle of a cupcake comes out clean without any wet batter on it.
Let cool for 5 minutes in the tray and then transfer to a cooling rack.
Once fully cooled, either pipe or spread frosting generously on top and enjoy!
Notes
*Mix together 1 tbsp of ground flax or chia seeds with 3 tbsp water and let sit for 5-10 minutes to thicken.
Nutrition Information:
Yield:

12
Serving Size:

1
Amount Per Serving:
Calories:

244
Total Fat:

16g
Saturated Fat:

2g
Trans Fat:

0g
Unsaturated Fat:

12g
Cholesterol:

18mg
Sodium:

191mg
Carbohydrates:

28g
Fiber:

2g
Sugar:

25g
Protein:

3g