We may earn money or products from the companies mentioned in this post.
(Last Updated On: April 30, 2023)
Creamy Vegan Tart Recipe
This creamy and fruity chocolate orange tart is my favorite vegan dessert to make, ever.
It's so simple and has a buttery crust that looks beautiful when made in a tart dish.
The tart has just a few simple ingredients and is dairy free and egg free – but, it's so indulgent you'll never be able to tell!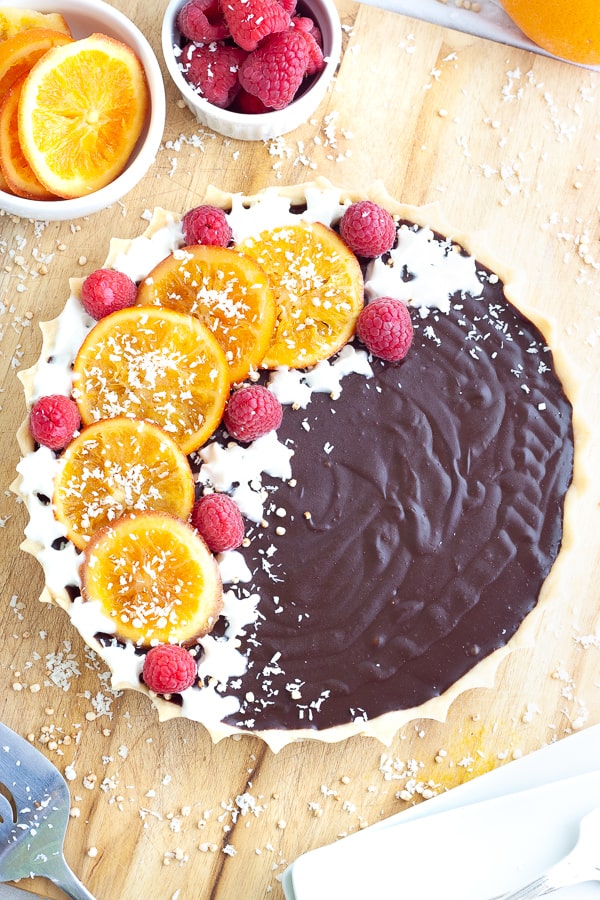 Easy Homemade Chocolate Tart
Chocolate and orange are such complimentary flavors, they take a basic chocolate tart and turn it into something so unique and delicious!
All you need is 1/4 cup freshly squeezed orange juice and 1 tablespoon of orange zest – I used a cara cara orange because they're my favorite!
The orange flavor is perfectly subtle and balanced with the smooth chocolate, which is made extra rich and creamy with delicious coconut milk.
This tart is very basic to make, but it does require some patience as it needs to be chilled in between each step.
I love chilled desserts though because they're so easy to make in advance and transport – the chocolate also holds its shape very well so it can sit out on a dessert table for awhile and you won't have to worry about it melting – unless the environment is very hot.
I decorated mine with candied oranges, fresh and juicy raspberries, coconut flakes and quinoa pops – it would also be beautiful with some drizzled chocolate or other mixed fruit!
You can use these candied oranges that I bought from the store, but they're also super easy to make yourself – check out this recipe if you'd like to try it yourself!

How to Bake Vegan Chocolate Tarts
Preparing The Tart Crust
The filling is super easy to make, so it's the crust that will take you the most time and a lot of that time is waiting for it to chill!
To begin, mix together your flour, vegan powdered sugar (use this list for vegan powdered sugar brands because some use bone char) and salt. Then, add in your chilled vegan butter and mix with your hands until crumbly.
Add a tablespoon or two of water to help the mixture come together, but add as little as possible so it doesn't become sticky.
Roll it into a ball and place inside plastic wrap – put this in the fridge to chill for 30 minutes.
While it chills, lightly oil or spray your 9 inch tart pan with a non-stick spray. Unfortunately I had a tart pan without a removeable bottom, but had great success in simply adding 3 long strips of parchment paper to carefully lift it out!
Next, you'll want to generously flour a flat surface, unwrap the dough and place it down, adding more flour on top and rubbing some flour on a rolling pin.
Roll it out into a roughly 11 inch circle, then roll it onto the rolling pin (it's okay if the dough overlaps).
Unroll it across the tart pan and squish it up the walls and around the pan evenly (if yours seems too crumbly to roll and unroll, you can always just use your fingers after plopping the whole thing into the pan).
Place this in the fridge to chill for an hour, or in the freezer for at least 20 minutes if you're in a hurry.
Poke a fork around the bottom and then bake at 400 degrees for 5 minutes, then reduce heat to 350 and continue baking for at least 15 minutes or until very lightly browned. Allow to fully cool before making filling.
Preparing The Chocolate Orange Filling
Now onto the filling!
Add your chocolate, maple syrup, vanilla, orange juice and zest to a bowl that can handle heat.
Heat your coconut milk over the stove until hot, but not boiling, and then pour over chocolate. Mix until smooth.
If your chocolate isn't melting, you can add some water to the pan that had the coconut milk, let it boil and then place the bowl with the chocolate on top and allow the steam to finish heating it while continuously stirring.
Pour into completely cooled tart crust, level out and then chill in the fridge for about 3-4 hours or until solid.
Decorate and serve!
You can serve these anyway you'd like!
I took the simple route and just used a raspberry with some extra coconut flakes and quinoa pops.
For decoration I also used a homemade coconut whipped cream – it's the same I used to frost my Vegan Vanilla Cupcakes if you're interested in the recipe, the only ingredients are coconut cream, maple syrup, and vanilla.
I also used orange juice instead of lemon juice for the whipped cream to bring out the orange flavor in the chocolate for this recipe!
This recipe is:
Sweet

Chocolaty

Decadent

Fruity

Simple

Easy

Delicious
For more chocolate vegan dessert recipes, try my:
10 Best Vegan Chocolate Desserts!
Pin this for later!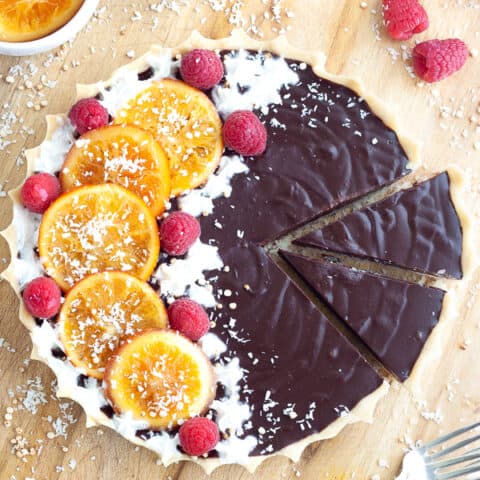 Chocolate Orange Tart
Prep Time:
1 hour
30 minutes
Total Time:
5 hours
30 minutes
This vegan dark chocolate orange tart is easy to make and so decadent! It has a soft buttery crust and fruity flavor for the perfect chocolaty dessert!
Ingredients
For The Crust:
1/4 Tsp Salt
1-2 Tbsp Water
For The Filling:
3/4 Cup Full-Fat Coconut Milk
1/8 Tsp Vanilla Extract
1 Tbsp Orange Zest
1/4 Cup Fresh Orange Juice
3 Tbsp Maple Syrup
Instructions
1. To make the crust, mix together the flour, powdered sugar and salt. Quickly chop the vegan butter into pieces and add to the flour mixture.
2. Using your hands, mix together until combined, adding 1-2 tablespoons of water at the end to help it come together.
3. Wrap mixture in plastic wrap and place in the fridge for about 30 minutes to chill. If using a tart pan that doesn't have a removeable bottom, cut long strips of parchment paper and place inside so you can lift the tart out, coat the pan with oil or non-stick spray.
4. Remove from fridge and unwrap. Place on a floured surface, adding more flour to the top and to a rolling pin, and roll out to a roughly 11 inch circle.
5. Roll dough around the rolling pin and unroll over 9 inch tart pan.
6. Squish dough evenly up the walls and around the pan. Set in the fridge to set for an hour or in the freezer for about 20 minutes.
7. Bake at 400 degrees for 5 minutes, then reduce heat to 350 and continue baking for about 15 minutes or until it begins to brown very lightly. Allow to cool completely.
8. Heat coconut milk in a pan until hot but not boiling. Add to a bowl with the chocolate chips, vanilla, orange juice, organge zest and syrup. Mix until chocolate is completely melted.*
9. Pour chocolate mixture into tart crust and level out. Place in the fridge to set for 4 hours, then top and enjoy!
Notes
*If the chocolate still hasn't melted yet, add pan with an inch of water back over the stove and place the bowl (depending on type of bowl used) of chocolate mixture over the pan so the steam can finish melting it.
Nutrition Information:
Serving Size:

1 Piece
Amount Per Serving:
Calories:

310