We may earn money or products from the companies mentioned in this post.
(Last Updated On: September 3, 2023)
---
Fall is (almost) here and that means it's apple picking season! There's nothing quite like heading out to the orchard with your family and filling up baskets with crisp, juicy apples.

But, let's be real, what's the point of picking all those apples if you don't have some delicious recipes to use them in?

I've got you covered with some amazing vegan apple recipes that will have everyone in your family asking for seconds. So put on your cozy sweater, grab your apple-picking basket, and let's get started!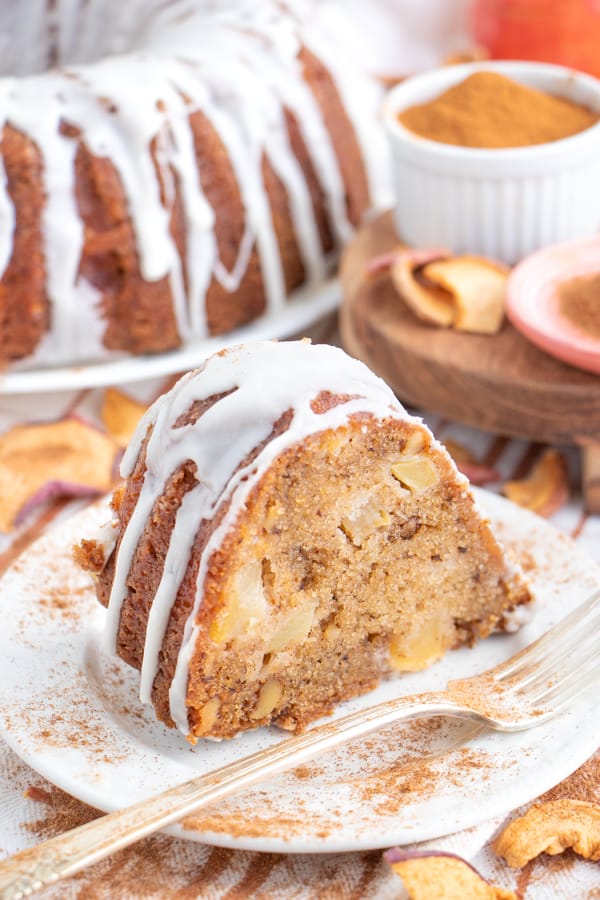 ---
our favorite Mouth-Watering
Vegan Apple Recipes
The Best Vegan Apple Fritters! (Crisp and Spiced)

Vegan Apple Cider Donuts (Sweet & Spiced)

Vegan Apple Muffins! (Crumb-Topping)

The Best Vegan Apple Cake

Vegan Apple Crisp (Spiced & Irresistible)

Vegan Apple Pie
---
If you've never tried making your own fritter, this is your time! Believe me, these are hands-down my favorite fall pastry.

Their crispy, golden crust and soft, sweet apple chunks make the most mouth-watering combo.
These vegan apple fritters are topped with a simple vanilla glaze, too. And the best part? They're egg and dairy free, and so easy to make!
---
The perfect balance of sweet and spice! Our cinnamon-sugar coated donuts are so incredibly delicious.

These vegan apple cider donuts have the perfect combination of cider, nutmeg, cinnamon and cloves, giving you all the fall flavors in one!
Recipe: Vegan Apple Cider Donuts (Sweet & Spiced)
Such a flavorful dessert (and a break from all-things pumpkin), these baked donuts will have everyone coming back for seconds!
---
These easy vegan apple muffins have such a delicious sweet & spicy combination!

The crumb and glaze topping really makes them a step above the rest – and sometimes I add in some chopped pecans or walnuts…yum!

Using very basic pantry ingredients, you'll love how easy these dairy free muffins come together.
Recipe: Vegan Apple Muffins! (Crumb-Topping)
Our family loves take these on-the-go for work or a school snack. Such an easy and delicious treat!
---
This homemade spiced vegan apple cake is filled with cinnamon, vanilla, nutmeg, freshly chopped apples and crunchy walnuts.

It reminds me of my grandma's German apple cake, but is the vegan equivalent! There is so much flavor – and the vanilla icing really does top it off beautifully.
All these yummy ingredients come together to make the best dessert cake ever – try it, you won't be disappointed!
---
I love making simple recipes like this – they're so easy to throw together yet achieve that mouth-watering dessert that everyone loves!

The crunchy oat-and-spice crumble topping is absolutely irresistible.

This recipe comes together with a layer of sweet apples mixed with cinnamon and nutmeg, and is topped with crumbly oat, brown sugar, and vegan butter topping. Yum!
Recipe: Vegan Apple Crisp (Spiced & Irresistible)
Just imagine how amazing your home will smell while it bakes!
---
So flaky, buttery and irresistible! This delicious homemade vegan apple pie is full of spiced apples and brown sugar filling.

It's a perfect dessert to serve with dairy-free whipped cream or vanilla ice cream – everyone will love it!
Recipe: Vegan Apple Pie (Sweet & Spiced)
Apple pie is such a traditional dessert. If you're able, we suggest adding to those traditions and enjoying a trip to the orchard for hand-picked apples!
---
My Favorite Apple tools:
Our favorite Apple Picker: I love this one! Apple pickers can make the process so much easier! No more scratches from trying to get in close to the tree, and of course – you can get the most beautiful apples from way up high!

*Pro-tip: Use a hot glue gun to round the ends of the "claw" so the metal tips don't stab your apples!
KitchenAid peeling and spiralizer attachment: HANDS-DOWN FAVORITE! I use this when I'm making a large batch of apple muffins or donuts – but I absolutely love this for when I freeze apples. It is so quick, easy, and very little effort on my part!
Best Apple Corer: If I'm doing everything by hand, I love to use this simple apple corer first. It's so easy and budget-friendly too!
My Favorite Apple Peeler: Sorry, I don't like the hand cranks….I might be in the minority. I like using a vegetable or fruit peeler. For me, it's less of a hassle if I'm going to put in the effort anyway!
---
There you have it, our favorite apple dessert recipes that are perfect for fall!

Whether you're looking for a classic apple pie, a cozy apple crisp, or a unique apple dessert like apple fritters or apple spiced donuts, we've got you covered.

And with our vegan twists on these classic recipes, you can indulge in all the apple goodness without any animal products. So grab those freshly picked apples and get ready to create some delicious memories with your loved ones.

Happy baking!