We may earn money or products from the companies mentioned in this post.
(Last Updated On: July 27, 2022)
Best Baked Blueberry Donuts Recipe
This delicious baked blueberry donuts recipe is packed with fruity flavor, they're super fluffy and topped with a blueberry vanilla glaze!
I love these pretty donuts – the fresh blueberries inside create beautiful pops of color and flavor, and the frosting makes these donuts irresistible.
These donuts are dairy free, eggless and vegan and made with just a few simple ingredients – baking from scratch has never been easier.
The flavors in these donuts are bold, tangy, fruity, sweet and the perfect rich, blueberry-vanilla combination!
To achieve that pretty blueberry colored and flavored frosting, I used some blueberry powder – it's a fun, natural and healthy way to flavor and color frostings and my personal favorite. I also have a similar recipe for Vegan Strawberry Powdered Donuts using the same technique!
There's tons of brands that sell the powder with the fruit as the only ingredient!
You can always leave it off and just use a vanilla glaze if you'd like, but I love using fruit powders or spirulina powders these days in my frostings and smoothies!
You could also add some lemon juice to the frosting and use less milk for a lemon glaze.
Easy Glazed Blueberry Donuts
Making vegan blueberry donuts that are baked instead of fried makes these a great option to treat-yourself with!
Also, the addition of fruit is always great, but overall these donuts are indulgent and the perfect tangy-sweet treat.
It's so easy to make your own baked donuts at home – the batter comes together in no time and they bake right up – no deep frying or yeast needed.
This recipe is all made in one bowl and then the frosting just needs to be mixed up real quick – the most fuss-free donut recipe ever! Try my Vegan Rainbow Sprinkle Donuts for more!
INGREDIENTS
All-Purpose Flour – You can also use a 1:1 gluten-free flour blend.
Sugar – Just a little white sugar.
Flax Egg – You can also use a chia egg.
Plant Milk – I like oat, almond and soy.
Vinegar – I usually use apple cider vinegar, but white vinegar is okay too.
Vegan Butter – Any kind of melted vegan butter.
Vanilla – The perfect compliment to blueberries.
Baking Powder & Soda – For light and fluffy baked donuts.
Salt – To bring out all the flavors.
Fresh Blueberries – Add tons of color and flavor! You can also use frozen blueberries.
Blueberry Glaze – A delicious mixture of powdered sugar, plant milk, vanilla, blueberry powder and a dash of salt!
How to Make Vegan Blueberry Donuts
Making the Homemade Donut Batter
To start making your baked blueberry doughnuts, start by preheating your oven to 350 degrees F and greasing a donut pan.
Then mix in a tablespoon of flour into your blueberries and mix to evenly coat then set aside – this will help there be berries throughout the donut and not just berries on the bottoms.
Then mix together your wet ingredients with the sugar until smooth, and add in the dry and mix to combine (but don't overmix).
Baking Blueberry Doughnuts
Add the blueberries and fold into the batter.
Now, if you have a piping bag or a Ziploc, place it into a cup and fold the top edges over.
Add the batter in and pipe into the donut pan almost all the way to the top.
If you don't have the bags, you can also just spoon this in – it's just a little more work!
Then wet your fingers and smooth out the tops a bit.
Bake for 10-14 minutes, or until a toothpick inserted into the donuts comes out clean without any wet batter on it.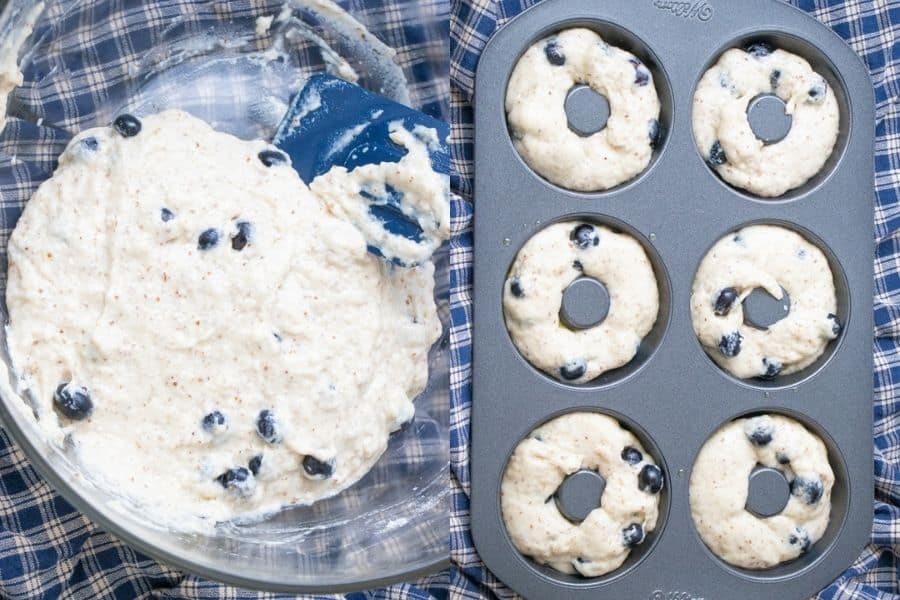 Making the Blueberry Donut Glaze
Let the donuts cool for 5-10 minutes in the pan and then carefully transfer to a cooling rack.
You might need to run a butter knife around the edges to help them come out.
Mix together your blueberry vanilla glaze until smooth and then generously spoon over the completely cooled donuts and enjoy!
Vegan Baked Blueberry Doughnuts
These homemade donuts will melt in your mouth – and the best part is they're out of the oven in under 30 minutes!
The best cake donut recipe that is allergen-friendly and perfect for kids or adults, or both.
An easy crowd-pleasing dessert to share with friends and family, or enjoy yourself throughout the week!
Feel free to add sprinkles if you'd like to make these donuts even cuter – small rainbow sprinkles would be great, or use anything you'd like.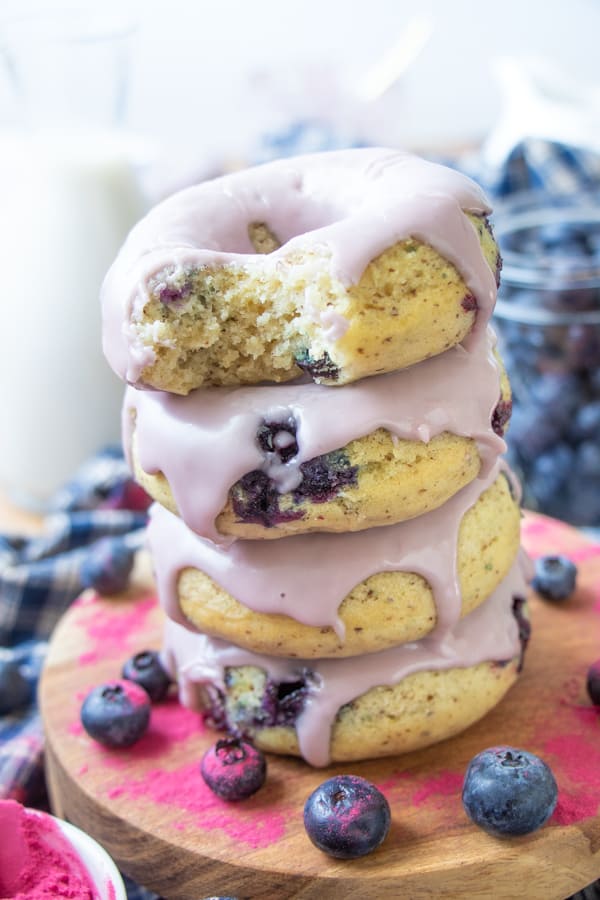 STORING
You can store these blueberry donuts in an airtight container for 3-4 days. If your home is on the warmer side I'd recommend keeping them in the fridge to avoid any melted frosting.
You can also freeze the unfrosted donuts for up to 3 months, simply let thaw on the counter and then frost and enjoy!
This recipe is:
Easy

Sweet

Fruity

Moist

Flavorful

Vegan

Dairy Free

Eggless
Check out these other delicious vegan blueberry desserts!
Raw Vegan Layered Blueberry Cheesecake
Glazed Vegan Blueberry Hand Pies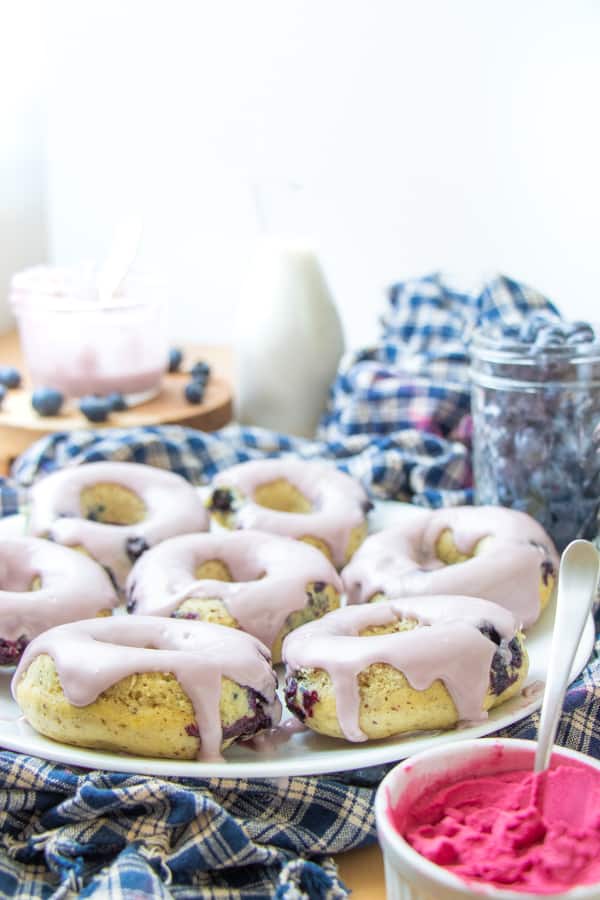 Pin this for later!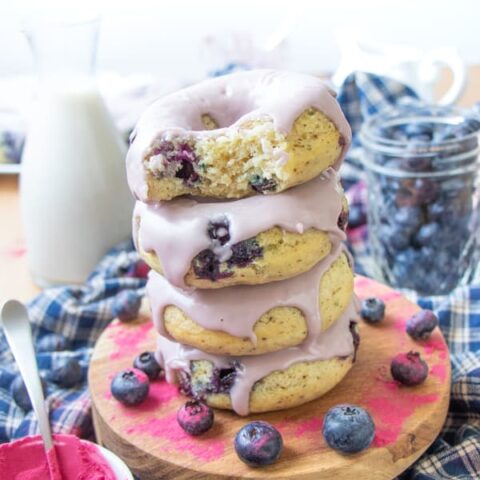 Baked Blueberry Donuts
These easy vegan baked blueberry donuts are made with fresh berries and a vanilla blueberry glaze! Sweet, fruity, fluffy and delicious!
Ingredients
1 1/2 Cups All-Purpose Flour
1/3 Cup Sugar
1 Flax Egg*
2/3 Cup Plant Milk
1/2 Tsp Vinegar
1/4 Cup Melted Vegan Butter
1 Tsp Vanilla
1 Tsp Baking Powder
1/4 Tsp Baking Soda
1/2 Tsp Salt
3/4 Cup Fresh Blueberries
Blueberry Glaze
2 Cups Powdered Sugar
2-3 Tbsp Plant Milk
1 Tsp Vanilla
Dash Salt
Instructions
Preheat oven to 350 degrees F and lightly grease a donut baking pan.
Add 1 tbsp of the flour to the blueberries and mix to coat, set aside.
In a large bowl, whisk together the sugar, flax egg, milk, vinegar, butter and vanilla until smooth.
Add the flour, baking powder, baking soda and salt and mix to combine, do not overmix. Add the blueberries and fold in.
Add batter to a piping bag and pipe into the donut pan just about to the top.** Then wet your fingers and smooth out the tops a bit.
Bake for 10-14 minutes, or until a toothpick inserted into the donuts comes out clean. Let cool for 5-10 minutes in the pan and then carefully transfer to a cooling rack. You might need to run a butter knife around the edges to help them come out.
Mix together all your glaze ingredients until smooth. Once donuts are fully cooled spoon over the tops generously and enjoy!
Notes
*1 Tbsp ground flax or chia seed mixed with 3 tbsp water, let sit for at least 5 minutes to thicken.
**If you don't have a piping bag just spoon the mixture in, it's a little more work but not too bad!
Recommended Products
As an Amazon Associate and member of other affiliate programs, I earn from qualifying purchases.
Nutrition Information:
Yield:

8
Serving Size:

1
Amount Per Serving:
Calories:

319
Total Fat:

8g
Saturated Fat:

4g
Trans Fat:

0g
Unsaturated Fat:

3g
Cholesterol:

41mg
Sodium:

336mg
Carbohydrates:

58g
Fiber:

1g
Sugar:

38g
Protein:

5g