We may earn money or products from the companies mentioned in this post.
(Last Updated On: December 12, 2019)
Vegan Cream Cheese Pinwheels
These pretty rainbow pinwheels are filled with delicious vegan cream cheese (I used Kite hill, but I know Daiya and Tofutti also make some), black beans, red peppers, corn, fresh dill, cilantro and red onions.
These are the best snacking food if you're entertaining – you can whip them up in less than 10 minutes and free up the oven for the main dish!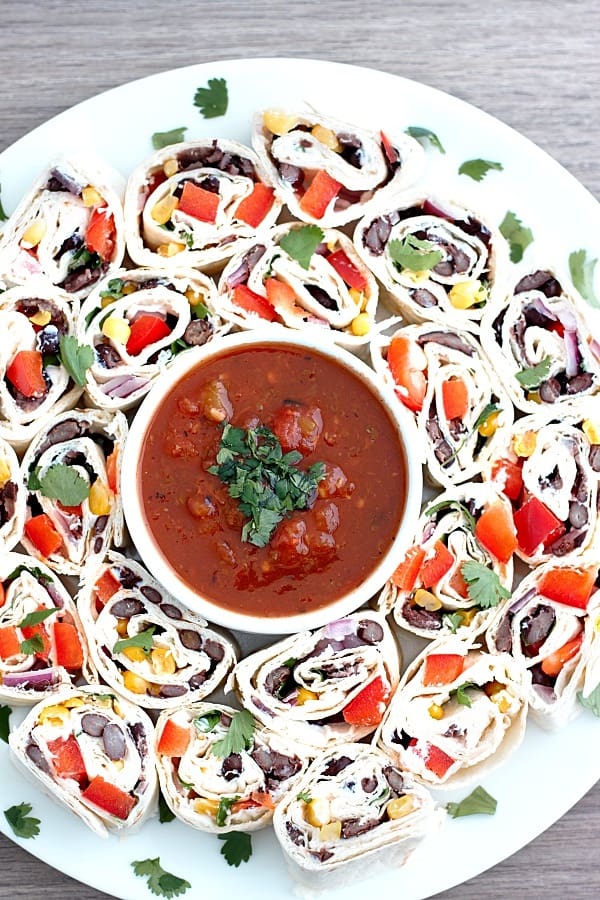 Healthy and Nutritious
For this recipe, I loved the Mexican-theme for the ingredients, but there are endless possibilities for you to experiment with!
For example, spinach and artichoke with cream cheese, or chickpeas, lemon and cucumber with guacamole would both be great ideas!
I love the rainbow of colors in these pinwheels though, it really makes them stand out on an appetizer table!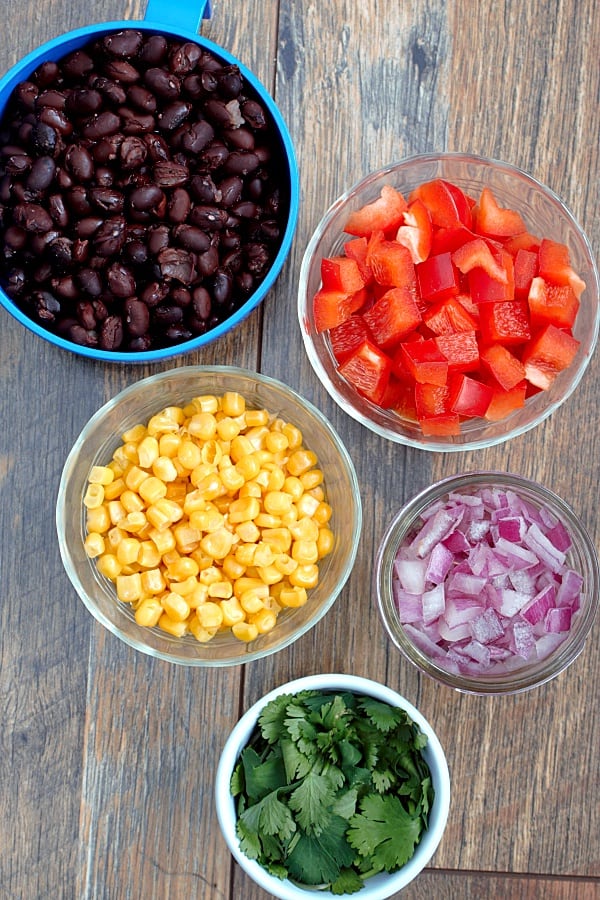 I love no-bake recipes that can go anywhere – to the beach, the amusement park, hiking, anywhere!
They have a bit of protein, carbs and fat to give you energy and keep you full as well.
The Perfect Picnic Appetizer
These simple pinwheels are cheap to and easy to make, and a crowd pleaser for sure.
I would recommend eating soon after making them though, as they can tend to fall apart or get soggy after awhile.
You can always prep the ingredients into a to-go container and quickly assemble them when you get to your destination!
If you want to get a little fancy, you can also sprinkle some chili powder or smoked paprika on them before rolling up too.
Kid-Friendly Lunch Idea
These vegan tortilla roll ups are the best way to get your kids into the kitchen.
They can customize their own roll ups with any veggies they would like – it would be a fun idea to make a buffet of rainbow veggies and beans and try different combinations, while creating a fun way to sneak in some veggies!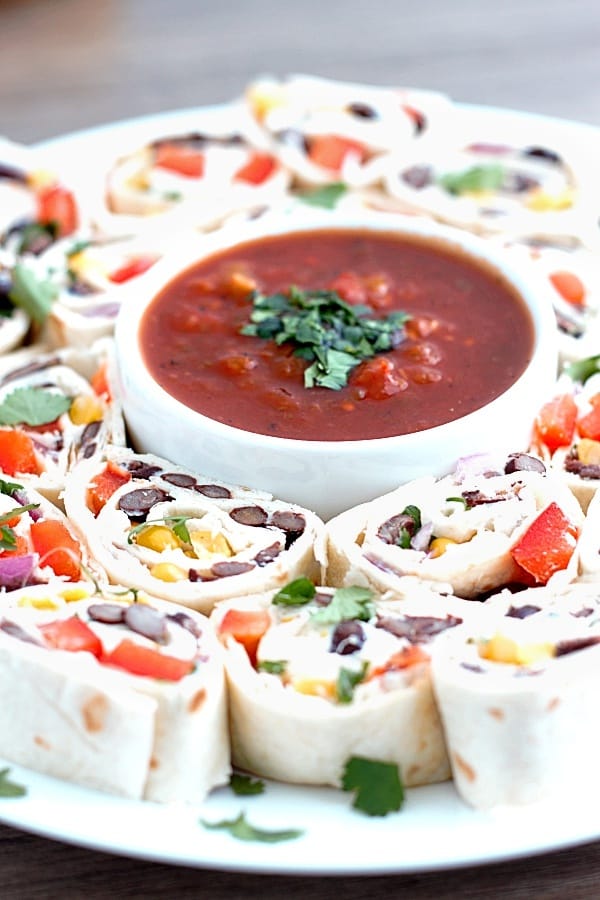 I loved the addition of salsa to these roll ups, it brings a nice sweetness to the other flavors.
Hummus or guacamole would also be great dips, or maybe even some homemade pico de gallo.
These vegan tortilla roll ups are:
Tasty

Quick

Easy

Cheap

Fun

Healthy

Vegan
Pin this for later!
This recipe was inspired by The Stingy Vegan's Vegan Mexican Tortilla Roll, but with my own twist!
Veggie Tortilla Roll Ups
This simple and budget-friendly veggie tortilla roll ups only take 5 minutes to make, and are the perfect healthy snack or appetizer to make in a pinch.
Ingredients
5 Large Vegan Tortillas
3/4 Cup Black Beans
1/2 Cup Corn
1/2 Cup Chopped Red Pepper
1/2 Cup Chopped Red Onion
Vegan Cream Cheese*
Fresh Cilantro
Fresh Dill
Salsa (optional to dip)
Instructions
Spread cream cheese generously across tortilla.
Sprinkle and squish down ingredients over cream cheese. Don't over-fill them though or you may have trouble rolling them, and they may fall apart.
Start rolling up tortilla from one end, and squish down as you go, rolling as tightly as you can without tearing them.
Cut into bite sizes pieces, starting with a cut in the middle and continuing to the edges, and serve with salsa!
Notes
*You can also use hummus or guacmole for a healthier alternative!
Nutrition Information:
Amount Per Serving:
Calories:

216