We may earn money or products from the companies mentioned in this post.
(Last Updated On: May 26, 2023)
Best Spiced Vegan Pumpkin Muffins
These vegan pumpkin muffins are so yummy and full of comforting spices!
My favorite way to enjoy pumpkin is in muffins – it's not overly sweet and it really brings out the warm flavor, along with the other flavors like cinnamon, nutmeg, clove and ginger.
These are yummy and versatile enough to have for breakfast with some coffee, or for dessert with some tea or apple cider.
They are complete with a delicious pecan crumble topping and a quick cinnamon drizzle!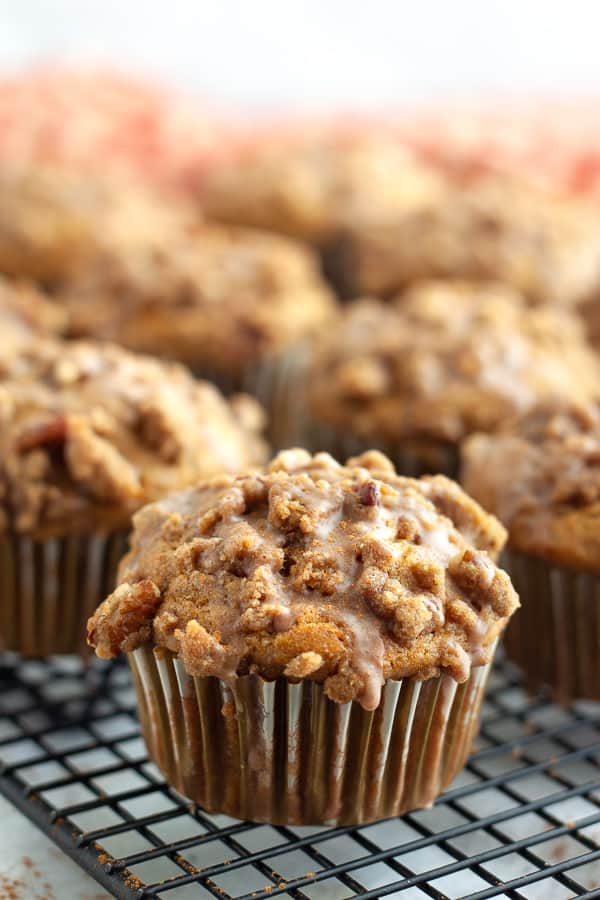 Easy Pumpkin Spice Muffin Recipe
You'll never be able to tell that these muffins are completely dairy and egg free, they are still just as moist and soft without.
Thanks to a bit of apple cider vinegar and baking soda, along with plant milk and ground flax seeds, this vegan pumpkin muffin recipe is indistinguishable from traditional versions!
They are so quick and easy to make and the flavors are perfectly balanced between sweet and spice, everything a pumpkin spice muffin should be!
How to Make Vegan Pumpkin Muffins
Making the Muffin Batter and Topping
To make this simple recipe, combine your topping ingredients with your hands by squishing them together until they have a crumbly texture, then set this in the fridge while you make the batter.
Then preheat your oven to 350 degrees!
Now combine all the dry and wet ingredients into different bowls.
Add your dry ingredients (except the brown sugar) to a bowl and mix them together well so the muffins are evenly flavored.
Then add your wet ingredients (including the brown sugar) in a bowl and whisk them together until the sugar is dissolved.
Pour your dry ingredients into your wet and mix just until smooth, being careful not to over mix or else the muffins may be a bit too dense!
Topping and Baking the Vegan Muffins
Evenly distribute your pumpkin muffin batter into 12 muffin tins.
I prefer to use a cookie scoop for this part because it helps me not make a mess and be sure all the muffins are the same size!
The batter will be thick, but workable.
Then evenly crumble your topping over all the muffins, and gently tap it down.
Bake for 22-25 minutes or until a toothpick inserted into the middle of the muffin comes out clean!
Vegan Pumpkin Muffins with Pecan Crumble
Let your muffins rest in the tin for 10 minutes, then transfer them to a cooling rack.
Once the muffins are completely cool, mix together your drizzle ingredients and apply evenly to all the muffins!
I like to put some parchment paper underneath the cooling rack they are on before drizzling because then there's no mess!
Then you're done! Enjoy your delicious spiced pumpkin muffins.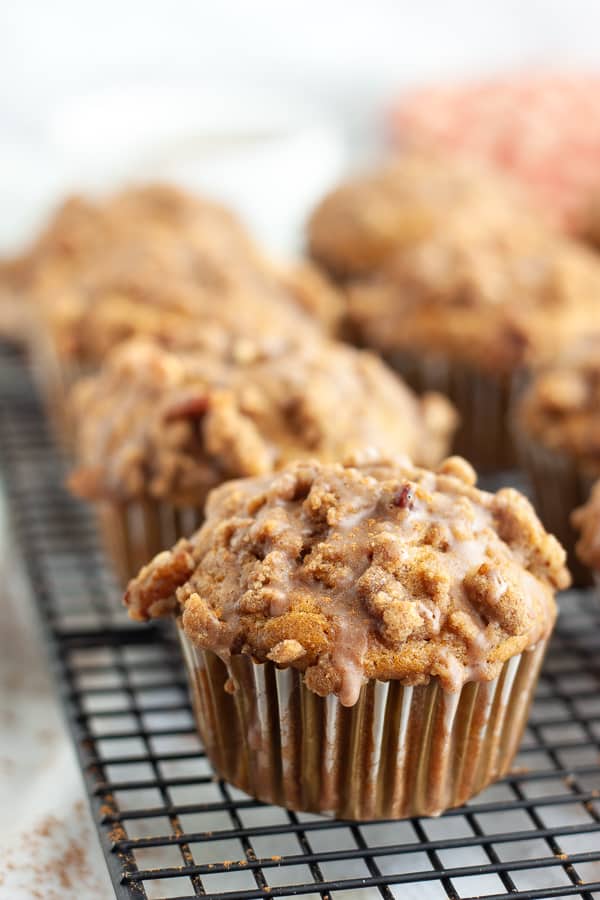 The Best Vegan Muffins with Canned Pumpkin
Now that canned pumpkin is popping up in every store you go into, you can grab a can and whip up these delicious fall treats!
Feel free to customize these anyway you like, pumpkin goes well with so many flavors!
You could use walnuts instead of pecans for the topping, or even some pumpkin seeds.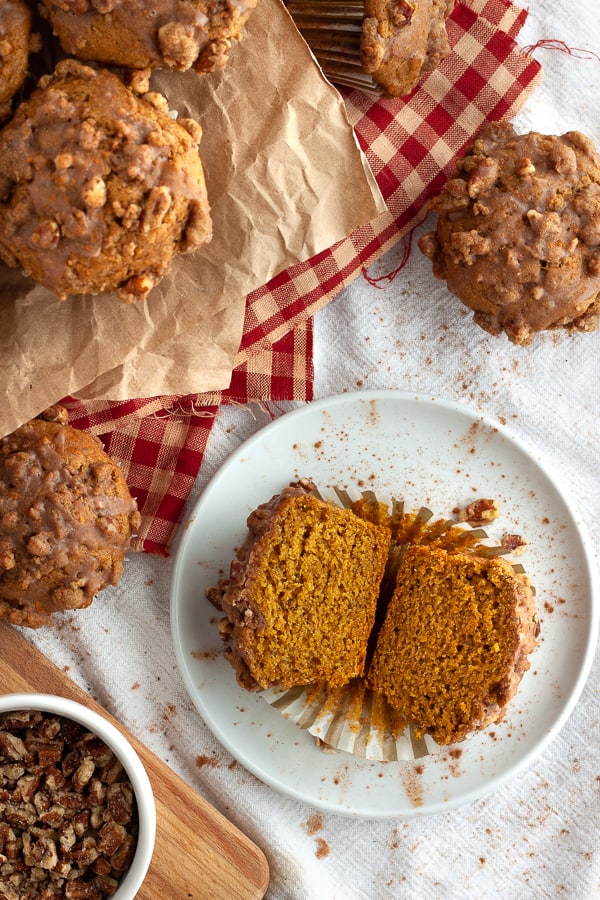 This recipe is:
Spiced

Pumpkin

Delicious

Sweet

Crumb Topped

Cinnamon Sweet

Vegan
Check out these other vegan baked goods!
Vegan Maple Glazed Pumpkin Donuts
Pin this for later!
Vegan Pumpkin Muffins
These flavorful spiced vegan pumpkin muffins have a pecan crumble topping and sweet cinnamon glaze - the best pumpkin spice muffins ever!
Ingredients
2 Cups Flour
1 Cup Brown Sugar
1/3 Cup Neutral Oil
1/3 Cup Plant Milk
2 Tsp Apple Cider Vinegar
2 Tsp Baking Powder
1 Tsp Cinnamon
1/4 Tsp Nutmeg
1/4 Tsp Cloves
1/2 Tsp Ginger
1/2 Tsp Salt
For the Crumb Topping
3 Tbsp Flour
3 Tbsp Chopped Pecans
1 1/2 Tbsp Vegan Butter (chilled and cubed)
1/4 Tsp Cinnamon
For the Cinnamon Drizzle
1/2 Tsp Cinnamon
1 1/2-2 Tbsp Plant Milk
Instructions
Preheat your oven to 350 degrees.
Using your hands, squish together all your crumb topping ingredients in a bowl until crumbly. Place in the fridge to chill.
In a bowl, combine your flour, cinnamon, nutmeg, cloves, ginger salt, ground flax seeds and baking powder and mix well.
In another bowl, whisk together your pumpkin puree, vanilla, oil, plant milk, apple cider vinegar and sugar until well combined.
Pour your dry ingredients into your wet and mix just until smooth, being careful not to overmix.
Pour evenly into 12 muffin tins. Sprinkle over crumb topping evenly and gently pat down. Bake for 22-25 minutes or until a toothpick inserted into the middle of the muffin comes out clean.
Allow muffins to rest 10 minutes in the pan, then cool completely on a cooling rack.
Mix together drizzle and evenly coat all the cooled muffins. Enjoy!
Nutrition Information:
Yield:

12
Serving Size:

1
Amount Per Serving:
Calories:

269
Total Fat:

10g
Saturated Fat:

2g
Trans Fat:

0g
Unsaturated Fat:

8g
Cholesterol:

5mg
Sodium:

202mg
Carbohydrates:

43g
Fiber:

2g
Sugar:

23g
Protein:

3g