We may earn money or products from the companies mentioned in this post.
(Last Updated On: May 26, 2023)
Best Vegan Pumpkin Scones Recipe
These vegan pumpkin scones are so deliciously spiced and flavorful!
Made with a super simple dough from scratch, these scones are so soft, flaky and moist, with a light drizzle on top to add just the right amount of sweetness.
They are a great dairy-free alternative to Starbucks pumpkin scones too!
Completely free of eggs and dairy, these scones are just as tasty and irresistible.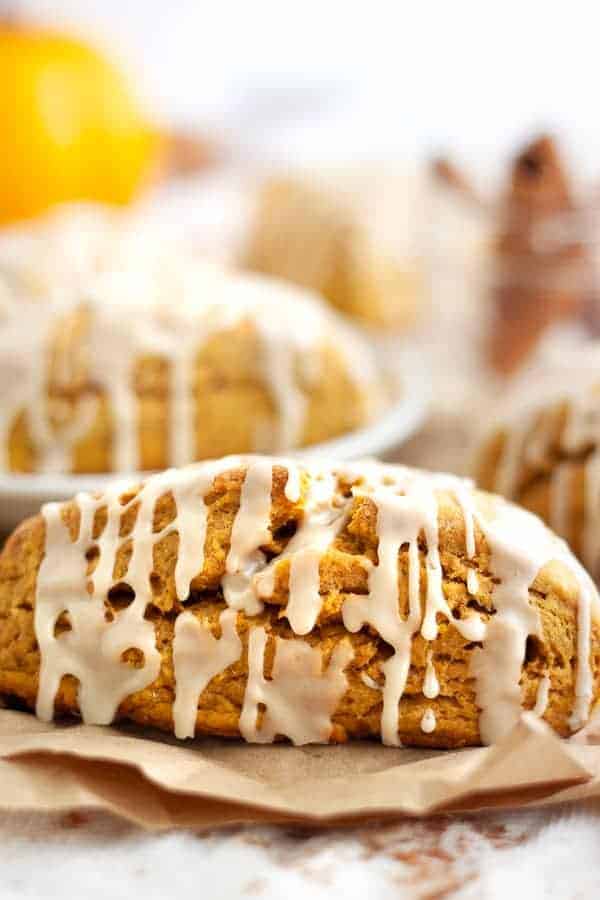 The sweet glaze adds a nice contrast of color to the pumpkin-and-spice colors of the scones, and adds the finishing touch!
You can also add a touch of cinnamon to the drizzle to make these even more spiced – you'll just have a deeper color instead of the basic white.
Homemade Pumpkin Scones (Starbucks Copycat)
If you've never made vegan scones from scratch before, this is the perfect recipe to start with!
The addition of pumpkin makes these so quick and easy to make as it helps to bind everything together –  the dough is also very simple to work with and they are in the oven in no time!
Homemade pumpkin scones are the perfect addition to an after dinner dessert table, or as a sweet treat at brunch.
I really love the soft and airy texture of scones, and I think the pumpkin spice flavor is a great flavor to enjoy with homemade scones!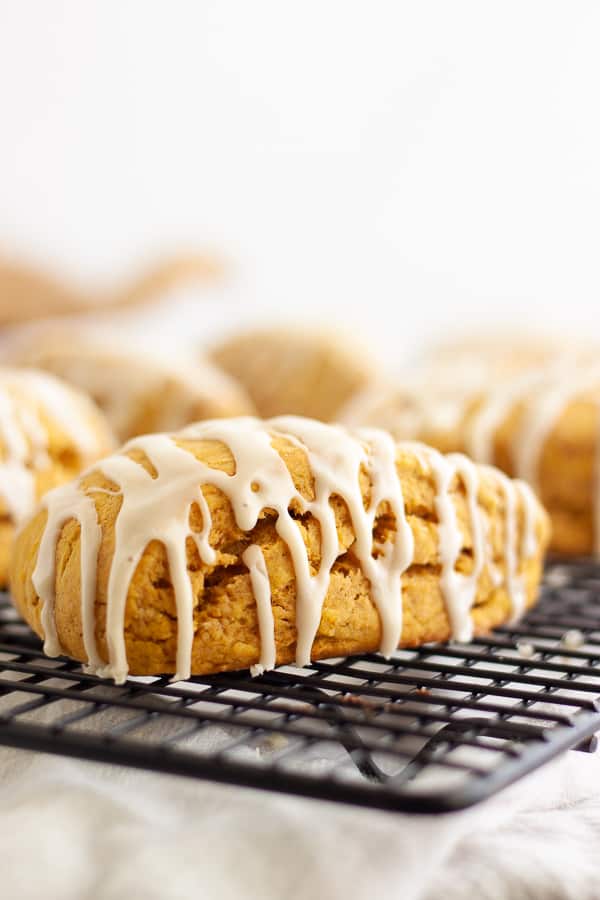 How to Make Healthy Vegan Pumpkin Scones
Making the Pumpkin Scone Dough
To begin making these tasty scones, start by preheating your oven to 400 degrees and adding the brown sugar, pumpkin puree (not pumpkin pie filling), vanilla and plant milk in a bowl.
Whisk these together until the sugar dissolves to get the most flavor in your scones.
In a separate bowl, add all your dry ingredients and toss in your chilled and cubed vegan butter.
To get a nice scone texture, cut the butter into the dry ingredients using a pastry cutter or a fork. Once the butter is incorporated properly the mixture will resemble sand.
Add this to your wet mixture and stir just until it begins to come together.
You don't want to over mix this or else the scones will be too dense.
Right when it starts to stick together, flour a flat surface and place the dough down, lightly flouring the top of the dough too.
Knead just a few times until it forms a uniform dough, watch the video in this post for an example!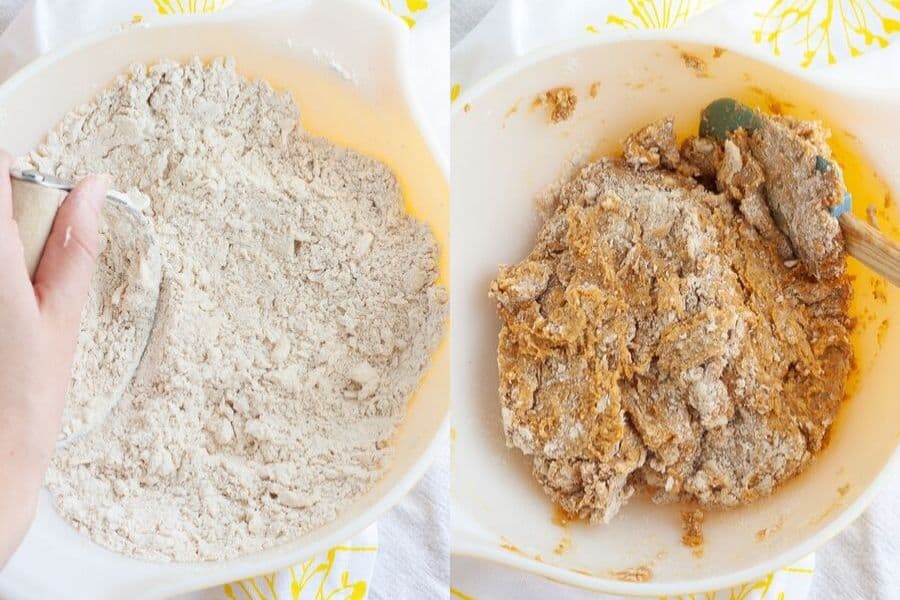 Shaping and Cutting the Vegan Scones
Now you can easily work with your hands to form the dough into a 1-inch thick circle.
Flour a knife and cut into 8 pieces, just like a pizza!
I recommend flouring the knife in between each cut to help it not stick and make the process nice and easy.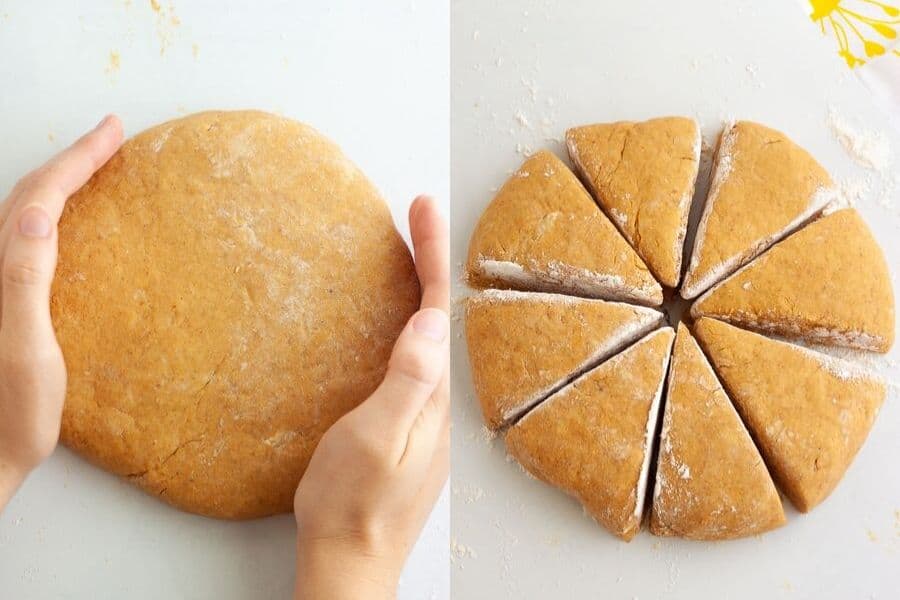 Baking and Decorating Pumpkin Scones
Place the scones on a baking tray covered in parchment paper, and bake for 15-18 minutes!
You'll know the scones are done when they are lightly browned, and the bottoms are light brown as well.
You can also insert a toothpick into the middle of the scones, and it if comes out clean you know they are cooked inside.
Let them cool for 10 minutes in the pan, then transfer for a cooling rack.
Once the scones are completely cooled, mix together your glaze and drizzle over the scones generously!
That's it! Perfectly spiced homemade scones ready to serve.
Scones are best enjoyed sooner rather than later, the texture is perfect just after being drizzled!
Easy Pumpkin Spice Scone Recipe
I just love these scones, they have so many comforting flavors and I think they're my new favorite way to enjoy pumpkin!
The pumpkin is also a great alternative to egg in baking, which makes these simple to turn vegan.
Brew up a cup of coffee or tea and enjoy!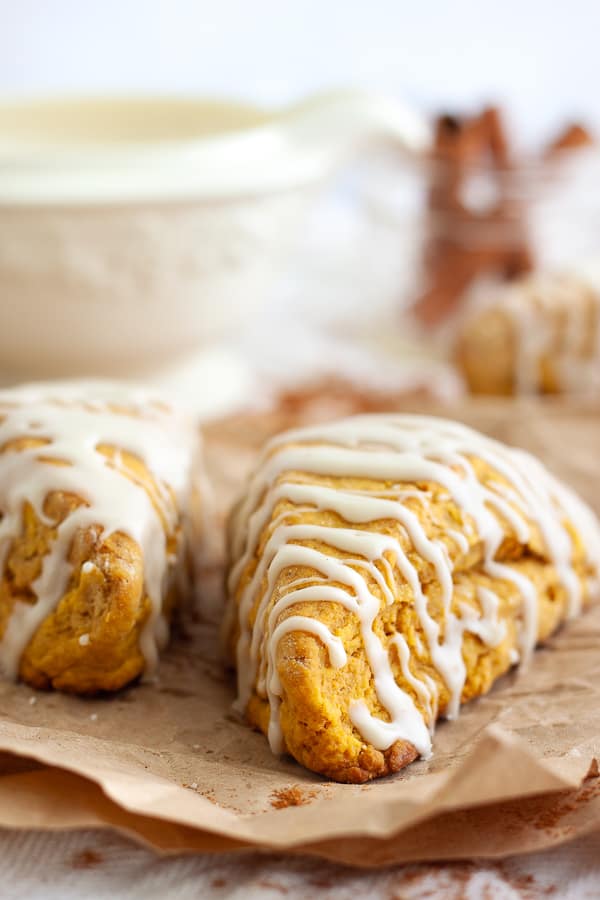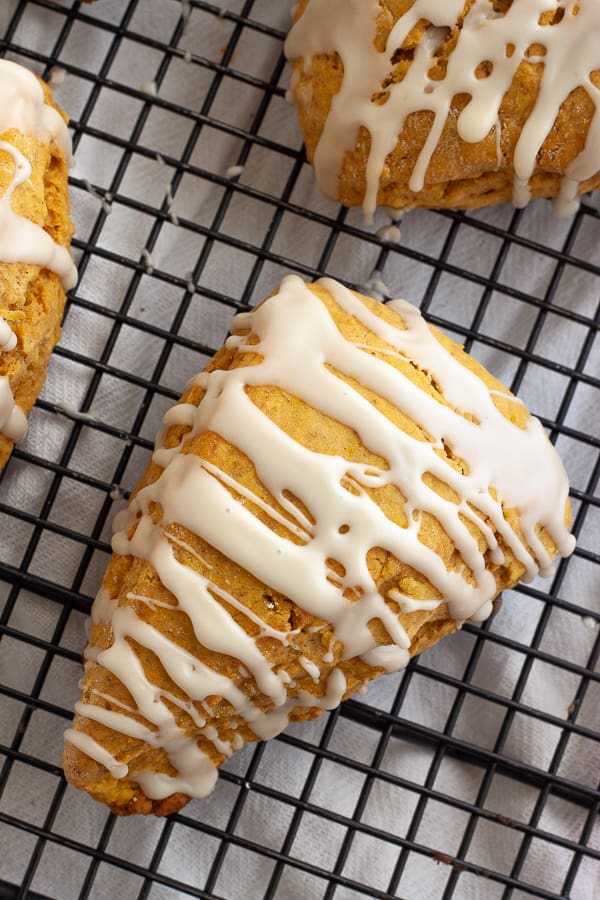 This recipe is:
Easy

Homemade

Delicious

Moist

Glazed

Pumpkin-Spiced

Vegan

Tasty
Try these other vegan baked treats!
Vegan Maple Glazed Pumpkin Donuts
Chewy Pumpkin Chocolate Chip Oatmeal Cookies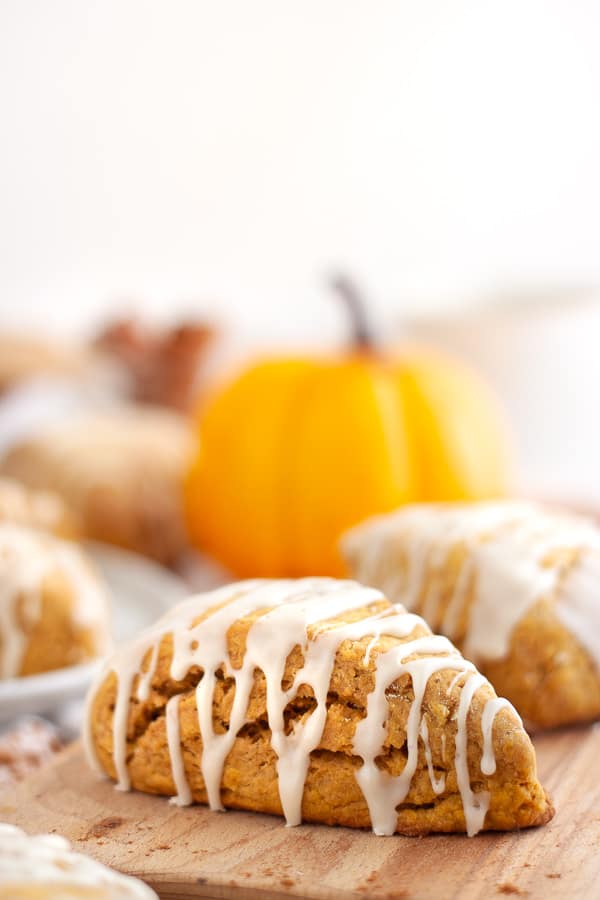 Pin this for later!
Vegan Pumpkin Scones
These are the best vegan pumpkin scones ever! Soft, spiced and flaky with a light drizzle on top - the perfect Starbucks copycat.
Ingredients
1/2 Cup Pumpkin Puree
1/2 Cup Brown Sugar
1/2 Cup Vegan Butter (chilled & cubed)
1/4 Cup Plant Milk
1/2 Tsp Salt
1 1/2 Tsp Baking Powder
For the Glaze:
Instructions
Preheat oven to 400 degrees.
In a bowl, combine pumpkin puree, vanilla, plant milk and brown sugar and whisk until sugar has dissolved.
In a separate bowl, combine flour, cinnamon, pumpkin spice, salt and baking powder and mix well. Add chilled, cubed butter and incorporate using a pastry cutter or a fork until it becomes a sandy texture.
Pour into wet ingredients and mix just until it starts to come together, being careful not to over mix.
Flour a flat surface and place dough down, lightly sprinkling more flour on top.
Knead just a few times until it comes together, adding more flour as needed to avoid sticking. Then shape into a circle about 1 inch thick. Cut into 8 pieces like a pizza, you may need to flour your knife in between cuts to avoid sticking.
Place scones on a baking tray lined with parchment paper, and bake for 15-18 minutes, or just until they become golden brown and the bottoms begin to brown. You can also poke a toothpick into the middle of the scone, and if it comes out clean they are done!
Let them cool on the pan for 10 minutes, then transfer to a cooling rack.
Once completely cooled, mix together your glaze and drizzle over scones, enjoy!
Notes
*Make your own by combining equal parts cinnamon, cloves, ginger and nutmeg!
Nutrition Information:
Yield:

8
Serving Size:

1
Amount Per Serving:
Calories:

328
Total Fat:

12g
Saturated Fat:

8g
Trans Fat:

0g
Unsaturated Fat:

4g
Cholesterol:

31mg
Sodium:

339mg
Carbohydrates:

51g
Fiber:

2g
Sugar:

25g
Protein:

4g