We may earn money or products from the companies mentioned in this post.
(Last Updated On: February 8, 2021)
Best Vegan Peanut Butter Cookies Recipe
These are the best vegan peanut butter cookies ever!
Soft, chewy, sweet, simple, packed with peanut butter and so easy to make.
Easily one of the most iconic and crowd-pleasing desserts you can make, these cookies are a huge hit!
You can't even tell they're completely vegan and plant based, and they are just as flavorful and irresistible as ever.
I've always thought of peanut butter cookies as so unique yet perfect for any occasion.
They have such a classic taste and they look so beautiful with the criss-cross design on top!
They also have a light sparkle thanks to a quick sugar coating right before they bake.
You can also go for something a bit brighter by just sprinkling raw sugar on top.
Both look beautiful and add an extra sweetness to the cookies without being overpowering!
Easy Vegan Peanut Butter Cookies Recipe
The perfect peanut butter cookie, in my opinion, has to be super chewy on the inside and just slightly crisp on the outside.
There's a perfect balance that can be tricky to reach when baking, because sometimes they don't seem done when they actually are.
The trick is to bake them just until the edges and bottoms are a light golden brown, because they will finish cooking as they cool out of the oven.
If you like a slightly crispier cookie feel free to bake them a minute or two longer than in the directions, but I love the chewy center!
I used crunchy peanut butter for this vegan peanut butter cookie recipe, it adds a nice texture and I like the peanut bits in the dough.

Peanut Butter Cookie Ingredients:
Unbleached All-Purpose Flour –

Can substitute for any type of flour or gluten-free flour blend.

Sugar –

I like to use half white and half brown sugar, but you can use either or.

Baking Powder and Baking Soda –

Using both in this recipe helps the cookies rise and get the perfect texture.




Peanut Butter –

Feel free to substitute with sunflower butter or almond butter.

Vegan Butter –

I used melted vegan butter sticks for this recipe, tub butter has a higher water content.

Plant Milk –

Literally any type is fine – I always keep oat and almond on hand.

Vanilla –

Vanilla adds so much depth and flavor to these cookies.

Salt –

Just a pinch of salt helps bring out all the flavor in these cookies.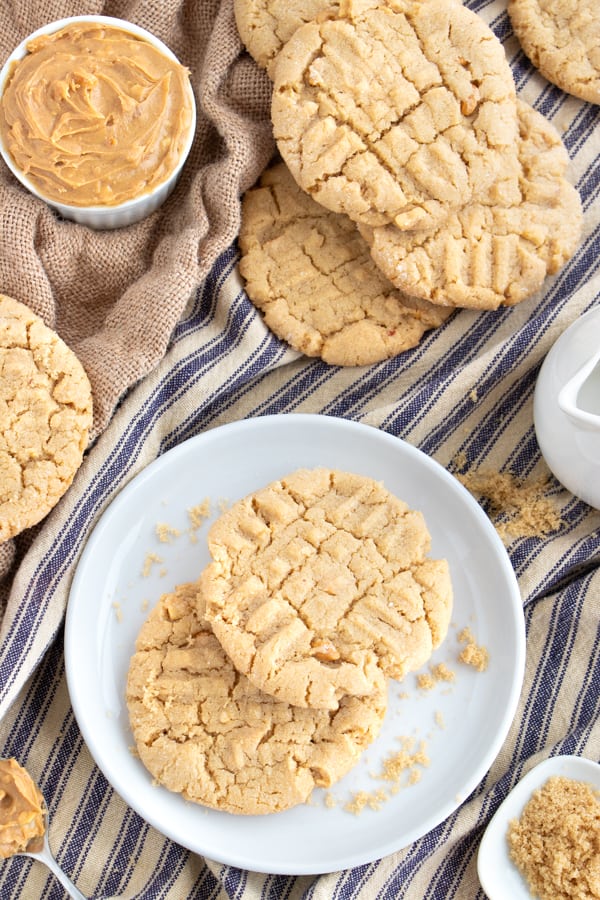 How to Make Vegan Peanut Butter Cookies
Making the Vegan Cookie Dough
The easiest part of this plant based recipe is the fact that you only need one bowl to make the dough!
Preheat your oven to 350 degrees F and simply add your sugar, peanut butter, melted vegan butter, plant milk and vanilla to a bowl.
Mix well and then sift in the flour, leaveners and salt and mix well again.
At this point the dough should be workable with your hands, but if you find it's a bit sticky (depending on the type of peanut butter you use), you can either add an extra tablespoon or two of flour or let it sit in the fridge for 15-30 minutes.
Shaping and Baking Peanut Butter Cookies
When you're ready, take 2 tablespoon amounts of dough and roll into balls with the palms of your hands.
I use a cookie scoop with a release trigger to make this easy!
Roll in sugar if you'd like and then place on a baking tray covered in parchment paper.
Take a fork and make a criss-cross pattern as you gently press them down just enough to make the imprint.
Bake for 14-16 minutes, or until slightly golden brown on the edges and on bottom.
Let the cookies cool on the tray for 5 minutes and then transfer to a cooling rack and enjoy!
Easy Chewy Peanut Butter Cookies
These easy vegan peanut butter cookies are perfectly chewy and moist without any dairy or eggs.
The peanut butter adds the taste and also adds as a binder in the dough!
I like adding a bit of vanilla and vegan butter to add more richness and depth to the cookies.
For a bit of added flavor, I also love using half brown and half white cane sugar for this recipe.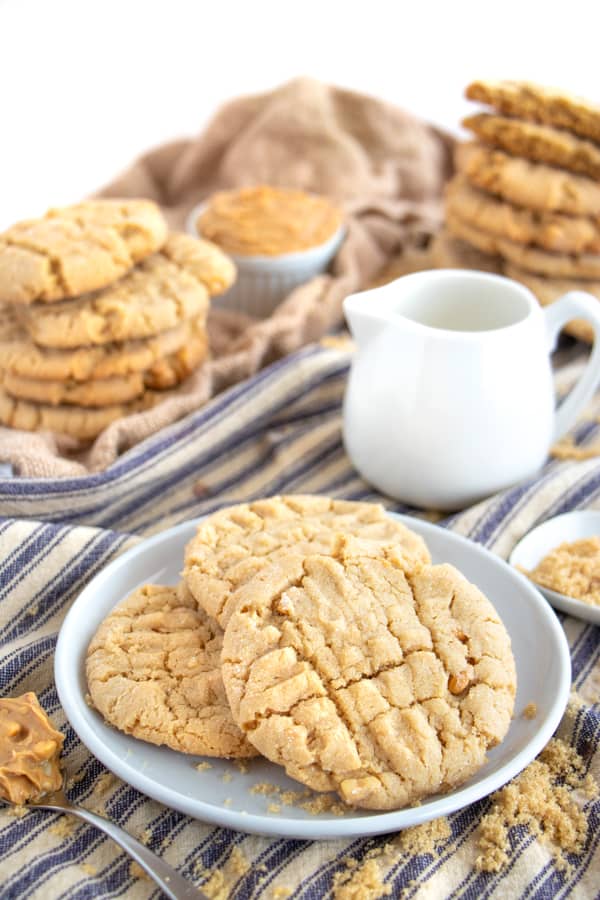 To Store these Vegan Peanut Cookies:
They can be kept in an airtight container for up to 5-7 days for best texture.
The cookies can be frozen for up to 3 months in freezer bags.
To make these ahead of time, you can keep the dough in the fridge for up to 2 days, just remove it about 30-45 minutes before baking!
These plant based peanut butter cookies are:
Chewy

Melt-in-your-mouth

Irresistible

Soft

Peanut Butter Filled

Healthy

Sweet

Easy to Make
Try these other easy vegan cookie recipes:
Pumpkin Oatmeal Chocolate Chip Cookies
Pin this for later!
Best Vegan Peanut Butter Cookies
Easy and delicious one bowl vegan peanut butter cookies! This foolproof recipe makes the most chewy and irresistible cookies!
Ingredients
1 1/3 Cup Unbleached All-Purpose Flour
1 Cup Sugar (I used 1/2 brown 1/2 cane)
1 Tsp Baking Powder
1/2 Tsp Baking Soda
3/4 Cup Peanut Butter
1/4 Cup Vegan Butter, melted
2 Tbsp Plant Milk
1 1/2 Tsp Vanilla Extract
1/4 Tsp Salt
Instructions
Preheat your oven to 350°F.
Add peanut butter, sugar, vegan butter, plant milk and vanilla to a bowl and combine well.
Sift in flour, baking powder, baking soda and salt into the wet mixture, and mix until a dough is formed.
*Scoop 2 tbsp amounts of dough and roll into balls, roll in sugar if desired and then assemble on a baking sheet 2 inches apart.
Squish dough down with a fork in a criss-cross pattern.
Bake for 14-16 minutes, or until cookies are lightly browned. Enjoy!
Notes
If the dough is still slightly sticky, you can add another tablespoon or two of flour or put it in the fridge for 15-30 minutes before rolling into cookie dough balls!
Recommended Products
As an Amazon Associate and member of other affiliate programs, I earn from qualifying purchases.
Nutrition Information:
Amount Per Serving:
Calories:

124