We may earn money or products from the companies mentioned in this post.
(Last Updated On: May 3, 2023)
Vegan Fudgy Double Chocolate Muffins
These vegan double chocolate muffins are so moist, decadent and rich!
Made with strong cocoa powder and plenty of dairy-free chocolate chips, these are seriously the best muffins ever.
This recipe comes together in no time and makes the yummiest and easiest vegan muffins.
They are so irresistibly chocolaty and just the right amount of sweet – you're going to love these muffins!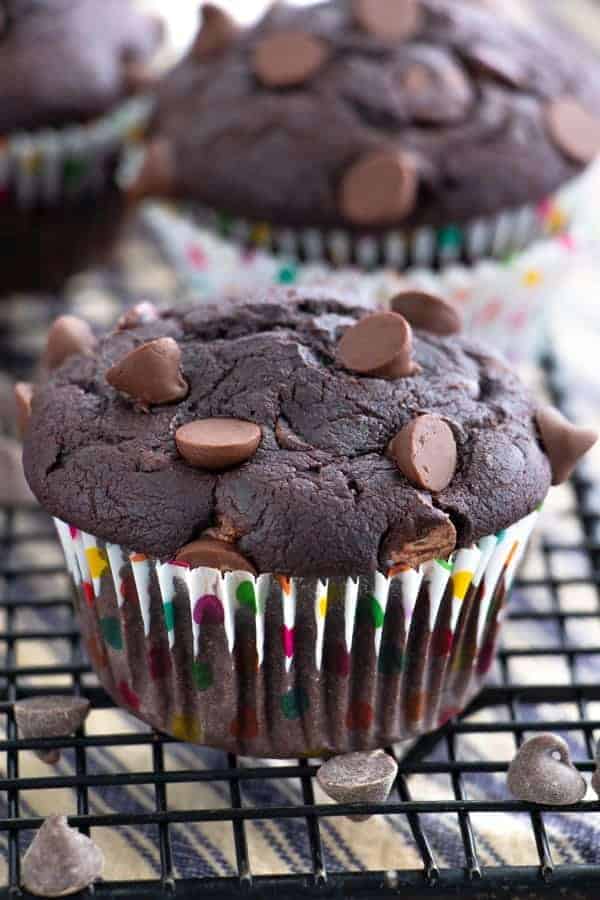 These muffins are packed with chocolate chips in the batter, and topped with a few more for an irresistible look.
The batter can be made in one bowl and is very easy to work with, all you do is mix, toss into muffin wrappers and bake!
Best Ever Dairy-Free Chocolate Muffins
You're never going to be able to tell that these muffins have absolutely no dairy in them, they are just as deliciously rich and decadent without it!
It's so easy to come by dairy-free chocolate chips these days too, I used this brand but you can use any brand you'd like!
I think using dark cocoa also really makes these muffins – I combine that with a hint of ground coffee and it makes these muffins ridiculously rich and flavorful.
I always love to add a touch of coffee to my chocolate baked goods, it really brings out the chocolate flavor and adds so much depth and decadence.
If you're not a coffee fan you can leave it out, and even use regular cocoa if you want the taste a little less intense, but I absolutely love the combo!
Feel free to add as many chocolate chips to the top as you'd like!
How to Make Vegan Double Chocolate Muffins
Preparing the Muffin Batter
To make this batter, you'll only need one bowl, a muffin baking tray, muffin wrappers, a whisk and a spatula to stir.
To begin, preheat your oven to 350 degrees F. 
Mix the butter and sugar with a whisk until smooth, then add the plant milk, vanilla and flax egg and mix again!
Sift in all your dry ingredients and stir with a spatula until it all comes together, then stir in the chocolate chips!
Move the batter into your muffin wrappers – you can fill them up most of the way, leaving just a bit of space between the batter and the top of the wrapper. I used a cookie scoop with a release trigger to move the batter with ease.
Sprinkle with more chocolate chips and then bake for 20-25 minutes.
Baking Vegan Chocolate Muffins
To know when your muffins are ready, you can always use a toothpick and press it into the center of a muffin, if it comes out clean they're done.
With this particular recipe, it can be hard to find a place to test without running into a gooey melted chocolate chip, so if you have trouble testing after poking the toothpick into a few places, you can always gently press your finger on the center of the muffin, and if it springs back up they should be done!
Let them cool for 5 minutes on the tray and then you can move them to a cooling rack.
The muffins will be a little tricky to unwrap when they are still warm since it will stick slightly, but as they cool the wrapper will come right off!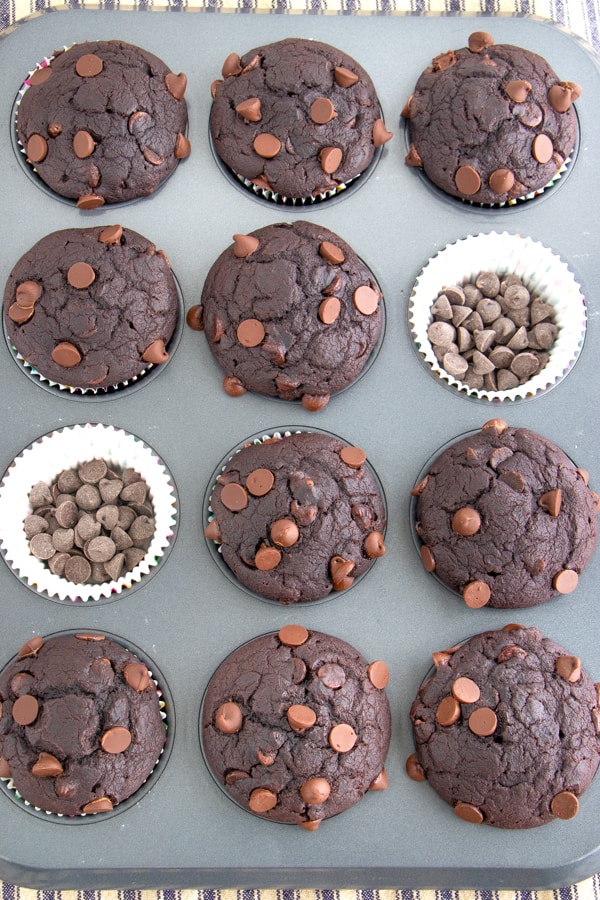 I just love how the muffins look after baking – the crinkled top and the chocolate chips look so yummy!
Sometimes I like to stick the chocolate chips point down on the top of the muffins before baking for a neat, rounded look.
But I also just love the more organic look it makes by just sprinkling them on like this!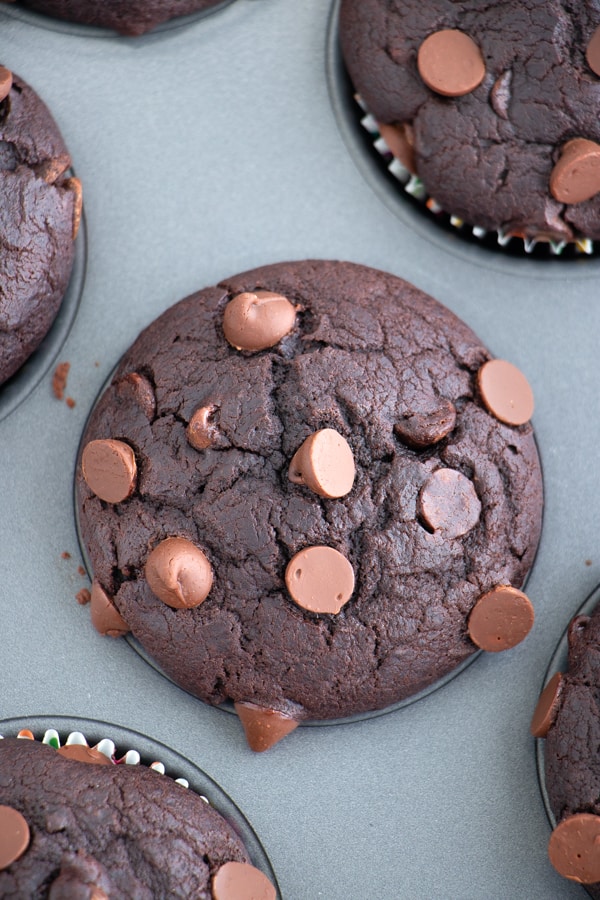 Moist Double Chocolate-Chip Muffins Recipe
This recipe really is my go-to for a chocolate fix – they are just so easy to make and so rich and delicious.
You can really never go wrong with a double chocolate recipe!
What I really love about these muffins as well is that they can be stored in an air-tight container for up to 5 days (I also place a paper towel on the bottom of the container).
They are just as flavorful and delicious a few days later and can be microwaved for about 7 seconds for perfectly warm, gooey chocolate muffins.
This recipe is:
Vegan

Rich

Chocolaty

Decadent

Dairy Free

Double Chocolate

Delicious

Easy
Check out these other vegan recipes:
10 Best Vegan Chocolate Desserts!
Vegan Lemon Poppy Seed Muffins
Vegan Healthy Gingerbread Muffins
Pin this for later!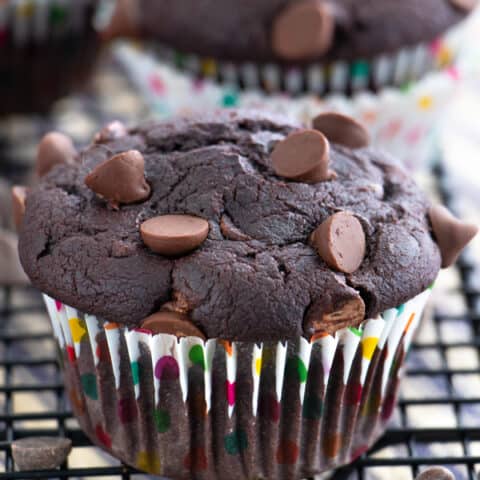 Vegan Double Chocolate Muffins
These vegan double chocolate muffins are so soft, moist and packed with chocolate flavor! Dark cocoa and chocolate chip dairy free muffins recipe!
Ingredients
1 Cup Plant Milk
1 Tbsp Ground Coffee (optional)
1 Flax Egg**
1/2 Tsp Salt
Instructions
Preheat oven to 350 degrees.
In a bowl, whisk together the sugar and vegan butter until smooth, then add the plant milk, flax egg and vanilla and mix again.
Sift in the flour, cocoa, ground coffee if using, baking powder, baking soda and salt and mix until smooth. Stir in chocolate chips.
Line a muffin tray with muffin wrappers and fill with batter just until under the top of the wrapper. Sprinkle on more chocolate chips on top.
Bake for 20-25 minutes or until a toothpick inserted into the muffin comes out clean***.
Allow to cool for 5 minutes and then transfer to a cooling rack. The muffins will be a bit difficult to unwrap when they are warm, but once they cool they will unwrap easily. Enjoy!
Notes
*I used dark cocoa for a stronger chocolate taste, but you can use regular too.
**1 tbsp ground flax or chia egg mixed with 3 tbsp water and allow to sit for 10 minutes.
***With the chocolate chips melted in the muffins it can be tricky to know when the muffins are done. Try to stick the toothpick into a few areas of the top of the muffin until you can check the muffin and avoid a chocolate chip. You can also gently press down on the top of the muffin, and if it springs back up they are ready.
Nutrition Information:
Serving Size:

1 Muffin
Amount Per Serving:
Calories:

247