We may earn money or products from the companies mentioned in this post.
(Last Updated On: August 13, 2022)
Easy and Healthy Vegan Chocolate Smoothie
This quick and easy vegan chocolate smoothie is the perfect yummy breakfast recipe!
It's super chocolaty, filling, and packed with healthy, all natural ingredients to kick-start your day.
I love starting my day with this smoothie, it tastes like dessert and has flavors of cocoa, peanut butter and banana!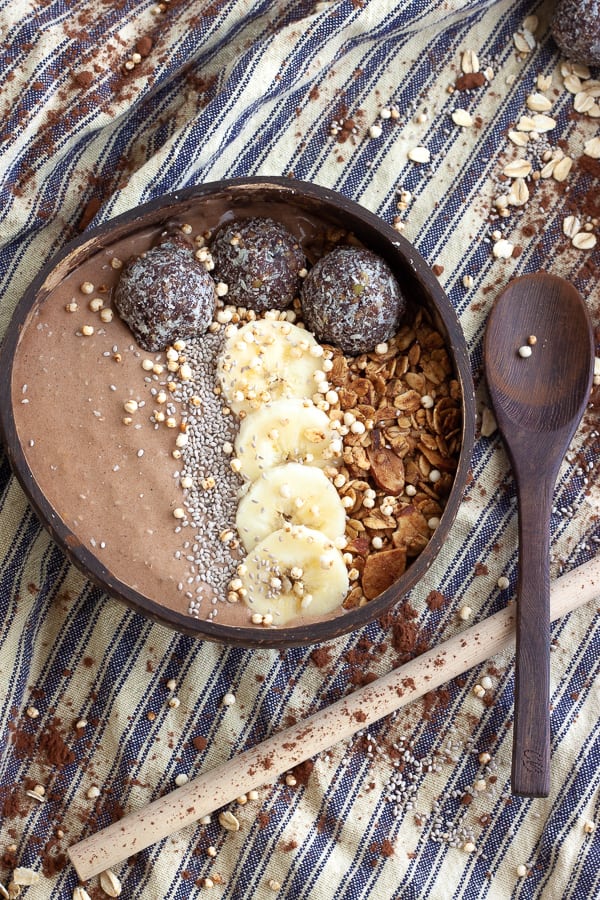 Cocoa Banana Smoothie Bowl Recipe
Having smoothies for breakfast is a great way to get in a ton of nutrients very quickly, they're also great to take on the go.
One issue with breakfast smoothies though is I often feel hungry a couple hours after having them, before it's lunchtime.
That's one reason I love adding a nut butter to the smoothie itself, and also eating them in a bowl with filling toppings like granola, truffles and more bananas.
It helps make the smoothie much heartier and satisfying to eat!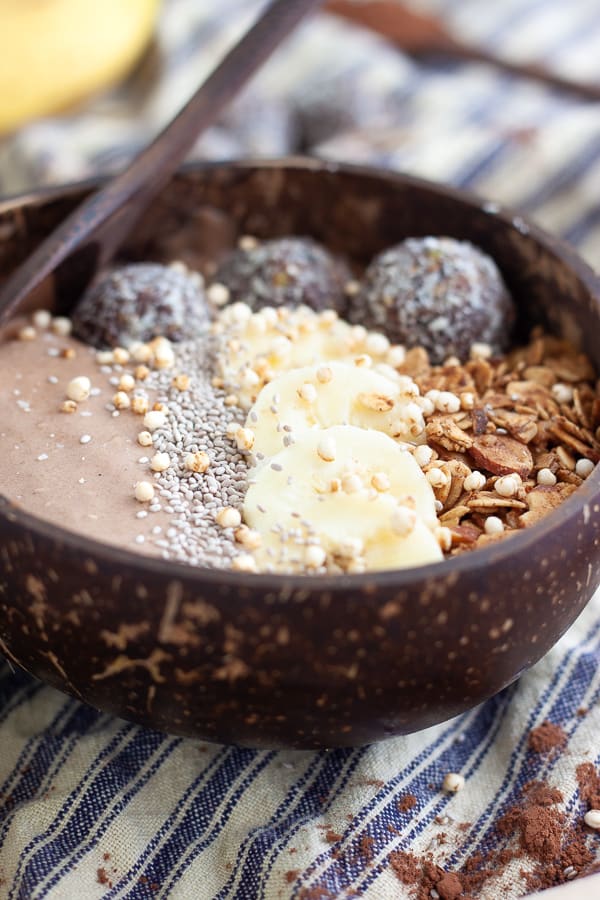 How to Make a Vegan Chocolate Smoothie
Making this smoothie bowl is super simple, and even easier if you have a high speed blender.
Once you add all the smoothie ingredients to your blender, you'll want to pulse it a few times to help the frozen bananas break apart and be easier to blend.
If you have a blender with a stick, it's super easy to just push the ingredients down towards the blade as you blend.
If you don't you'll need to possibly add a tiny bit more plant milk (but add as little as possible to avoid a runny smoothie bowl), or push it down in between pulsing/blending.
You could even use a nutria-bullet, shaking down the ingredients in between pulsing/blending until it's nice and creamy!
Then you'll just transfer if to your bowl of choice (I used these super cute, homemade coconut bowls!), and add any toppings you'd like!
This is also a great time to use up any leftover fruit or snacks.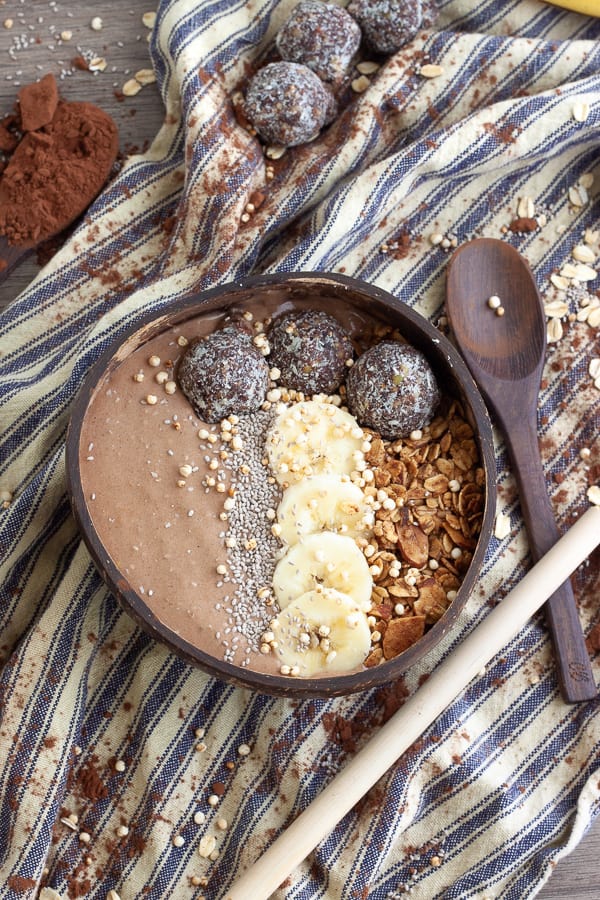 Quick and Filling Breakfast Smoothie
This yummy smoothie is the perfect quick and filling recipe for busy mornings, there's nothing better than chocolate for breakfast!
If you don't have time to sit down, you could always just add a bit more plant milk and take it with you, but it's super yummy in a bowl with toppings if you have the time!
I topped my smoothie bowl with chia seeds, chocolate figgy pops, banana, quinoa pops and my homemade granola recipe!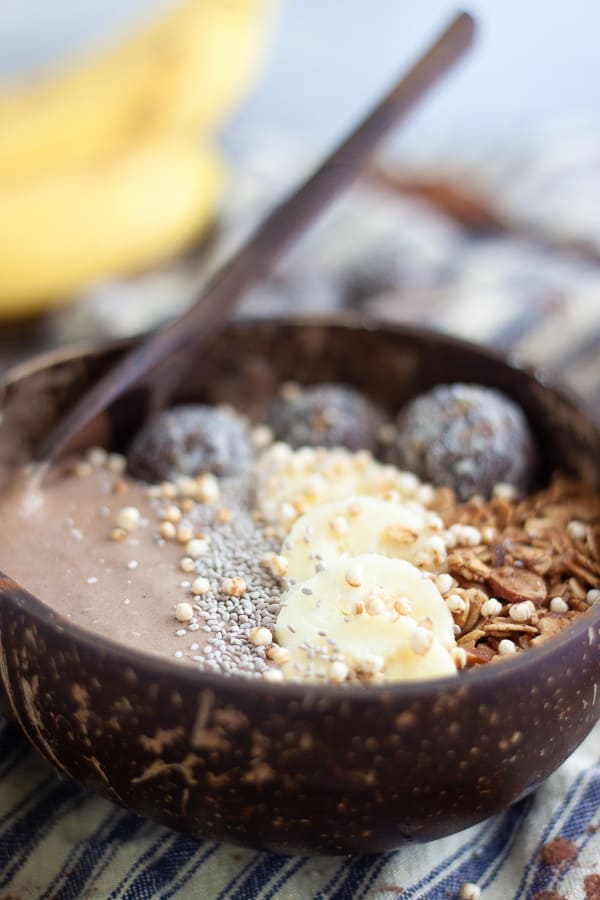 This recipe is:
Simple

Quick

Healthy

All-Natural

Chocolaty

Filling

Delicious
Try these other vegan chocolate recipes!
Vegan Chocolate Smoothie
This simple creamy vegan chocolate smoothie is made with banana, peanut butter, cocoa powder, plant milk and chia seeds. Great for a quick breakfast!
Ingredients
3 Bananas, frozen
2 Tbsp Plant Milk*
1 Tbsp Peanut Butter (or nut butter of choice)
1 Tbsp Cocoa Powder
2 Tbsp Chia Seeds (optional)
Instructions
Add all smoothie ingredients to your blender, pulse until bananas begin to blend. You may need to push them down a few times or use a blender stick if your blender has one.
Blend until smooth, adding more plant milk if needed, but add as little as possible to avoid a runny smoothie.
Add to a bowl and place toppings of choice on top.
Enjoy immediately!
Notes
*If you do not have a high speed blender, you may need a bit more plant milk to get it blended.
Nutrition Information:
Amount Per Serving:
Calories:

324