We may earn money or products from the companies mentioned in this post.
(Last Updated On: April 30, 2023)
Healthy Vegan Orange Tofu Recipe
This simple orange tofu recipe is ridiculous.
It's incredibly crispy and the sauce is on point – it's perfectly sweet, sour and sticky; everything you want in an orange sauce!
Before going vegan, orange chicken used to be a staple in my diet, and it was always take out filled with added sugars and fats.
I am SO excited to have created this much healthier recipe using all natural ingredients that is even BETTER than that take out.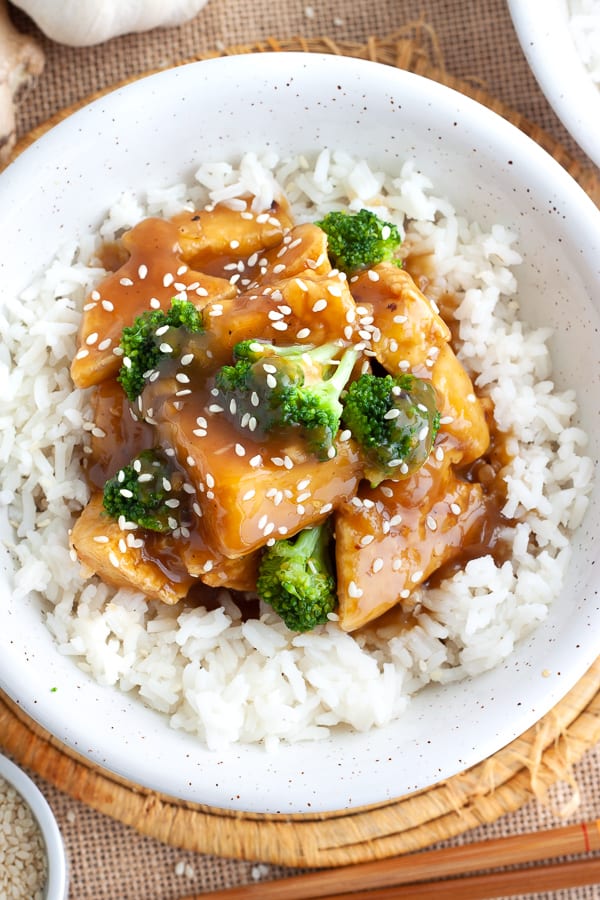 Easy Stir Fry Tofu With Broccoli
This recipe comes together in minutes, and it's much cheaper than buying from a restaurant.
You'll be shocked at how much it resembles store-bought orange dishes in taste, texture and quality, but it's also super healthy and low in fat.
The next time you're craving some vegan Chinese food, try your hand at making it yourself and save some money!
I also always like knowing what is in my food, especially because weird ingredients can be snuck into sauces easily. This way I know exactly what I'm eating!
Making Crispy Vegetarian Orange Tofu
First Steps
When you're ready to make this incredibly tasty dish, first start by pressing your tofu to remove as much moisture as possible – this helps them become super crispy and flavorful (I would recommend a tofu press, but you can also wrap the tofu in a towel and place something heavy on top for 30-60 minutes).
Next, start cooking your rice – I always love using a rice cooker for fool-proof rice, but you can also cook it according to its package over the stove.
I also like to quickly cook my frozen broccoli in a pan over medium heat with a splash of water, just until the broccoli is tender. This should only take a few minutes.
Cooking The Healthy Orange Sauce
When making this sauce, I like to have everything measured out and ready to go while my pot is warming up over medium heat.
Once everything is prepared, drizzle a bit of oil into the pot and add the ginger, garlic and the zest from one orange.
Cook these for a couple minutes until very fragrant.
Add the rice vinegar, soy sauce, maple syrup, juice from two oranges and 2 tablespoons of corn starch mixed with 1-2 tablespoons of water until dissolved, to a bowl and mix well. Add to the pan with the ginger, garlic and zest.
Cook for about 3-5 minutes or until thickened.
Remove from heat and set aside to cool.
Preparing The Orange Tofu
Now onto the tofu!
Once it's pressed and you have removed a lot of the moisture, chop it into bite sized pieces – these can either be cubes or random cuts to resemble a more 'orange chicken' look.
Place the pieces in a bowl and sprinkle over 2 tablespoons of corn starch (this is what makes them SUPER crispy without having to deep fry them!) until fully coated. You can use a little extra if needed.
Heat a large pan over medium heat and add a good drizzle of oil to the bottom. Place each piece into the hot pan (being careful not to get burned!), making sure none of them are touching.
Once the bottom has browned, flip it until each side is brown and crispy (this will take a few minutes), and then place on a cooling rack. If you place them on a plate, the side down may lose some of its crispiness.
After they have slightly cooled, transfer them to a bowl and pour in the orange sauce to coat evenly (it's okay if there's more sauce than needed, this will help flavor the broccoli and rice too!).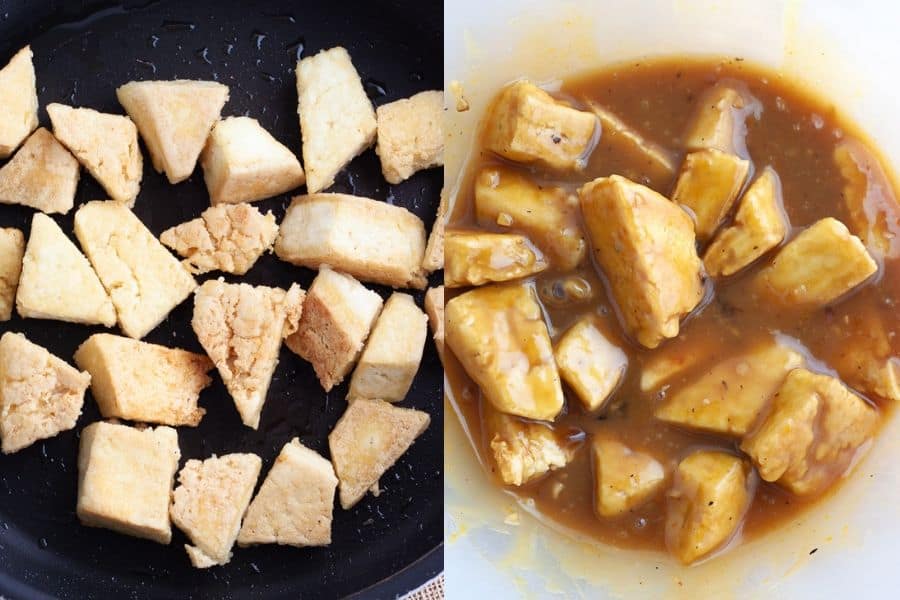 Put some rice in your bowl, followed by the orange tofu, some broccoli, some extra sauce and some sesame seeds!
There you have it – the best orange tofu dish you'll ever eat, homemade and so healthy.
I recommend eating this as soon as possible so the tofu doesn't lose any of its crispiness.
Low-Fat All Natural Orange Tofu
Using the corn starch method is a great alternative to deep frying the tofu because it seriously cuts back on the amount of oil needed.
Instead of having to completely submerge the tofu, you can just lightly fry them and they will still develop that irresistible crispy exterior needed for this dish.
This recipe is:
Healthy

Natural

Crispy

Low-Fat

Vegetarian

Meatless

Vegan

Easy

Quick
Try these other easy vegan meal ideas: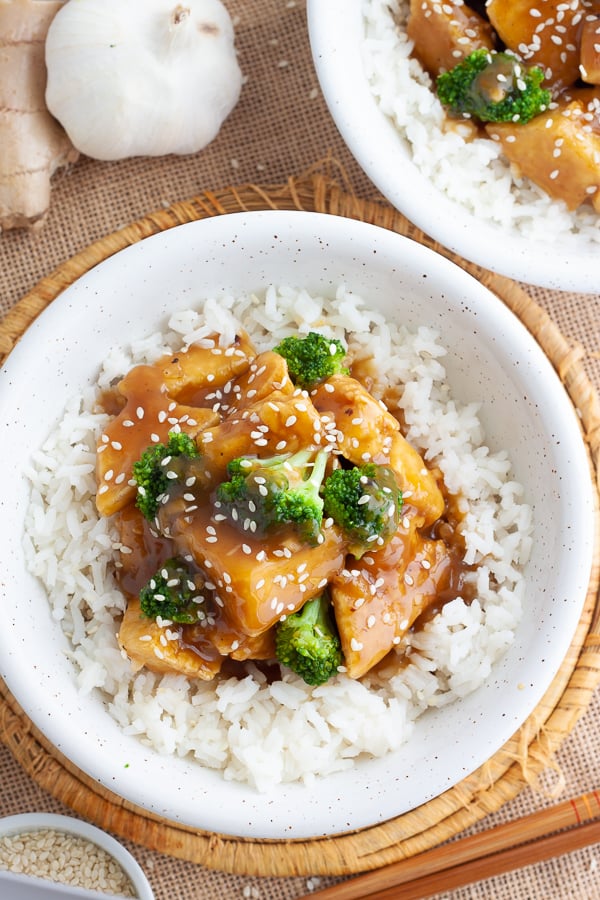 Orange Tofu
This crispy vegan orange tofu is so simple to make, low-oil and made with just a few natural ingredients - so much cheaper and tastier than take out!
Ingredients
2 Oranges Or 1/2 Cup Orange Juice
Zest From 1 Orange
2 Tbsp Fresh Minced Ginger
2-3 Cloves Garlic, Minced
4 Tbsp Cornstarch
1/3-1/2 Cup Syrup (To Taste)
White Rice and Sesame Seeds (To Serve)
10 oz. Frozen Broccoli
Instructions
Cook white rice according to package (about 1 cup dry). I love this rice cooker!
Zest one orange and juice both oranges. Add a drizzle of oil to a pan over medium heat and add ginger, garlic and orange zest. Cook, stirring constantly for a minute or two until very fragrant.
Add orange juice, syrup, soy sauce and rice vinegar and mix well. Mix together cornstarch and water and slowly pour in while whisking constantly.
Cook for another 3-5 minutes or until thickened.
Remove from heat to slightly cool and thicken more.
Cook broccoli over medium heat with a splash of water until soft.
Cut tofu into bite-sized pieces, place in a bowl and sprinkle 2 tablespoons of corn starch and gently toss to thoroughly cover all the tofu. Add a little more if needed.
Heat a pan over medium heat with a good drizzle of oil and place each piece of tofu down, making sure the pan is not over-crowded. Cook until brown and crispy and flip, continuing until all sides are browned and crispy.
Remove from heat and place on a cooling rack**. Cool for a couple minutes and add to a bowl. Pour in orange sauce and coat evenly.
Serve over white rice with sesame seeds and broccoli.
Notes
*Sauce will continue to thicken once removed from heat, so it's okay to not be completely thickened at this point.
**It's important to not place the hot tofu on a plate as the side down may soften and not be as crispy.
Recommended Products
As an Amazon Associate and member of other affiliate programs, I earn from qualifying purchases.