We may earn money or products from the companies mentioned in this post.
(Last Updated On: April 30, 2023)
Vegan Rice Paper Spring Rolls Recipe
These vegan rice paper rolls are simply epic!
They have a full rainbow of color from tons of healthy raw veggies, plenty of protein from homemade sesame tofu, and mango and mint.
The meal is complete with a simple peanut dipping sauce – it has everything you need for a healthy meal and it's PACKED with so many complimentary flavors.
It's also low calorie and super budget-friendly; tofu and veggies are some of the cheapest things you can get!
Healthy Vegetarian Rice Paper Wraps
There's a lot going on in these rolls in terms of texture and flavor, and I've been craving them every day since making them!
It tastes like comfort food, yet it's full of fresh veggies and fruit.
The tofu and peanut dipping sauce make this meal very filling while adding protein and healthy fats – it's the perfect healthy meal!
I've also discovered that my new obsession is sesame tofu – I'm not usually one for tons of added oils, but it only took a couple teaspoons of sesame oil to add SO much flavor.
You can always leave out the tofu if you want, but I loved it in this recipe and it helped the rolls stretch for many servings.
Making Rainbow Tofu Rice Wraps
Preparing The Sesame Tofu and Veggies
The first step in making this recipe is to press your tofu – use a tofu press for this, or if you don't have one, simply wrap the tofu in a towel and place something heavy on top for a few minutes to remove some moisture.
This helps the tofu be more dense and absorb any flavors you cook it in, if you skip this part the tofu may break apart and be a bit bland.
Once pressed, stand the tofu up and cut it in half, then cut again the other way into steak fry-sized strips. Add your soy sauce and sesame oil to a pan over medium heat, and cook the tofu on each side until all four are golden brown.
While that's cooking, carefully chop all your veggies and your mango into thin strips, then chop your green onion and mint.
When your tofu is done, remove it and set it aside. I would also recommend setting the strips on a cooling rack until they cool so the bottoms don't become soggy.
How to Wrap Your Veggie Rice Paper Rolls
Once everything is prepared, take a bowl or shallow dish and fill it with slightly warm water. Dip your rice paper in for a few seconds until fully saturated, then lay on a flat surface.
If you use slightly warm water, you won't need to soak the paper in the water as long (roughly 5-15 seconds depending on the brand and the water temperature).
It's okay if the rice paper is not completely stretchy at this point, it will soften as it sits during the next 20 seconds or so as you fill it.
Add all your filling ingredients to the middle of the wrap, being careful to not over-fill or else the wrap may rip, and working quickly so the paper isn't sitting too long.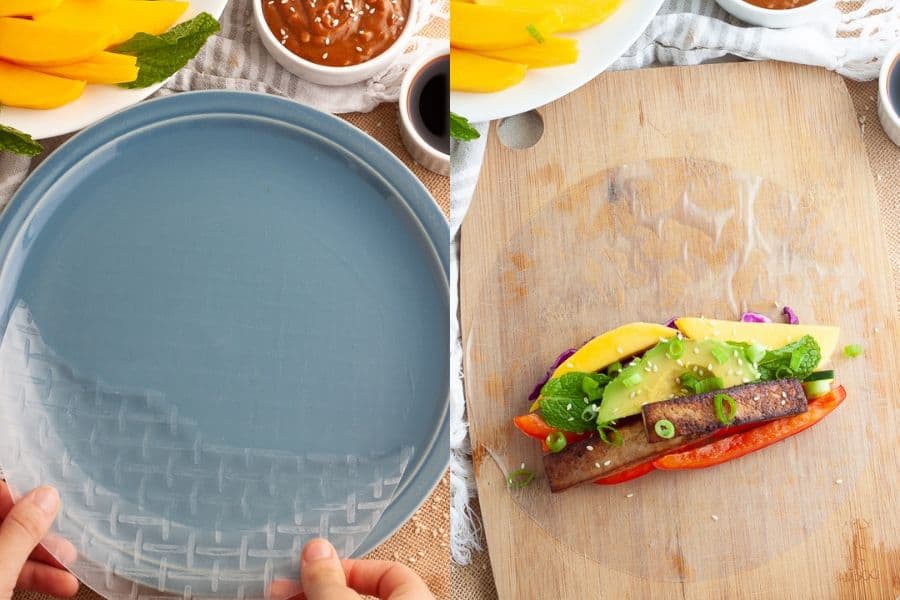 Take the bottom of the wrap and fold it over all the ingredients, gently tucking them in. Roll over and then fold in both sides.
Roll over again and gently squish down to seal.
It's okay if you rip the first one (I did..), you get the hang of it in no time and the rest are a breeze!
If you'd like to see a video of this, watch this link!
Repeat with the rest of the wrappers/ingredients until you're out of wrappers.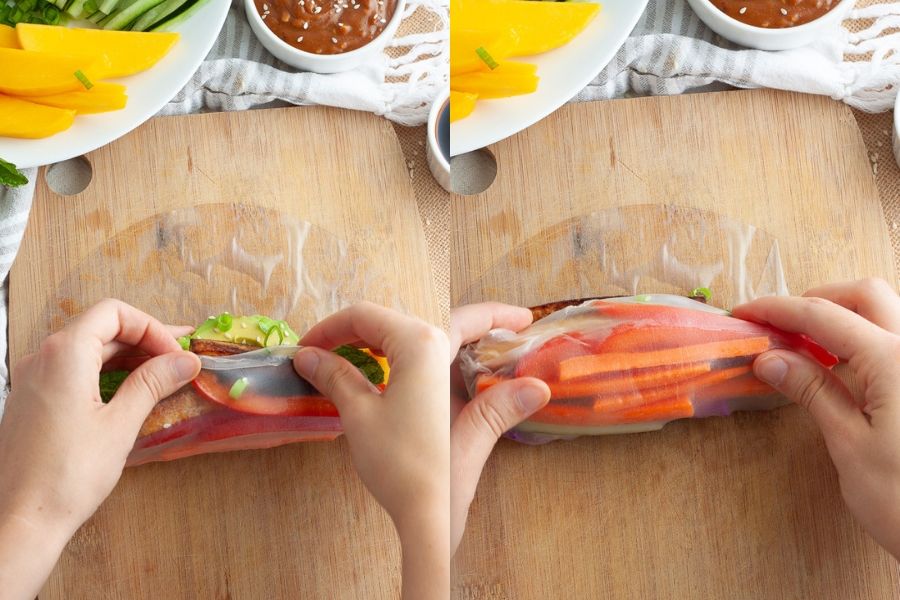 Peanut Dipping Sauce Recipe
This peanut sauce takes the rolls to another level. They need that added healthy fat and protein to make them perfect and filling.
For the sauce, I mixed together all-natural peanut butter, soy sauce, maple syrup, rice vinegar, lime juice and sesame oil (did I mention I'm all about sesame oil right now?), and it was the best sweet/savory combo. Some grated ginger or garlic would also be wonderful in it.
I also added a bit of water to thin it out so it wasn't so thick.
I used crunchy peanut butter because it's my favorite, but if you want a super smooth sauce simply use creamy.
If you don't want to make the sauce, you can always just dip your rolls in soy sauce or sriracha! 
Easy And Flavorful Vegan Rolls
These rainbow rolls are a new staple in my house and I love how simple they are – they're also great when you're needing to use up some leftover veggies before they go bad.
Learning how to use rice paper correctly is the biggest challenge, and it took me a few tries to get the hang of it.
Don't worry if there are a few pokes through the rice paper, there's lots of sharp veggies in these rolls and sometimes it's inevitable.
If you wanted to add a piece of lettuce or some spinach that could also help make a bit of a barrier between the sharp veggies and the rice paper.
This recipe is:
Healthy

Vegan

Rainbow

Vegetarian

Natural

Easy

Quick

Colorful
Try these other vegan meal recipes!
Chickpea Avocado Salad Sandwich
Vegan Rice Paper Rolls
These vegan spring rice paper rolls are filled with rainbow veggies, sesame tofu, avocado, mango, mint and green onions. Served with a simple peanut sauce!
Ingredients
Fillings:
2 Mangoes
1 Red Pepper
2 Carrots
1/4 Red Cabbage
3 Green Onion Stalks
1-2 Avocados
1 Cucumber
Mint Leaves
1 Package Extra-Firm Tofu
Peanut Sauce:
1 Tbsp Lime Juice (optional)
Water (to thin as desired)
Instructions
Begin by pressing your tofu to remove moisture*. Stand tofu up and cut in half longways, then cut strips about the size of steak fries.
Heat a pan over medium heat, add soy sauce and sesame oil and then lay tofu strips down single file. Allow to cook for a few minutes until nice and golden, flip and cook on all 4 sides. Then remove from heat.
Carefully chop all vegetables and mango into long thin strips (except for the green onions and mint leaves, those can just be chopped).
In a bowl of warm water, soak a rice paper for a few seconds on each side until saturated. Place on a flat surface for 15 seconds or so until stretchy.
Add all your ingredients, being careful not to over fill, to the middle of the paper. Take one side and wrap it around all the ingredients, carefully tucking in. Roll over, fold both sides in, and roll again to seal the paper.
Continue with remaining wrappers.
Mix together all peanut sauce ingredients and that's it!
Notes
*Do this by using a tofu press, or by wrapping the tofu in a towel and placing something heavy on top for a few minutes to let the moisture drain.
Nutrition Information:
Amount Per Serving:
Calories:

421