We may earn money or products from the companies mentioned in this post.
(Last Updated On: May 1, 2023)
Vegan Tofu Buddha Bowl Recipe
This healthy and delicious tofu buddha bowl is super budget-friendly and easy to make!
It's packed with flavor from the food itself, along with some simple seasonings like sesame oil, soy sauce, salt and pepper.
It's also high-protein and has plenty of greens, healthy fats and veggies!
I love adding tahini to the top of mine, it adds some more flavor and brings the whole bowl together.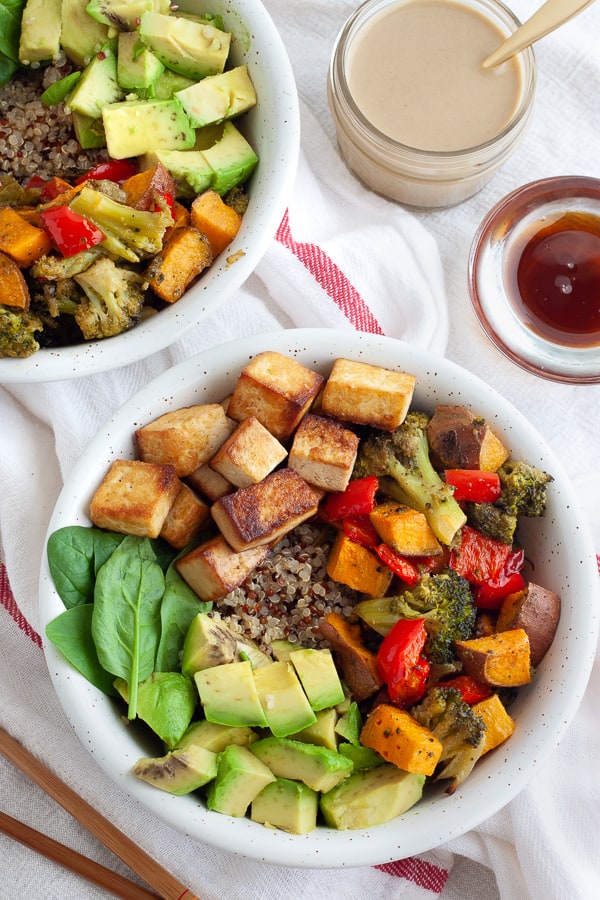 Easy Vegetarian Quinoa Nourish Bowl
This vegan buddha bowl has all my favorite foods, and you can easily swap out your favorites or add anything you need to use up from your fridge.
I love how simple this recipe is and how minimal the seasonings are – the food itself has so much flavor you don't need to add too much!
This nourish bowl is perfect for any meal, and even better for meal-prep! 
You can easily take it with you for a perfect school or work meal packed with nutrients. 
How to Make a Crispy Sesame Tofu Bowl
Making the Quinoa and Veggies
To begin making this yummy bowl, cook your quinoa according to its package and then start roasting your veggies!
Chop the veggies and sweet potato into bite-size pieces – if you're using frozen broccoli either let it thaw on the counter for a few hours or microwave it just until it's not frozen.
Add to a bowl and toss in olive oil, salt and pepper. That's really all you need flavor-wise because they come out so yummy, but you can always add anything else you like.
Place them on a baking dish covered in parchment paper and spread them out evenly. Bake for 45-60 minutes or until everything is tender when poked with a fork.
Frying the Sesame Soy Sauce Tofu
As your veggies are roasting you can start preparing your crispy sesame tofu!
Start by pressing your tofu using a tofu press, or if you don't have one wrap the block in a towel and place something heavy on top – wait at least 15 minutes to get as much moisture out as possible.
The more you get out, the more flavorful and crispy the tofu will be!
Then chop it into cubes, and heat a large pan with sesame oil until hot and place the tofu inside.
Depending on the size of your pan, you may need to use 2 or cook the blocks separately.
Fry until a nice golden brown and then remove from heat. It's okay if not every side is browned, just get as many as you can!
Now that everything is prepped, scoop some quinoa into your bowl and arrange the roasted veggies, avocado, spinach and tofu and top with more soy sauce or tahini if desired!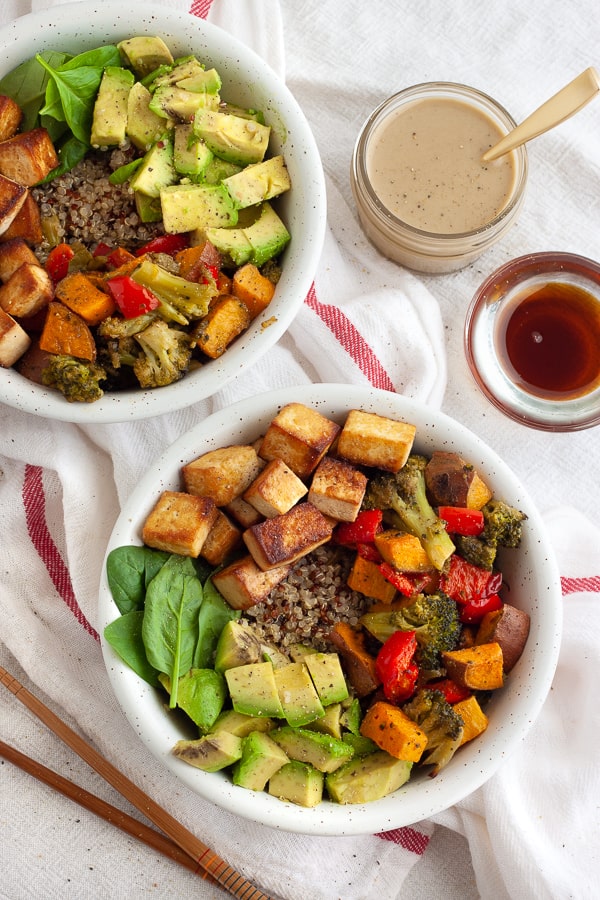 Healthy Tofu Veggie Salad Bowl
This sesame tofu is easily my favorite way to eat tofu – just lightly fried with a bit of sesame oil. Those flavors together are a match made in heaven! I used House Foods extra-firm tofu for this recipe.
Tofu can really be so flavorful if you properly press it and let it soak up all the flavors you cook it in.
If you're looking to lighten up this recipe, you could easily replace the quinoa with a bed of greens, or just eat the tofu and veggies side by side!
I love this recipe and all the complimentary flavors and textures, it gives me tons of energy and I always crave it!
This recipe is:
Quick

Easy

Healthy

Nourishing

High-Protein

Whole Food

Delicious
Try these other healthy vegan meals!
Pin this for later!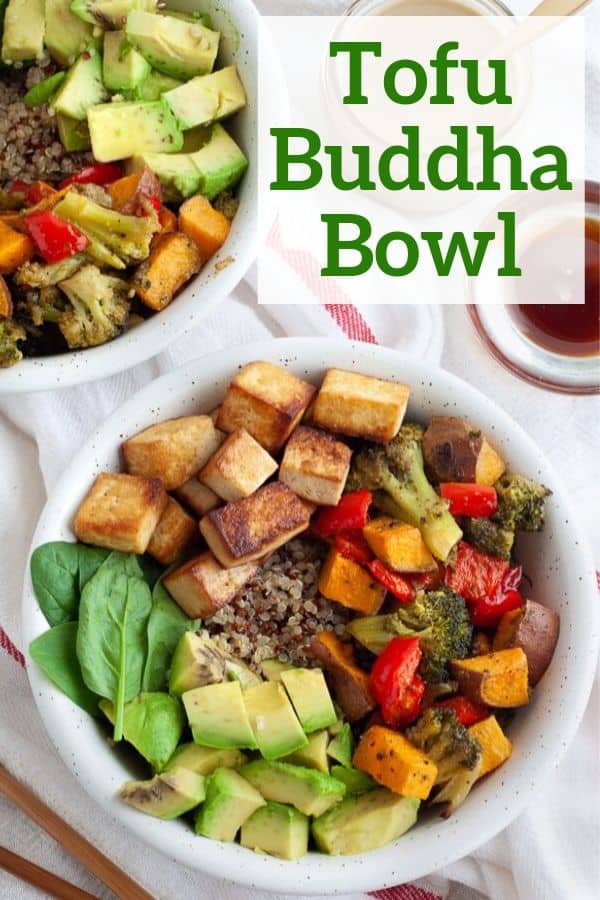 Tofu Buddha Bowl
Total Time:
1 hour
5 minutes
This yummy and nutritive tofu buddha bowl has broccoli, red pepper, sweet potato, avocado, spinach, rainbow quinoa, tahini and delicious crispy sesame tofu!
Ingredients
2 Blocks House Foods Extra-Firm Tofu
16 oz. Broccoli Florets
1-2 Red Peppers
1 Large Sweet Potato
3 Cups Spinach
2 Avocados
1/4 Cup Olive Oil
Salt/Pepper to taste
Instructions
Cook quinoa according to package.
Preheat oven to 350 degrees. Chop peppers into pieces and thaw* broccoli if using frozen, or chop into pieces if using fresh, then cut sweet potato into cubes.
Toss these with 1/4 cup olive oil, and salt and pepper to taste. Place on a baking dish covered with parchment paper and spread out evenly.
Bake for 45-60 minutes or until tender when poked with a fork.
Press tofu using a tofu press or by wrapping it in a towel and placing something heavy on top to drain out as much water as possible.
Heat 2 tablespoons of sesame oil in a pan over medium heat. Cube tofu and add into pan, flipping to fry each side until golden brown.**
Add all ingredients to a bowl and enjoy with tahini and soy sauce!
Notes
*You can either place the bag on your counter for a few hours or microwave it just until it's not frozen.
**Depending on the size of your pan, you may need to cook the tofu one block at a time or use two pans.
Nutrition Information:
Amount Per Serving:
Calories:

432