We may earn money or products from the companies mentioned in this post.
(Last Updated On: April 30, 2023)
Simple Vegan Sushi Recipe
This vegetarian sushi recipe is such a delicious, healthy and simple meal.
I love making rainbow sushi so I always try to stuff as much color as I can into each roll.
The great part of making your own sushi is it's much cheaper than going out, and you can customize it with your favorite ingredients!
Veggie Sushi for Lunch or Dinner
Sushi is a perfect idea for a semi-quick lunch or dinner, especially because it's filling and a great way to sneak in some veggies.
For this recipe I used red and yellow peppers, carrots, red cabbage, cucumbers and avocado – the avocado is the secret ingredient because it has a similar texture to the fish typically used in sushi recipes.
Sushi is also a great way to use up leftover veggies before they go bad, just make sure you always have seaweed sheets and sushi rice on hand and you'll never waste again!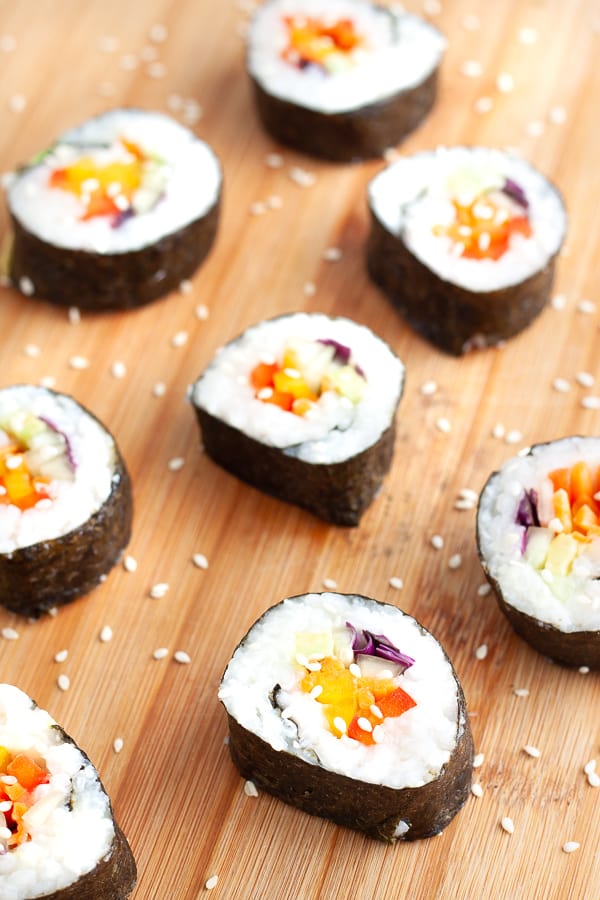 Making Homemade Vegetarian Sushi 
If this is your first time making sushi, it might seem a little daunting. But don't worry, it gets easier with time!
Once you get the right consistency for your rice, it acts like a glue to hold everything into place.
To make your rice, cook it according to your package and then add it to a non-metallic bowl (because of the acidic vinegar).
Then add your rice vinegar, salt and maple syrup and combine well and set aside!
Now, slice all your veggies into long strips so they will roll up easier in your sushi roll, just like this pic below:
Now comes the fun part! Assembling.
To begin, take your seaweed sheet and lay it on a bamboo sushi roller shiny side down.
A roller is really important for this because any time I've tried making sushi without it they have always been too loose or they fell apart!
They're also super cheap, so I would recommend saving yourself the hassle and buying one!
Spread 1/4 of your rice over the seaweed, leaving an inch of seaweed bare at the top, and being careful not to tear it when spreading.
I found that using a silicone spatula made it much easier to spread the rice without tearing the seaweed. If it still sticks a little, simply wet the spatula. You can also just use your hands and dip your fingers in water to spread the rice.
Now pile on 1/4 of all your veggies in a straight line in the middle, see below:
Rolling Your Sushi Rolls
Now it's time to roll the sushi up: using your bamboo roller, fold the bottom layer of rice over your veggies and squish down.
Continue rolling until the end while continuously squishing down lightly, until you fold the bare end of the seaweed over the rest of the roll.
If you'd like a visual of how to do this, see this video here: How to Roll Sushi
Then, cut your sushi roll into bite sized pieces, and top with sesame seeds.
I served mine with Liquid Aminos (a healthier soy-sauce alternative), but these would also be wonderful with pickled ginger and wasabi!
This sushi recipe is:
Simple

Quick

Easy

Filling

Delicious

Hearty

Rainbow
And perfect for taking on-the-go!
Try more of my vegan meal recipes!
Pin this for later!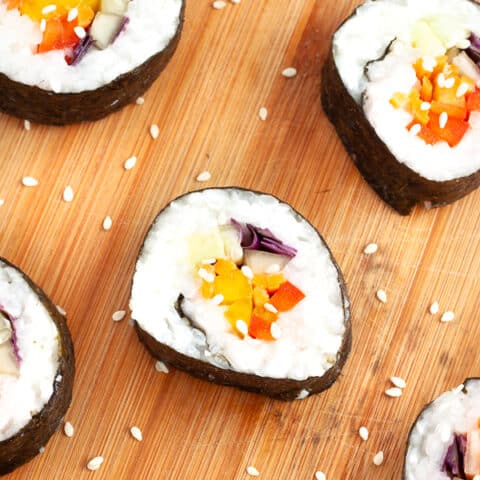 Vegetarian Sushi Recipe
This simple and fresh rainbow vegan sushi is filled with avocado, carrots, red and yellow pepper, red cabbage and cucumber, all wrapped in rice and seaweed!
Ingredients
1-2 Tbsp Maple Syrup
1 Tsp Salt
1/2 Avocado
1/4 Red Pepper
1/4 Yellow Pepper
1/2 Carrot
1 Red Cabbage Leaf
1/2 Cucumber
Instructions
Cook rice according to package. Once done, add to a non-metallic bowl and mix with rice vinegar, maple syrup and salt.
Slice avocado, peppers, carrot, cabbage and cucumber into thin and long slices.
Place seaweed sheet shiny side down on a bamboo roller. Spread out 1/4 of the rice mixture and flatten out across entire sheet except for 1 inch at the top, leave this area bare.
Add 1/4 of all ingredients in a single layer in the middle of the seaweed sheet. Using the bamboo roller, begin rolling the sushi and squishing down the ingredients. Continue rolling until the bare seaweed end and squeeze to seal.
Cut into bite sized pieces and serve with soy sauce and sesame seeds!