We may earn money or products from the companies mentioned in this post.
(Last Updated On: April 30, 2023)
All Natural Salad with Balsamic Vinegar
This arugula beet salad is full of healthy veggies and unique, complementary flavors!
Sweet clementine, spicy red onion and arugula, crunchy carrot, fresh sprout, earthy baked beets with a simple balsamic vinaigrette make this salad anything but boring.
You can throw everything together as the beets bake and have an ultra-healthy meal sure to impress!
Healthy and Quick Beet Salad Recipe
As a vegan, I get asked all the time if I mostly eat salads.
Much to people's surprise, I actually don't eat them a whole lot, probably once a week. I usually prefer heartier dishes with fresh greens and veggies, and maybe some quinoa or potato!
However, this salad recipe is one I could eat every day! It has so much flavor and different textures that it never gets old!
If you're like me, try this recipe and you'll actually crave salad!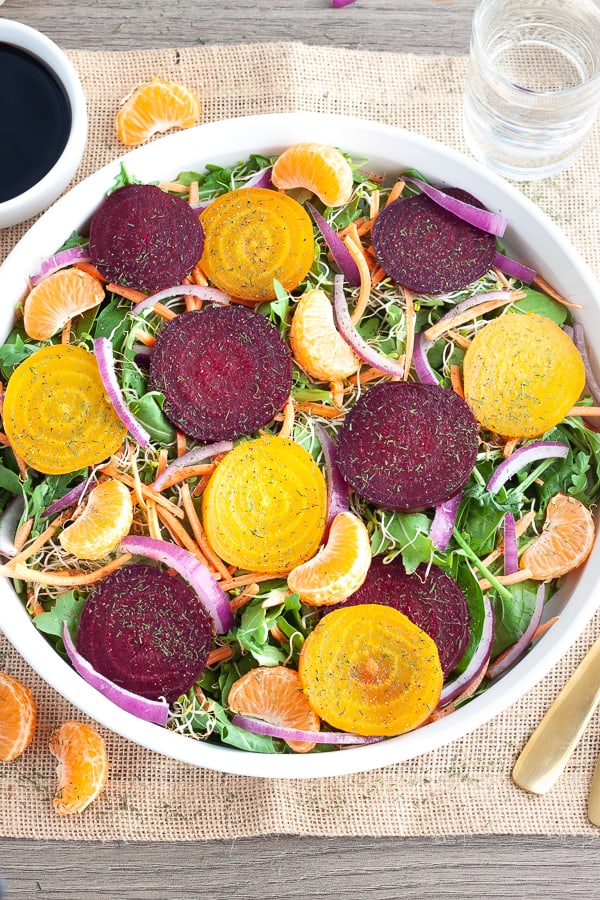 Making Roasted Beet and Arugula Salad
The only step of this recipe that requires some time is preparing the beets. I love to bake mine and simply cut them into slices for my salads.
They have such a pretty spiral design when you cut them like this!
To prepare your beets, preheat your oven to 400 degrees and cut off the tops and bottoms. Wash them really well and place them all in aluminum foil and wrap them up.
You don't need any oil for this, just bake them, even with the skin on!
Bake for 45-70 minutes, depending on size, until you can easily poke them in the middle with a knife.
Now you can assemble your salad, adding your greens to a large bowl and assembling the remaining ingredients on top.
Once the beets are done and cool enough to handle, you can easily remove the skin with a paper towel, just squeezing it off. Cut into slices and add to the top of your salad!
I topped mine with fresh dill, salt, pepper, and with a side of my homemade balsamic vinaigrette made with balsamic vinegar, maple syrup, mustard, garlic powder and salt.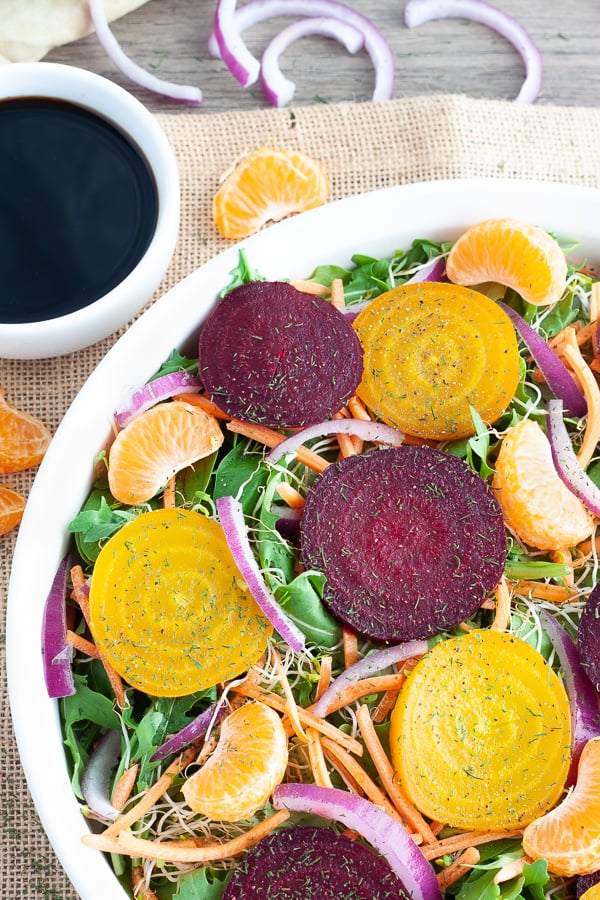 This recipe is:
Healthy

Simple

Fresh

Flavorful

All-Natural

Vegan
If you're looking for more vegan recipes, try my: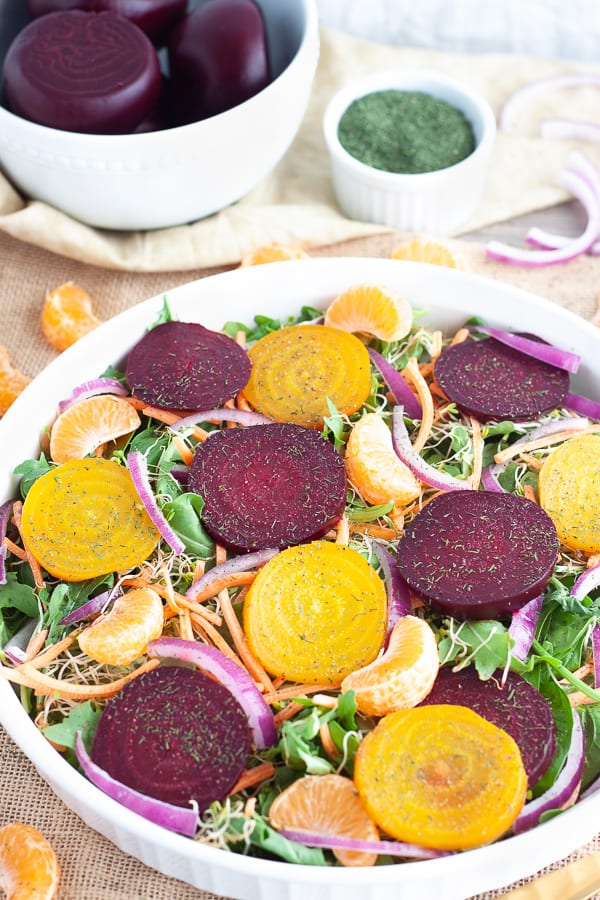 Pin this for later!

Arugula Beet Salad
This roasted beet salad is fresh, flavorful and full of color. Made with crunchy carrots, red onions, sweet clementines, sprouts, arugula and spinach!
Ingredients
For the Salad:
3 Cups Arugula (I used half arugula half spinach)
2 Medium Beets
1/2 Cup Shredded Carrots
1/2 Cup Sprouts
1/4 Cup Red Onion
2 Clementines
For the Dressing:
Instructions
Preheat oven to 400 degrees.
Cut off top and bottom of beets, wash thoroughly and wrap in aluminum foil.
Bake for 45-70 minutes (depending on size), or until you can easily poke them with a knife.
Add arugula, carrots, sprouts, red onion and clementines to a bowl. Using a napkin, peel off the beet skin, cut beets into slices and add to salad.
Mix all dressing ingredients and pour over salad!