We may earn money or products from the companies mentioned in this post.
Crispy Vegan Baked Teriyaki Tofu
This homemade teriyaki tofu recipe is so flavorful, delicious and easy-to-make.
It's baked to a golden brown crispiness and tossed in a sticky homemade teriyaki sauce!
There's simply nothing better than freshly baked teriyaki tofu over a bed of rice.
It's the best comfort food ever and I'm so excited to share it with you!
Teriyaki is a super flavorful glaze with a subtle sweetness and complementary flavors of sesame, soy sauce, rice vinegar, ginger and garlic.
I love using brown sugar for this recipe because it adds that deep richness and pairs great with the savory flavors.
I also love adding broccoli to this dish, but it's perfectly delicious on its own as well, preferably with some sesame seeds and green onions on top over a bed of rice!
Sticky Homemade Teriyaki Sauce Recipe
This classic food used to be one of my favorite take out meals – the strong delicious flavors are all I wanted after a long day!
Now I am pleased to share this recipe that is so easy I'd rather make it at home, it's cheaper and tastes even better when you make it yourself.
You only need a few ingredients and it's really ready in no time.
It's high-protein and low-fat with all the comforting flavors you want!
How to Make Teriyaki Tofu
Preparing the Teriyaki Sauce and Tofu
When you're ready to make this yummy recipe, start by pressing your tofu with a tofu press (if you don't have one you can wrap the block in a towel and place something somewhat heavy on top, though I do recommend the press for ease), then preheat your oven to 400 degrees F.
Once most of the moisture is removed, cube the tofu and mix together the other ingredients. Then toss the tofu in them evenly and assemble on a baking tray covered with parchment paper, being careful the tofu cubes do not touch.
Bake for 25-30 minutes, flipping half way through, until they are nicely browned and crispy!
To make your teriyaki sauce, add all the ingredients to a pan, then cook on medium heat for 3-4 minutes or until thickened, whisking often.
Tossing and Serving the Tofu
Add 1/2 of your homemade teriyaki sauce to your baked tofu cubes and gently mix to evenly coat.
That's it!
Serve over rice with sesame seeds, green onion and a drizzle more of the sauce!
I do recommend enjoying this dish immediately though, it will not be crispy the next day or if you wait too long to dig in!
Vegetarian Teriyaki Tofu from Scratch
This teriyaki tofu recipe is one of the most comforting dishes you can make.
You'll be surprised at how flavorful and delicious it is with so few ingredients and such little effort!
It's simple enough to whip up on a week night while still having that tasty homemade feel.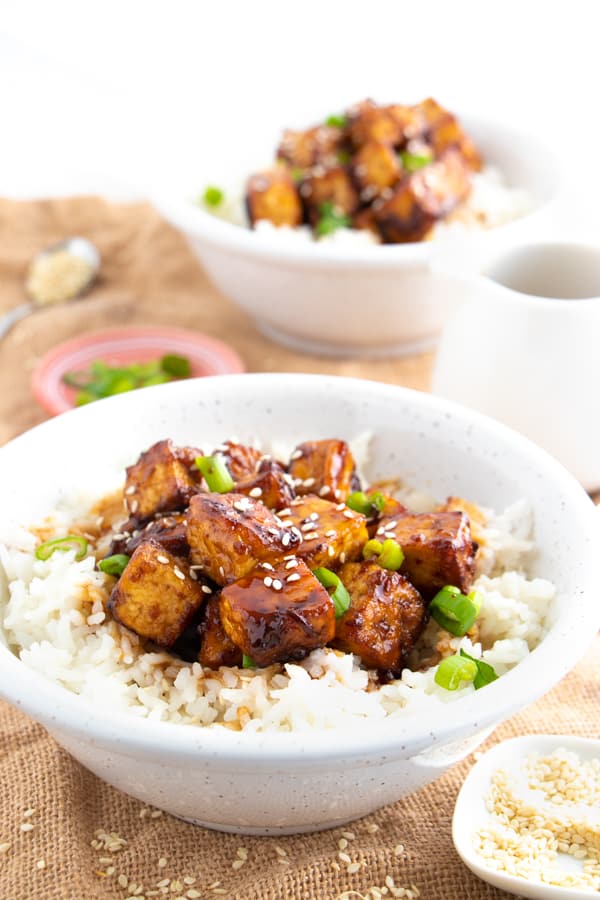 This recipe is:
Quick

Easy

Delicious

Vegan

Vegetarian

Homemade

Healthy

High Protein
Check out these other easy vegan meals:
Pin this for later!
Yield: 2 Servings
Teriyaki Tofu Recipe
This vegan teriyaki tofu recipe is so simple and delicious! With a homemade teriyaki sauce that is so flavorful with a subtle sweet sesame-ginger taste!
Ingredients
Tofu
1 Block Extra-Firm Tofu
3 Tbsp Cornstarch
1 Tbsp Neutral Oil
1 Tbsp Soy Sauce
Teriyaki Sauce
1/2 Cup Soy Sauce 
1/4 Cup Brown Sugar
2 Tbsp Rice Vinegar
1 Tbsp Sesame Oil
1/4 Tsp Ginger Powder
1/4 Tsp Garlic Powder
1 Tbsp Cornstarch + 2 Tbsp Cold Water
Instructions
Press* and cube your tofu, then preheat your oven to 400 degrees.
Mix together tofu ingredients and gently toss cubes in and coat evenly.
Assemble on a baking tray covered in parchment paper so none are touching, then bake for 25-30 minutes, flipping halfway through, until browned.
For the sauce, add soy sauce, brown sugar, rice vinegar, sesame oil, ginger and garlic powder** to a pan. Mix together cornstarch and water and pour in. Cook for 3-4 minutes on medium heat until thickened, whisking often.
Pour half of the sauce onto the tofu and mix to coat.
Serve tofu over rice with sesame seeds, green onion and extra sauce drizzled on top. Enjoy!
Notes
*Press your tofu with a tofu press or by wrapping the block in a towel and placing something somewhat heavy - heavy enough to drain the liquid out of the tofu but not so heavy it squishes the block.
**If you'd like to use fresh, use 1 tsp fresh minced ginger and 1 clove garlic and before step 4, add to the pan with the sesame oil and cook over medium heat for 3 minutes. Remove from heat and then follow step 4.
Recommended Products
As an Amazon Associate and member of other affiliate programs, I earn from qualifying purchases.
Nutrition Information:
Amount Per Serving:
Calories:

386