We may earn money or products from the companies mentioned in this post.
(Last Updated On: April 30, 2023)
This shop has been compensated by Collective Bias, Inc. and its advertiser. All opinions are mine alone. #TeaProudly #CollectiveBias​​ #BigelowIcedTea
Iced Peach Green Tea Lemonade Recipe
I love making iced tea in the summer, and this peach green tea lemonade is easily a favorite of mine that I love making at least weekly!
It's refreshing, sweet, fruity, tart and naturally-sweetened with all natural ingredients.
All you need is a few peaches and lemons, maple syrup, water and Green Tea. I also topped mine off with some ice cubes and fresh mint leaves.
Click on this image to purchase Bigelow Classic Green Tea!
Easy Peach Tea Drink for Summer!
I always prefer making my own teas at home instead of buying bottles at the store – this way I can control what I am drinking, how much sugar it has, and save a bunch of money too!
It's great to make this recipe and enjoy it all week long, the longer it stays in the fridge the more flavorful it becomes too (it's good in the fridge for about 5 days).
You'll love all the flavor this tea has and how natural and low-sugar it is; feel free to play around with other fruits to make all sorts of other tea lemonade flavors too!
It's my number one choice for making this tea because of its robust fresh flavor and quality tea and ingredients. If you use a poor quality or mild-tasting tea, you won't get much flavor when its chilled, and the tea won't stand out enough when combined with the fruit and lemonade!
Making Easy Peach Green Tea Lemonade
Cooking up this simple and healthy beverage is super quick, and makes your house smell amazing!
You only need one pot to make this tea, and then a container or pitcher to hold it in the fridge to cool.
Making iced tea with tea bags is super easy, it just requires a bit more patience for some chill time!
To get started, set all your ingredients out – you'll need Green Tea bags (5), 4 small ripe peaches, 2-3 lemons to make 1/2 cup of juice, some maple syrup and five cups of water.
The first thing you'll want to do is make your peach "syrup". This is simply done by boiling your peaches to make the water peach-flavored.
To do this, cut your peaches into tiny pieces to get as much flavor out of them as possible. Throw them in a pot with 5 cups of slightly boiling water, and cook about 5-10 minutes, or until the peaches become mushy and the skin begins to lose its color.
Also add the maple syrup at this point so it can dissolve.
Now, squish your peaches with a spoon or a potato masher to release all the flavor.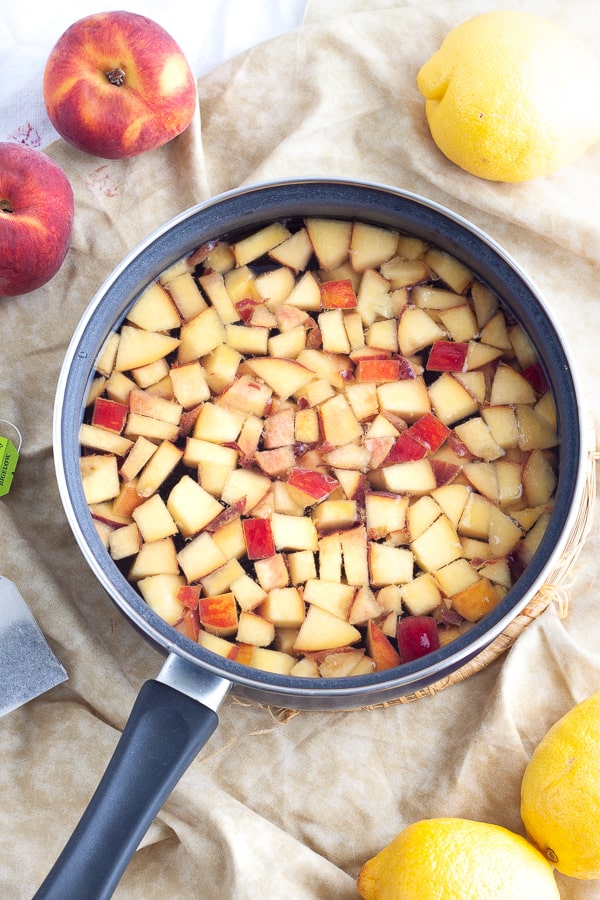 Brewing Classic Green Tea
Now, turn off the heat and add your five tea bags to the pot. Steep for 3-4 minutes. This is really to taste and I like a good green tea flavor so I did about 4 minutes.
Remove the tea bags, and by using a strainer, remove the peaches from the tea over a bowl (you can use the leftover peaches for a smoothie or on top of oatmeal!).
Add the lemon juice and pour into your pitcher or container. Place in the fridge to chill for at least an hour and so the flavors can marinate.
Pour into a glass with ice and fresh mint leaves and enjoy!
This recipe is:
Refreshing

Sweet

Tart

Naturally-Sweetened

Easy

Healthy

Fresh
If you're looking for more vegan summer recipes, try my:
Pomegranate Sangria (alcohol-free)
Pin this for later!
Peach Green Tea Lemonade
Total Time:
1 hour
20 minutes
This refreshing and sweet homemade peach green tea lemonade is made with real peaches and freshly squeezed lemon juice. The perfect fruity drink!
Ingredients
5 Cups Water
1/2 Cup Fresh Lemon Juice
4 Small Peaches
Ice to Serve
Mint Leaves (to top)
Instructions
Cut peaches into very small pieces around the pit, place the pieces in a pot with 5 cups lightly boiling water. Add maple syrup and cook for 5-10 minutes.
Squish down peaches with a spoon or potato masher to release all the flavor.
Remove from heat and add tea bags. Steep for 2-4 minutes or until desired strength is reached.
Remove tea bags and strain juice from peaches. Pour juice into a container and add lemon juice.
Place in the fridge for at least an hour to chill.
Serve over ice with fresh mint leaves - enjoy!