We may earn money or products from the companies mentioned in this post.
(Last Updated On: June 13, 2020)
Easy Vegan BBQ Tempeh Recipe
This easy BBQ tempeh recipe is so quick to put together and is packed with flavor!
It's made with a simple homemade vegan BBQ sauce that marinates the tempeh.
Then it's baked to perfection!
It has very basic ingredients and the sauce is better than store bought, and tempeh is the perfect "rib" alternative!
It's high-protein, more dense than tofu and a perfect base for the sweet homemade barbecue sauce.
I love the deep red color the tempeh gets after baking, it looks so irresistible with the barbecue sauce on top!
These vegan ribs can be served plain, alongside some veggies, or simply over rice like pictured below.
The tempeh can even be grilled if you'd prefer.
You can grill it on medium high for 3-5 minutes each side after marinating until each side has browned.
Baked Vegan Barbecue Ribs
These vegan tempeh ribs are such a great protein to keep on hand.
I love serving them as a rib alternative in the summer, chopped up on top of salads, in a sandwich or on their own!
I make them super often in the summer on the grill, and in the oven in the winter.
They are delicious all year long and I love that they are high-protein and so delicious they taste like comfort food!
I also love the glaze they get on top after baking, it's slightly crisp and super delicious!
The brown sugar helps it glaze so beautifully and also adds a deep richness to the taste.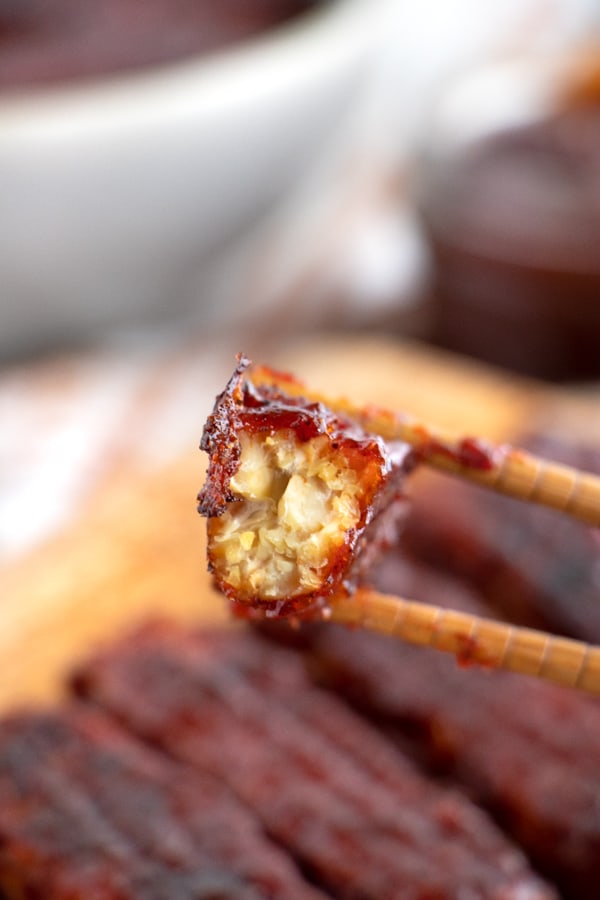 How to Make Vegan BBQ Tempeh
Making the Homemade BBQ Sauce
When you're ready to make this super easy vegan bbq recipe, start by adding all your sauce ingredients to a pot over medium heat.
Bring it to a slight boil while stirring frequently, then reduce to low and let it gently simmer for 15 minutes to bring out all the unique and tasty flavors.
Chop your tempeh into strips and then add the bbq sauce and give it a stir.
Let it sit for 30-60 minutes to marinate!
Baking and Serving Vegan Ribs
Once they have marinated, arrange them on a baking tray covered in parchment paper and make sure none are touching.
Add another brush of leftover barbecue sauce to the top and bake for 10 minutes at 400 degrees F.
Take them out and flip each one, brushing on more bbq sauce to the other side.
Bake another 10-15 minutes until they are golden but not black.
I would start checking them at 10 minutes to see if they are done.
Add a final brush of sauce and serve alongside even more sauce for dunking.
The more sauce the better!
Best Vegetarian Barbecue Tempeh Recipe
I love this simple barbecue recipe; it's easily one of my most favorite comfort flavors and it pairs perfectly with the tempeh.
Tempeh has a denser texture than tofu that I think it's a great addition to the tasty bbq sauce.
It makes it heartier and a great base to stick the sauce on.
Feel free to enjoy any leftover sauce with french fries, veggie burgers or anything you can think of!
If you like your barbecue sauce a little more spicy, feel free to add a bit of spicy mustard, Tabasco sauce, cayenne or crushed red pepper flakes to taste!
I prefer a sweeter bbq sauce, so this recipe reflects that!
This recipe is:
Simple

Easy

Vegan

BBQ

Homemade

Flavorful

High-Protein

Vegetarian

Comforting
Check out these other comforting vegan recipes:
Pin this for later!
BBQ Tempeh Recipe
Marinate Time:
30 minutes
Total Time:
1 hour
15 minutes
This easy vegan BBQ tempeh recipe is so flavorful and quick to put together. The perfect homemade barbecue recipe with high-protein tempeh.
Ingredients
Homemade Vegan BBQ Sauce
3/4 Cup Ketchup
1/3 Cup Brown Sugar
1 Tbsp Apple Cider Vinegar
2 Tbsp Molasses
1/2 Tsp Liquid Smoke
1 1/2 Tsp Smoked Paprika
1 Tsp Onion Powder
1/2 Tsp Garlic Powder
1 Tsp Chili Powder
1 Tsp Salt
1/2 Tsp Pepper
Instructions
Add all bbq sauce ingredients to a pot over medium heat and bring to a gently boil, stirring frequently.
Reduce heat to low and continue with a gentle simmer for 15 minutes, then remove from heat to slightly cool.
Chop tempeh into strips and pour bbq sauce over and mix to coat. Allow to marinate for 30-60 minutes.
Preheat oven to 400 degrees F and arrange tempeh on a baking tray covered in parchment paper, making sure the pieces do not touch.
Add a bit of extra bbq sauce with a brush and bake for 10 minutes.
Flip and add more sauce to the other side, bake for 10-15 minutes more or until nicely browned but not black.
Enjoy with extra sauce on top and on the side!
Nutrition Information:
Amount Per Serving:
Calories:

278