We may earn money or products from the companies mentioned in this post.
(Last Updated On: January 11, 2022)
This post is sponsored by NatureSweet, all opinions are mine alone.
Easy Vegan Winter Salad Recipe!
This vegan winter salad recipe is bursting with flavor and has the best colors!
It's made with NatureSweet Cherubs, kale, arugula, pecans, oranges, pomegranate seeds, dairy-free feta, and a simple balsamic vinaigrette.
NatureSweet Cherubs add so much flavor and freshness to this salad, they are so tasty and perfect when paired with kale to balance all the flavors.
The kale is gently massaged with the tiniest bit of olive oil and salt to break it down and make it more enjoyable.
You also have a peppery taste from the arugula and plenty of sweetness from the fruit – it's a delicious and colorful meal!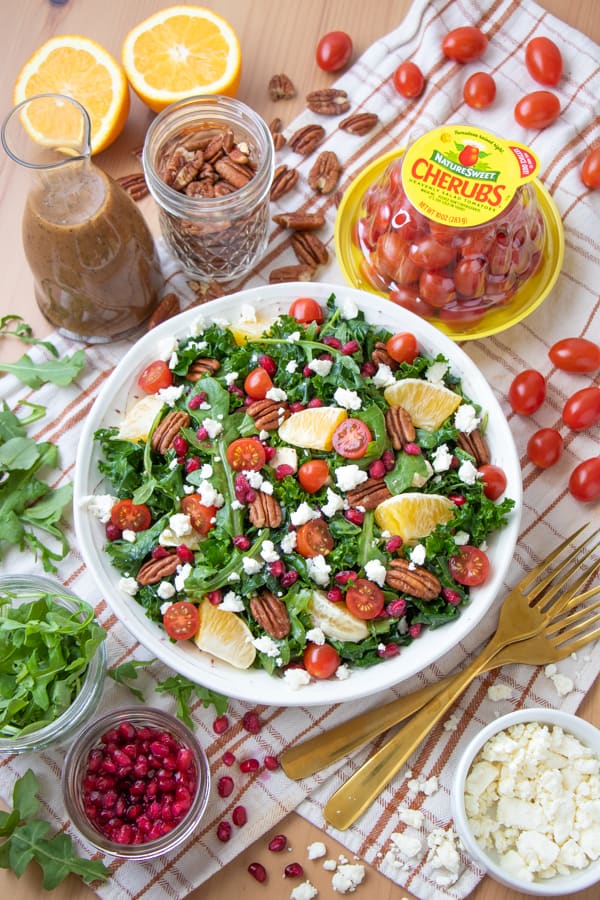 NatureSweet Cherubs are one of my favorite ingredients in easy salads like this— it's an easy way to add a pop of color and tons of tangy flavor.
I like to keep salads simple— so using quality ingredients like these tomatoes is essential for a tasty meal. They're handpicked at the peak of perfection and shipped within 24 hours, that's what makes them so sweet and fresh.
This salad is the perfect balance of earthy flavors from the greens and sweet flavors from the fruit and tomatoes.
It's my go-to lunch for the new year and I'm so excited to share it with you!
Kale Salad with Orange and Pomegranate
I used to really only like kale when it was cooked into something, like my Kale White Bean Veggie Soup.
The key to loving it all over again is to massage it before making it into a salad!
I had heard the term "massaged kale" before, but I didn't know how much of a game changer it was.
I like the flavor of kale but this makes the texture much softer and easier to eat; I know you'll love the result in this recipe!
Ingredients:
NatureSweet Cherubs Tomatoes –

Love these flavorful tomatoes to bright up and flavor salads!

Kale –

Any kind of kale will do, just be sure to remove the thick stems.

Pecans –

Or your favorite nut.

Arugula –

I love the peppery flavor, you can also add spinach, romaine or just use kale.

Pomegranate Seeds –

I love the color, texture, and sweetness these add to kale salads!

Orange –

Cara cara is my favorite to use!

Dairy-Free Feta –

This is optional but I love the addition along with the fruity flavors.

Olive Oil & Salt –

This is what you will massage the kale with – just a little bit of both.

Balsamic Vinaigrette –

A simple homemade dressing made of olive oil, balsamic vinegar, maple syrup, dijon mustard, garlic powder, salt, and pepper.
How to Make Winter Salad with Fruit
Preparing the Toppings
To make this easy winter salad recipe, start by preparing your kale.
You'll want to remove the leaves from the thick stem, and then cut the leaves into bite-sized pieces.
Place into a large bowl and add a tablespoon of olive oil and a pinch of salt.
Massage the kale by squeezing it for about 3-5 minutes, this will soften and break it down a bit making it much easier to eat and more enjoyable!
Then cut your NatureSweet Cherubs in half.
Finally, peel your orange and cut the slices in half as well.
Add the pecans, arugula, tomatoes, pomegranate seeds, orange slices and dairy-free feta to the bowl with the kale and set aside.
Making the Dressing
To make your dressing, simply add all the ingredients to a medium bowl and whisk until well combined.
You can tweak the ingredients to your liking but I loved this simple recipe!
Serving Winter Salad
Pour the dressing all over the salad ingredients and toss to evenly coat.
Serve in a large bowl with plenty more toppings on top. I love arranging the final toppings to make it extra beautiful and colorful!
How to Store Winter Salad with Fruit
You can store this salad in an airtight container in the fridge for up to four days.
If you're not serving it right away, I would recommend holding off on the dressing and adding it right before serving.
Otherwise it will shorten the lifespan of the salad in the fridge, but it will still be delicious either way!
Vegetarian Winter Pomegranate Salad
I think winter salads are actually more delicious than summer ones – I love the flavor combinations and sweet fruit – try my Arugula Beet & Orange Salad next!
I loved the flavors in this recipe, but some optional add-ins are baked squash, shallots, pumpkin seeds, fresh parsley, baked cauliflower and more.
If you wanted to bulk it up a bit, you could always add some cooked tofu or tempeh but this is optional.
I actually love serving this winter salad as a side with a heartwarming soup like my Vegan Quinoa Chili or Sweet Potato Corn Chowder!
This winter kale and fruit salad is:
Flavorful

Colorful

Delicious

Sweet & Tangy

Easy to Make

Vegan

Irresistible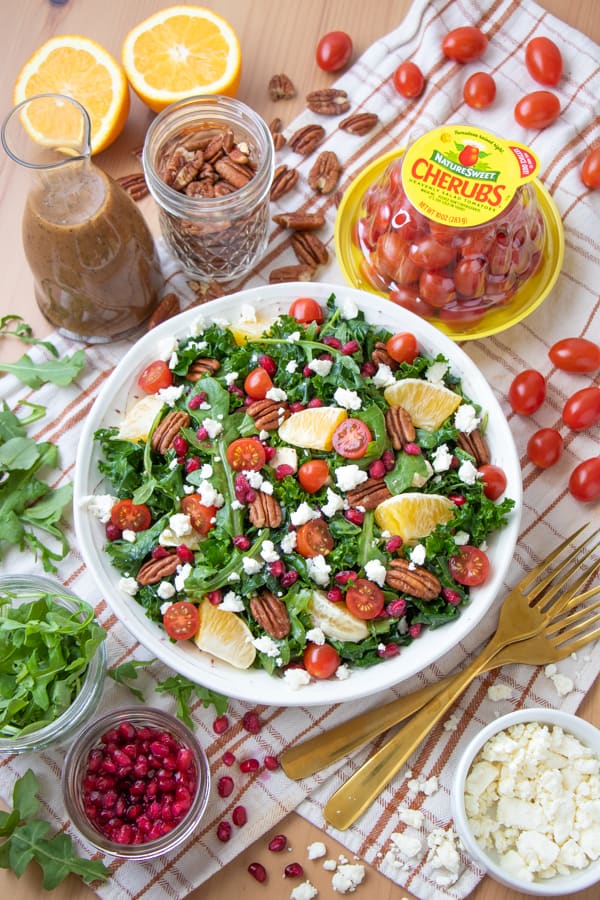 Winter Salad Recipe
This vegan winter salad recipe has kale, oranges, pomegranate seeds, pecans, arugula, tomatoes, dairy-free feta and balsamic dressing!
Ingredients
1 Cup NatureSweet Cherubs Tomatoes
1 Bunch Kale
1/2 Cup Pecans
1 Cup Arugula
1/3 Cup Pomegranate Seeds
1 Orange
1/3 Cup Dairy-Free Feta
1 Tbsp Olive Oil
Pinch Salt
Balsamic Vinaigrette
1/2 Cup Olive Oil
3 Tbsp Balsamic Vinegar
1 .5 Tbsp Maple Syrup
2 Tsp Dijon Mustard
1/4 Tsp Garlic Powder
Salt/Pepper to taste
Instructions
Remove stems from kale and cut into bite-sized pieces. Place in a bowl along with the tablespoon of olive and pinch of salt. Massage by squeezing kale for about 3-5 minutes or until it softens.
Cut NatureSweet Cherub tomatoes in half. Peel orange and cut slices in half.
Add pecans, arugula, tomatoes, pomegranate seeds, orange slices and dairy-free feta to the bowl with the kale, set aside.
Mix together all dressing ingredients and pour over salad.
Mix well to evenly incorporate and distribute ingredients.
Serve in a large bowl with more toppings arranged on top and enjoy!
Nutrition Information:
Yield:

4
Serving Size:

1
Amount Per Serving:
Calories:

449
Total Fat:

40g
Saturated Fat:

5g
Trans Fat:

0g
Unsaturated Fat:

34g
Cholesterol:

0mg
Sodium:

266mg
Carbohydrates:

23g
Fiber:

4g
Sugar:

16g
Protein:

4g
This is a sponsored post written by me on behalf of NatureSweet Cherubs.