We may earn money or products from the companies mentioned in this post.
(Last Updated On: August 15, 2020)
Easy Veggie Kabobs Recipe
This simple veggie kabobs recipe is so tasty and easy to make!
The veggies are marinated in a simple olive oil and balsamic based marinade with a few spices to add a ton of flavor to the vegetables.
Then they are carefully placed on a bamboo skewer and grilled until lightly charred and tender.
They are especially perfect in the summertime for a fuss-free evening!
You can use pretty much any vegetables you need to use up in your kitchen for this recipe, as long as you can safely add them to a skewer!
This was my favorite combination though: zucchini, bell peppers, mushrooms and red onion!
Some additions I thought would be great could be asparagus, tomatoes, corn on the cob, yellow squash or pineapple!
Grilled Vegetarian Veggie Skewers
What I really love about grilling vegetables is the texture and flavor it gives them.
The veggies stay crisp and crunchy even when cooked, and the slight char is so delicious.
It also gives them a fresh and savory taste that you just can't get with any other cooking method.
Adding some extra marinade to the veggies as they grill also makes them juicy and so tasty!
How to Make Grilled Vegan Kabobs
Mixing and Marinating the Veggies
To make these veggie skewers, start by cutting all your vegetables into roughly 1/2 inch thick slices, and roughly 1 – 1 1/2 inch wide – this does not need to be perfect though.
For the red onion, I suggest cutting it in half, and then cutting those halves into six pieces.
I used about 2-3 layers from those pieces each time I skewered the onion.
Add all the veggies to a large bowl along with the olive oil, balsamic and spices and mix well.
Let this sit for about 45-60 minutes if you have the time, the longer the better! You can stir occasionally to help evenly distribute the marinade.
Also soak about 6-7 bamboo skewers in water for at least 15 minutes so they don't burn on the grill.
Skewering and Grilling the Kabobs
Now you can carefully add the veggies, alternating in between each, to your skewers.
Be very careful not to poke yourself while you are loading on the vegetables!
Once your skewers are all filled up (with about an inch or two left on each end), you can heat your grill up to medium/ medium high heat.
Grill for 7-8 minutes on each side, or until the veggies are tender and lightly charred.
I like to brush on any remaining marinade to the veggies throughout this process to add even more flavor.
I recommend gently rolling the skewers over when you need to flip them, I found this to be the easiest way!
That's it! Yummy grilled vegetable skewers ready to be dipped or eaten as a side.
Vegan Marinated Vegetable Skewers
I served my kabobs with some dairy-free ranch and it was the perfect compliment!
If you wanted to add some protein to these kabobs, you could also add some tempeh or pressed tofu chunks to the skewers.
I've used tempeh pieces before and it was a great way to make this a full meal.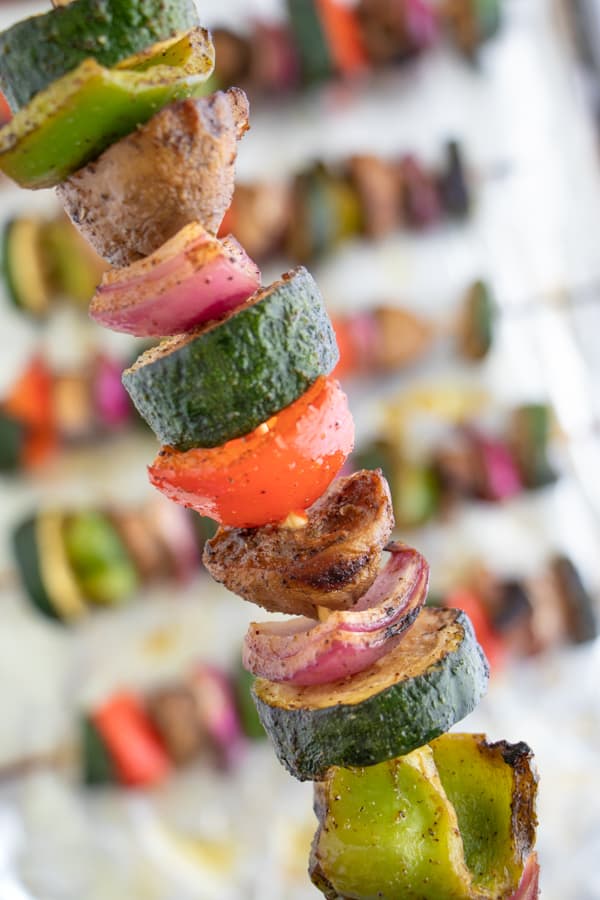 This recipe is:
Easy

Vegan

Fuss-Free

Tasty

Charred

Flavorful

Healthier
Check out these other recipe to serve alongside these kabobs!
Vegan Chickpea "Chicken" Sandwich
Pin this for later!
Veggie Kabobs (marinated & grilled)
Total Time:
1 hour
25 minutes
Easy and delicious vegan veggie kabobs that are marinated and grilled to perfection. This vegetable shish kabob recipe is simple and quick to make!
Ingredients
2 Medium Zucchini
2 Bell Peppers
8 oz. Small Mushrooms
1 Red Onion
1/3 Cup Olive Oil
1/4 Cup Balsamic Vinegar
1/2 Tsp Garlic Powder
1/2 Tsp Onion Powder
1/2 Tsp Chili Powder
1/2 Tsp Oregano
1/2 Tsp Pepper
1/4 Tsp Salt
Instructions
Cut all vegetables into roughly 1/2 inch wide pieces, roughly 1 - 1 1/2 inch long.*
Add to a large bowl along with the olive oil, balsamic and remaining ingredients and mix well. Allow to marinate for about 45-60 minutes if you have the time, the longer the better! You can stir this occasionally to better distribute the marinade.
Place 6-7 bamboo wood skewers in water for at least 15 minutes so they won't burn on the grill.
Carefully add pieces of veggies to your skewers, alternating in between each veggies to get a good mix. Be careful not to get poked with the sharp end while you do this!
Once all veggies are used up**, turn your grill to medium/medium high heat and grill for about 7-8 minutes per side, or until some char starts showing and the veggies are tender.
Carefully brush on any remaining marinade to the veggies throughout the grill to get the most flavor.
Enjoy with any sides or dipping sauces you'd like!
Notes
*For the red onion, cut in half and then cut each half into 6 pieces. Then separate the pieces into 2-3 layers of onion for each time you add it to the skewer.
**I like to leave about 1-2 inches of space on both ends of the skewer to easily move them around.
Recommended Products
As an Amazon Associate and member of other affiliate programs, I earn from qualifying purchases.
Nutrition Information:
Yield:

6
Serving Size:

1
Amount Per Serving:
Calories:

156
Total Fat:

12g
Saturated Fat:

2g
Trans Fat:

0g
Unsaturated Fat:

10g
Cholesterol:

0mg
Sodium:

110mg
Carbohydrates:

10g
Fiber:

2g
Sugar:

5g
Protein:

2g