We may earn money or products from the companies mentioned in this post.
(Last Updated On: July 10, 2023)
Easy Vegetarian Spaghetti Sauce Recipe
This delicious vegetarian spaghetti sauce is as good as it gets!
A mixture of tomatoes, herbs, tasty tempeh and mixed veggies for the best flavor-packed homemade pasta sauce!
This recipe is an easy vegan pasta sauce that is perfect to serve with any noodles you have, or to use for lasagna.
Hearty, flavorful, herbed and high protein, all without any dairy or meat!
I usually prefer a thicker sauce for my vegan spaghetti sauce recipe, which is why you can add water as needed while making this to get the consistency of your preference.
One thing I love about this vegetarian spaghetti sauce is that it is very pantry friendly!
Almost all the ingredients can be kept in the pantry until you need to use up any leftover veggies and tempeh.
If you'd like a simpler red sauce, it also cooks up deliciously without any veggies or tempeh.
Simply add a sprinkle of onion and garlic powder if you have it and otherwise follow the recipe – it will make a delicious homemade tomato sauce.
How to Make Vegan Marinara Pasta Sauce
Making the Vegan Sauce Base
To start making this vegan pasta sauce, begin by cooking the tempeh and oil until golden brown.
This is important because uncooked tempeh has a strong earthy taste, and lightly frying it makes it super flavorful and the perfect meatless alternative for vegan sauce for pasta.
Then add the onions and veggies and cook for five to seven minutes, stirring often.
Add the garlic and cook another minute or two until fragrant.
Add the tomato paste, herbs and salt and pepper and give everything a good stir, cooking for about a minute, again until fragrant.
Then add the diced tomatoes, tomato sauce, sugar and water and stir well.
Bring everything to a gentle boil and then reduce heat to medium/low for fifteen to twenty minutes, stiring often.
After all the flavors have marinated together, mix into your favorite pasta or use for homemade lasagna and enjoy!
Serving this Recipe for Vegan Spaghetti Sauce
You can toss some cooked noodles right into the pan for the easiest way to dig in!
Or you can simply pour the sauce over noodles – I love this option because you can really see how thick and hearty the sauce is.
I always recommend serving homemade pasta sauce with fresh herbs if you have them, it adds a nice pop of color and flavor!
You can store this pasta sauce alone or mixed into noodles for up to four to five days.
You can also freeze the sauce alone in a freezer safe container for up to three months.
Best Vegetarian Pasta Sauce Recipe
This is my favorite vegan pasta sauce recipe ever – it takes a couple extra steps to get the perfect texture and flavor, but it's all worth it.
This is perfect for kids and adults; omnivores or vegans!
If you want ever more flavor, you can let this cook for up to two hours and everything will marinate that much more.
Just to be sure to cook it at a low temperature and check it every now to see if more water is needed and to avoid burning.
Ingredients:
Tempeh – 

My favorite meat alternative and the perfect option for meatless pasta sauce.

Veggies – 

I used green pepper and zucchini, but you can really add anything you'd like!

Tomatoes – 

I used a mixture of diced tomatoes, tomato sauce and tomato paste to get the perfect texture.

Onion & Garlic – 

The staple to any homemade pasta sauce!

Herbs – 

This recipe uses dried basil, thyme and oregano. You can always substitute for fresh, just flavor to taste!

Salt/Pepper – 

Just a bit brings out all the flavors of the sauce.

Sugar – 

Very little is needed to help balance the acidic flavors.

Oil – 

A drizzle of oil helps brown the tempeh and gives the veggies a great flavor.

Water – 

Use a little as needed, just to thin the sauce as it is quite thick.
This recipe is:
Easy

Vegan

Vegetarian

Dairy Free

High Protein

Flavorful

Homemade
Check out these other vegan pasta dishes/ ways to use this pasta!
Vegan Roasted Red Pepper Pasta
Vegan Cold Italian Pasta Salad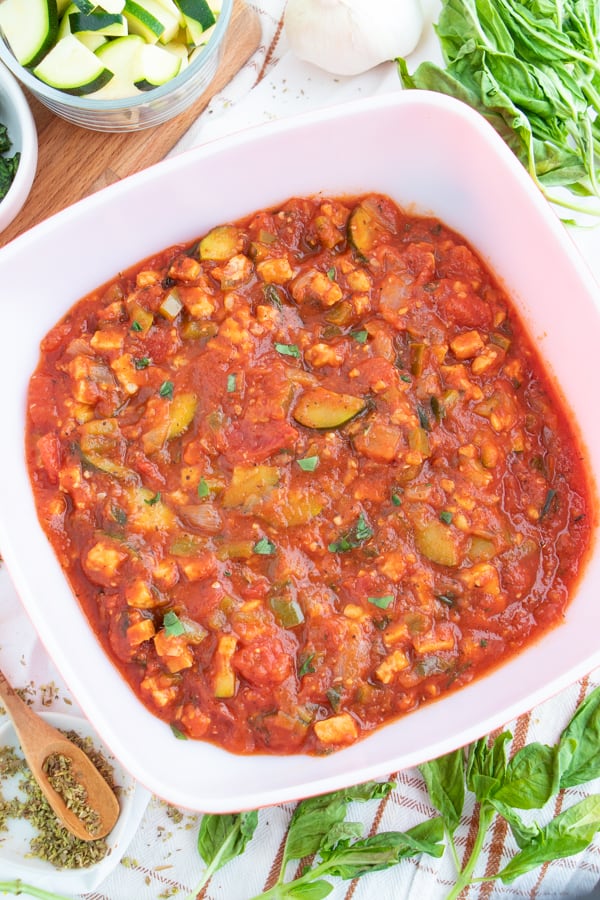 Pin this for later!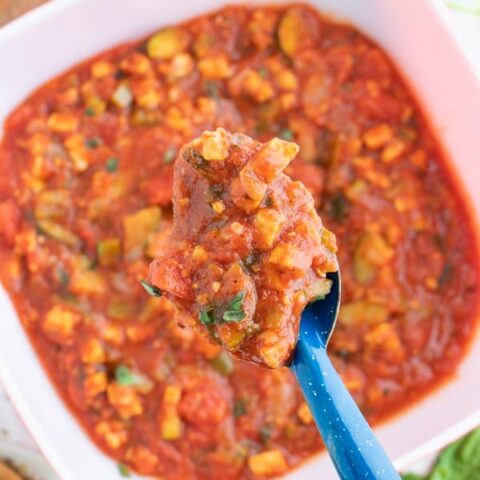 Vegetarian Spaghetti Sauce
This easy vegetarian spaghetti sauce recipe is a tasty meatless and herbed sauce for pasta. Vegan and delicious and made with tempeh.
Ingredients
28 oz. Diced Tomatoes*
8 oz. Tomato Sauce
2 tbsp Tomato Paste
1 Onion, diced
3 Cloves Garlic, minced
1/2 Green Pepper, cored and diced
1/2 Tsp Dried Basil
1/2 Tsp Dried Thyme
1/2 Tsp Dried Oregano
1 Block Tempeh, diced
1-2 Zucchini, diced (optional)
2 Tsp Sugar
2 Tbsp Olive Oil
1/3-1/2 Cup Water (as needed to thin)
Salt/Pepper to taste
Instructions
Add oil and chopped tempeh to a large, high walled pan over medium heat. Cook for 3 minutes, stirring often, until golden.
Add diced onion, pepper and zucchini if using, and cook 5-7 minutes, until onion is softened and becomes translucent. Add garlic and cook one minute, stirring often.
Add tomato paste, herbs and salt and pepper to taste, stir well and cook 1 minute.
Add diced tomatoes, tomato sauce, sugar and water and bring to a light boil. Reduce heat to medium/low and simmer for 15-20 minutes (you may way to cover if it starts to splatter a bit).
Serve over noodles of choice or inside lasagna!
Notes
*Can use half crushed and half diced, either way works.
Nutrition Information:
Yield:

6
Serving Size:

1
Amount Per Serving:
Calories:

114
Total Fat:

6g
Saturated Fat:

1g
Trans Fat:

0g
Unsaturated Fat:

5g
Cholesterol:

0mg
Sodium:

451mg
Carbohydrates:

15g
Fiber:

5g
Sugar:

9g
Protein:

4g