We may earn money or products from the companies mentioned in this post.
(Last Updated On: April 30, 2023)
The Best Vegan Sandwich Cookie Recipe Ever
These yummy vegan sandwich cookies are so sweet and cute!
They are filled with vanilla flavor, have just a few ingredients and are complete with a smooth cream filling and rainbow sprinkles.
They are soft, buttery and just the right amount of sweet, perfect for kids or adults!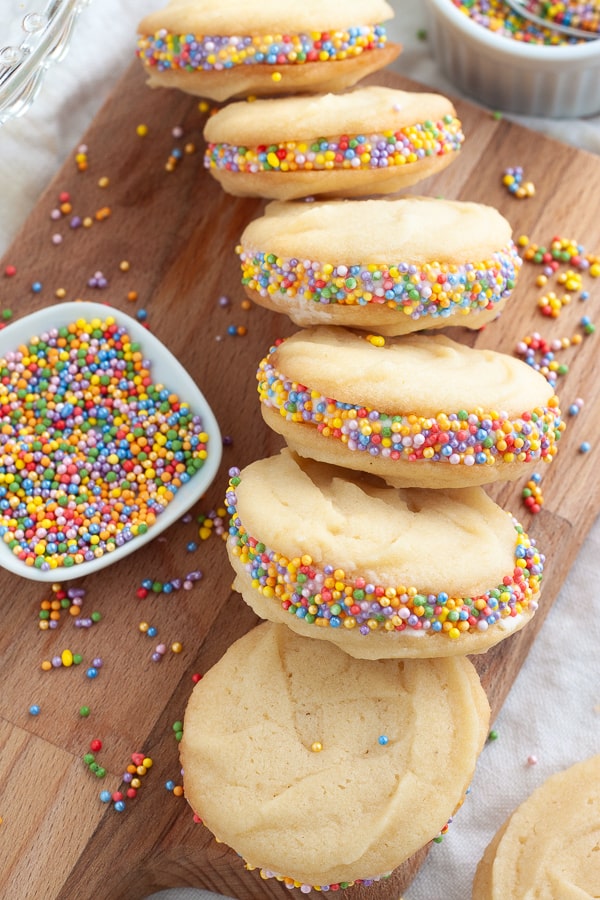 Easy Homemade Vanilla Cookie Sandwiches
Sandwich cookies are super easy to make, and they really create something special without much added effort.
I've always loved them, whether they're filled with frosting, ice cream or whipped cream!
To make these cookies unique, I piped my cookie dough with a star cap to help get them the same size, and to give them a pretty subtle flower design.
You can always just scoop the dough like regular cookies, but I think they look so cute this way, and it was super easy to do!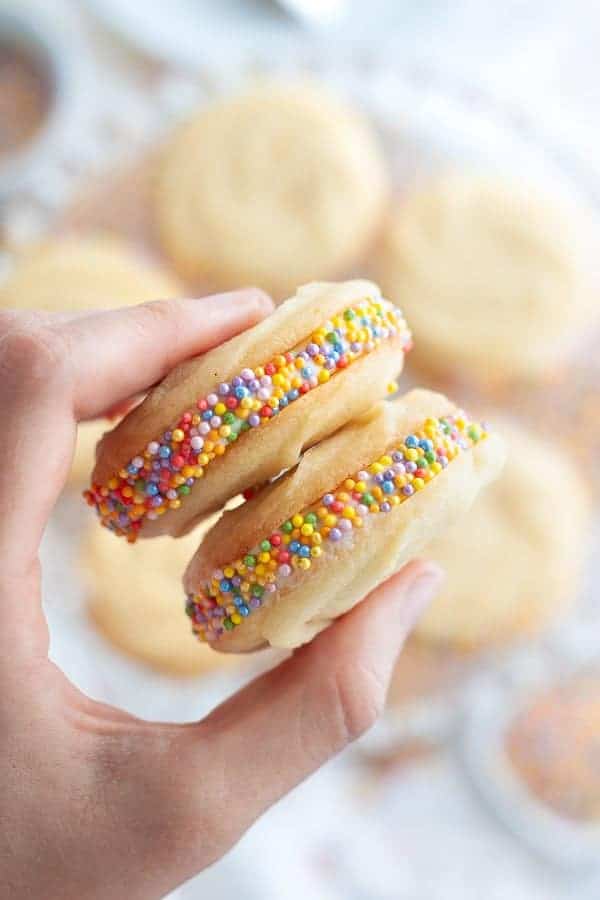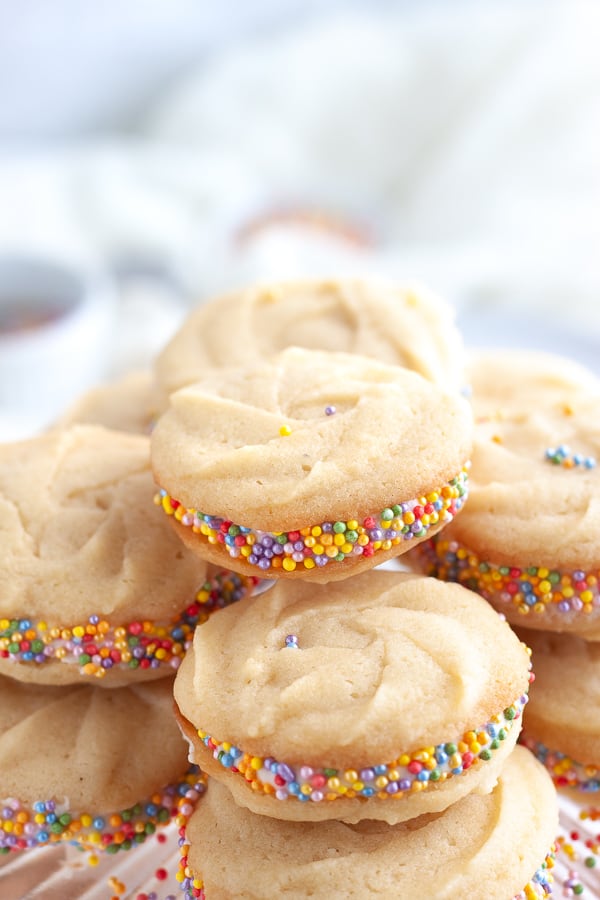 How to Make Dairy Free Sandwich Cookies
Prepping the Butter Cookies
To make your buttery vegan vanilla cookies, start by aerating your room-temperature dairy free butter.
Do this by using an electric mixer or by vigorously whisking the butter for at least 5 minutes, then add your vanilla and the cornstarch dissolved in a tablespoon or two of water, and mix well.
Add in your powdered sugar (but be careful the sugar doesn't explode all over you when mixing!) and continue mixing for a few minutes.
Then add in your baking powder, salt and half the flour, and mix again. Then add your remaining flour and simply stir together until combined.
Shaping and Baking the Cookies
Preheat your oven to 350 degrees.
For this step, I used a piping bag with a star tip – as I mentioned earlier, I love the subtle flower shape it gave these cookies, and it made it much easier to make them all the same shape.
If you don't have a piping bag, you can always use a cookie scoop, or do your best with a couple spoons, but I would highly recommend piping!
Simply make a swirl with the cookies – they won't look quite like this after baking, they flatten out so they are easier to eat as sandwiches!
I do recommend chilling them after piping to help them retain a bit more shape, but if you're in a hurry you can skip this step.
Bake for just 10-12 minutes or until they are the slightest light brown on the bottom.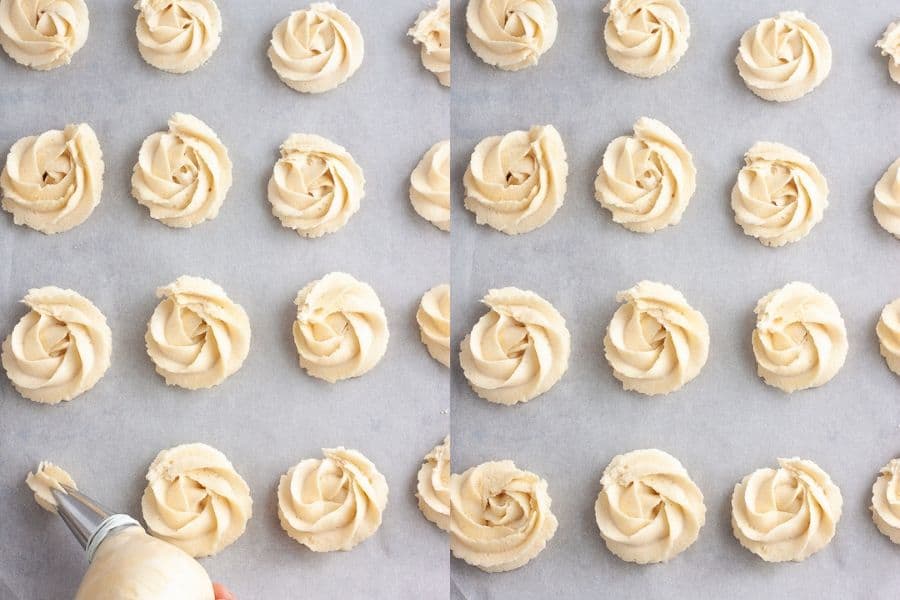 Forming the Sandwich Cookies
Let the cookies cool completely – in the meantime aerate the frosting butter the same way you did the cookies, and then mix in your vanilla.
Add the powdered sugar in 1/2 cup increments, mixing in between, until desired taste and texture is reached! I did about 1 1/2 cups in total.
You could also pipe the frosting onto the cookies, but I just used a cookie scoop with a release trigger because I found it eaiser!
Just add about 1 1/2 tablespoons to each cookie bottom, depending on size, then place the other cookie on top. Then press down lightly until the frosting comes just to the edge of the cookies, and you can simply roll the sides in sprinkles!
I would also recommend letting them chill in the fridge for a bit so the frosting can harden up a bit, and store them in the fridge to avoid the frosting melting!
If you're not a fan of sprinkles, they're also super pretty as is!
Easy Butter Cookie Sandwich Dessert
These simple butter cookie sandwiches are so light and delicious, I love making them for parties or other get-togethers.
I love the rainbow vegan sprinkles, especially for summertime!
These would be a great recipe to make with your kids or during the holiday season, using green and red sprinkles!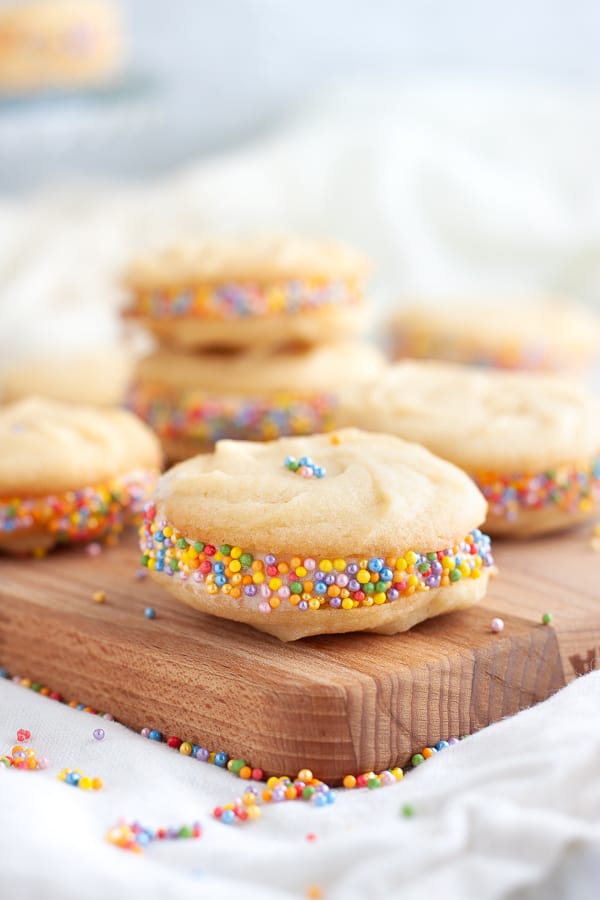 You could even add some dye to the cookies themselves to make them perfect for any theme – they have such a neutral vanilla flavor that there are endless possibilities!
If you're looking to make these a bit classier, you could always use white or chocolate sprinkles, or leave them plain.
This recipe is:
Fun

Pretty

Perfect for Any Occasion

Vanilla

Easy

Sweet

Buttery

Delicious
Try these other vegan desserts!
Pin this for later!
Vegan Sandwich Cookies
Yield:
About 10 Sandwich Cookies
These easy vegan butter sandwich cookies are full of sweet vanilla flavor, filled with a creamy vanilla frosting and rolled in rainbow sprinkles!
Ingredients
Cookies
1 Cup Vegan Butter (room temperature)
Dash Salt
Frosting
1/2 Cup Vegan Butter (room temperature)
Instructions
Preheat oven to 350 degrees.
Using an electric mixer, or whisking vigorously, aerate vegan butter for 5 minutes, then mix in vanilla extract.
Mix the cornstarch with a tablespoon or two of water, just until it dissolves. Pour in and mix well. Add powdered sugar and continue mixing for another couple minutes. Add the baking powder and salt, and sift in half the flour.
Mix well and then add the remaining flour, stirring it in now.
You can either use a cookie scooper, a piping bag or a couple spoons to shape your cookies. I loved using the piping bag to give the cookies a subtle flower shape.
Place cookies on a baking pan covered in parchment paper - the cookies should be roughly 1 1/2 - 2 tablespoons big.
I chilled mine for a few minutes to help them keep their shape, but this isn't required.
Bake for 10-12 minutes or until the bottoms are just a slight light brown, and allow to cool completely.
Mix the frosting butter for 5 minutes with an electric mixer or by whisking vigorously. Mix in the vanilla extract, and then the powdered sugar in 1/2 cup increments. Allow to chill.
Using a piping bag, small cookie scoop or two spoons, add about a tablespoon of frosting to the bottom center of a cookie, and place another cookie on top, lightly squishing down. Roll sides in rainbow sprinkles and then place in the fridge for a few minutes to set.
Repeat with remaining cookies and enjoy!
Nutrition Information:
Yield:

10
Serving Size:

1 Cookie Sandwich
Amount Per Serving:
Calories:

341