We may earn money or products from the companies mentioned in this post.
(Last Updated On: November 2, 2020)
Best Vegan Rice Krispie Treats
These easy homemade vegan rice krispies treats are so delicious!
Made with super crunchy popped rice and ooey-gooey dairy-free marshmallows.
These simple treats also have very rich flavor thanks to a bit of vegan butter and vanilla extract.
Super easy to make and such a classic treat, you'll love these rice krispie bars!
There's really nothing you can't make in a vegan version these days.
I've been meaning to try the Dandies Vegan Marshmallows for ages (not sponsored), and they were SO delicious and perfect for these bars!
Now you can enjoy these treats in a totally vegetarian and vegan version while still having that classic flavor.
Simple Vegetarian Rice Krispies Recipe
This yummy recipe has to be one of the easiest desserts I've ever made – there's no baking, bowls or tons of ingredients.
Just four simple ingredients that you heat and mix together, and then let cool!
These are perfect if you're short on time, and the customization opportunities are endless!
You can add food coloring, frost them or simply leave them plain.
How to Make Vegan Rice Krispies
Melting the Marshmallows
To make these simple homemade vegan rice krispies, start by adding your vegan marshmallows and butter to a large pot over medium low heat.
The trick with these treats is that vegan marshmallows don't melt as nicely as normal ones, so you'll need to do some pushing and mushing!
Stir often and push into the marshmallows until they are heated up and all melted into one blob.
Trust me, it will work just fine even though it looks weird for a bit!
Mixing in the Rice Krispies
Then remove from heat and add the vanilla and rice krispies.
You'll want to work a bit fast at this part to mix everything together before the marshmallows begin to really cool.
You want to really push the popped rice into the marshmallow blob until it is thoroughly mixed – it's okay if there are still some marshmallow streaks, I think this adds a nice contrast in textures.
See the recipe video on this page for a visual.
Cooling and Serving Rice Krispie Treats
Finally, you'll want to add parchment paper to a 9×13 pan and then place the rice krispie mixture inside.
Level it out evenly with a spatula and then set aside to completely cool, about 20-30 minutes.
Now you can finally dig in!
Cut into twelve bars and enjoy.
These bars keep in an air tight container for up to five days.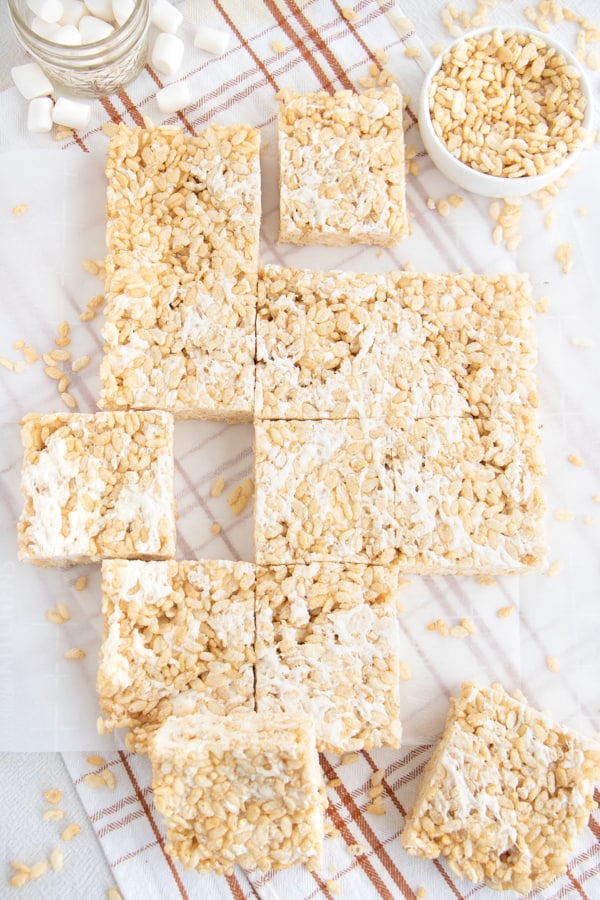 Easy Homemade Dairy Free Rice Krispies
While these tasty rice krispie treats may require a bit of extra arm work, they are still incredibly easy and SO delicious.
They have a nice balance of rich and sweet and an irresistible crunch (I used the Whole Foods 365 brown rice krispies, not sponsored).
These dessert bars bring me right back to my childhood, and they are perfect for vegans and omnivores alike!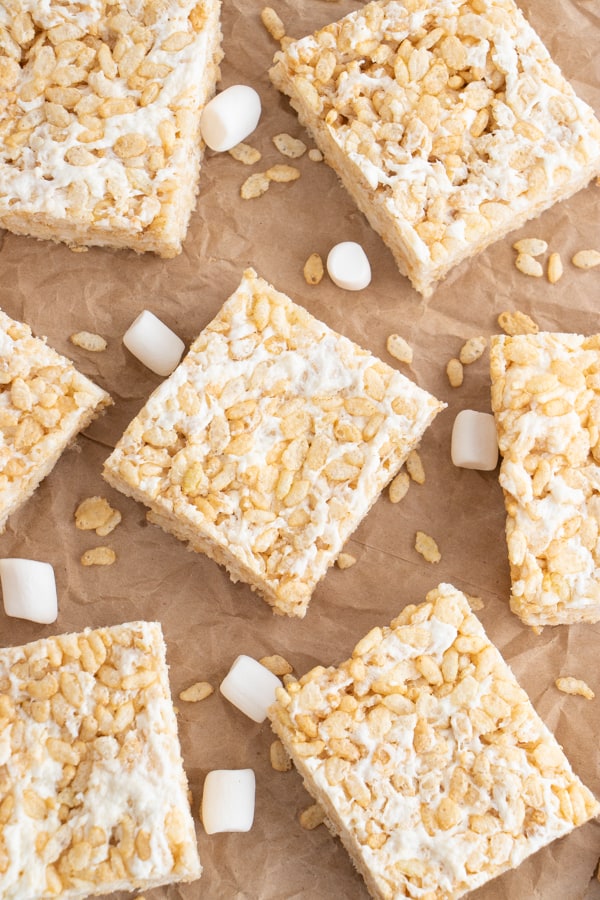 This recipe is:
Easy

Homemade

Gooey

Crunchy

Delicious

Fuss-Free

Vegan

Vegetarian
Check out these other classic vegan dessert recipes!
Pin this for later!
Vegan Rice Krispie Treats
The best homemade vegan rice krispie treats with dairy-free marshmallows and butter. Ready in no time and super crunchy and gooey!
Ingredients
6 Cups Rice Krispies
6 Cups Vegan Mini Marshmallows (approx. 20 oz.)
1/3 Cup Vegan Butter*
1 1/2 Tsp Vanilla Extract
Instructions
Add butter and marshmallows to a deep pan over medium low heat.
Stirring frequently, mush the marshmallows together and stir around the pot to avoid burning. Vegan marshmallows melt differently than non-vegan, they need some TLC and won't melt completely, you just want the individual marshmallows to melt into each other and heat up (see video on page for visual).
Continue mushing and stirring until all the marshmallows melt into one another, then remove from heat.
Add vanilla and rice krispies and mix together - you will need to really push the krispies into the marshmallows until they are decently mixed together, it's okay if there are still some marshmallow streaks throughout. You'll want to work a bit quick at this step to avoid the marshmallows cooling down too much.
Add parchment paper to a 9x13 pan and pour krispie mixture in.
Evenly flatten out and then set aside to cool completely, approximately 20-30 minutes.
Then you can cut into 12 bars and enjoy!
Notes
*You want to use vegan butter sticks and not from a tub.
**Store in an airtight container for up to 5 days.
Recommended Products
As an Amazon Associate and member of other affiliate programs, I earn from qualifying purchases.
Nutrition Information:
Yield:

12
Serving Size:

1
Amount Per Serving:
Calories:

179
Total Fat:

5g
Saturated Fat:

3g
Trans Fat:

0g
Unsaturated Fat:

2g
Cholesterol:

13mg
Sodium:

133mg
Carbohydrates:

32g
Fiber:

0g
Sugar:

16g
Protein:

1g