We may earn money or products from the companies mentioned in this post.
(Last Updated On: May 25, 2023)
Smashed Vegan Chickpea Salad Sandwich
This vegan chickpea salad sandwich recipe is so incredibly easy and delicious!
It only needs one bowl, some basic and healthy ingredients, 10 minutes and a dash of vegan mayo.
I absolutely love simple salad recipes like this to toss on top of bread for a quick and no-fuss meal.
It's perfect for busy week days, meal prepping, picnics, and just busy lives in general!
This recipe has just a handful of ingredients and they are all held together with a bit of vegan mayo.
You can find dairy-free mayo at many stores these days, but if you'd like to make your own I also found this vegan mayonnaise recipe.
The rest are just some basic veggies and onion, and of course a good bit of chickpeas.
This recipe has a nice robust dill flavor, thanks to some added dill pickles and extra dill herb.
Easy Vegan Chicken Salad Recipe
Chicken and tuna salad sandwiches are very common recipes, but you'll be amazed at how delicious smashed chickpeas can be as an alternative.
They offer protein and have a great texture for these kind of recipes.
Even if you're not vegan or vegetarian, chickpeas are a great ingredient to switch things up and try something new!
This recipe is also very versatile and you can add in any other ingredients that you'd like.
I've made this with grapes, a bit of mustard, and slivered almonds and all were great additions!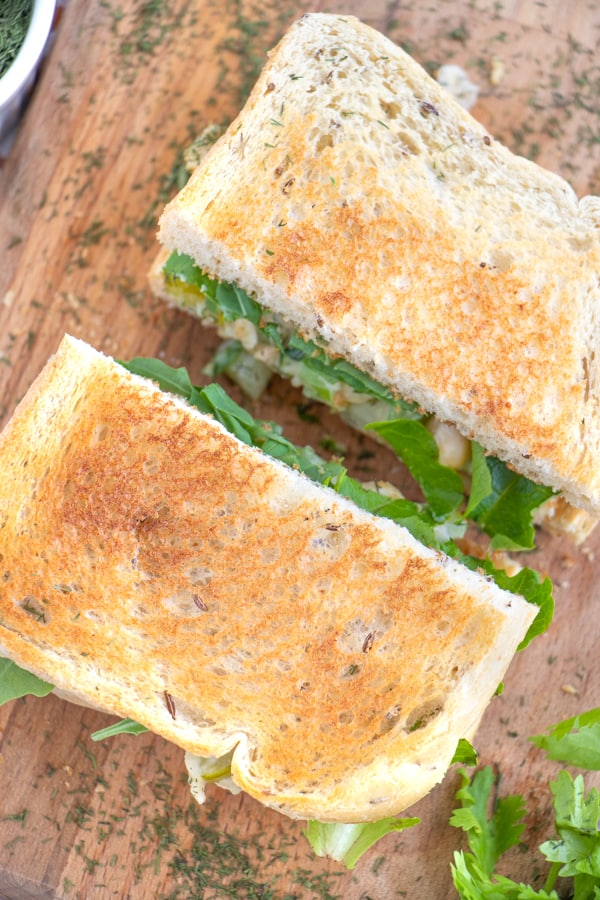 How to Make One Bowl Chickpea Salad 
Preparing the Ingredients
When I'm making this chickpea salad recipe I like to prepare all of my ingredients right away and then just assemble them in a large bowl.
The first step is to drain your chickpeas and add them to a large bowl, and then mash them with a potato masher (or a couple forks if that's all you have).
I like to leave a little texture and not mash all the beans.
Then I chop the celery, pickles, red onion and cilantro and juice my lime.
Mixing and Serving Chickpea Salad
Add all of these to the bowl with the chickpeas and then toss in the vegan mayo, dill, salt and pepper.
Mix well until everything is evenly incorporated and that's it!
Toast some bread and add some greens and you have a ridiculously quick and easy sandwich ready!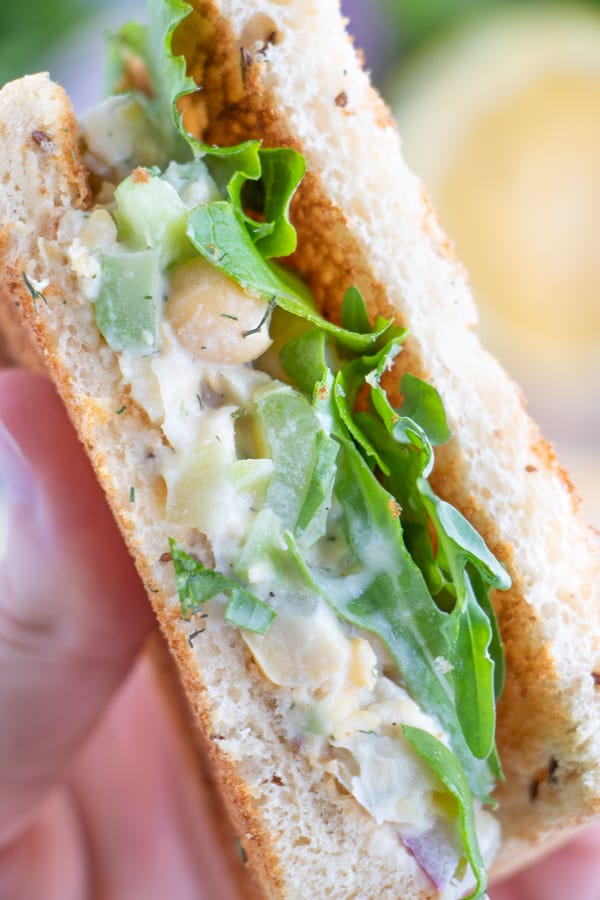 High Protein Vegan Tuna Salad
I just love this simple sandwich recipe and you can add any left over veggies you have that you think would taste good.
It's simple, delicious, flavorful, and you'll want to make it over and over.
For only having 10 ingredients, this is one of the most delicious and easy sandwiches you'll ever make!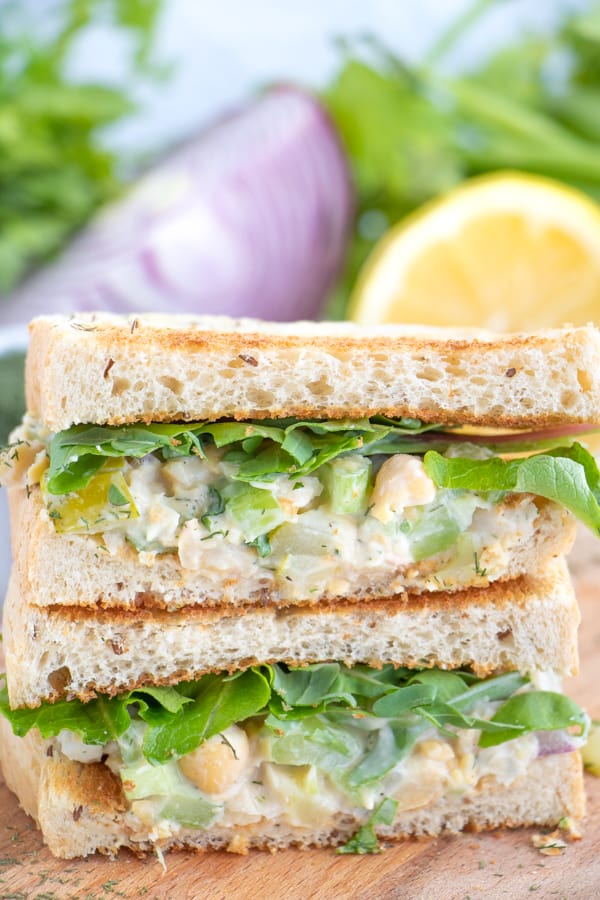 This recipe is:
Simple

Easy

Quick

High Protein

Delicious

Hearty

Filling

Budget-Friendly
Check out these other yummy vegan sandwich recipes!
Chickpea Avocado Salad Sandwich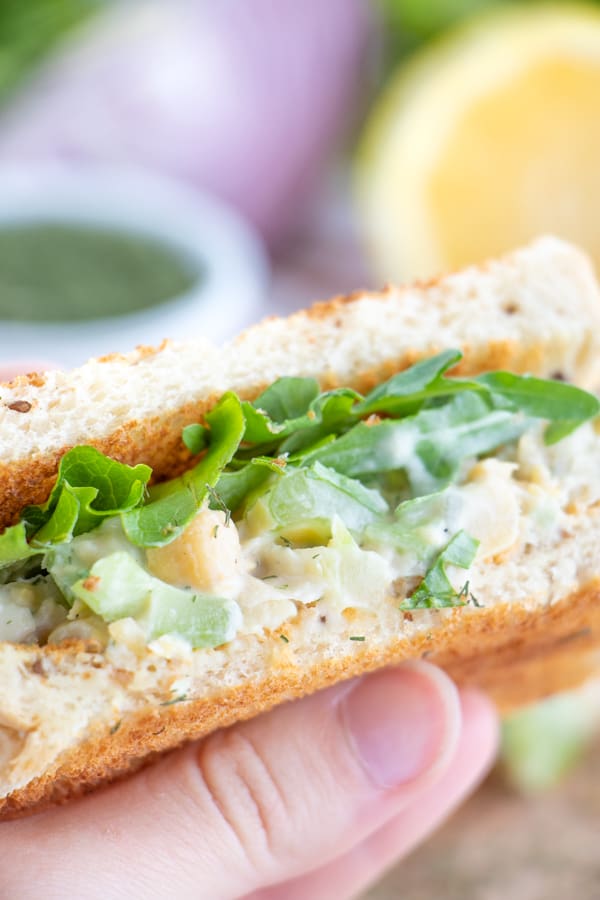 Pin this for later!
Vegan Chickpea Salad Sandwich
The best ever vegan chickpea salad recipe ready in 10 minutes and filled with chickpeas, celery, cilantro, pickles, red onion, dill, vegan mayo and lime!
Ingredients
4 Stalks Celery
2/3 Cup Pickles
1/3 Cup Red Onion
Juice from 1 Lime
1/4 Cup Cilantro
1/2 Tsp Dill
1/2 Tsp Salt
1/4 Tsp Pepper
Instructions
Drain and add chickpeas to a large bowl. Smash using a potato masher (or a couple forks if that's all you have) just a bit to break some apart. I like to leave some whole beans for texture though.
Chop celery, pickles, red onion and cilantro into small pieces and add to the bowl along with the dill, lime juice, salt and pepper.
Add vegan mayo and mix until equally incorporated.
Serve on toasted bread with greens of choice!
Recommended Products
As an Amazon Associate and member of other affiliate programs, I earn from qualifying purchases.
Nutrition Information:
Amount Per Serving:
Calories:

394