We may earn money or products from the companies mentioned in this post.
(Last Updated On: December 12, 2019)
Easy Maple Glazed Roasted Carrots
These maple glazed roasted carrots are always a hit at my house!
Maple glazed carrots with a bit of Dijon mustard, and a tangy soy sauce and rice vinegar taste.
Topped off with a lemon, garlic tahini sauce, pistachios and chopped parsley, these carrots are bursting with flavor!
Simple Oven Roasted Carrots Recipe
No meal or holiday is complete without a plate of rainbow carrots, they add so much to a meal and are super healthy.
The parsley and tahini sauce give a delicious freshness to the carrots, and the pistachios have a nice crunch and add even more depth of flavor.
The perfect side to any dish, these carrots are beautiful, tasty and a crowd pleaser for sure.
You're going to love these baked maple carrots!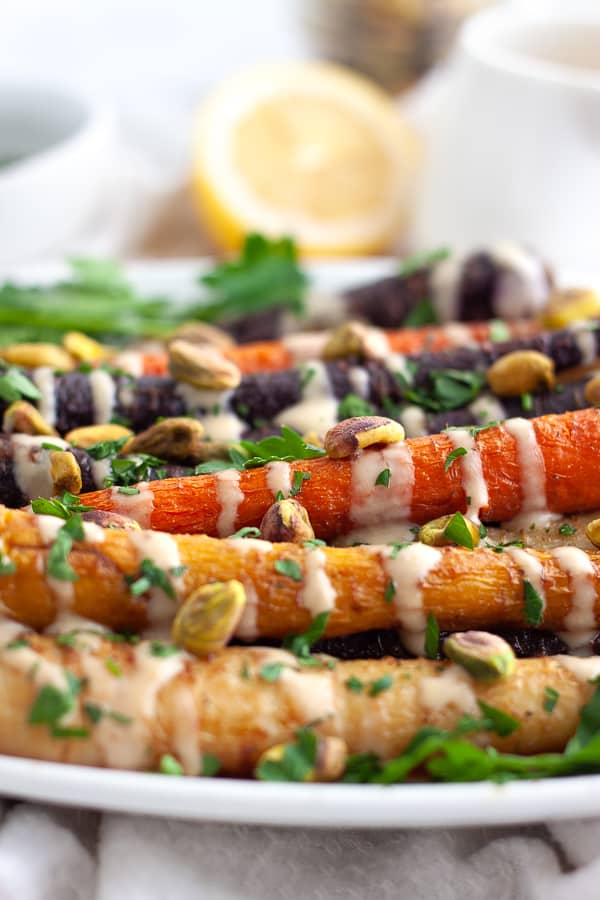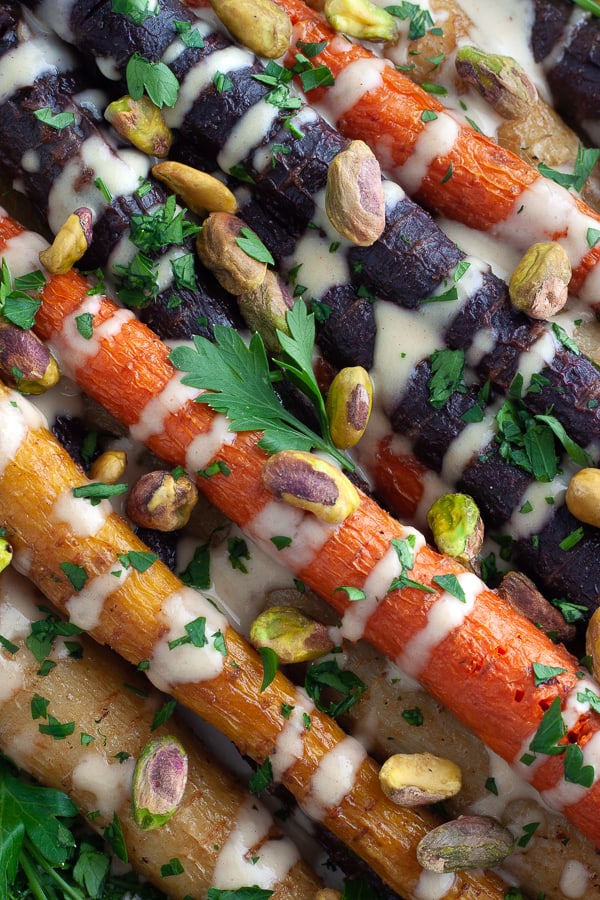 How to Make Maple Roasted Carrots
Preparing and Baking the Carrots
To make these baked carrots, start by preheating your oven to 375 degrees.
Wash your carrots and chop any larger ones in half, getting them all the same size as best as you can. Place on a baking tray covered in parchment paper or aluminum foil.
Mix together your maple syrup, Dijon mustard, garlic powder, soy sauce, oil, rice vinegar, salt and pepper and whisk until smooth.
Drizzle half the mixture over your carrots and toss them to coat evenly.
Bake for 20-35 minutes, or until tender when poked with a fork. If your carrots are not all the same size, you may want to remove the smaller ones when they're done while you wait for the larger ones to be tender.
Dressing and Serving the Carrots
Let the carrots cool slightly, then toss in the remaining sauce and arrange on a serving dish.
I like to alternate the carrots so the ends are on both sides and they sit nicely on the dish.
Mix together your tahini sauce and generously drizzle over carrots. Add chopped parsley and pistachios and dig in!
I also served mine with some whole parsley stems and leaves, I loved how it looked!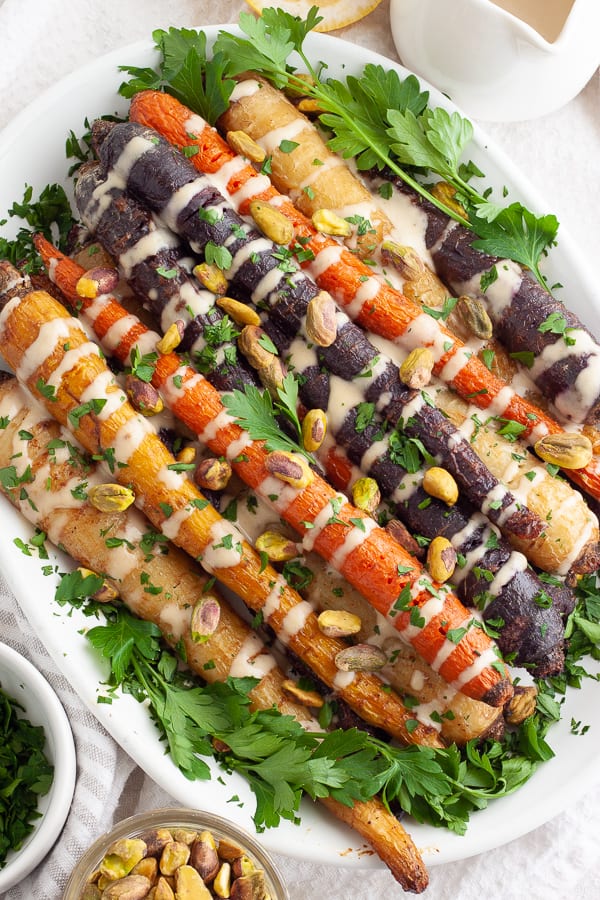 Vegan Maple Dijon Baked Carrots
I love baked carrots, but they have to have that sweet and tart balance in my opinion.
Too much maple or brown sugar and they turn into a dessert, so adding some tangy or tart flavors creates the most irresistible vegetable dish.
Baked to perfection and easy to grab and munch on, these carrots are as good as they get!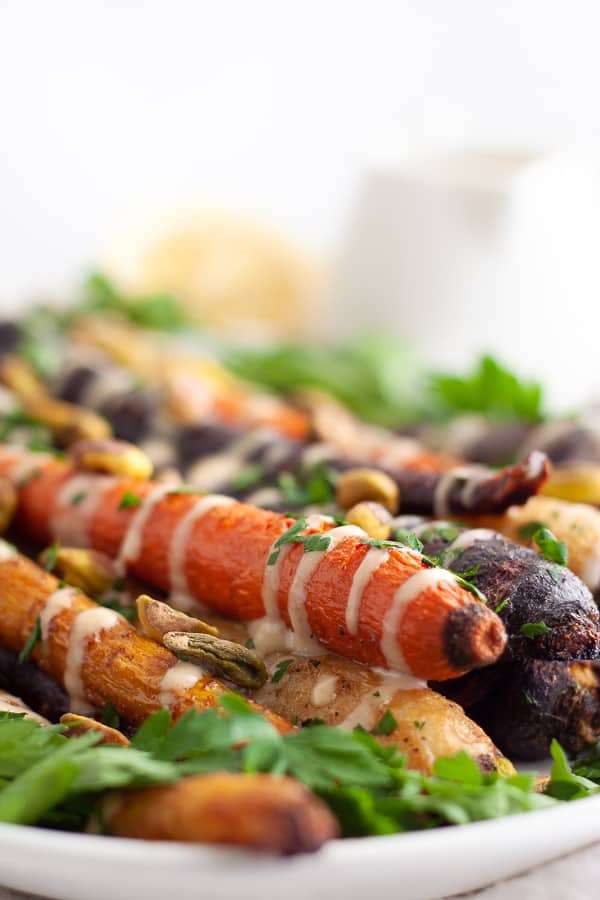 This recipe is:
Flavorful

Unique

Sweet

Tangy

Colorful

Fresh

Healthy
Check out these other vegan recipes!
Pin this for later!
Maple Glazed Roasted Carrots
This simple maple glazed roasted carrots recipe is so easy and flavorful. With hints of maple, dijon, garlic, lemon and a tangy vinegar and soy sauce taste!
Ingredients
2 lbs Rainbow Carrots
3 Tbsp Maple Syrup
2.5 Tbsp Neutral Oil
2 Tsp Dijon Mustard
1 Tsp Garlic Powder
1 Tsp Soy Sauce
1.5 Tsp Rice Vinegar
Salt/Pepper to taste
1/4 Cup Pistachios
2 Tbsp Chopped Parsley
Tahini Sauce
2 Tbsp Tahini
2 Tbsp Lemon Juice
2 Tbsp Water
2 Tsp Maple Syrup
1/4 Tsp Garlic Powder
1/4 Tsp Salt
Instructions
Preheat oven to 400 degrees.
Wash carrots and carefully cut larger ones in half, making all carrots the same size as best as you can.
Lay carrots on a baking sheet covered in aluminum foil or parchment paper.
Mix together the maple syrup, oil, dijon, garlic powder, soy sauce, rice vinegar, salt and pepper with a whisk until smooth.
Pour half of the sauce over carrots and gently toss.
Bake for 20-35 minutes, or until tender when poked with a fork. Smaller carrots may be done sooner so check every 10-15 minutes.
Remove from oven, allow to cool slightly and place on a serving tray, then mix in the remaining maple sauce.
Mix together tahini sauce and generously top carrots. Add pistachios and chopped parsley and enjoy!