We may earn money or products from the companies mentioned in this post.
(Last Updated On: April 30, 2023)
Easy Vegan Spinach and Artichoke Dip Recipe
This vegan spinach and artichoke dip is so creamy and delicious!
Spinach artichoke dips are always a favorite in our house, especially for the holidays and other get-togethers – there's nothing like a freshly baked artichoke dip.
While most recipes have cheese in them, this one uses blended cashews with tons of flavors as an alternative, and you'll be amazed at how much it resembles the classic recipe in texture and taste!
Healthy and Dairy Free Vegan Appetizer
This is my most favorite dip ever, (I've used a similar version of it in my Spinach Puff Pastries too) and I love whipping this up on busy mornings because it's so quick to make.
It has all natural ingredients and is actually super healthy, full of greens and healthy fats!
It's the perfect easy recipe to make for any party, and is especially great because it's allergen friendly and free of dairy and gluten.
You can serve this tasty appetizer with chips, wheat thins, veggies or bread – I went the bread route and stuffed an entire bread bowl with my freshly baked dip!
To do this, just cut out a circle about half way through, carefully pull it out and then pull out a few more pieces to make more room, just be careful to not pull too much or your dip could burst through.
I love using these pieces as a way to dip/grab the appetizer!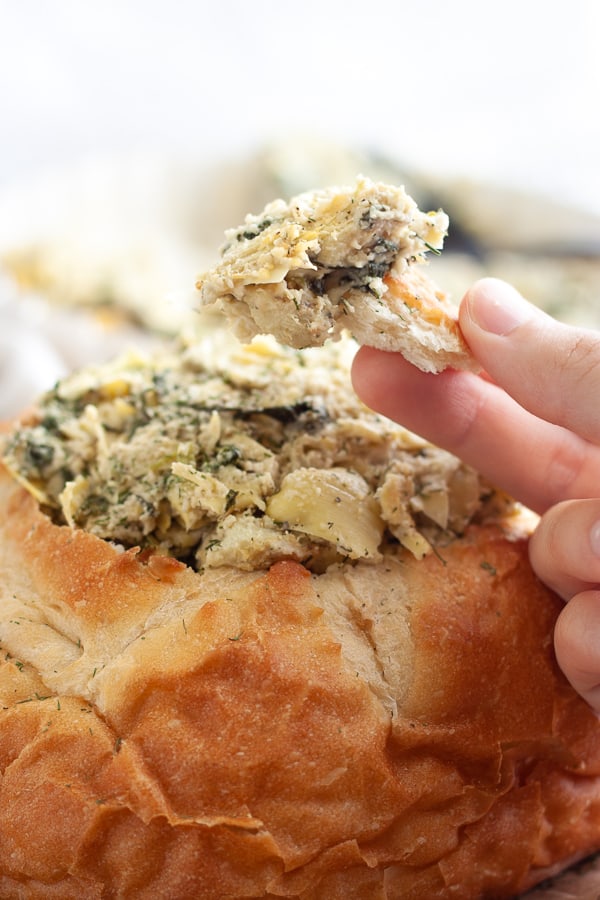 How to Make The Best Vegan Spinach Artichoke Dip
Preparing The Base
The first step in making this appetizer or snack is to have your cashews soaked. You can do this by soaking them in hot water for at least 5 minutes or in room temperature water overnight until they are soft.
If you're using frozen spinach, let it thaw and then drain it very well to remove as much moisture as possible.
Preheat your oven to 400 degrees, and then add your drained cashews, plant milk, lemon juice and seasonings to a blender and blend until smooth!
Pour the mixture into a large bowl and set aside.
Mixing and Baking The Dip
Roughly chop your artichoke and spinach and then toss into the bowl with the cashew mixture and mix well.
Take a 9 inch baking dish and spray it with non-stick spray or a bit of oil and pour mixture in.
Bake for 20 minutes – if it's not as browned as you'd like, you can broil it for a bit, just be sure to watch it constantly so it doesn't burn!
This smells AMAZING while it's baking and when it comes out of the oven, the garlic/dill/lemon flavors are so strong and make the house smell amazing.
I topped mine off with just a bit more salt, pepper and dill – you can use dried if that's all you have, but fresh dill is also delicious and perfect with this recipe.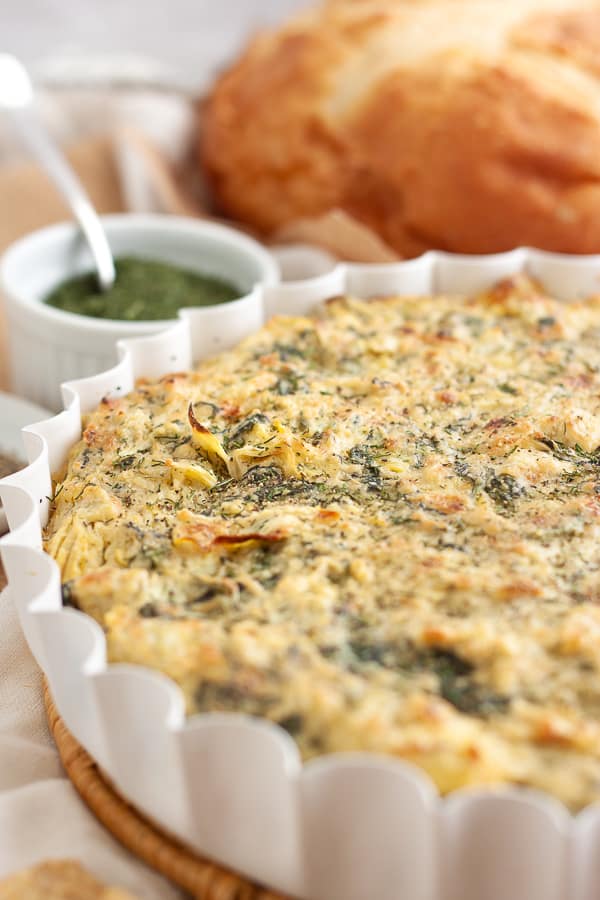 Creamy Cashew Spinach Artichoke Dip
I love using cashews as a neutral base for sauces and other dips – it's such a yummy way to get that creamy texture, and you can add all sorts of ingredients to it to make it anything you need, just be sure they are soaked first.
There's a ton of dip recipes using things like vegan cream cheese or sour cream, but I love using the most natural ingredients possible whenever I cook, so cashews are a great alternative.
Don't worry, you don't even taste them in this dip, they just create the texture and hold all the amazing flavors together!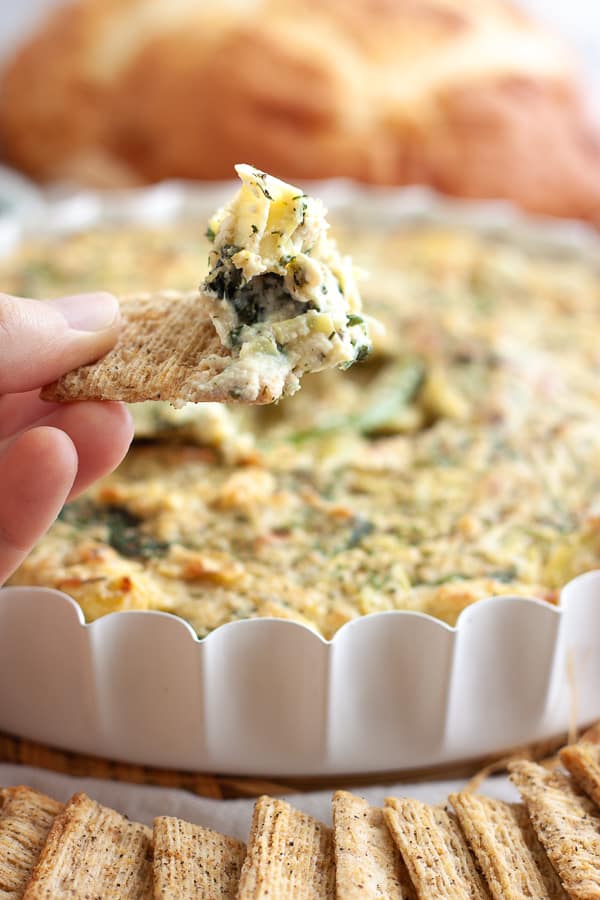 This recipe is:
Creamy

Flavorful

Delicious

Easy

Quick

Dairy Free

Baked

Healthy
Check out these other vegan appetizer recipes!
Pin this for later!
Vegan Spinach and Artichoke Dip
This easy creamy baked vegan spinach and artichoke dip is super quick to make and has so much flavor - it's the perfect healthy appetizer or snack recipe.
Ingredients
10 oz. Frozen Spinach, thawed and drained** (or fresh)
1 1/2 Cup Plant Milk (unsweetened and unflavored)
Juice of 1 Lemon
3/4 Tsp Salt (or to taste)
1/8 Tsp Pepper (or to taste)
Instructions
Preheat oven to 400 degrees.
Once cashews are soaked, drain and add to a blender along with the dill, nutritional yeast, plant milk, lemon juice, garlic powder, salt and peper. Blend until creamy and smooth and pour into a large bowl.
Roughly chop spinach and artichoke hearts and add to bowl, mix well.
Spray a 9 inch baking dish with non-stick spray or a bit of oil and pour dip inside evenly.
Bake for 20 minutes. If it's not golden you can broil it briefly until golden brown, just be sure to watch it constantly to make sure it doesn't burn.
Serve with bread, chips or veggies!
Notes
*Soak your cashews in hot water for at least 5 minutes, or overnight in room temperature water to soften them for blending.
**Let the spinach sit on the counter for at least an hour or until softened, and remove as such moisture as possible. You can also microwave it in 15-30 second increments until soft to speed up this process.
Nutrition Information:
Yield:

12
Serving Size:

1
Amount Per Serving:
Calories:

156
Total Fat:

8g
Saturated Fat:

2g
Trans Fat:

0g
Unsaturated Fat:

6g
Cholesterol:

2mg
Sodium:

227mg
Carbohydrates:

17g
Fiber:

6g
Sugar:

2g
Protein:

8g