We may earn money or products from the companies mentioned in this post.
(Last Updated On: May 10, 2023)
Homemade Italian Dressing Recipe
This vegan homemade Italian dressing recipe is incredibly simple to put together, and has so much flavor!
It's tangy, fresh, herbed and savory with just the slightest hint of sweet.
Perfect for all of your salad dressing needs and so ideal for picnics and other outings!
I love making my own dressings at home, you get to completely control the ingredients and it always tastes so fresh and authentic.
I am always one to suggest making anything from scratch yourself if possible, and this dressing is no exception.
Trust me, you can taste the difference!
While most Italian dressing recipes are already vegan, some do contain dairy such as mayo or cheese.
This recipe is solely olive oil based and flavored with herbs, spices, red wine vinegar and fresh lemon juice.
It's perfect for topping all of your salad or pasta recipes, and a great way to save a bit of money by making your own!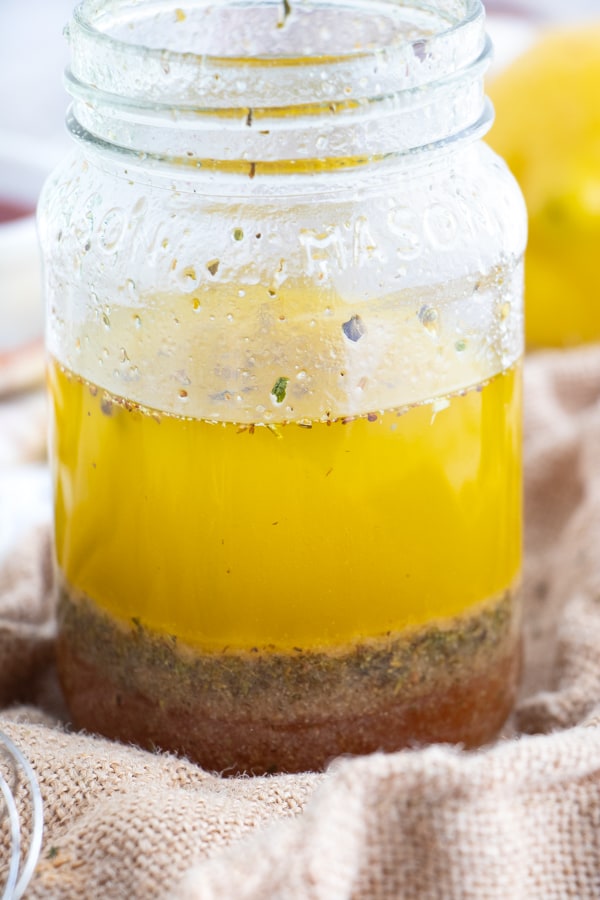 Best Healthier Vegan Salad Dressing
I even think this dressing looks gorgeous when it separates, which is totally natural and to be expected.
It just needs a quick shake before you add it to your food and it combines perfectly to pour.
Many store-bought Italian dressings contain numerous additives and other ingredients that I think take away from the authentic taste.
There's nothing like mixing and pouring your own fresh homemade dressing over a salad, it makes salad exciting again!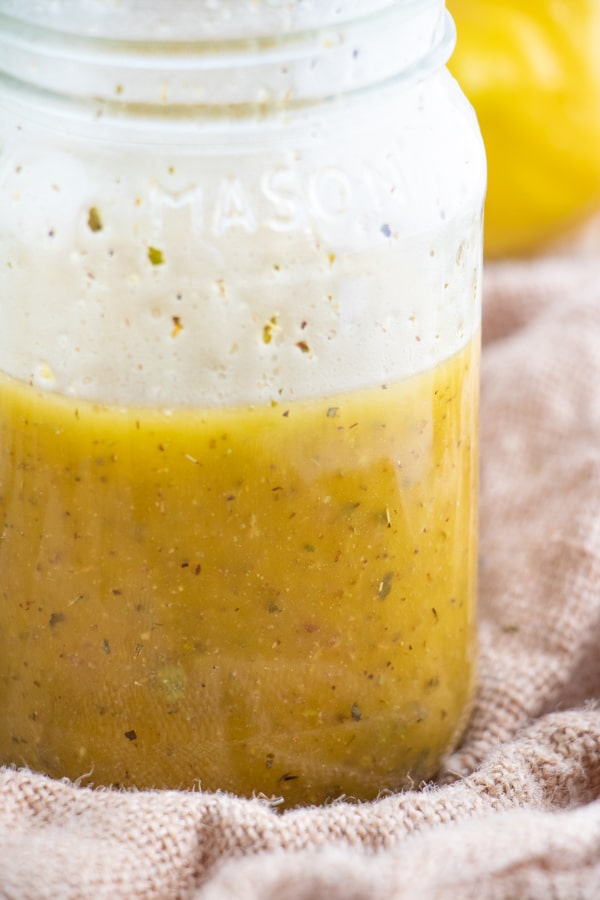 How to Make Authentic Italian Dressing from Scratch
To make this simple homemade Italian dressing recipe, you'll want to start by finding a container that can be tightly sealed.
This enables you to quickly give it a shake before serving.
You can always whisk is together in a container if you don't have one that seals, or use something to wrap over the top.
However whisking didn't seem to incorporate it as well as shaking it did, but it's an option still!
Once you have your container, all you need to do is pour each ingredient in, and that's really it!
There's no prepping or other steps required, this dressing is a simple mix and pour recipe.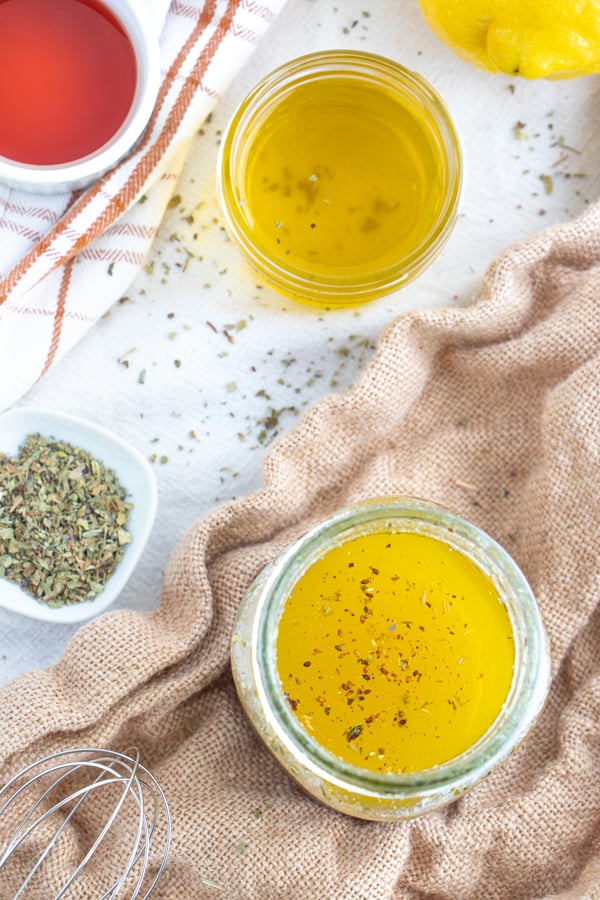 Affordable Homemade Salad and Pasta Dressing
The thing I love most about this recipe, besides how quick and easy it is to make, is that the natural flavors are the star.
There's nothing overly processed, it's just the olive oil, red wine vinegar, herbs and spices that together make such a flavorful and irresistible sauce.
The added lemon juice also adds a freshness to the dressing and brings out all the wonderful flavors even more.
I remake this recipe over and over and love having it on hand, I think you'll love it just as much too!
This recipe is:
Savory

Flavorful

Authentic

Healthier

Dairy Free

Vegan

Delicious

Herbed

Tangy
Check out these other vegan recipes:
Tangy Maple Glazed Roasted Carrots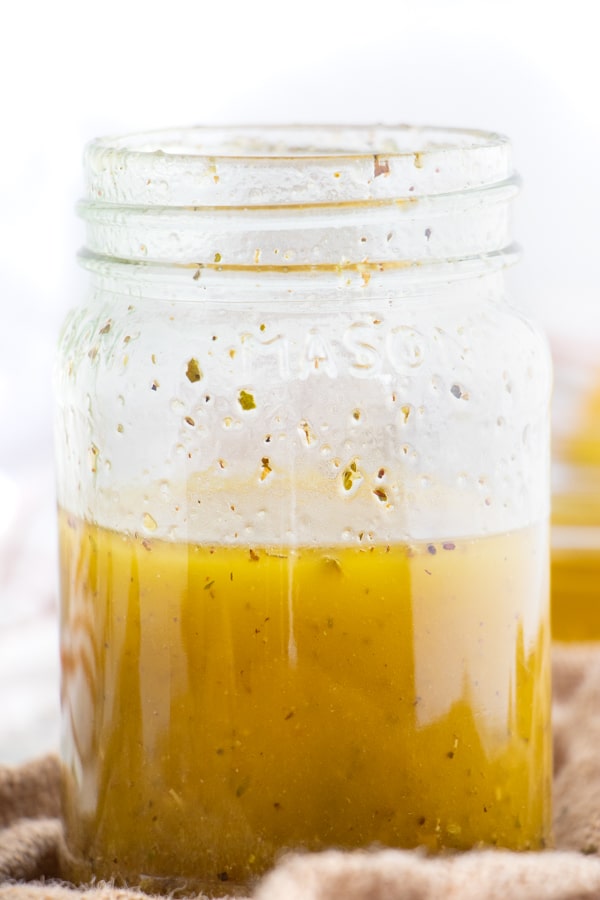 Pin this for later!
Homemade Italian Dressing Recipe
The best and easiest homemade vegan Italian dressing recipe, perfect for topping salad and pasta in a healthy and flavorful way!
Ingredients
2 Tbsp Lemon Juice
1/2 Tsp Garlic Powder
1/2 Tsp Onion Powder
1/2 Tsp Salt
1/4 Tsp Pepper
1 Tsp Oregano
1 Tsp Basil
1 Tbsp Sugar or Maple Syrup
Instructions
Add all ingredients to a jar or other container you can seal.
Shake well before each use.
Can be stored covered in the fridge for up to 5 days.
Nutrition Information:
Yield:

8
Serving Size:

1
Amount Per Serving:
Calories:

196
Total Fat:

20g
Saturated Fat:

3g
Trans Fat:

0g
Unsaturated Fat:

17g
Cholesterol:

0mg
Sodium:

148mg
Carbohydrates:

4g
Fiber:

0g
Sugar:

3g
Protein:

0g