We may earn money or products from the companies mentioned in this post.
(Last Updated On: August 23, 2023)
Easy Vegan Coffee Cake Donuts
These simple coffee cake donuts are perfection – they're sweet, moist, crumb-topped and drizzled with a sweet glaze!

The crumbly topping and simple glaze make these donuts stand out from the rest, and they are sure to impress anyone you bake them for!

These donuts are everything you love in a coffee cake and more, while also being egg free and dairy free.
Simple Baked Cinnamon Donut Recipe
Coffee cake is so tasty and unique for a few reasons.

It's known for its sweet cinnamon flavor throughout, the iconic crumb topping made with sweet brown sugar, and then the light glaze to finish them off.

Perfect with a cup of coffee or tea anytime of day!

You'll love these baked donuts and how easy they are to make!
Baking Healthy Vegan Doughnuts
This recipe is super simple to make, and fun!

To get started, you'll want to preheat your oven to 350 degrees and mix together your topping: the flour, brown sugar, cinnamon, salt and vegan butter, with your hands until crumbly.

Place this in the fridge so it can firm up while you prepare the donut batter.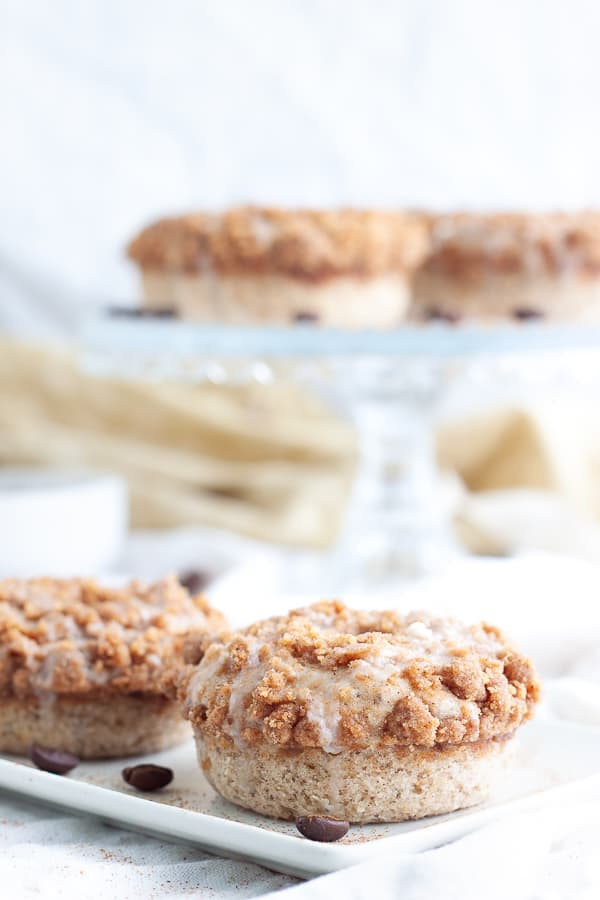 Now mix together your room temperature vegan butter, cane sugar, chia egg, plant milk and vanilla extract until smooth.

Then, sift in the flour, cinnamon, baking powder and salt and mix until just combined. Try not to overmix or else they may loose some of their fluffiness!

Lightly oil your donut pan so they do not stick, and fill them up with batter, leaving just a bit of room on top for when they rise while baking. I found using a piping bag to be the easiest and mess-free way to add the batter! 

Take your crumb topping and generously pack onto the top of the donuts, lightly pressing down and sprinkling off the excess around the pan.

Bake for 14-17 minutes, or until a toothpick inserted into the middle comes out clean. Allow to cool.
Carefully remove the donuts from the pan. You will want to loosen all the edges and then carefully take them out and place them on a cooling rack.

Place the rack over a pan and then you're ready to make your glaze!
Easy Dairy Free Donut Glaze
Once your donuts are completely cooled, mix together 1/2 cup vegan powdered sugar (here is a list of vegan brands!) and 1 tablespoon of plant milk. Mix well and if you see any clumps, just microwave it for a few seconds and keep stirring.

Drizzle over donuts equally and they're ready to eat! They will also harden up and make a nice coating when they cool.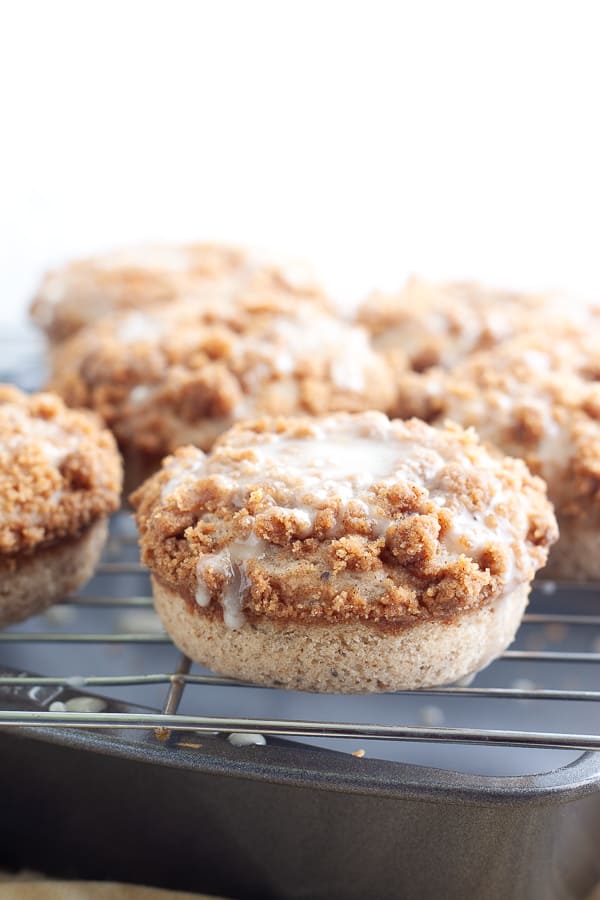 These cinnamon-sweet coffee cake donuts are great all year round.

The cinnamon spice makes it great for holidays, but it's also light enough to enjoy in the summer with some iced coffee or iced tea.

Bake these donuts for friends and family and you'll be sure to impress with these pretty little desserts!
This recipe is:
Sweet

Cinnamon Flavored

Crumb Topped

Chewy

Moist

Irresistible

Simple
For more vegan dessert recipes, try my:
Vegan Strawberry Powdered Donuts
Pin this for later!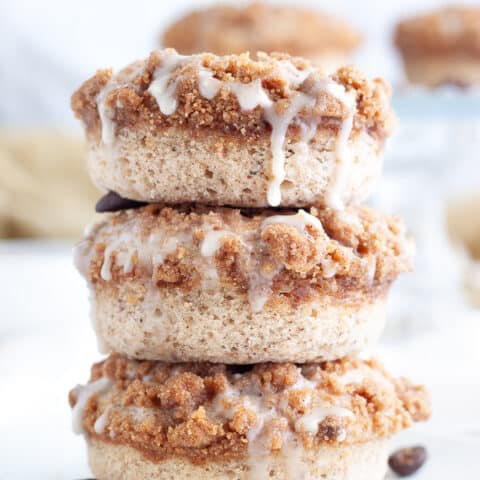 Coffee Cake Donuts
These vegan coffee cake donuts are super moist with a simple crumb topping and dairy free glaze, as well as lots of sweet cinnamon flavor!
Ingredients
Donuts:
1/4 Cup Vegan Butter
1/4 Tsp Salt
Crumb Topping:
2 Tbsp Melted Vegan Butter
Dash Salt
Glaze:
Instructions
Preheat oven to 350 degrees.
In a bowl, combine all crumb topping ingredients and mix well with your hand. Place in fridge to chill.
In another bowl, combine, vegan butter, cane sugar, vanilla extract, plant milk and chia egg. Mix well.
Sift in flour, baking powder, cinnamon and salt and mix just until combined, being careful not to overmix.
Coat a donut pan** with a neutral oil (I used grapeseed), and place batter into a piping bag. Pipe in leaving a bit of space at the top for when the donuts will rise when baking.
Take the crumb topping and crumble it generously over the top of all the donuts. Lightly press down and wipe off excess crumbs.
Bake for 14-17 minutes or until a toothpick comes out clean when inserted into the donuts.
Allow to fully cool. Mix together glaze ingredients and drizzle over donuts. Enjoy!
Notes
*1 tbsp ground chia seeds mixed with 2 tbsp water and allowed to sit for 5 minutes to gelatinize - use the same as an egg.
**If you don't have a donut pan, you can roll some aluminum foil into a ball and place in the center of a muffin tin and pipe the donut batter around it!