We may earn money or products from the companies mentioned in this post.
(Last Updated On: April 30, 2023)
Healthy and Simple Vegan Brownie Recipe
These are the best vegan brownies you'll ever have – they're super chocolaty, fudgy and chewy!
They're also slightly cakey – I've found that by using a mixture of cocoa powder and melted chocolate in the batter helps to find this perfect balance!
A few chocolate chips sprinkled on top before baking gives even more chocolate flavor, without making the brownies themselves too soft.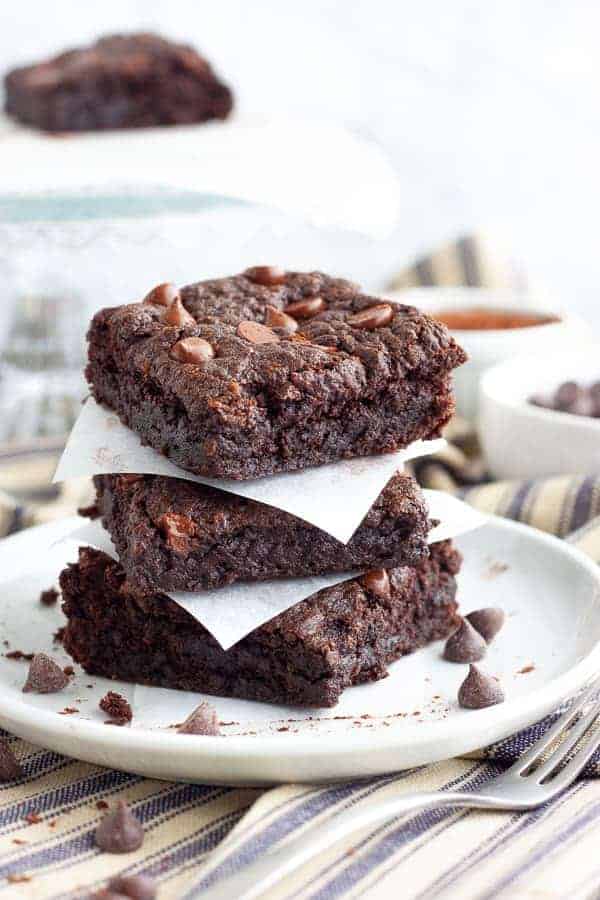 Dairy Free and Egg Free Chocolate Brownies
Brownies made from beans or sweet potatoes are good (like my flourless sweet potato brownies), but sometimes you just need a good old fashioned chocolate brownie, and you can still make your favorite fudgy brownie vegan-style!
Vegan buttery sticks and ground flax make for the perfect dairy free and egg free brownie, that still has plenty of texture and holds together well.
Vegan baking has never been easier than now with all sorts of great vegan baking alternatives, if you're new to vegan baking check out this website for more tips.
How to Bake Vegan Brownies
Making this simple vegan brownie batter is a three-step process, but first preheat your oven to 350 degrees.
Then add your sugar and room temperature butter into a bowl and mix well. Stir in the melted chocolate and vanilla and mix well.
Sift in the flour, cocoa powder, ground flax salt and baking soda and mix. Then pour in the boiling water and mix (this brings out even more of the rich cocoa flavor).
Pour batter into an 8×8 baking dish and level out evenly, sprinkle on some more vegan chocolate chips and bake for 35-38 minutes.
Once a tooth pick is clean when inserted into the middle of the brownies, they're done!
Allow to cool and then cut into nine pieces.
Brownies are such a great staple recipe to have on hand – they're perfect for really any occasion from birthdays, holidays, graduation parties to just an after-dinner dessert!
These are a great allergen-friendly dessert, or just a way to enjoy a healthier version of such a classic recipe.
You could also melt the chocolate chips to make a frosting instead of sprinkling them on top whole, or you could top them with vegan powdered sugar or some walnuts!
While there's endless possibilities to customize these brownies, I love to keep this recipe simple and enjoy them as is!
Try my Vegan Matcha Brownies next for the same chewy texture but with green tea flavor!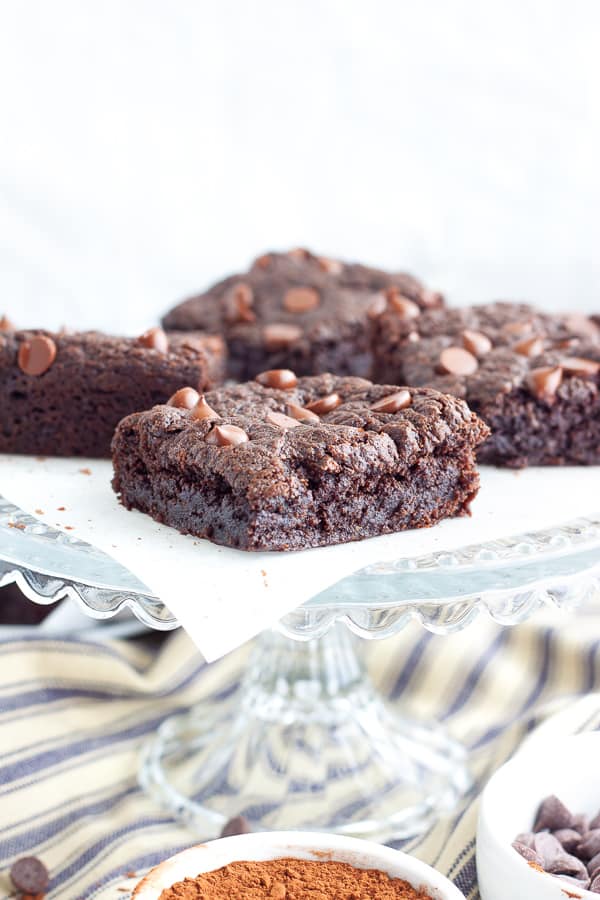 This recipe is:
Chocolaty

Sweet

Easy

Quick

Indulgent

Simple

Vegan
If you're looking for more vegan desserts, try my:
10 Best Vegan Chocolate Desserts!
Flourless Sweet Potato Brownies
Pin this for later!
Best Vegan Brownies
These are the best fudgy vegan brownies with lots of chocolate and sweet flavor! Made with simple ingredients and super quick to make!
Ingredients
Instructions
Preheat oven to 350 degrees.
Combine sugar and vegan butter (room temperature) in a bowl and mix well. Add vanilla, and melted vegan chocolate and mix well.
Sift in flour, cocoa powder, ground flax, salt and baking soda and mix well. Then pour in boiling water and mix again.
Pour mixture into an 8x8 pan covered with parchment paper. Add chocolate chips to top.
Bake for 35-38 minutes or until a toothpick inserted into the center of the brownies comes out clean. Enjoy!
Nutrition Information:
Amount Per Serving:
Calories:

243