We may earn money or products from the companies mentioned in this post.
(Last Updated On: March 31, 2021)
This shop has been compensated by Inmar Intelligence and its advertiser. All opinions are mine alone. #MyMazolaMoment
Easy Vegan Miso Soup Recipe
This easy vegan miso soup is packed with delicious flavors and vegetables. February is Heart Health Month and I teamed up with Mazola® Corn Oil to create this recipe; A clinical study showed Mazola® Corn Oil​ reduces cholesterol 2x more than extra virgin olive oil. To learn more about this claim, visit MAZOLA.com.
This delicious soup is not only incredibly easy to make, it's packed with vegetables, ginger, tofu and more for a light, fresh and delicious meal!
Miso soup has such a unique, savory, tangy taste that goes so well in a warm vegetable soup.
Using vegetable broth along with plenty of simple plants make for the best ever homemade soup!
This not an authentic recipe, but simply my take on the delicious soup!
Vegetable soups are the perfect comfort food, and when they are packed with ginger, greens and vegetables they also offer so many nutrients.
This soup also has plenty of protein from the tofu and edamame.
Then it's finished off with tons of fresh flavor from the green onion and cilantro, and some more texture from bean sprouts.
Vegetable Miso Soup with Tofu
This simple miso soup is tangy, fresh and satisfying with a delicious rich flavor.
It's unlike any other vegetable soups and is irresistible and comforting.
For this soup I used low-sodium vegetable broth to reduce the amount of sodium, and you can even replace a few cups with water to lower that even more.
Most of the flavor comes from the miso paste and the plants, so for me no extra salt is needed.
Sometimes I even add in some cooked rice noodles when serving, but this isn't necessary.
The vegetables and tofu make this soup perfectly filling and delicious as is.
How to Make Vegan Miso Soup
Cooking the Vegetables
To make this delicious vegan miso soup, start by getting all the ingredients ready to go.
Chop, mince, slice, mince or grate according to the instructions.
Once that is done, add your Mazola® Corn Oil to a large pan over medium heat along with the sliced onion, and cook for two minutes.
Add the ginger and garlic and cook another minute, then add the carrot and celery for another three minutes.
Adding the Miso Paste
Add the vegetable broth and let this come to a simmer.
Then, carefully take 1/2 cup of the broth out and place it in a bowl.
Add the miso paste and whisk until it's fully incorporated, and then pour this mixture back into the pot to cook for five minutes!
Add the edamame, tofu, kale and salt or pepper if desired, and cook for a final three minutes, or until the kale has softened.
Serving Miso Soup
Serve this delicious soup in bowls topped with green onions, freshly chopped cilantro and bamboo shoots.
The toppings really bring this soup to the next level and add so much freshness and flavor!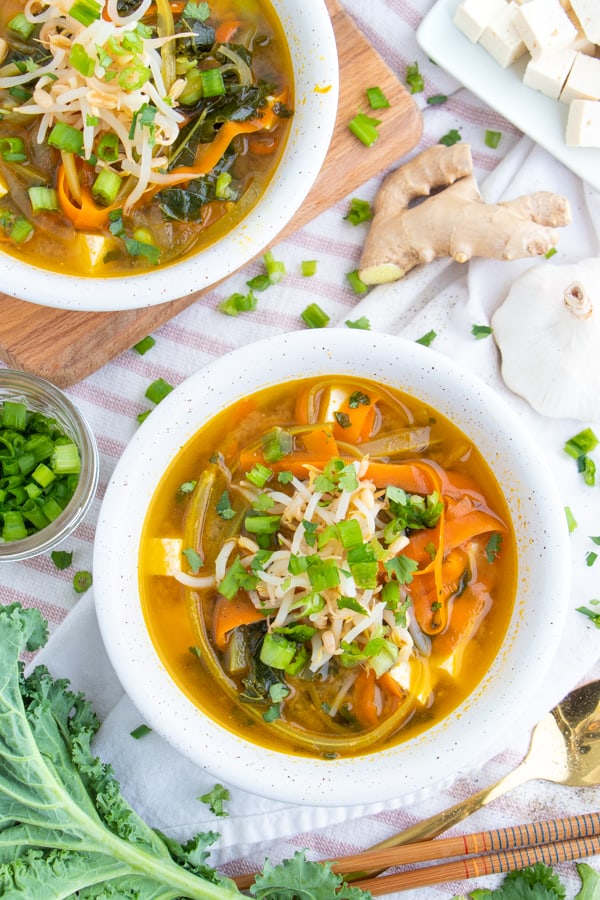 Vegetarian Miso Soup with Veggies
This warming veggie soup is made with Mazola® Corn Oil​ which is a all-purpose cooking oil and a heart healthy* option.
It's perfect for cooking soup vegetables and is a cholesterol-free oil with a high smoke point oil to make all sorts of simple and lighter meals.
So easy to make and so tasty, this soup is a perfect cozy recipe to enjoy without much effort!
This recipe is:
Easy

Simple

Delicious

Tangy

Fresh

Flavorful

Vegan

Vegetarian
Check out this other delicious vegan soup recipe!
Pin this for later!
Vegan Miso Soup
This delicious homemade vegan miso soup recipe is so flavorful and comforting. Made with vegetable broth, veggies and tofu!
Ingredients
2 Tbsp Mazola® Corn Oil
5 Cups Vegetable Broth, low sodium
1 Carrot, shredded
2 Celery Stalks, thinly sliced
1 Inch Ginger, grated
2 Cloves Garlic, minced
1/2 Onion, thinly sliced
1/2 Cup Edamame
1 Cup Kale Leaves, thinly sliced
1/2 Block Tofu, cubed
1/2 Cup Bean Sprouts
6 Tbsp White Miso Paste
Green Onion to top
Fresh Cilantro to top
Salt/Pepper to taste
Instructions
Prepare all ingredients so they are ready to go (chop, mince, slice as directed above).
Add Mazola® Corn Oil and sliced onion to a large pot over medium heat. Cook for two minutes.
Add garlic and ginger and cook another minute. Add carrots and celery and cook for 3 minutes.
Add the vegetable broth and bring to a light simmer. Carefully take 1/2 cup of the broth and add it to a bowl. Add the miso paste to the bowl and whisk until incorporated, then add back to the pot with the veggies and simmer for 5 minutes.
Add the edamame, tofu, kale and salt/pepper to taste, cook 3 minutes or until the kale is soft.
Serve in bowls and top with green onion, cilantro and bamboo shoots, enjoy!
Nutrition Information:
Yield:

4
Serving Size:

1
Amount Per Serving:
Calories:

229
Total Fat:

13g
Saturated Fat:

2g
Trans Fat:

0g
Unsaturated Fat:

10g
Cholesterol:

0mg
Sodium:

866mg
Carbohydrates:

18g
Fiber:

5g
Sugar:

6g
Protein:

13g
Corn oil is cholesterol-free food that contain 14g of total fat per serving. See nutrition information on product label or at Mazola.com for fat and saturated fat content.
*Very limited and preliminary scientific evidence suggests that eating about 1 tablespoon (16 grams) of Mazola® Corn Oil daily may reduce the risk of heart disease due to the unsaturated fat content in Mazola® Corn Oil. FDA concludes that there is little scientific evidence supporting this claim. To achieve this possible benefit, Mazola® Corn Oil is to replace a similar amount of saturated fat and not increase the total number of calories you eat in a day. One serving of this product contains 14 grams of Mazola® Corn Oil.