We may earn money or products from the companies mentioned in this post.
(Last Updated On: December 12, 2019)
Whole Foods Plant Based Meal
I am so excited to share this ridiculously healthy and delicious recipe!
Vegan stuffed sweet potatoes are my go to (and I have been eating them almost every week for awhile now) for a busy weeknight or quick lunch!
There's so many ways to customize this meal, and I have loved trying all sorts of different
sweet potatoes.
Quick, Easy and Budget Friendly Meal
Potatoes have been a staple in my vegan diet since day one – they're cheap, filling and super versatile and I just love them so much!
I just recently discovered purple sweet potatoes and they have changed everything.
They are sweeter and denser than normal ones, and almost remind me of a sweet bread.
That being said, I also love going back to the basics with regular sweet potatoes. They are so delicious and offer more nutrients than white potatoes.
Just look how pretty they are!
Healthy, Balanced Vegan Dinner
I have also been focusing on having complete meals a lot lately.
So I love that this combination has carbs, protein from the black beans, fiber from the avocado, and healthy fats from the tahini and also the avocado.
The toasted sesame seeds and arugula make this meal over the top amazing!


Making Vegan Stuffed Sweet Potatoes
Baking your sweet potatoes is the best way to prepare them for this recipe! I baked mine at 400 degrees for 75 minutes, but start checking them after 40-60 depending on how big yours are.
You'll know they're perfect when you can easily poke them with a fork without having to push hard.
For the filling, add your broccoli (I used frozen),black beans and spices/herbs to a pot, and cook/steam them, covered, in a splash of water for about 10-15 minutes, or until broccoli is tender.
After the potatoes are done, cut a slit down the middle and squish down the sides a bit. Scoop on desired amount of filling, and top with anything you'd like!
I used avocado, toasted sesame seeds, tahini and fresh arugula and it was heavenly!
If you're in a pinch for time, you can also just microwave your sweet potatoes. To do this, wash and poke holes in the potatoes, wrap them in a paper towel and microwave them for 5 minutes.
Flip them and continue cooking for another 5-10 minutes, checking how soft they are every minute or two until you can easily poke them with a fork. That's it!
If you're looking for more simple vegan dinner ideas, try my:
This recipe is:
Quick

Easy

Tasty

Cheap

Flavorful

Healthy

Natural

Unprocessed

And loaded with protein, healthy fats and fiber!
Pin this for later!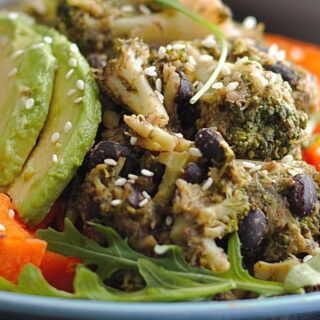 Vegan Stuffed Sweet Potatoes
Cook Time:
1 hour
15 minutes
Total Time:
1 hour
30 minutes
Easy and quick vegan stuffed sweet potato recipe made with broccoli, black beans, avocado, tahini, arugula and sesame seeds!
Ingredients
4 Sweet Potatoes
32 oz Frozen Broccoli
1 Can Black Beans
1 Tsp Garlic Powder
1 Tsp Smoked Paprika
1 Tsp Dried Thyme
Avocado to Top
Handful of Arugula
Tahini to Top
Salt/pepper to Taste
Instructions
Preheat oven to 400 degrees. Wash your sweet potatoes and cut some holes in them so they cook evenly.
Wrap in aluminum foil and bake for 60-75 minutes, or until tender when poked with a fork.
Add broccoli, garlic powder, smoked paprika, thyme, salt, pepper and black beans to a pot, cook with a splash of water under broccoli is tender, about 10 minutes.
When potatoes are done, remove from oven and allow to cool for at least 5 minutes so you can handle them safetly.
Cut a slit down the middle, add arugula, avocado, and broccoli/ black bean mixture to the center. Top with a drizzle of tahini and enjoy!