We may earn money or products from the companies mentioned in this post.
(Last Updated On: September 10, 2020)
Easy Dairy Free Peppermint Patty Recipe
These melt-in-your-mouth vegan peppermint patties are so creamy and delicious!
I can't think of a better flavor combination than mint chocolate, not to mention these only need 4 ingredients and taste just like the real thing without all the additives!
These are my own vegan twist on traditional York Peppermint Patties, made super creamy with coconut condensed milk (yes it exists and it's as amazing as it sounds).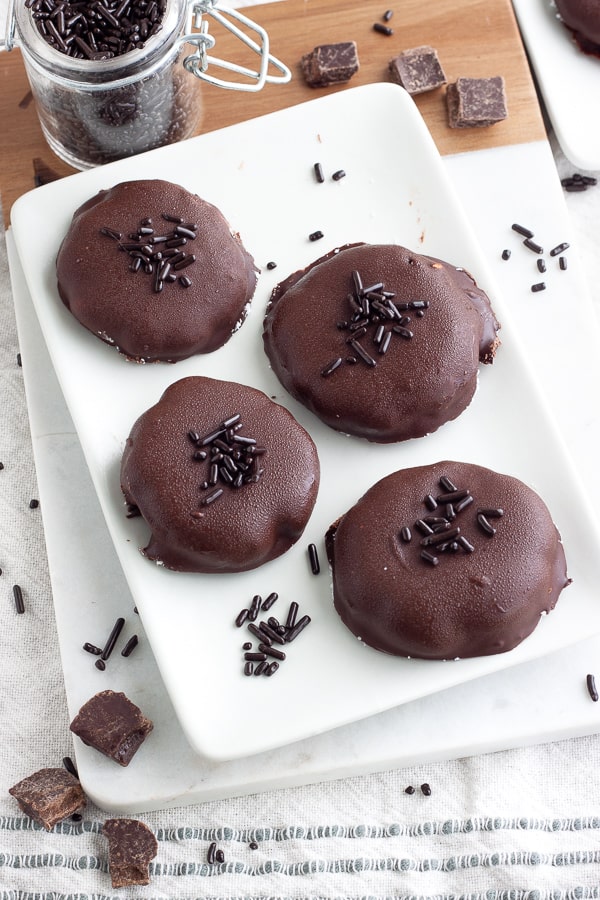 Homemade Vegan Chocolate Candy
These cute vegan candies are topped with some simple chocolate sprinkles and make the most amazing gift or dessert!
You won't believe how creamy and flavorful these simple chocolates are, and completely dairy free. The coconut is also very subtle but adds an even deeper depth of flavor to these treats.
All you need is vegan chocolate, coconut condensed milk, peppermint flavor or extract and vegan powdered sugar.
It's a simple process of chilling the coconut cream, forming it into patties and freezing them, dipping in chocolate and chilling again.
How To Make Peppermint Patties
Making The Coconut Cream Filling
To making your creamy filling, add your condensed coconut milk and peppermint extract or flavor to a bowl (start with very little peppermint and build slowly, some brands are much stronger than others and you definitely don't want to have an overwhelming mint flavor!).
Using an electric mixer, begin mixing while slowly incorporating the powdered sugar in roughly 1/2 cup increments. This is to make sure you don't have a cloud of powdered sugar all over your kitchen!
Once combined and creamy, place in the freezer to set for at least an hour or until it's hardened.
Cover your hands with powdered sugar, roll filling into balls and squish down on a baking tray covered with parchment paper.
You will need to coat your hands with powdered sugar in between each candy to avoid sticking. If yours is too sticky, you can mix in another cup of powdered sugar and chill it again, but I preferred mine with less and dealt with the slightly-stickier dough!
Let this freeze for at least an hour or two or until hard.
Preparing The Chocolate Coating
The easiest way to heat your chocolate is by using the double boiler method.
To do this, simply add about an inch of water to a small pot, and place a heat-resistant bowl on top filled with your chocolate.
Place over medium heat so the steam from the water can heat your chocolate. Be sure to stir it until it's runny and smooth!
You can add a couple teaspoons of oil to the chocolate if you'd like – this helps the chocolate be smoother and not crack unevenly when you take a bite of the candy.
Dipping The Peppermint Patties
Now the fun part – though you need to be a little quick with this process!
Remove the chocolate from the heat and give it a stir.
Using two forks, plop a candy in the chocolate, turn once or twice to coat completely, pick it up with a fork and tap on the edge of the bowl to remove excess chocolate.
Place back on the baking tray and sprinkle with vegan chocolate sprinkles, or try making your own with this cute Vegan Chocolate Sprinkles recipe!
Repeat with remainder of candies, and once complete, place in the freezer to set for at least 30 minutes.
You're done!
You may want to break off some of the chocolate pieces dangling from the candies, but I sort of like the organic look sometimes.
The candies are best enjoyed straight out of the freezer as they become soft and may "sweat" a bit at room temperature. I also really like the texture eating them this way!
You can also try your hand at making your own coconut condensed milk with this recipe!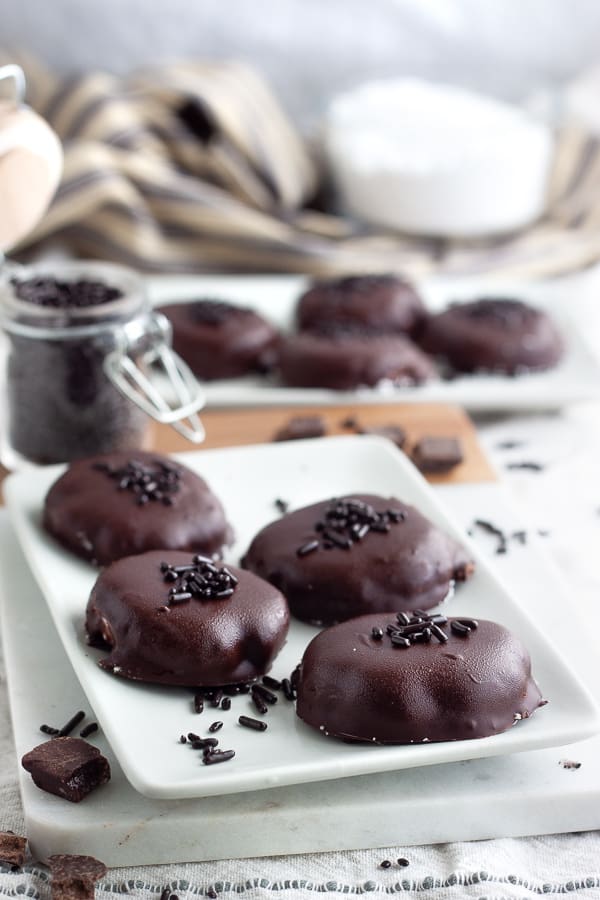 Creamy

Minty

Chocolaty

Sweet

Refreshing

Indulgent

Easy

Dairy Free
Check out these other chocolaty vegan sweets:
10 Best Vegan Chocolate Desserts!
Pin this for later!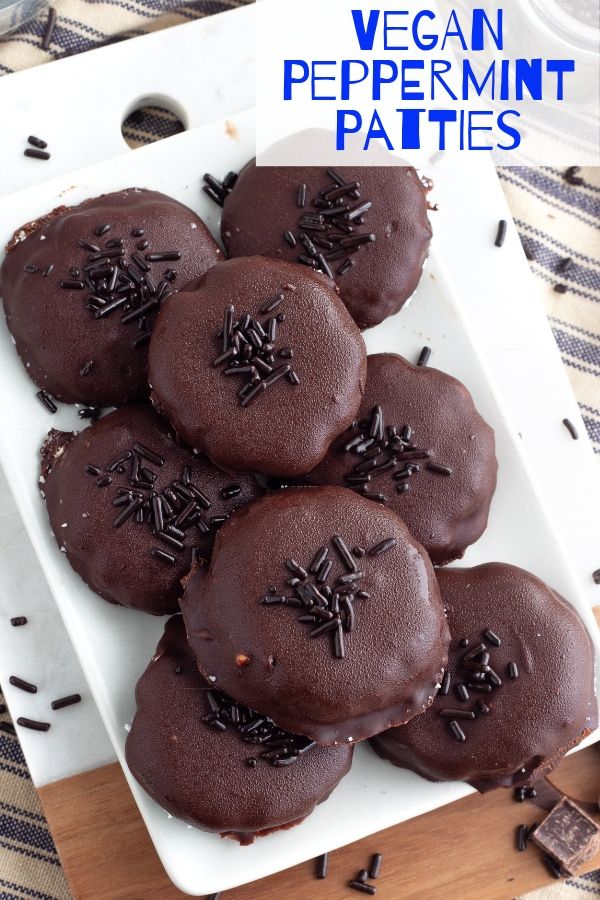 Vegan Peppermint Patties
Yield:
Roughly 2 Dozen Candies
Chill Time:
2 hours
30 minutes
Total Time:
2 hours
45 minutes
These vegan peppermint patties have a creamy, sweet and minty filling surrounded by smooth dark chocolate - the perfect homemade dairy free candy to share!
Ingredients
12 oz. Vegan Dark Chocolate
15 oz. Sweetened Condensed Coconut Milk
1/2 Tsp Peppermint Flavor (Or About 1 Tsp Peppermint Extract)*
2 Cups Vegan Powdered Sugar*
Instructions
Add your condensed coconut milk and peppermint flavor to a bowl. Using an electric mixer, gradually add the powdered sugar to the bowl while mixing (or else it may go everywhere!)
Once combined, place in the freezer to harden, about an hour. Remove and lay out a baking tray covered with parchment paper. Coat your hands with powdered sugar and take bits of the coconut milk mixture, roll into balls and squish down onto the tray.
Repeat with the rest of the mixture, coating hands with powdered sugar in between each one, and letting mixture chill again if it becomes too warm.
Place in the freezer again to freeze, at least an hour or two.
Heat your chocolate (I used the double boiler method) until runny, and using two forks, drop the coconut patty into the chocolate, flip to completely coat, shake off excess chocolate by tapping on the edge of the bowl, and place back on baking sheet.
Repeat for remainder of candies, adding chocolate sprinkles before the chocolate sets if desired. Chill for at least 30 minutes and then enjoy! These do become soft at room temperature, so keep them in the freezer until ready to eat.
Notes
*Start with 1 tsp of peppermint extract or 1/2 tsp of peppermint flavor and add more as needed, the strength depends on the brand so be careful not to add too much!
*The dough is easier to work with using 3 cups of vegan sugar, but I found them perfectly sweet with just 2. You will need to freeze the filling before rolling and shaping and coat your hands with powdered sugar in between, but it was worth it to me!
Recommended Products
As an Amazon Associate and member of other affiliate programs, I earn from qualifying purchases.
Nutrition Information:
Amount Per Serving:
Calories:

186