We may earn money or products from the companies mentioned in this post.
(Last Updated On: December 15, 2019)
This post has been sponsored by iHerb, all opinions are mine alone.
Best Vegan Peppermint Bark
One of the best crowd-pleasing treats for any dessert table is easily vegan peppermint bark!
The issue dairy-free folks usually run into though is that traditional white chocolate is heavily dairy-based, and vegan options are hard to come by in stores, there's also just not a ton of recipes out there to make it yourself.
Being that peppermint bark is one of my most treasured desserts of all time, I was determined to create them dairy free and just as creamy and minty. Peppermint and chocolate are a match made in heaven, and there's no better way to enjoy them than in this bark recipe!
Homemade White Chocolate Bark Recipe
Making vegan white chocolate is much easier than it sounds – and I even added some vanilla and peppermint to make this bark even more flavorful.
A bit of cacao butter makes it so easy to replicate the color and fatty texture of white chocolate, and some coconut oil makes it nice and smooth. Add in flavors and some sugar and you've got a delicious vegan white chocolate recipe for all your dessert needs!
You can also buy vegan milk chocolate chips for the bottom layer, as a few brands do sell it, but I think the contrast between the sweet white chocolate and the more bitter dark is the best way to go!
I also made my bark a bit thicker than some recipes because I like the thicker pieces, but you can easily make it thinner by using a larger pan!
I love using smashed peppermint candies for the tops to add more flavor and texture, the crushed bits pack this recipe with so much minty, chocolaty flavor!
How to Make Easy Vegan Peppermint Bark
Preparing the Dark Chocolate Layer
When you're ready to make these mint chocolate treats, start by boiling an inch or two of water in a small pot.
Add your dark chocolate chips and mix until they are melted and smooth. Pour into an 8×8 pan lined with parchment paper and spread out evenly!
Place in the freezer to set for about 15-20 minutes while you make the white chocolate.
Also, be sure to blend your cane sugar in a blender or a coffee grinder until it's very fine. If you have vegan powdered sugar you can use that too! However, not all powdered sugar is vegan, so use this guide to help you decide! The Wholesome brand of organic sugar is vegan though.
To have everything ready, also crush peppermint candies by gently smashing them with a rolling pin inside a bag.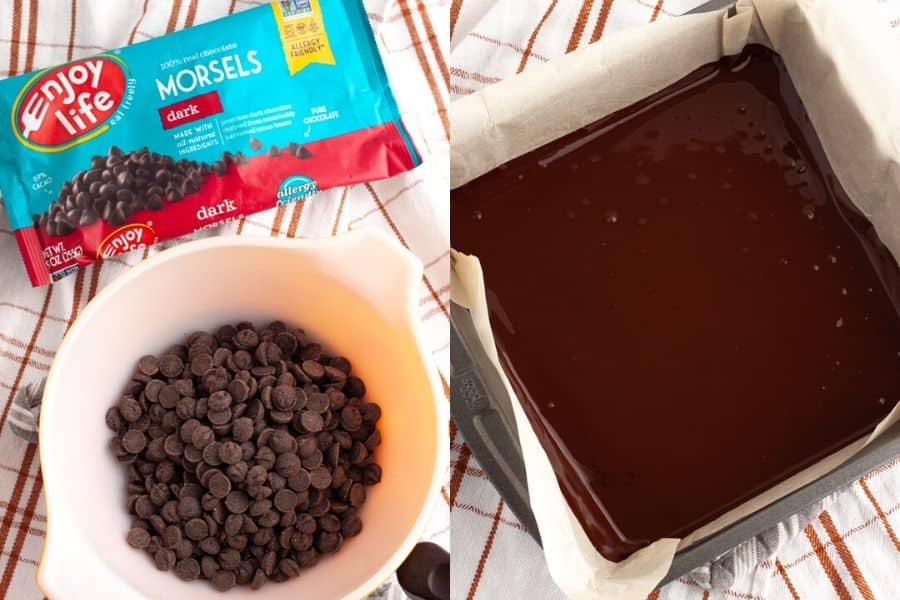 How to Make Vegan White Chocolate
Now, onto the white chocolate!
To begin, clean the same bowl you used for the dark chocolate and place it back on top of the pan of boiling water.
Add your cacao butter bits and melt until smooth, then add in your coconut oil. Stir these constantly until melted smooth to avoid burning.
Then remove from heat and stir in the vanilla, peppermint and powdered sugar. Mix with a hand mixer, or vigorously by hand until very smooth.
Pour over dark chocolate evenly, sprinkle crushed peppermint candies over evenly, and gently tap down. Place back in the freezer to harden for at least an hour, then cut into pieces!
The bark does tend to get soft if left out in room-temperature, so I highly recommend keeping them in a sealed container in the fridge, and grabbing one just when you want to enjoy it!
Dairy Free Vegan Bark Dessert
For this recipe I did all my shopping at iHerb! This is an online store packed full of unique, healthy and delicious vegan options, it's so easy to use and comes right to your doorstep.
iHerb carries over 30,000 natural products and ships to over 150 countries from climate-controlled distribution centers, so you know the quality will always by ensured. They also offer 24/7 customer service in 10 different languages if you ever have an issue ordering. Here is a pic of my full order for this recipe and more!
I also received maca powder, angel hair pasta, quinoa spaghetti, matcha powder, and hemp protein! For someone who plans a ton of new recipes and is constantly creating new things in the kitchen, iHerb is a life-saver, and I love having new products to try out so easily accessible.
New customers get a 10% discount off their first order, click this link to start shopping.
This recipe is:
Sweet

Creamy

Delicious

Vegan

Dairy-Free

Homemade

Minty

Easy to Make!
Try these other vegan recipes perfect for Christmas!
Pin this for later!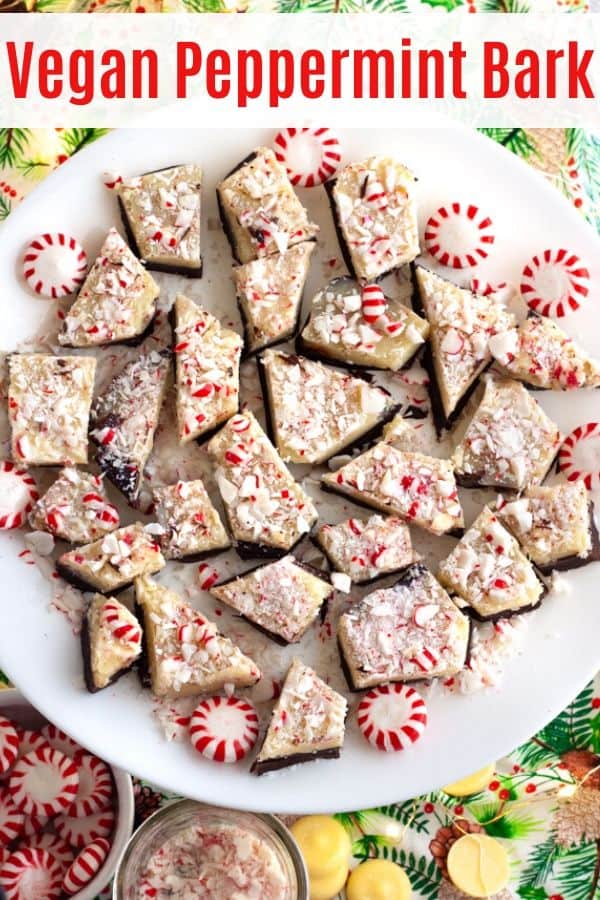 Vegan Peppermint Bark
This delicious vegan peppermint bark has a layer of dark chocolate, homemade vegan white chocolate and tons of peppermint flavor!
Ingredients
9 oz. Vegan Dark Chocolate Chips
1 Cup Cacao Butter
1/3 Cup Coconut Oil
1 Tsp Vanilla Extract
1/2 Cup Sugar (or 1 cup powdered)
1/4-1/2 Tsp Peppermint Extract (to taste)
About 10 Peppermint Candies (4 candy canes)
Instructions
Bring a small pan of an inch or two of water to a boil, place a heat-safe bowl on top and melt dark chocolate using this double boiler method.
Arrange parchment paper inside an 8x8 pan, and pour melted chocolate inside, spreading it out evenly. Place in the freezer to set.
Blend sugar in a blender or coffee grinder until very fine, or measure out vegan powdered sugar*
Clean bowl and place back over the same pan with boiling water. Add cocoa butter and allow it to melt completely, then add in the coconut oil.
Be sure to stir constantly with a whisk while these melt to avoid burning.
Once coconut oil melts as well, remove from heat and stir in vanilla, peppermint and sugar and stir well with an electric mixer if you have one, or vigorously by hand until smooth.
Pour over dark chocolate, add crushed peppermint candies or candy canes and place back in the freezer to set for about an hour, or until solid.
Cut into pieces and enjoy! They may become soft sitting out, so I recommend keeping them in the fridge until you are ready to eat one!
Notes
*Most organic brands are vegan, but I know the Wholesome brand is!
Nutrition Information:
Amount Per Serving:
Calories:

189