We may earn money or products from the companies mentioned in this post.
(Last Updated On: August 20, 2022)
Vegan Portobello Mushroom Wellington
This vegan mushroom wellington is the most delicious and comforting savory meal!
Whole Portobello mushrooms stuffed inside buttery vegan puff pastry, with a bit of rice, onion, garlic, vegan cheese and fresh thyme.
This is a great meal for the holidays, for impressing your guests, or for having a deliciously special dinner, and it's easier to make than you might think.
Healthy Vegetarian Wellington with Spinach
Mushrooms are the perfect substitute for wellington recipes – not only because they're delicious and super flavorful, but because they have similar compounds to meat in terms of taste.
These are umami-related compounds, and give a rich, savory taste to the meal, making it the perfect protein.
Mushrooms are also cheap, easy to use, and very healthy – add in some spinach and you have a nutritious savory vegan meal!
Puff pastry is one of my weaknesses, it's so perfectly crisp and delicious, and I love stuffing it with complimentary ingredients.
I also use puff pastry for my Vegan Spinach Puff recipe, which is basically spinach-artichoke-dip-stuffed-puff-pastry.
All this to say, puff pastry seriously makes this dish, you can also try making your own with this recipe! This vegan mushroom wellington is not too difficult to make, but buying store bought really speeds up the process, but if you have the time homemade is always the way to go!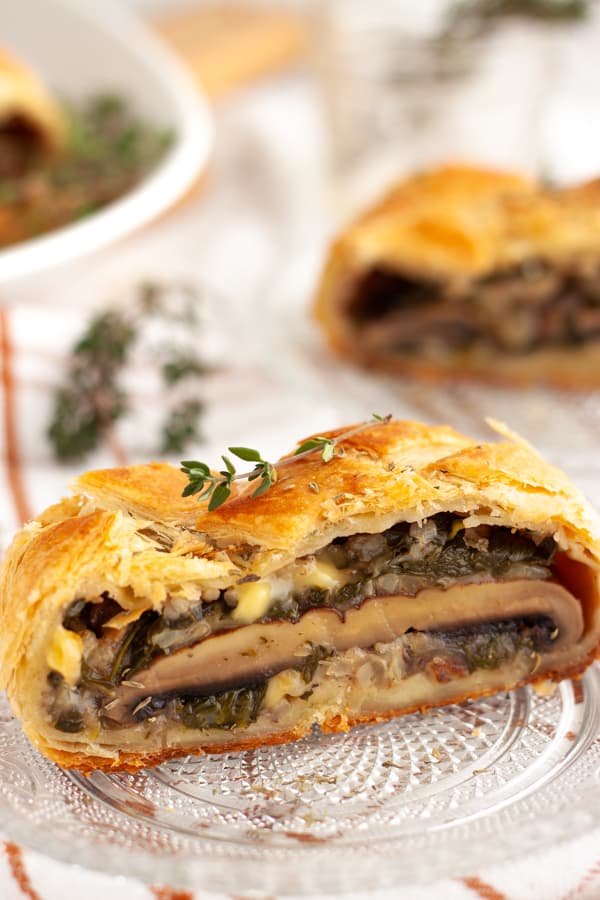 How to Make the Best Ever Mushroom Wellington
Preparing the Wellington Filling
The first thing you want to do before starting this recipe is to take our your puff pastry so it can thaw a bit – about 30-40 minutes!
Then it's time to cook down your onions, toss them into a pan over medium heat with your vegan butter (you can also use oil, but I prefer the taste of vegan butter a lot in this recipe) for about 15 minutes. Then add 1 chopped Portobello mushroom and your minced garlic.
Cook that for 5 minutes and then add in your spinach, the leaves from 2 sprigs (about 1/2 tsp dried) thyme and salt and pepper to taste. Cook until the spinach is wilted and place in a large sieve. Remove as much moisture as possible by squishing down with a dish towel and then transfer to a bowl. If you leave the moisture in the filling your puff pastry will potentially break when you are trying to fold it!
Sprinkle your ground flax and mustard and mix well. Also add 2-4 more sprigs (roughly 1/2 tsp dried) thyme leaves, your diced or shredded vegan cheese, rice, dijon and some salt and pepper to taste and mix well.
Then place your remaining mushrooms in the same pan and cook for 5 minutes on each side.
Stuffing and Wrapping the Puff Pastry
Now it's the fun part, assembling your wellington! But first, preheat your oven to 400 degrees.
I like to roll out my puff pastry just a bit, you want it as thin as possible but not too thin that it will break. I say roughly 1/8-1/4 inch into a rectangle.
Add half your onion mixture along the rectangle shape while keeping a border along the pastry, then place your mushrooms on top (you can always trim them a bit if they're not the same exact size, but it shouldn't matter too much if it's just a small difference).
Add the remaining mixture on top of the mushrooms and then fold over the long edges and gently squish down.
Fold the bottoms up and lightly squish down as well. It's helpful to dip your finger in water along the folds to help them stick.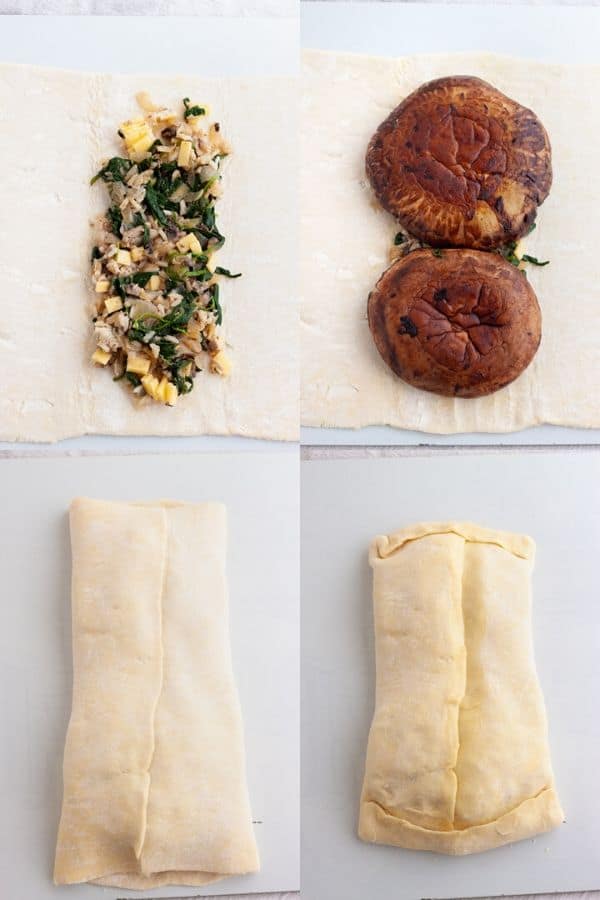 Baking and Serving Mushroom Wellington
Gently fold your wellington over so the folds are on the bottom (just be sure they are secured so they don't spill out while baking!).
Gently make a criss-cross design with a knife, being careful not to cut all the way through. Then mix together your vegan egg wash and evenly coat the entire loaf.
Bake for 30-35 minutes until golden brown! You may want to broil for just a bit towards the end, but I always recommend to watch it constantly because walking away with the broil on is a dangerous game.
Serve after slightly cooling with more fresh thyme!
Vegan Beef Wellington Alternative Recipe
I've been seeing these yummy-looking wellington alternatives around for a couple years, and I just had to make a version of my own.
There are a ton of versions out there (including a lentil wellington that looks great), but I think the mushroom-onion-spinach-vegan cheese-tons of fresh thyme combination is to die for.
I also used Chao Original Cheese for this recipe if you're wondering (not sponsored), it's seriously the best vegan cheese for the job!
This recipe is:
Comforting

Savory

Delicious

Easy to Make

Golden Brown

Perfect to Serve Guests

Healthy

Vegan

Vegetarian
Looking for more vegan meal ideas?
Pin this for later!
Vegan Mushroom Wellington
Total Time:
1 hour
5 minutes
Deliciously crisp puff pastry filled with mushrooms, onion, spinach, garlic, rice and fresh thyme. This is the best vegan mushroom wellington recipe ever!
Ingredients
1 Sheet Vegan Puff Pastry
3 Portobello Mushrooms 
1 Onion
2 Cloves Garlic
1 Cup Fresh Spinach 
2 Tbsp Vegan Butter
1/4 Cup Vegan Cheese
4-6 Thyme Sprigs Leaves (1 tsp dried)
1/4 Cup Cooked Rice
1/2 Tbsp Dijon Mustard
1/2 Tbsp Ground Flax
Salt/Pepper to taste
Vegan Egg Wash
1 Tbsp Plant Milk
1 Tbsp Neutral Oil
1/4 tsp Maple Syrup
Instructions
Take puff pastry out of freezer and allow to thaw 30-40 minutes until workable.
In a large pan over medium heat cook your vegan butter and onions for 15 minutes. Add garlic and 1 chopped portobello mushroom and continue cooking 5 minutes until mushrooms have softened.
Add spinach, leaves from 2 sprigs (1/2 tsp dried) thyme and a dash of salt and pepper and cook until wilted.
Place mixture in a sieve and remove as much moisture as possible (if it's too moist the puff pastry will break), I usually use a dish towel or two to squish out the liquid. Add flax and mustard and mix well.
Add rice, diced or shredded vegan cheese, 2-4 more fresh thyme sprig leaves (about 1/2 tsp dried), salt and pepper to taste and mix well, set aside to cool.
In the same pan cook the remaining 2 whole portobello mushrooms (after rinsing and remove the stems) on each side for 5 minutes, set aside to cool.
Once fillings are completely cooled, preheat your oven to 400 degrees.
Roll out your puff pastry to between 1/8-1/4 inch thick in a rectangle shape, as thin as possible but still being workable and not breakable.
Add half the filling to the pastry in the same rectangle shape, leaving borders around the pastry, then place portobellos on top. Add rest of filling and gently squish down.
Fold over the long edges and squish down, then fold the short edges up, wrapping it like a present. You may find it helpful to dip your finger in water and run this along the seals to help it stick together.
Carefully roll it over and place on a baking tray lined with parchment paper. Add slits in a criss-cross design.
Mix together vegan egg wash and top entire loaf with wash. Bake for 30-35 minutes until golden brown, you may want to broil it for just a bit to get the color you want towards the end.
Allow to cool a bit and then cut into servings!
Nutrition Information:
Yield:

4
Serving Size:

1
Amount Per Serving:
Calories:

188
Total Fat:

14g
Saturated Fat:

5g
Trans Fat:

0g
Unsaturated Fat:

8g
Cholesterol:

16mg
Sodium:

322mg
Carbohydrates:

14g
Fiber:

2g
Sugar:

4g
Protein:

4g