We may earn money or products from the companies mentioned in this post.
(Last Updated On: December 18, 2021)
Vegan Cream of Mushroom Soup Recipe
This tasty vegan cream of mushroom soup is incredibly flavorful, creamy and easy to make!
For such a simple recipe, this soup is bursting with flavor and is so comforting.
It has basic pantry ingredients and is ready in under 30 minutes.
There's nothing better on a chilly night than a bowl of this soup and some freshly baked bread!
Cream of mushroom soup is such a classic meal – but this recipe is way better than canned and is totally dairy-free as well.
Canned coconut milk is my super power to creamy vegan recipes – the flavor isn't overwhelming and it adds incredible creaminess and thickness.
You really don't taste the coconut milk once it cooks with the other ingredients, but it makes this vegan mushroom soup recipe absolutely irresistible.
Vegetarian Coconut Milk Mushroom Soup
Nothing compares to homemade soup recipes made from scratch.
All the amazing flavors make for a slightly sweet, velvety, earthy, ultra creamy soup.
This recipe for vegan mushroom soup is very similar to how I make my Vegan Green Bean Casserole, but you can also add it to Scalloped Potatoes or Mushroom Stroganoff, Chickpea Curry to taste!
It's incredibly versatile but also perfect as a meal on its own!
INGREDIENTS:
Mushrooms –

Sliced and blended for a delicious mushroom flavor!

Onion & Garlic –

The base of this soup.

Vegetable Broth –

I like to use low sodium and add salt to taste.

Coconut Milk –

Be sure to use full-fat coconut milk from a can – it's a game changer to make this soup creamy.

Dry White Wine –

Optional but highly recommended, I love the flavor it gives this soup!

Vegan Butter –

Any kind will do!

All-Purpose Flour –

To help thicken the soup, you can also substitute for a gluten free all-purpose flour.

Thyme –

Fresh or dried.

Bay Leaves –

Add another layer of flavor to the soup!

Salt & Pepper –

Add to taste.

Toppings –

A coconut milk swirl, fresh parsley and thyme, also serve with crispy bread or crackers!
How to Make Vegan Mushroom Soup
Making the Mushroom Soup Base
To start making this tasty vegetarian mushroom soup, place a large pan over medium heat and add the butter and onion.
Cook for about four minutes, stirring often, and then add the garlic for another minute.
Now throw in the sliced mushrooms and thyme, cooking 3-4 more minutes until mushrooms have softened a bit.
Add the wine if using (it really adds so much flavor!), for 2-3 minutes, stirring constantly.
Then sprinkle the flour in and cook for another two minutes, stirring constantly – you really want to cook out that raw flour taste.
Finally add the broth, bay leaves, salt and pepper and give everything a good stir.
Bring to a soft boil and reduce heat and simmer, uncovered, for about 10 minutes – the longer the better!
Thickening and Blending the Soup
Remove the bay leaves and now it's time to blend the soup!
Using an immersion blender is the easiest route, but you can also let the soup cool for a bit and carefully ladle it into a blender and process there.
It is important to let it cool a bit before adding to a blender though, otherwise you could have a mess.
You can blend it completely like I did, or leave some texture in it – totally up to you!
Return the soup to the pan and add the coconut milk – bring to a light simmer and cook another five or so minute – then you're done!
Serving Cream of Mushroom Soup
My favorite way to serve this soup is to add a swirl of leftover coconut milk, some more thyme and some freshly chopped parsley.
It's also best served with fresh, crispy bread or crackers to make it a meal – it's the best, most comforting dinner!
STORING:
You can keep this vegan mushroom cream soup in an airtight container in the fridge for up to five days.
Non-Dairy Mushroom Cream Soup
I highly recommend using full-fat coconut milk from a can for this recipe – nothing compares to it's rich and creamy taste and texture.
This non dairy cream of mushroom soup is definitely a recipe to keep on hand for whenever you need it.
This is my go to recipe during the fall and winter, but it's also light enough for warmer weather!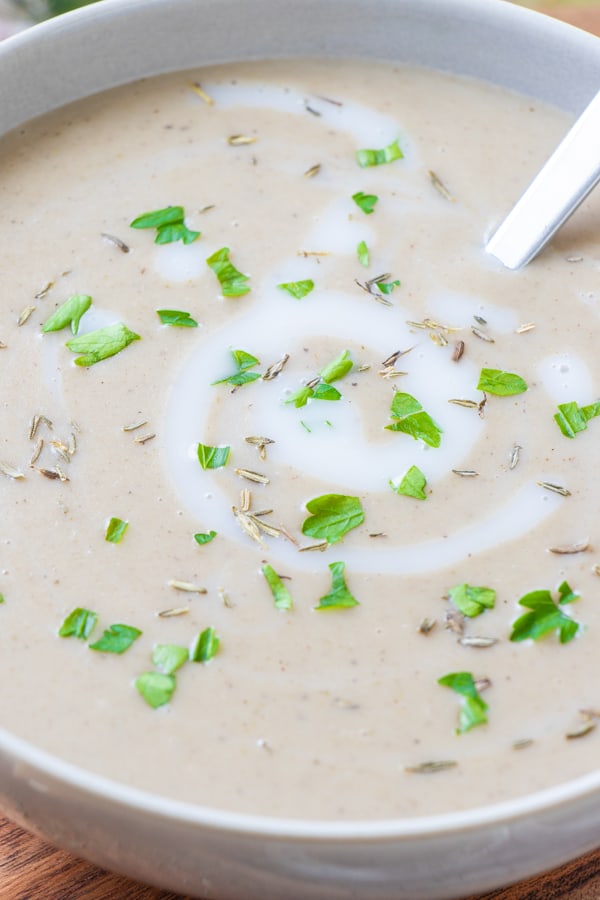 This recipe is:
Easy

Creamy

Flavorful

Comforting

Simple

Dairy Free

Vegetarian

Vegan

Made with Coconut Milk
Pin this for later!
Vegan Cream of Mushroom Soup
This easy and delicious flavorful vegan cream of mushroom soup recipe is so tasty! Made dairy free with coconut milk and ready in no time!
Ingredients
1 1/2 Pounds Sliced Mushrooms
1 Onion, diced
4 Cloves Garlic, minced
4 Cups Vegetable Broth
1 Cup Coconut Milk* + more to top
1/2 Cup Dry White Wine (optional but recommended)
1/4 Cup Vegan Butter
6 Tbsp All-Purpose Flour
1 Tsp Dried Thyme**
2 Bay Leaves
3/4 Tsp Salt
3/4 Tsp Pepper
Toppings
Fresh Parsley
Fresh Crispy Bread
Leftover Coconut Milk
Instructions
To a large pan over medium heat, add the vegan butter and diced onion. Cook for 4 minutes stirring often. Add minced garlic and continue cooking another minute.
Add sliced mushrooms and thyme, cooking 3-4 minutes stirring often until softened.
Add wine, cook 2-3 minutes stirring constantly.
Add flour, cook 2 minutes stirring constantly.
Add broth, bay leaves, salt and pepper and stir well. Bring to a soft boil and reduce heat and simmer, uncovered for 10 minutes (or longer).
Remove bay leaves and blend - you can use an immersion blender or let the soup cool slightly and carefully scoop into a blender with a ladle. Blend until smooth or leave some texture if you'd like.
Return to pan and add coconut milk, bring to a very light simmer and cook another 5 minutes or so and serve with toppings - careful it will be very hot!
Notes
*(full fat from a can)
**(or 1-2 tbsp freshly chopped)
Nutrition Information:
Yield:

4
Serving Size:

1
Amount Per Serving:
Calories:

489
Total Fat:

37g
Saturated Fat:

29g
Trans Fat:

0g
Unsaturated Fat:

5g
Cholesterol:

31mg
Sodium:

1251mg
Carbohydrates:

32g
Fiber:

5g
Sugar:

7g
Protein:

9g