We may earn money or products from the companies mentioned in this post.
(Last Updated On: July 15, 2020)
Vegan Pistachio Dessert Bar Recipe
You really can't make a dessert that's healthier than this pistachio dessert bar.
Seriously – it's made up entirely of fruits and nuts with a bit of maple syrup and vanilla!
Smooth and delicious with a cookie-like date and cashew crust. It's the perfect unique that's treat sure to impress!
Healthy Almost-Raw Snack Bars
This pistachio bar recipe isn't quite a cheesecake, but more of a creamy, sweet and chilled ice cream-like treat!
It's fresh and indulgent with a strong (but not overpowering) pistachio flavor.
The perfect balance of pistachio, vanilla and maple make this dessert unlike anything you've ever tried before, but once you do you'll be hooked!
Making All Natural No Bake Pistachio Bars
Everyone loves no bake recipes – you just blend, set, pour and repeat!
When you're ready, throw all your crust ingredients into a food processor, and pulse until the ingredients form one large dough.
Plop the dough down into your loaf pan (if you don't have one, use this link to find what alternative pans you can use!) covered with parchment paper, and squish it down evenly. Place in the freezer to chill.
Now, add all your filling ingredients into the food processor (make sure you clean it in between!), and blend until it's creamy, smooth and there are no chunks.
To make this easier, I would recommend soaking your cashews and pistachios either overnight, or in hot water for at least 15 minutes. If you don't, your filling may be slightly grainy – still delicious, but this recipe is best at its creamiest!
Pour the filling over your crust and place it in the freezer, covered, to set for at least 5 hours.
Once set, I recommend eating it immediately out of the freezer, as it does soften quickly.
I crumbled some dried-rose petals over my freshly-chilled bars and it look ABSOLUTELY gorgeous!
I mean seriously, the rose petals are such a great compliment for this recipe and take it to the next level in terms of presentation!
It's a show-stopper for sure, and no doubt you'll be the talk of the party if you make this recipe!
However, do make sure you use food-grade rose petals, because I wouldn't trust store bought roses to be safe to eat.
You could also brew the rose petals into a tea to serve along-side this recipe, the pair would be good enough for a high-tea!
This recipe is:
Healthy

Delicious

Nutty

Fresh

Sweet

Raw
If you're looking for more vegan dessert recipes, try my:
Pin this for later!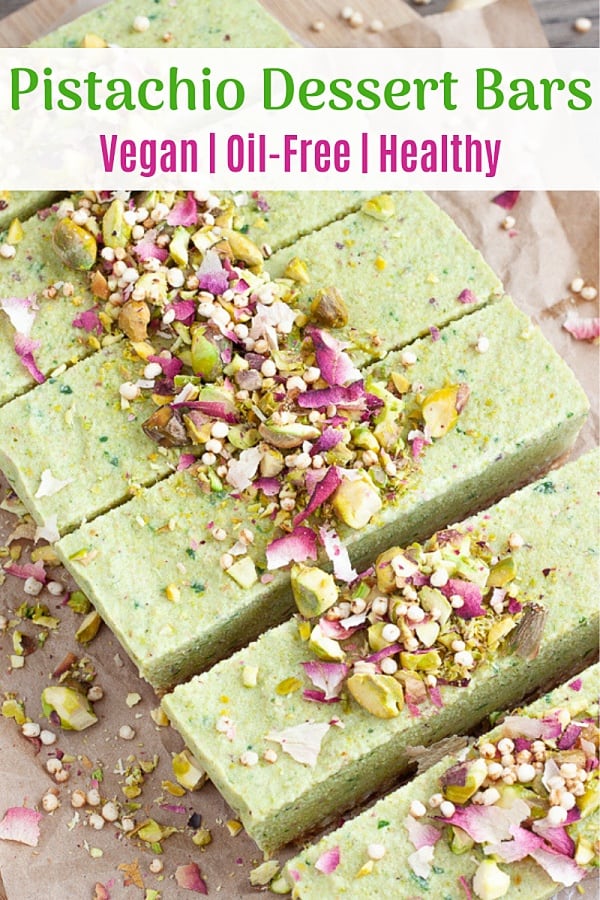 Pistachio Dessert Bars
Total Time:
5 hours
15 minutes
These vegan dessert bars are full of delicious pistachio and vanilla flavor, with a sweet date and nut crust. The perfect refreshing spring-time dessert!
Ingredients
For the Crust:
2/3 Cup Dates, soaked
2/3 Cup Cashews
2 Tbsp Oat Flour*
Dash Salt
For the Filling:
1 Cup Pistachios, soaked
1/2 Cup Cashews, soaked
1/3 Cup + 1 Tbsp Maple Syrup
3/4 Cup + 3 Tbsp Almond Milk
1/2 Tsp Vanilla Extract
1/4 Cup Spinach
Dash Salt
Instructions
Add dates, cashews, oat flour and salt to a food processor, and blend just until dough begins to stick together into one mound. Make sure you don't over-process.
Lay parchment paper down into an 8.5 x 4.5" loaf pan**, and squish dough down evenly. Place in the freezer to set while you make the filling.
After cleaning your food processor, add all filling ingredients in and blend until very smooth and creamy. Take pan out of freezer and pour filling in.
Place, covered, back in the freezer for at least 5 hours to fully set.
Top with pistachio pieces, and anything else you'd like! I used quinoa pops and decorated with some edible rose petals.
Store, covered, in the freezer for up to a week!
Notes
*Substitute for any gluten-free flour if needed
**If you don't have a loaf pan, use this link to find alternatives you can use.
Recommended Products
As an Amazon Associate and member of other affiliate programs, I earn from qualifying purchases.